Update: 20/2/23 It has been brought to my attention that unfortunately this play area has had the larger play equipment out of use. Wether this is being fixed or if its a matter of it being a permeate feature I don't know. As soon as I find out more information I will update
Worried that your older kids are outgrowing play parks. Fear not because Blewbury play space has them covered. What an awesome sphincter clenching park this is.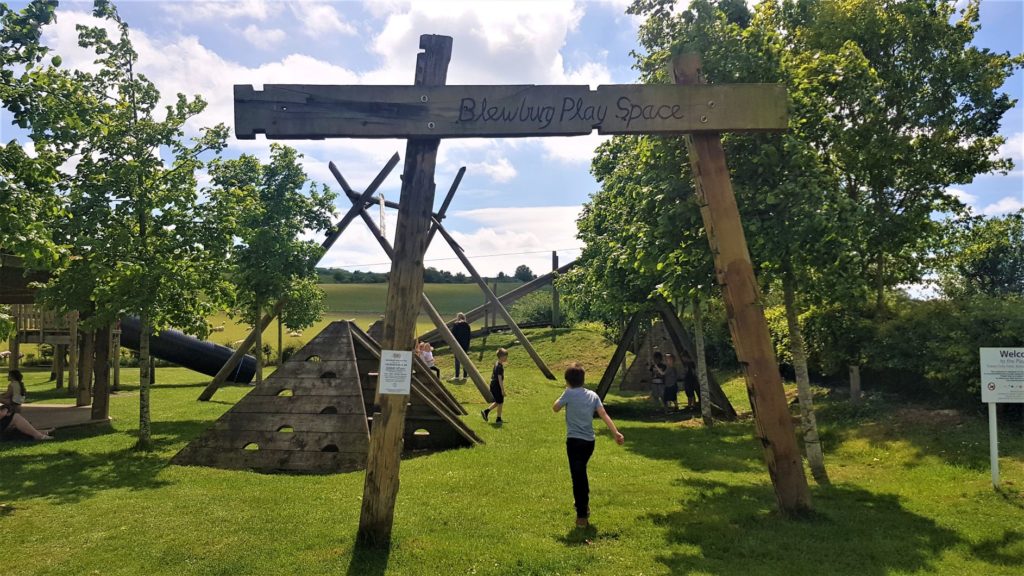 The only downside is that its not very toddler friendly at all. However there is an abundance of space around for them to run around in.
Where Is Blewbury Play Space?
Blewbury is a village in Berkshire a few miles from Didcot. The drive there is pretty easy and once you get there you'll find a pretty decent sized car park too.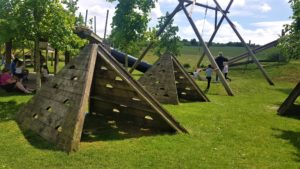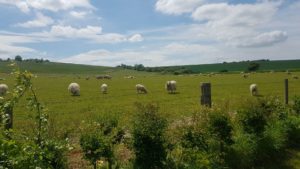 Its set way back from the road and even the road is a quiet one. We visited during half term on a sunny day. Although it was busy there was still plenty to do and not too long a queues for the play equipment.
Blewbury Play Space
If you're planning on visiting Blewbury play space you either need a stomach of steel, massive balls or a nappy because some of the equipment had my stomach going. Someone must have broken a bone here at least.
If your child is an adrenaline junkie then you need to pay Blewbury play space a visit. Oh and take their wheels too.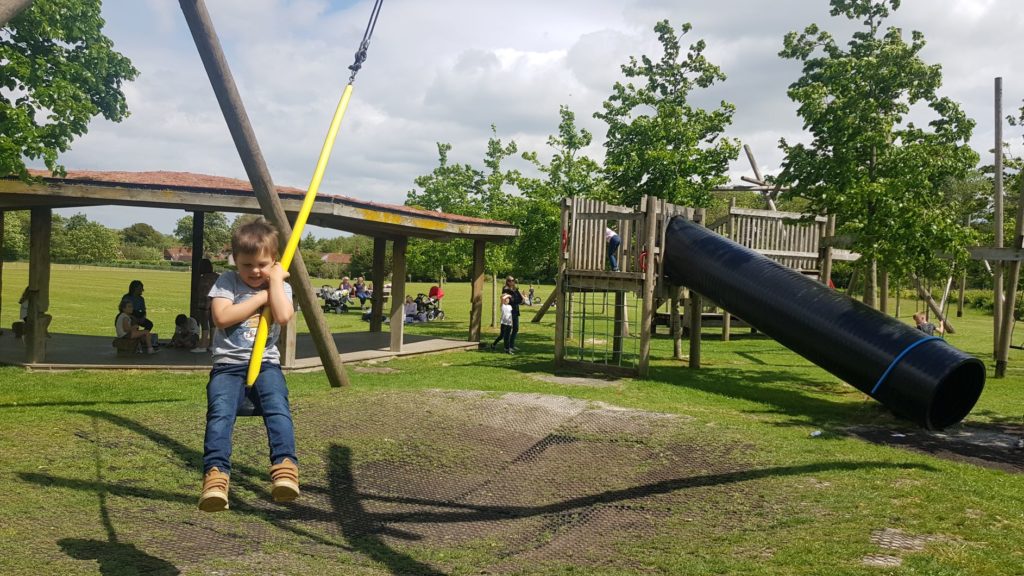 Its a pretty new play area or at least it looks new anyway. It also goes by the name of Tickers Folly Field but that's a bit of a mouthful (not the good kind).
As I mentioned earlier its designed for older kids. the sign says 8+ but i'd say for a ballsy 5 years plus. Clark was totally fine on all of the equipment. Unfortunately some parents just let there younger kids (4ish) ride round on their bikes unattended and Clark almost twatted one in the head with his feet. Annoyingly I had to stand in the way and I still have the bruise to show.
What equipment can you find at Blewbury play space?
I'll be honest I haven't got a clue what half of the equipment is called but i'll give it a good go. There are again no springy face twatters though. Whoop. Erghhh I don't even know where to bloody start.
Ok i'll start of slow and work you into it (I swear this isn't a porno) Wooden climbing tepees. There's a few of them and unless my eyes are fucked I think they're all different sizes, Heights and climbing abilities. Pretty cool and great hiding space too.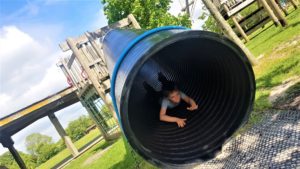 However the tepees didn't hold Clarks attention for long he'd spotted the first wow thing. I'm going to call it the pendulum swing. Its a huge fuck off frame over a shall we say bowl in the ground with a single swing (like a zip wire seat) and it goes in any direction you want. Its awesome Clark loved it. This is where the little kid just rode into the middle as Clark was going round. Not a safe place to ride a bike.
Next to the pendulum swing you have the play frame and the slide which isn't actually a slide but more of a big industrial sewerage pipe (Not used hopefully) . Again another really cool unique piece of equipment. However a fair few of the older kids were getting annoyed at the smaller ones for not using it properly (in their eyes)
More equipment
Blewbury place space is a perfect place for swinging. Not the swapping partners kind though. I would say their main attraction has to be the arse clenching wall jumping swing. Seeing some older kids on it nearly made me touch cloth.
Its again another huge structure like the pendulum swing only this one has 3 tiers that the kids can jump from. My heart was in my mouth watching the teens jump from the top one. Obviously Clark wanted to follow suit and thankfully he couldn't so he had to settle for the middle tier and even that had my arse contracting more than a panicked shart. They go bloody high I would highly recommend that you supervise your child the first time they use this.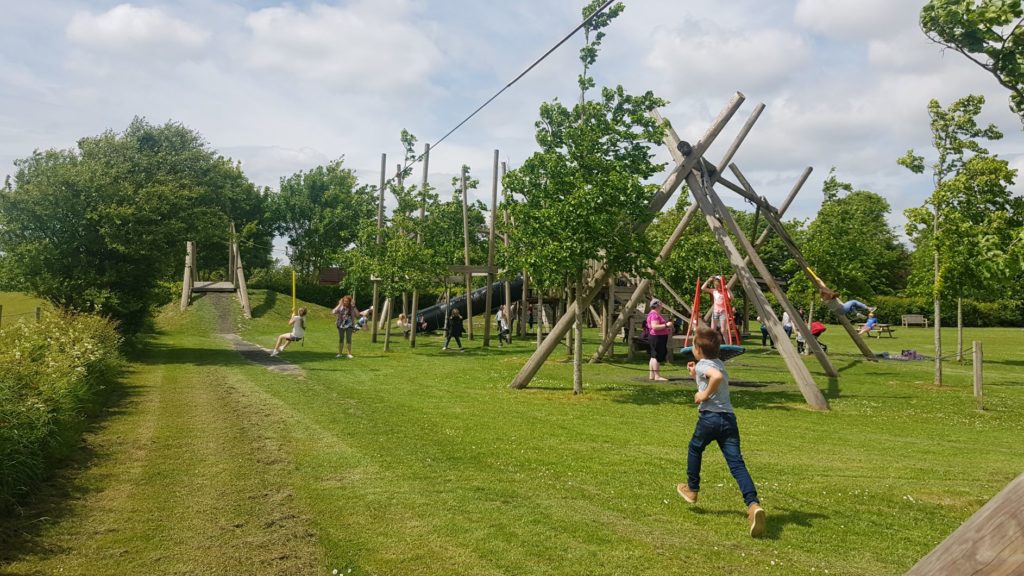 Next to this is the cargo net swing but like with all the other equipment at Blewbury play space its not the normal kind. This one spins and swings in any direction too. Going to speed it up a bit now.
They also have a zip wire, a circle of swings (no baby swings). A fireman pole, Hurdles, a whole circuit for balancing around the width of the field, A huge covered area for when it pisses it down and plenty of seating.
What else can you do at Blewbury play space?
Not only is this probably the best park We've been to for older kids they have shed loads of space for ball games and kite flying not only that though.
They have a skate ramp too. A huge one at that thankfully I didn't bring Clark's scooter otherwise it would have been a trip to the Hospital.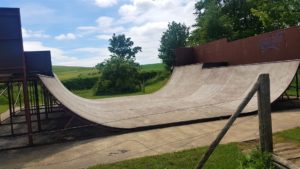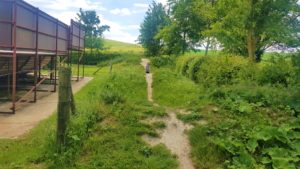 However next time I take him back I will take his bike because they have a awesome looking bmx track too. There was no one using it while we were there so he had a great time running round it up and down the hills.
when we visited we saw lots of parents camped up and kitted out for the day. Some even had folding chairs and tables. I would recommend you take a picnic or snacks at least because I'm not sure where the nearest cafe or pub is.
Blewbury play space stats:
Distance from Bicester: 37 mins
Sat nav: Tickers Folly Field, Boham's Rd, Blewbury, Didcot OX11 9PE Click to load sat nav
Wheelchair friendly: Yes
Equipment upkeep: 10/10
Cleanliness: 10/10
Facilities: None that i saw
Age range:5/6 years plus
Safety: 5/10
Fun factor: 10/10
Dog friendly: Yes! Just says to clean up after them
Pushchair Friendly: Yes mostly Grass
Bikes and Scooters: Yes!
Conclusion
Clark Loved Blewbury play space and I can see why. Its absolutely brilliant to find a playground for just the older kids. Ok it may not be ideal for a lot of families but I think half the reason Clark had a great time was because his little brother wasn't there for once.
If you do mange to get some one on one time with your eldest then I'd say this park is a perfect place for them. Maybe you're lucky and have all older kids anyway.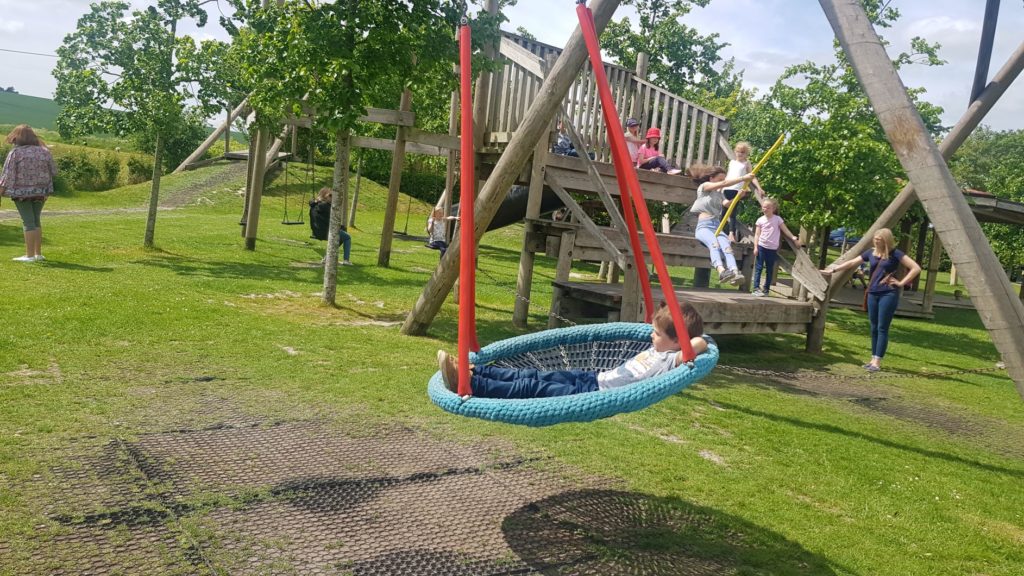 I personally wouldn't take Elliot here (nearly 3) i wouldn't bother taking younger kids full stop unless their baby age and still confined to napping in the pram while the eldest plays.
I don't think I'd be able to stop Elliot from injuring himself if I took them both either.
AOB
If you know of any play parks you think I should review then pop me a message on the Facebook page HERE
For a list of all the other play parks I've reviewed then check them out HERE