Its been a couple of years since our brief visit to St Nicholas park Warwick. We never got to explore it all. Well Yesterday that all changed for us we did shit loads.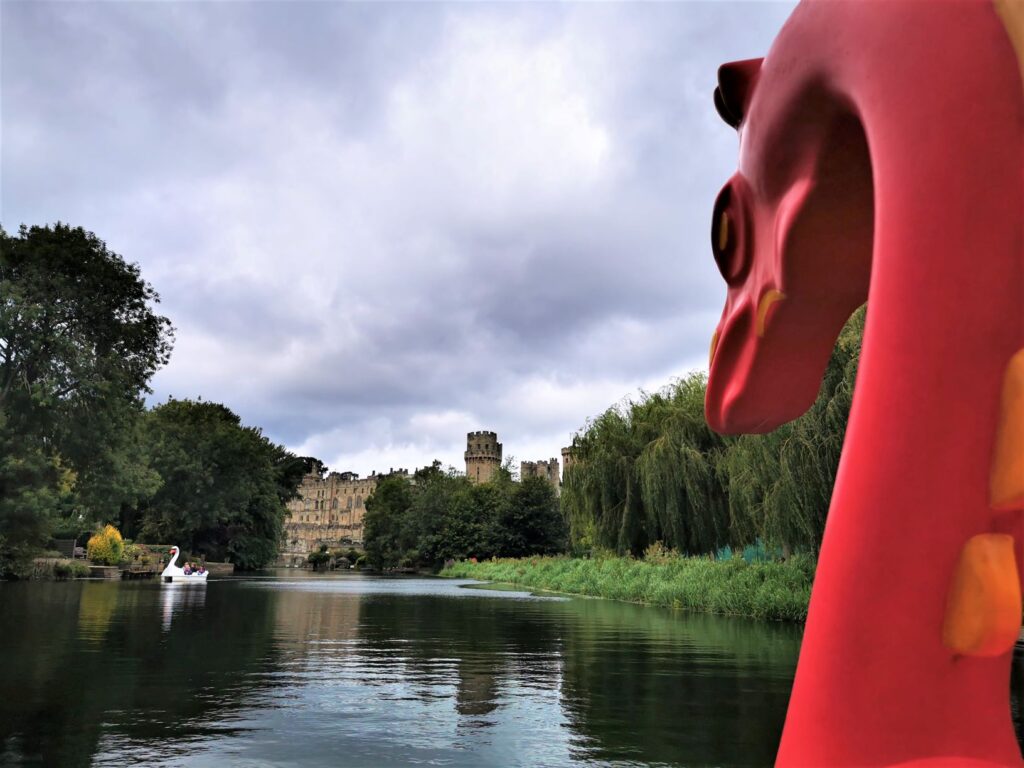 St Nicholas Park Warwick
The main reason we ok I wanted to visit St Nicholas park was to have a go on the pedalos. Someone sent me a photo and it looked awesome. I had no idea you could get so close to the castle. As soon as i saw it i was on the world wide web booking our slot for the next day. You have to pre book by the way. I was worried that we'd just go round in circles though because i was the only adult.
I booked our slot for 10.30am and we arrived about 9.30am to bag a parking spot. Totally glad we did this. It cost us £5 to park all day. I wanted to make sure we didn't get a parking ticket in case they needed to call the life guard to get us out (Who does the rescuing on rivers?). Anyway glad we did arrive early because when we left cars were circling like sharks ready to pounce on the next available spot.
As we had an hour to kill we headed to the play park. It was so quiet but 2 hours later it was absolutely heaving so again I'm glad we did that early. I'm going to be honest I don't rate the play park its pretty shit as far as play parks go. A lot of the stuff was either broken or dated. There were no swings for older kids apart from one tub swing and the climbing frames were naff with just 2 crappy slides. However the kids enjoyed it all the same.
The parkland itself is stunning amazingly well maintained. There's a little stream running through the middle of it. You will see loads of kids jumping it. Elliot moaned and moaned (I mean for ages) about jumping even though I said he was too small. He called me a LIAR haha. So bad mummy let him try it and he massively failed and now has a big bruise on his leg. Needless to say he didn't moan about it again.
Pedalo Hire At St Nicholas Park
It was time to head off in search of this Pedalo. I had to have a talk with Elliot about the importance of not jumping in the river. He was forever telling me he could swim and every time I tried explain he couldn't he would call me a liar (The jumping incident happened after the pedalo). Thankfully the boys were both given life jackets.
From the start to the finish of the pedalo hire the staff were absolutely amazing!. They chatted with the boys and joked round with us. All while being safe. Hand sanitiser no contact and constant cleaning. We were put totally at ease. Next up we had to pick the pedalo. Thank god they both agreed on a big red dragon. I was kinda hoping they'd go for the giant pink flamingo but ah well.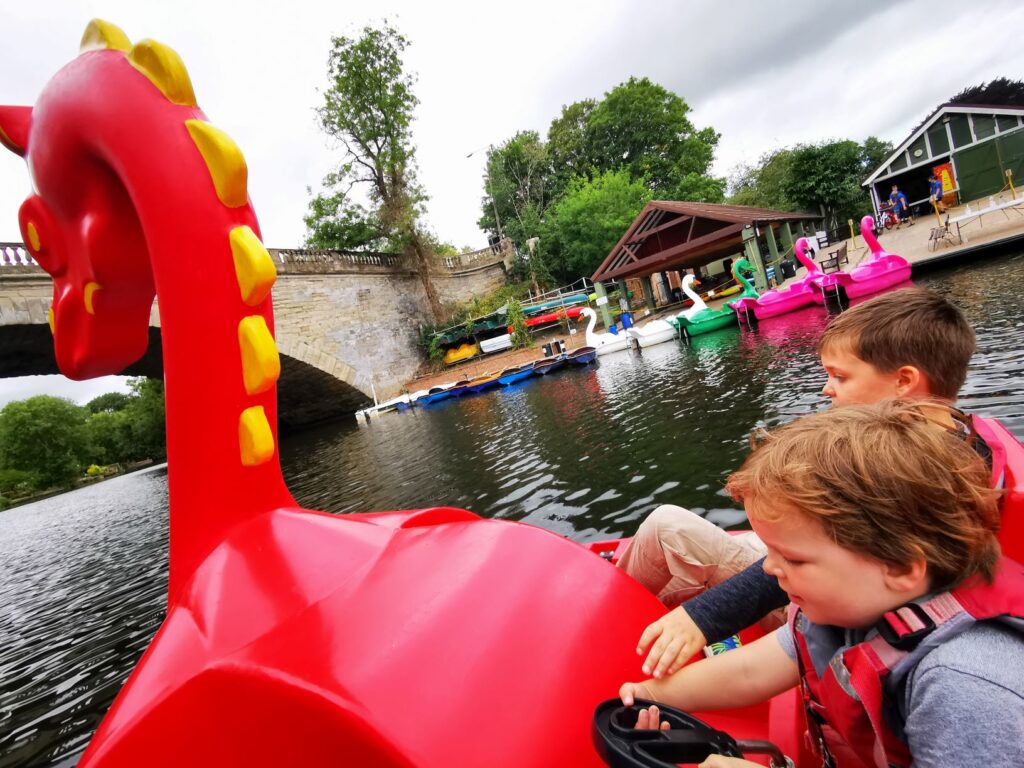 We all managed to get in and remain dry. I thought the bugger was going to capsize when I got in (Thank fuck for the dragons buoyancy). We were off… ok we weren't because I couldn't steer for shit. If you think a shopping trolly's hard wait til you try one of these buggers out. We headed to the right first (After a helpful push from the staff). We got under the bridge and on our way in the direction of the castle.
Clark was super helpful with the pedalling…..Elliot not so much with the steering. His little legs were too short to help there so we gave him the job of steering. Don't do this you will crash a lot.
The View Of Warwick Castle
Once we got a bit further we started to make out the castle and it was stunning. There was me trying to get a decent photo and Clark shouting at me because we'd crashed again. You an only go so far down the rive before you have to stop at the chain.
Then came the fun. We had to turn the dragon round. I was sooooo shit I was laughing my head off, Clark got so pissed off he stopped helping me and sat in the back with Elliot. It took me bloody ages but several crashes later I turned that bad boy round. I was bloody knackered. I really need to exercise more.
There were row boats and motor boats over taking us with ease and grace (with the people also laughing at me). Clark said next time were getting a motor boat. I didn't argue because next time we are. we'd been on the water for what felt like a few hours. Turned out it was only 20 mins and the kids had had enough.
The guys at the boat place were laughing at me as I tried to navigate back to the dock. Thankfully I didn't kill any ducks in the process. I had a few less crashes too. I think I was finally getting the hang of it. Despite me sea legs being shit it was so funny even if the kids have refused to get in a boat with me again. I was just happy Elliot didn't jump in too.
What Else Did We Get Up To?
After our pedalo adventure it was time to feed the ducks along the river. There were loads, swans and their cygnets too. Managed to keep the kids from eating the duck food too which is always a bonus. Then it was time to head to the fair.
Oh yes St Nicholas park also has a small fairground for the younger ones. Clark loved it but I would say his age is nearing the limit (Hes just turned 7). It opened at 11 am and there was a small queue. You pay for a card and put the money on the card then each time you go on a ride you tap for entry. Really good system and saves faffing about looking for change all the time too.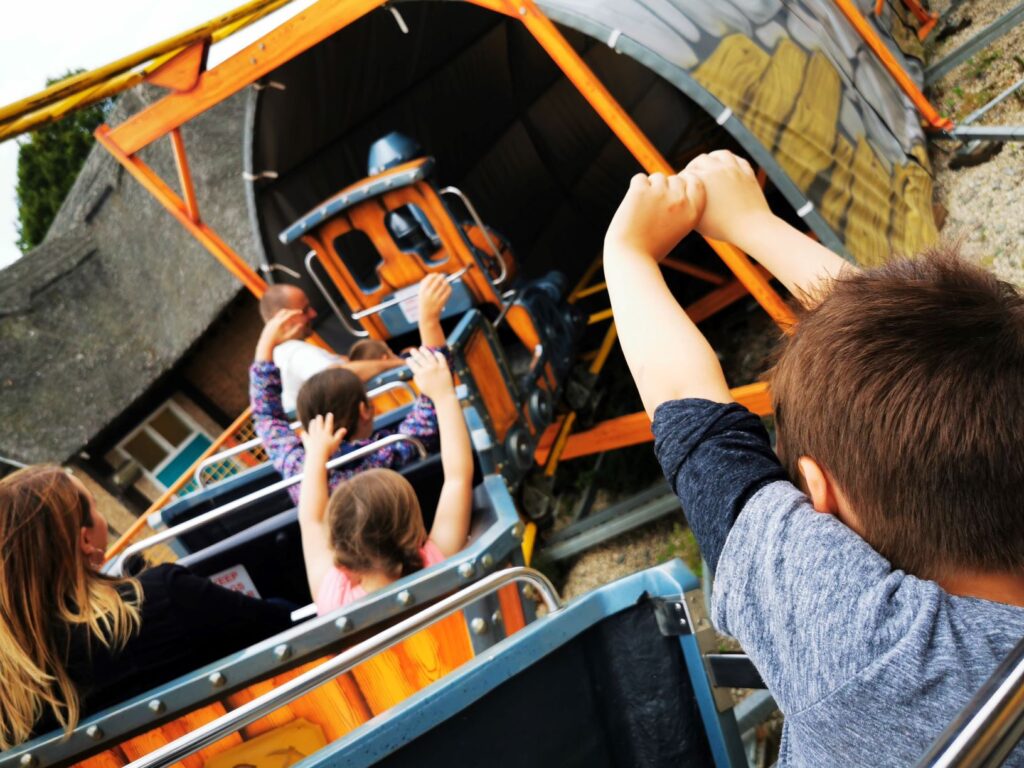 There's a roller coaster which unfortunately i had to go on because Elliot was just below being able to go on alone. Everything else he could though. It was actually really nice watching how happy the kids were. The kids had the best time on the rides. The tea cups especially were hilarious because Clark was spinning them so fast Elliot looked like he was about to pass out.
There was sanitiser everywhere and the majority of people were social distancing too. We had a bit of a break for a picnic, I grabbed a cuppa from the cafe and some ice creams for the kids. Loads of space for picnics and everyone seemed to be doing the same as us.
The fun Never Ends
After lunch I told the kids they could have a few more goes in the fairground. For some reason they loved the boat (Probably because they didn't need to pedal). The young lad manning this station was a miserable little bugger haha. He kept moaning at all the kids and did smile once. Cant say i blamed him but I don't think he appreciated me laughing at him in front of the kids while explaining that not all people love their jobs.
Clark got his whine on because as if we hadn't done enough already he then wanted to play crazy golf. Fuck right off (I didn't say these exact words but meant them). I hate crazy golf. However I can appreciate why some people like them and this one opposite the fair was pretty cool looking albeit a tad pricey.
There is a second cray golf course that's a shit load cheaper that was also a lot quieter. Bit too close to the car park for my skill set. I think this one is run by the cafe owners.
As if I haven't mentioned enough activities there's also the splash park. Its open and its free. The whole time we were there it was never really that busy but then we went on a cloudy day. Might be work packing a change of clothes just in case. The kids didn't mind not going in because there's so much to do apart from that anyway.
St Nicholas Park Stats:
Distance from Bicester: 40 mins
Sat nav: St Nicholas' Park, Warwick, Warwick CV34 4QY Click to load sat nav
Wheelchair friendly: Yes
Equipment upkeep: 6/10 (mostly due to the state of the play area)
Cleanliness: 9/10
Facilities: Everything you need
Age range: All ages
Safety: 7/10
Fun factor: 10/10
Dog friendly: Yes but to be kept on leads apart from in certain areas
Pushchair Friendly: Yes
Bikes and Scooters: Yes
Conclusion
The boys had the best day since the virus. Well that's what Clark said anyway. St Nicholas park has it all. I could kid myself that they prefer long walks in the woods but bottom line is if it had flashing lights, loud noises and spins them they're going to love it.
Although the play park looked uncomfortably busy by 11 am I'm glad we go there early to have a play because I personally wouldn't have let them play with little to no social distancing going on. That being said everywhere else was easy enough to keep your distance.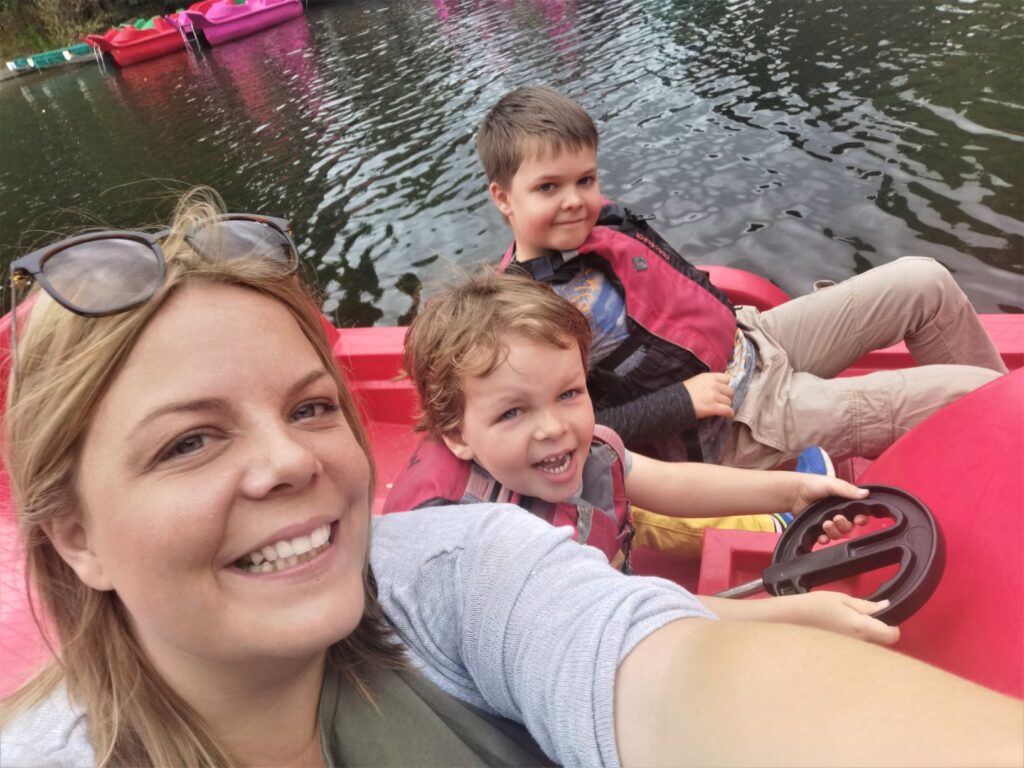 If you haven't been to St Nicholas park yet you owe it to your kids to go. It can be as cheap or as expensive as you like. Unfortunately for me today was an expensive day. It was totally worth it though for a treat and we'd do it again in the future.
My highlight was the pedalo and the kids were torn between the pedalo and the fair. As we left I gave my parking ticket to someone who was just about to pay. I think more people should do this if its not needed to put your reg in. It always used to be a thing when i grew up but i never see anyone doing this anymore. Ok maybe not the best time to start in the middle of a pandemic but its nice to be kind.
AOB
If you'd like to book a pedalo you can go to their website HERE
For more information on St Nicks park their websites HERE
For more days out my homepage is HERE