The Nature Discovery centre is in Thatcham and if I'm perfectly honest is was a bit Meh. I'm not really sure what i was expecting. Maybe i was hoping to discover some more nature. That being said If i lived closer i would probably be here all the time.
I picked here because its one of those places that's been on my list of places to visit since i started this blog.
I was taking a friend and her little girl out and this seemed like a good shout because it had indoor and outdoor facilities.
Car parking
The car park is a good size and randomly has one of the friendliest car parking machines I've seen. 50p for an hour, £3 for All day…….Or whatever you can afford. How good is that. There's nothing worse than stressing out because you didn't bring any change. This way you can donate what you have or come back later when you have change.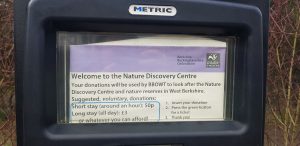 I can imagine loads of people take advantage of this type of pay and display. If you go please pay something if you can. One of the things i noticed with the Nature Discovery centre is their potential and they'll never get there without money.
Play grounds
There are 2 play areas at the nature discovery centre which were both a shock to me as i didn't know there were any. They have a toddler one and an over 8s one. The toddler one is good, a bit run down but nothing too worrying that'll cause mutilation if fallen onto. Its just a bit old. Nice balance beams, Slides and lots to climb. The toddler playground is right next to the picnic area which also has a shelter too. Perfect for the older toddlers to have a play while you natter with you're friends (If you have any).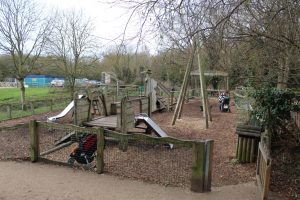 The over 8's playground is pretty awesome. There was no way that i wasn't going to let Elliot have a go on that twisty tube slide just because he was 2. The whole structure is actually really child friendly and easy for the smaller ones to get up and down. Do be careful though they can get up easily but they also have a couple of fireman's poles that they could fall off just as easy too.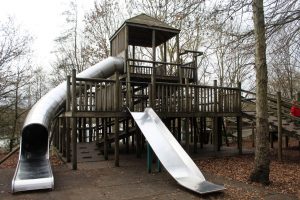 The slide was super fast he shot out of it quicker than a poo the morning after a vindaloo. There was a fantastic assault course too in this park. Needless to say i didn't let Elliot on this especially as hes going through a phase of tripping over even when he's stood still.
We packed the kids up and headed around the lake for a walk. The lakes not very big as far as lakes go. Not that its small but I've had bigger 😉
Lake walk
It still took us ages to get round it though because Elliot was in a dithering mood and the paths were pretty uneven. I struggled getting the 3 wheeler round with no child in it so if you are going make sure you have a decent 4 wheeler.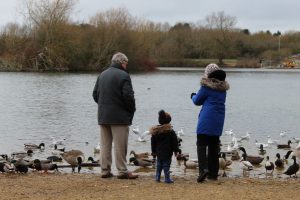 There were a few interactive parts on the way round but nothing of huge interest for the kids. Then we came upon the beach.
I say the beach but its not the kind you want to strip down to your bikini in and have a sunbath. Its just a nice area to feed the ducks and geese. Make sure you take some food with you. We didn't but Elliot kindly let them have one of his crisps.
Filthy
Now the bin area in this section is horrific. It doesn't look like its been emptied in a long long time which is a shame because its now overflowing into the surrounding bushes which cant be good for the birds if they decide to go for a rummage.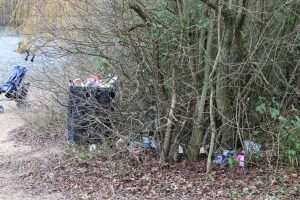 We walked the full way round the lake and got to a point where we were looking at the ducks again. We did notice a railway line running next to the lake and if you walk to one of the corners you can see a pedestrian crossing area which looks like a good spot for any train fanatic kids out there.
Geocaching at the nature discovery centre
At this point my friend asked me if i'd ever done geo caching. Which i haven't. I have an app and I've been meaning to try it but i always forget when were out and about. She also had an app and told us that we were right near to one. Ooooo exciting. (finally something a bit interesting was going on).
Then i attempted to map read and was reminded that i have the navigational skills of a tethered donkey (Just goes round in circles). Luckily my friend has a lot more experience at finding geo cashes. It wasn't long until she plucked one out of a nook in a tree.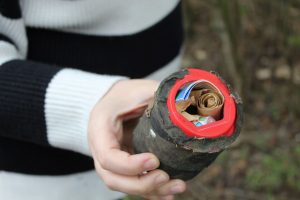 I'd never seen one before and i know they're all different. This one was a little tube with little notes from the previous finders. There was also a packet of sweets inside. Maybe not the best idea to give one to your kid. Which i didn't think about until after i gave him one. #parentingfail. Luckily i found a mint in a wrapper that's probably been sat in the pram fro the best part of a year that we popped inside for the next person.
After the excitement of the geocaching something which i recommend you all downloading the free app. Every walk can now turn into a treasure hunt. We headed over to the cafe and indoor centre.
Discovery Centre
This is the nature discovery centre part that's indoors. Its not as big as i'd imagined but its cute. They have fish, A few puzzles, a rubbing station and information downstairs and upstairs they have some stuffed animals, a dressing up box and a giant land snail. Like i said its not great but enough for the kids to do and good especially as its free.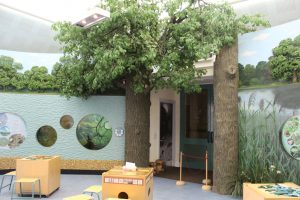 The cafe in The nature discovery centre itself is nothing special but nice and you can get a good lunch there. I dint bother as we brought a picnic but my friend has a jacket potato and ordered a kids meal too. They all came out in a decent amount of time.
You'll also find the toilets and shop in this area too.
The nature Discovery centre stats:
Distance from Bicester: 55 mins
Sat nav: Lower Way, Thatcham RG19 3FU Click address to load navigation.
Wheelchair friendly: No i struggled with a pram getting round the lake but its doable
Equipment upkeep: 6/10
Cleanliness: 4/10 empty the bins!!!
Facilities: 8/10
Age range: all ages
Safety: 8/10
Fun factor: 6/10
Dog friendly: Yes in most areas. Free poo bags available in the visitor centre too.
Conclusion
Overall The nature discovery centre was ok. If we'd have gone alone we probably wouldn't have spent as long there so if you do go take a friend.
I can imagine that its a lot better in the summers as it looks like there's loads of places to paddle if you're a rebel and ignore the signs.
Would i recommend anyone making the 50 min drive over there ? probably not. We wont be going back ourselves but as i said earlier the place has huge potential and if we lived close by this would probably be one of our favourite places to go.
They have a nature tots group that runs frequently too during the week and another one on the weekends. I'm a tad jealous that we don't have anything similar closer by as i know this is something we'd love to do.
AOB
Have a look yourself and make your own mind up you can do some more research on their website HERE
If youre looking for something similar but better i'd suggest having A look through my country park section HERE