What an absolute gem this find was. If you're looking for a completely free awesome day out then look no further than Leavesden country park in Hertfordshire. Its bloody great and the kids loved it. I'm not shitting you when i say free either. We didn't even have to pay for parking.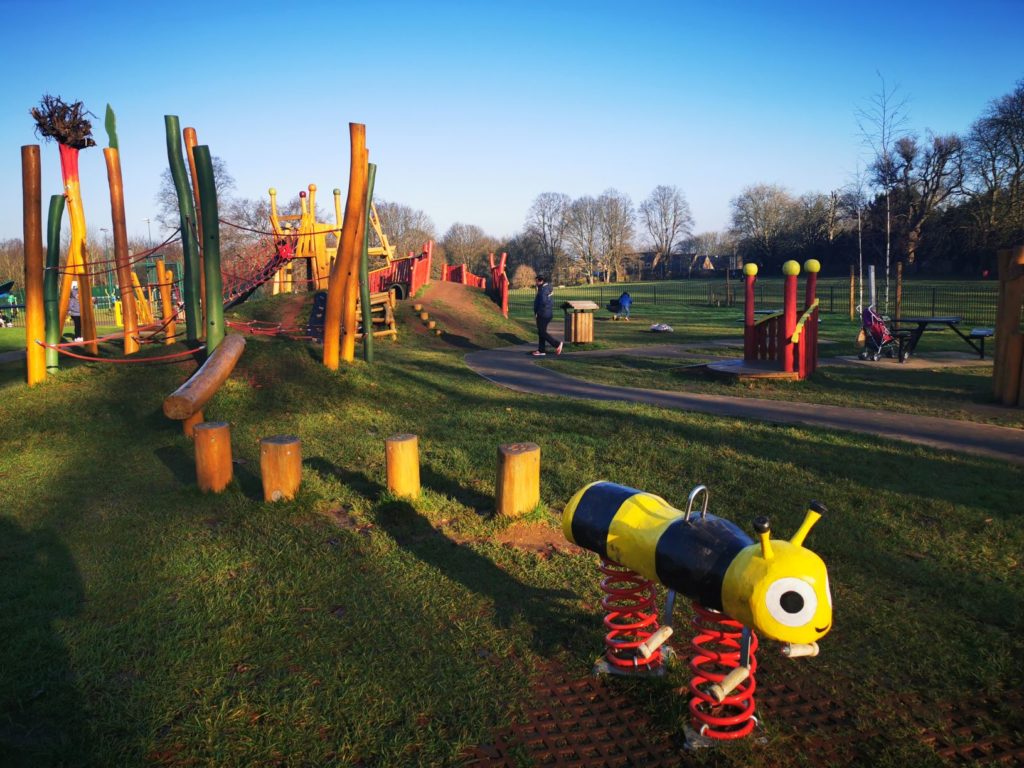 Leavesden Country Park
I found out about Leavesden country park when i saw the signs as we drove past on the way to the Harry potter studios. If I ever see somewhere on signs I google and screen shot it for later. I'd forgotten all about it until another blogger reminded me about it. Thank the baby Jesus they did too.
It took us around 55 mins and the drive was a piece of piss too. Straight down the M40….more or less. The entrance was a little tricky to spot and the sat nav doesn't take you directly there either.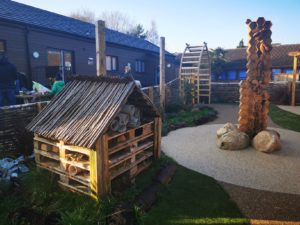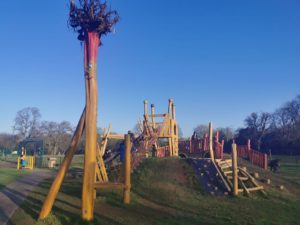 As I mentioned earlier parking was free and the car park was a decent size too. First things first me and my friend needed a tea and luckily for us there was a cafe right next to the play area. Grabbed a tea each and some awesome cookies (crunchy on the outside and soft on the inside jobby too) We didn't stay in there long but the menu looked great and the cafe looked lovely too. Very reasonable and child friendly.
Boys were buzzing and ready to play so we headed out. First stop the super cute sensory garden. In here you can see a wooden sculpture of a beehive along with bird feed made by children, a bench for a rest or picnic and lots of bug related friendliness. Small and lovely but the kids only had one thing on their mind. The play park.
Leavesden Country Park Play Parks
The main play park in Leavesden country park itself is pretty cool. Its right near the car park and the cafe. Its completely fenced in too which is great for those with the lemming toddlers who like to play chicken with moving vehicles.
There's something for all ages but I think I was mostly impressed with the aeroplane! totally original. Or at the very least I haven't come across anything similar before. They do have a springy face twatter that's a 2 seated bee which I thought was pretty cool. Although my kids don't bother with them any more.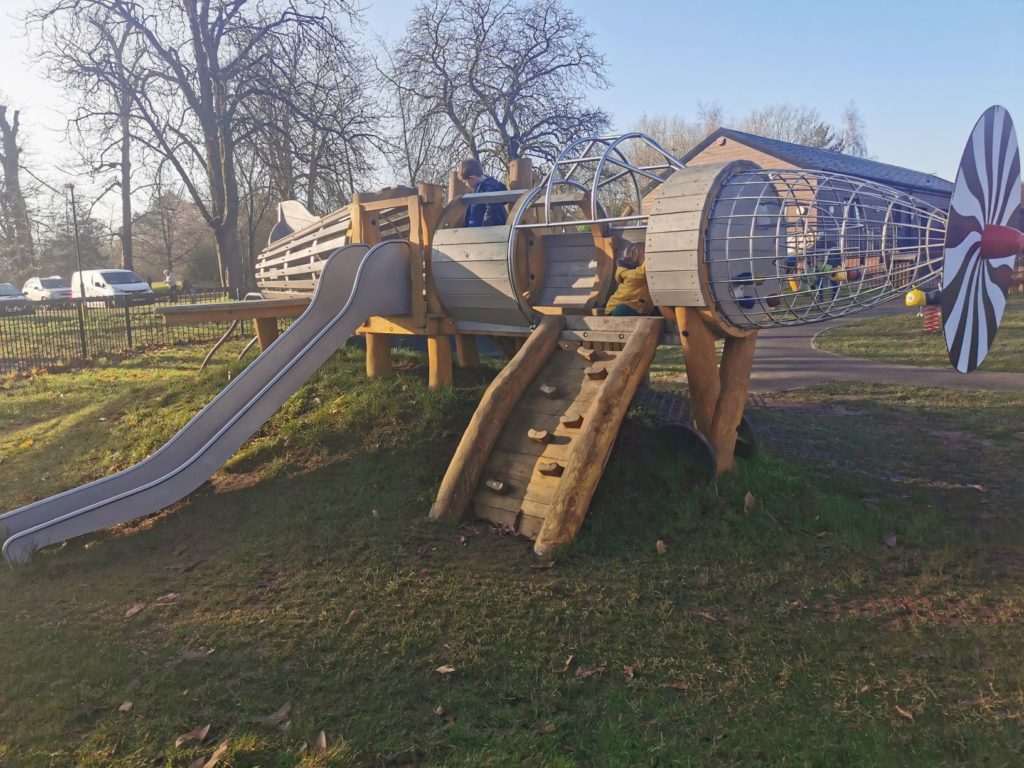 There's some weird arse rope thing in there which i have literally no idea what its supposed to be. A theatre, tunnels, slides, a giant broccoli (fuck knows) with a face and one of those wobbly platforms with a rope suspended above so that it looks like something out of a sex dungeon (maybe not the best analogy when reviewing a kids play park)
The kids played in here for quite some time before I managed to prise them away to do some more exploring. We when and had a look at the map and noticed there was another play park on the other side of the field. We had a quick pit stop at the outdoor gym before checking out the other park. It was much smaller and not as good for smalls but great for older kids. It wasn't fenced in either.
Exploring Leavesden Country Park
After checking the map again on the way past we notice there was another play park on the other side of the road. Now i'm not sure if i'd class this as still being within the country park. However its within walking distance and its well worth the walk. One thing I will say though. Make sure everyone's had a pee stop before heading out that way otherwise it'll be Jungle wee's all round.
The walk over to the other play park is pretty awesome itself. Its not just a matter of walking through the gardens oh no. Its also a heritage trail and don't worry I know it sounds boring but believe me when I say its far from boring. Adults and kids will both like it.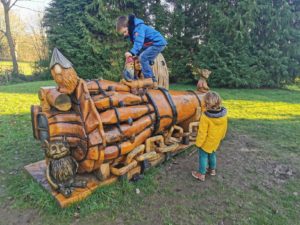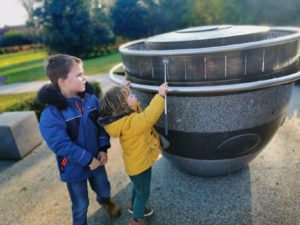 The most impressive thing I saw was the carved fairy tale scene. It was really impressive. In fact thinking back there were so many impressive things on the heritage trail from huge mirror walls, a giant spinny scene thing (You'll know when you see it) to some cool arty bits that move in the wind.
The whole trail ran the direction we were walking so between that and spotting the squirrels. Which may I add were fricking massive!! what the shit are they feeding them in that park. Anyway it kept the kids busy the whole way to possibly one of the best parks we've been to for a while.
Langley Lane Play Area
If your'e visiting the county park then you cant not go to this play area. Its massive and its brilliant. Its just over the crossing from the country park too. Obviously we got to the furthest point away from the toilet before Elliot declared that he needed the toilet. Jungle wee it was.
This play area has it all. honestly something for all ages including a really cool sandpit with actual diggers that the kids can actually use because they're low enough to the ground to do so.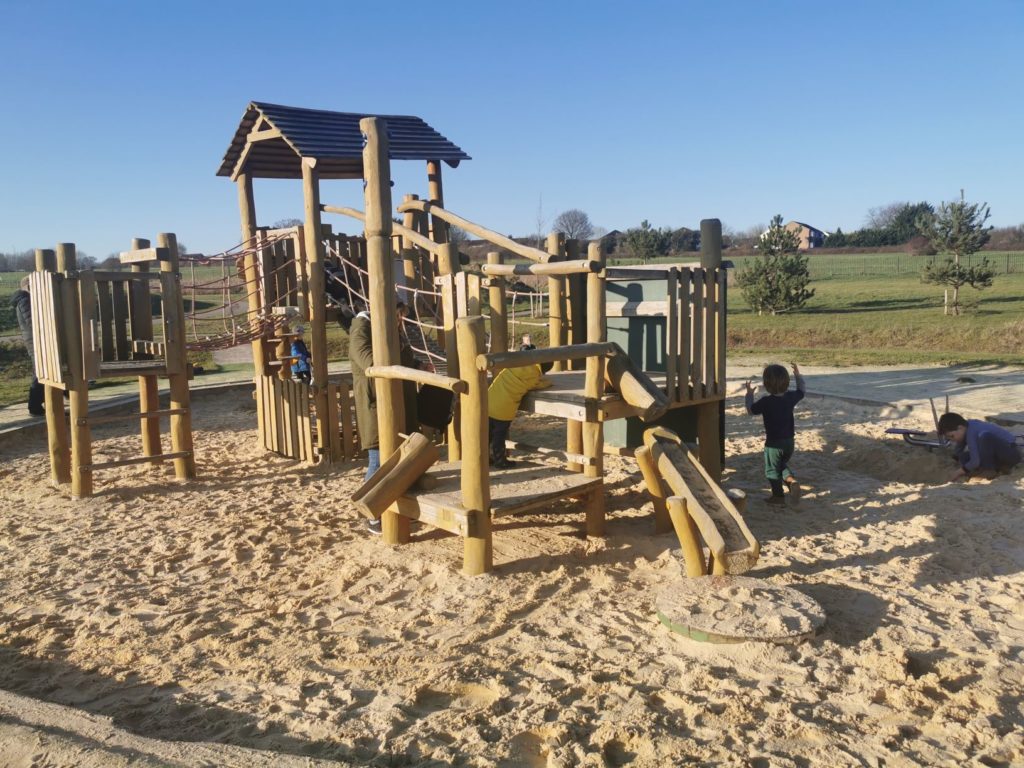 There's just so much play equipment that i really cant be arsed to list it all. What i will mention though is the amazing free running, parkour area in the top corner. The kids loved it and spent most of there time over there playing the floor is lava. My friend Shelly (aka Shellend) Had taught the kids to shout parkour every time they jumped. They have now adopted this new saying and now shout it at the top of their voices every where we fucking go. Including the Christmas lights round Waddesdon last night. FML
Time was getting on and we were all hungry so it was time to head back and check out the cafe for a bite to eat. Got back and although them menu is good and verrrry reasonably we fancied something a little more so we decided to head to the pub we passed on the way. Oh i nearly forgot about the giant wooden plane too! don't miss that its awesome.
Leavesden Country Park Stats:
Distance from Bicester: 55 mins
Sat nav: Leavesden 1 College Rd, Abbots Langley WD5 0NX Click to load sat nav
Wheelchair friendly: Yes
Equipment upkeep: 10/10
Cleanliness: 10/10
Facilities: Everything you need
Age range: all ages
Safety: 9/10
Fun factor: 10/10
Dog friendly: Yes
Pushchair Friendly: yes
Bikes and Scooters: Yes
Conclusion
Bottom line? Leavesden country park is an absolute corker of a free day out. When I say free I mean free. Still shocked that the car park was free too. The woodland cafe is super cute, reasonable and child friendly.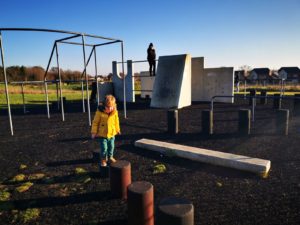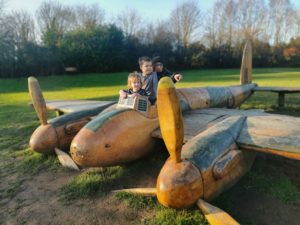 Its brilliant for scooters for the smalls, dogs can enjoy it too. There's a lot of space for running round and ball games as well. I'm not sure it'll be as enjoyable if it was pissing it down or not but i'm guessing this p;lace is heaving in the summer months.
If you're looking for a cheap fun full day out then there's no 2 ways about it. Get your arses over here. The boys have already been asking when can we go back with daddy. Its so good I reckon even grumpy bollocks will struggle to find issues with it.
AOB
For more info you can check out the councils website HERE
For more country parks then check out more reviews HERE