On the way back from Hatton Country world he other day we decided to take a detour via Burton Dassett Hills. We sometimes go the back roads if we're trying to avoid the M40. However We've only ever driven through so this time we decided to stop for a nosy. Boy am i glad we did.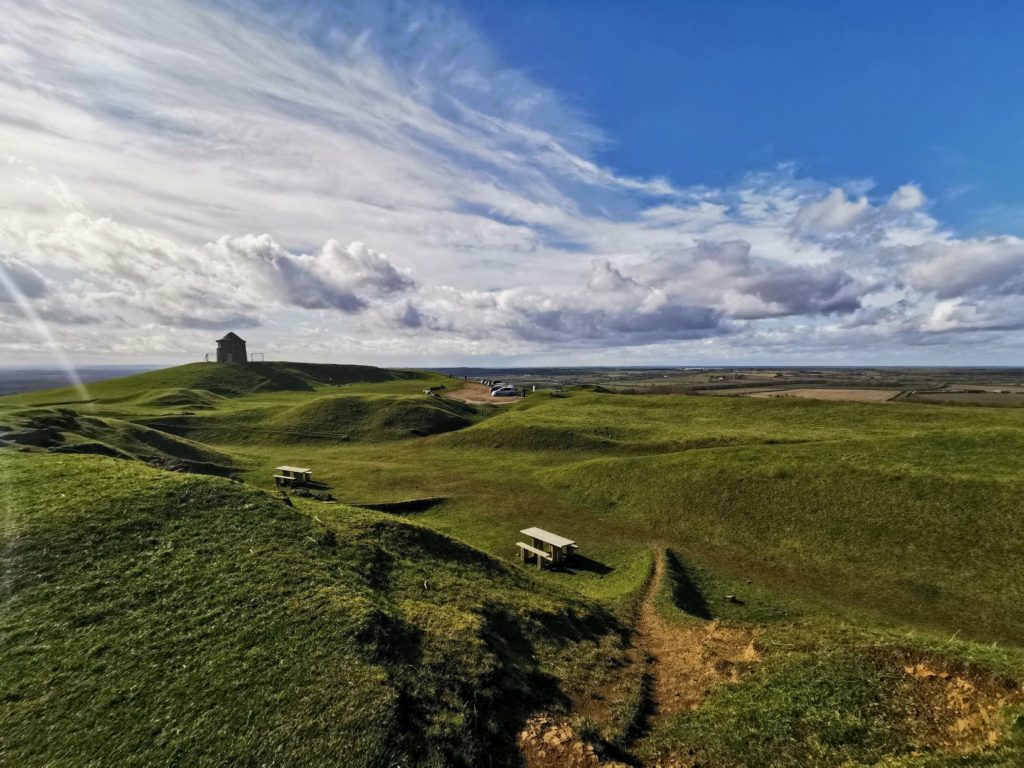 Burton Dassett Hills Country Park
Apart from parking Burton Dassett hills are totally free. For us it was completely free…..The parking machine was broken whoop. We parked in the car park nex
t to the hill with the building on top. Now don't expect top range car parks they're just gravel spaces but they do the job.
When Clark realised we were going walking he wasn't happy. He was even more pissed when he realised it was up hills. In fact he asked if there would be a lift! However as soon as we got there he was off. Despite the wind he was in heaven running around having the best time dodging sheep shit.
They were absolutely desperate to roll down the hills but honestly some of them were borderline mountains or as least that's how it felt when I was dragging my fat arse up them. It would have been suicidal to let them roll from the top (Although for scientific reasons I was intrigued to see how much speed they could clock up)
We got nearer to the bottom before we let them roll. Clark got a head full of sheep shit on one of the hill rolls but luckily it was a dry one and it was bath night. I can imagine how awesome/lethal it would be sledging down those buggers in the snow too.
Whats At Burton Dassett Hills?
There really isn't much to Burton Dassett Hills but that's not to say there isn't a lot to do. Its amazing for exploring there are quite a lots of hills to scale up and down. The views are amazing and bugger me its windy as hell too but that just added to the fun.
When we go back we're taking a kite it's perfect for it. In fact the boys were sat on top of one hill watching someone fly their kite. When the weather perks up it'll be great for picnics and ball games too.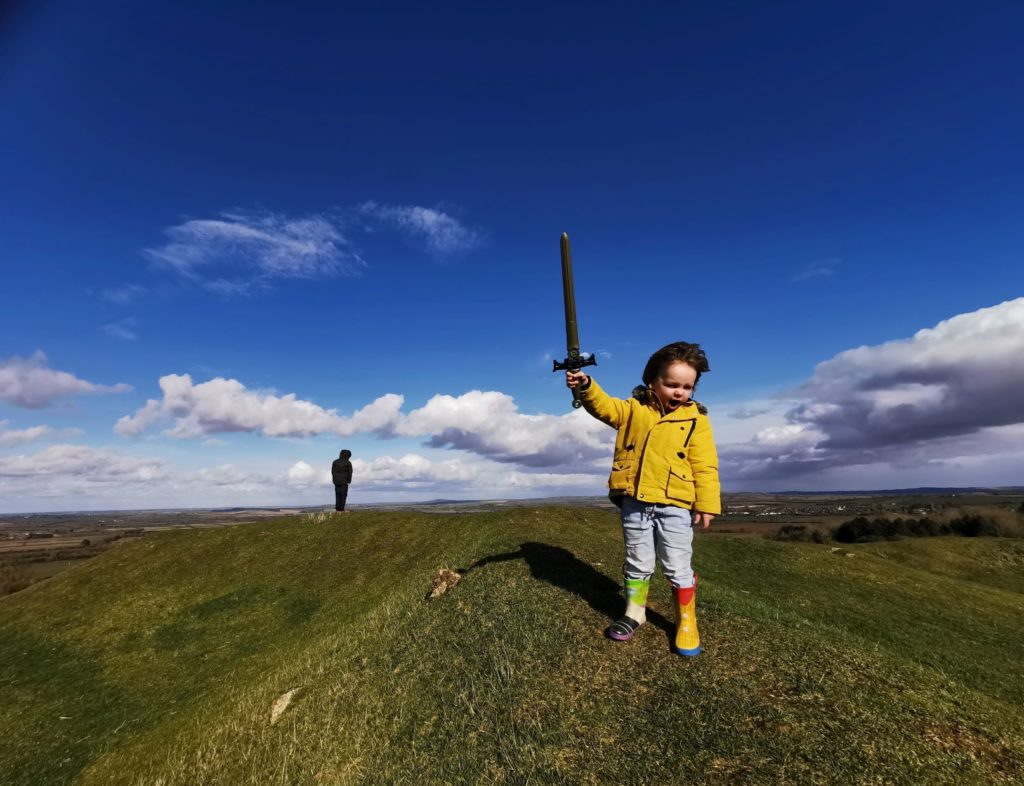 If you have a dog you need to take them here. There were a fair few dog walkers and we even came across a lovely little dog that they boys had a game of Frisbee with. You will probably see the sheep too although when we visited this time they're weren't as many. This may be due to lambing I'm not sure. Other times they've been free roaming.
We did spot a few benches and even toilets although we didn't go in the toilet so i have no idea what state they were in. We did have to watch the kids didnt get carried away and run into the road when we were there. Its not a busy road but still something to bear in mind when visiting.
Burton Dassett Hills Stats:
Distance from Bicester: 37 mins
Sat nav: Burton Dassett Hills, Southam CV47 2AB Click to load sat nav
Wheelchair friendly: No
Equipment upkeep: N/A
Cleanliness: 10/10 didn't even see a dog turd
Facilities: Toilets and parking only
Age range: All ages
Safety: 7/10
Fun factor: 10/10 we loveeeedddd it
Dog friendly: Oh YES!
Pushchair Friendly: Fuck pushing a pram up those hills!
Bikes and Scooters: Not really unless you have specialised bikes
Conclusion
If you're looking for somewhere easy without too much imagination needed for the kids to have fun they I'd advise you to stay the fuck away from here. Imagination and exercise is very much needed at Burton Dassett Hills. Its simply stunning and so rewarding if the kids get involved too.
The possibilities are endless and we really cant wait to go back. Almost makes me want a dog too. I loved seeing the boys play together without arguing and without asking for their tablets (Screens not acid)
We were also impressed with how far Elliot walked he went up and down the hills without too much help needed and he just kept going even after a busy day already. Fresh air and exercise was all that was needed for today's fun. In fact Clark said he preferred Burton Dassett hills to Hatton Country world.
Basically you all need to get your arses down and up and down again to Burton Dassett hills at some point. Maybe the best things in life really are free. Ha who am i kidding Cakes not free and I love that shit. Oh don't forget to wear good footwear don't rock up in your kitten heals or stilettos ffs……That goes for men and women.
AOB
For more information on Burton Dassett hills then have a look at their website HERE
For more country parks near you have a gander at my map HERE