So a few weeks ago we took the plunge and buggered off the the Habberley Trail. Yes its going to be a bit of a mission for some of you but for some who don't mind the drive from Bicester and the ones who live closer it's well worth a visit.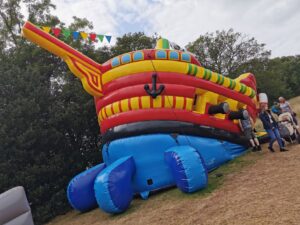 Habberley Trail
Main Points:
Better suited for older kids but still bits for the younger ones
Not wheelchair or pushchair friendly
The hills a bastard
Café wasn't bad
Dress for comfort
No over 18s on some equipment
If I'm being honest I'm still baffled how the hell they managed to to get health and safety to pass this bad boy. Don't get me wrong I'm so glad they did but I've worked in pubs where you get a bollocking for not labelling a door push or pull! . They must have a list of risk assessments bigger than my arse. So if you're a wrap your kids in cotton wool helicopter parent. STAY THE FUCK AWAY!!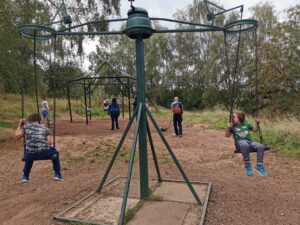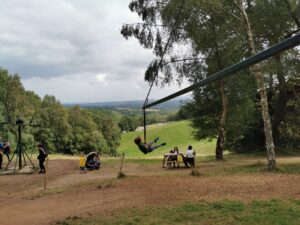 What Is The Habberley Trail
The Habberley trail is like a combination of play area equipment on steroids fused with farm equipment (Thats all I've got sorry) your kids will love it.
The hills are a fucker for us that carry a bit more trunk so don't say I didn't warn you. The hills and the uneven ground is probably the main reason I'd say its not suitable for wheelchair users or pushchairs. You could probably manage outside the first area with all the inflatables but after that I'm afraid not.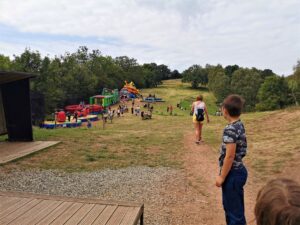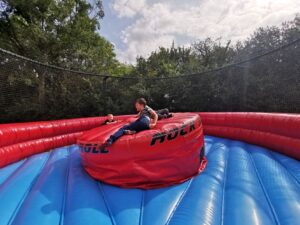 Although I'd say it's better suited for older children (Maybe 4/5 plus) It's not all bad for younger ones too even if it's just for the inflatables. There are shed loads of inflatables to chose from and its near the cafe too.
I was shocked that the Habberley trail wasn't overpriced unlike other venues post covid they haven't tried to bed us over for the cost of entry. £9 for anyone over 4 and under 4s free. Bargain in my opinion. The only downside was the parts saying that over 18s couldn't participate on certain pieces of equipment. Shame but understandable because the queues would easily double and if like me you're not a size 6 you'll like break the thing and ruin it for everyone else.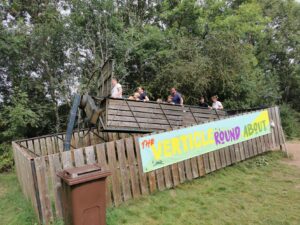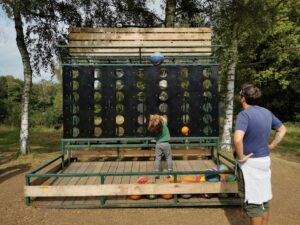 Habberley Trail Stats:
Distance from Bicester:
1hr 20mins
Sat nav: Habberley Trail, Low Habberley, Kidderminster DY11 5RF
Click to load sat nav
Wheelchair friendly:
No
Equipment upkeep:
7/10 1 or 2 pieces weren't working
Cleanliness:
9/10
Facilities:
Everything you need
Age range:
Age 4 plus (inflatables for younger)
Safety:
3/10 probably why its so good
Fun factor:
10/10
Dog friendly:
Yes
Pushchair Friendly:
No
Bikes and Scooters:
No
Value for money :
£ Absolute Bargain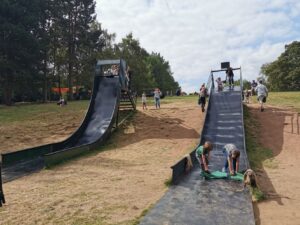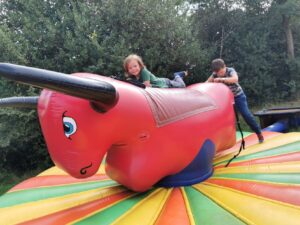 Conclusion
The Habberley trail does get busy in places but we had no issues with queues (never waited more than 5/6mins) it's all free play so do as you like and have fun. No staff monitor the areas so it is a free for all.
Take a picnic or use the café there like we did which was fine. We saw the queue for ice cream and walked away so take a treat if you go unless you like to wait for hours in queues.
Our favourite part was the catapult swing and the ball fire catcher thing even if the balls did keep smacking me in the tit. We spent ages playing the giant connect 4 basketball games near the slide. Oh forgot to mention there are a few farm animals near the inflatables at the top too.