Not quite a new year yet. So I'm making the most of having the husbeast and the kids around all at once. Today's destination of choice…Dinton Pastures country park. Another one marked off my ever expanding list.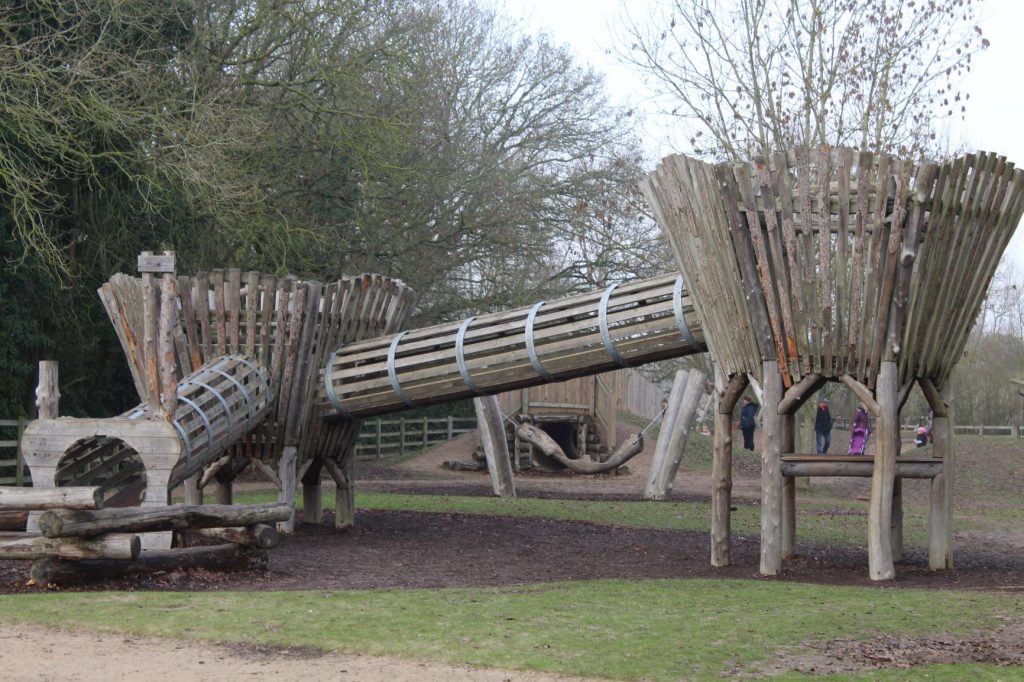 Its about an hour away traffic depending. We prefer going to places a bit further afield as it means we can coincide it with Elliot's nap time in the car. On the way there he's asleep on the way back he's too tired to be a total dick in the car.
I'll start off with a tip. If you're going on the weekend or a busy period just don't bother with the main car park. Not enough room to swing a fucking squirrel let alone a cat. We soon gave up even when we found a space. If you didn't have a weight complex before you will if you park in one of those spaces.
Dinton Pastures Car Park
Turned around and headed for the overflow…….passed 2 of them and they were both shut! We were about to head out then we saw another one pointing down this track/road. Don't panic like us. It may seem like you're being shipped of to flipping Narnia but in fact you've just ended up in the shittest pot hole ridden car park of the lot. Its all pay and display too but not expensive (see tariff in the photo's)
We thought we'd be miles away. Turned out to be a pretty good spot right next to one of the many lakes. When we arrived it was foggy as hell. Bloody cold too. Couldn't really see the lake for shit. Looked pretty cool though (possible hiding ground to dump the husbeast's body if he carries on with his drunk ass snoring)
Foggy Dinton Pastures
The kids found it pretty fascinating. Clark was a tad scared which could be down to me explaining that if you walk into fog it'll lift you up to the giants castle in the sky. Its always been funny on the school run when it's foggy. He see's dog's and people running into the fog over the fields and disappearing. Its a great way to keep them close by. Or a great way to scar them for life. Time will tell.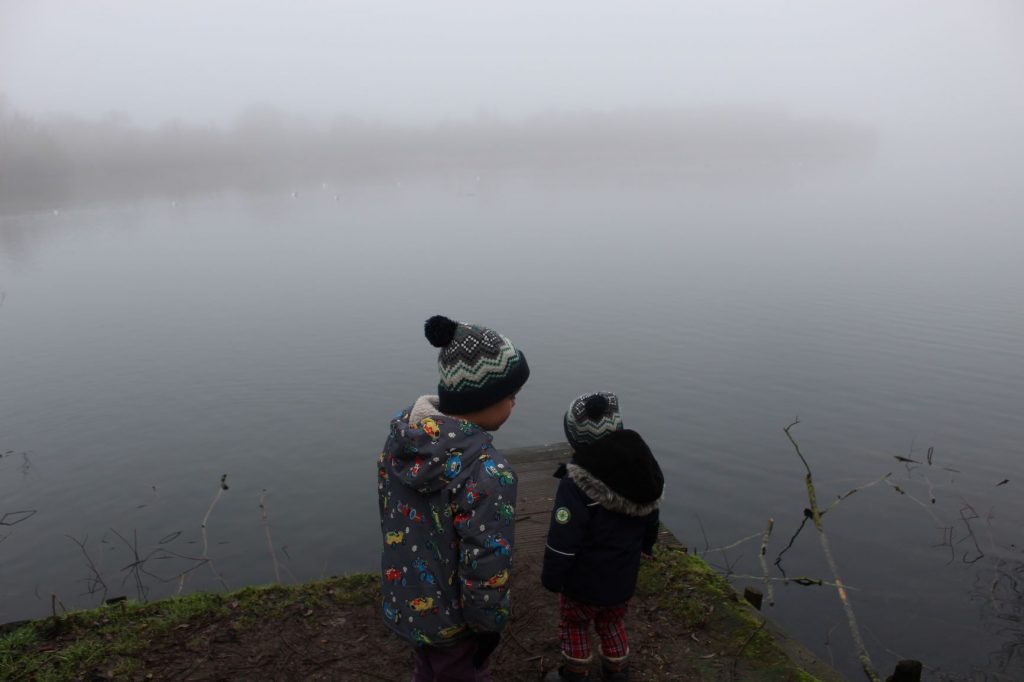 If you're visiting in the wetter months take spare clothes and your wellies. Its a mud pit. Clark would have loved it if we hadn't have left his wellies at school. Oops bad mum.
Dinton Pastures Play Area
He didn't mind for too long though because he soon got distracted with the beast of Dinton Pastures play park. It was a sight for sore eyes that's for sure. In my opininon country parks do the best play parks. This park was impressive from the off. So much to see and so much to do. A park always scores highly from me when its mostly made of natural materials. This one didn't disappoint either.
Lots of new and original equipment in Dinton pastures. From a crazy ass cage like climbing frame with tunnels. To some weird add log horse style swing right up to a giants chair and some giant eggs…..Im making it sound like Mr Greys sex room here. Its really not but probably kitted out just as well in terms of playgounds.
There was the lovely willow tunnels, A hollowed out log tunnel. The kids loved the rope snake swingy thing. The huge hobbit mound in the middle was really cool too. Elliot didn't half shoot off the slide quicker than a curry poo the morning after.
They even had a huge sandpit too which i reckon will be awesome in the summer months. One of the better things about this park. I didn't see a single springy face twatter anywhere. There is a great deal to do for all ages. It even had 2 zip wires so you can race each other. I saw it as double the risk of your toddler running into the path of muddy wellies but that's just my gripe.
Feed the Ducks
Opposite the park you will see the big fuck off lake….unless you have vision problems that is. Here you can feed the ducks. TAKE BREAD ignore all the shit youve seen about not feeding the poor bastards bread. Swans have been dying because of all you hippy do gooders. Dont get me wrong take your hippy duck food too and watch as they shunt you like the pissy kid in class (The pain is still very real)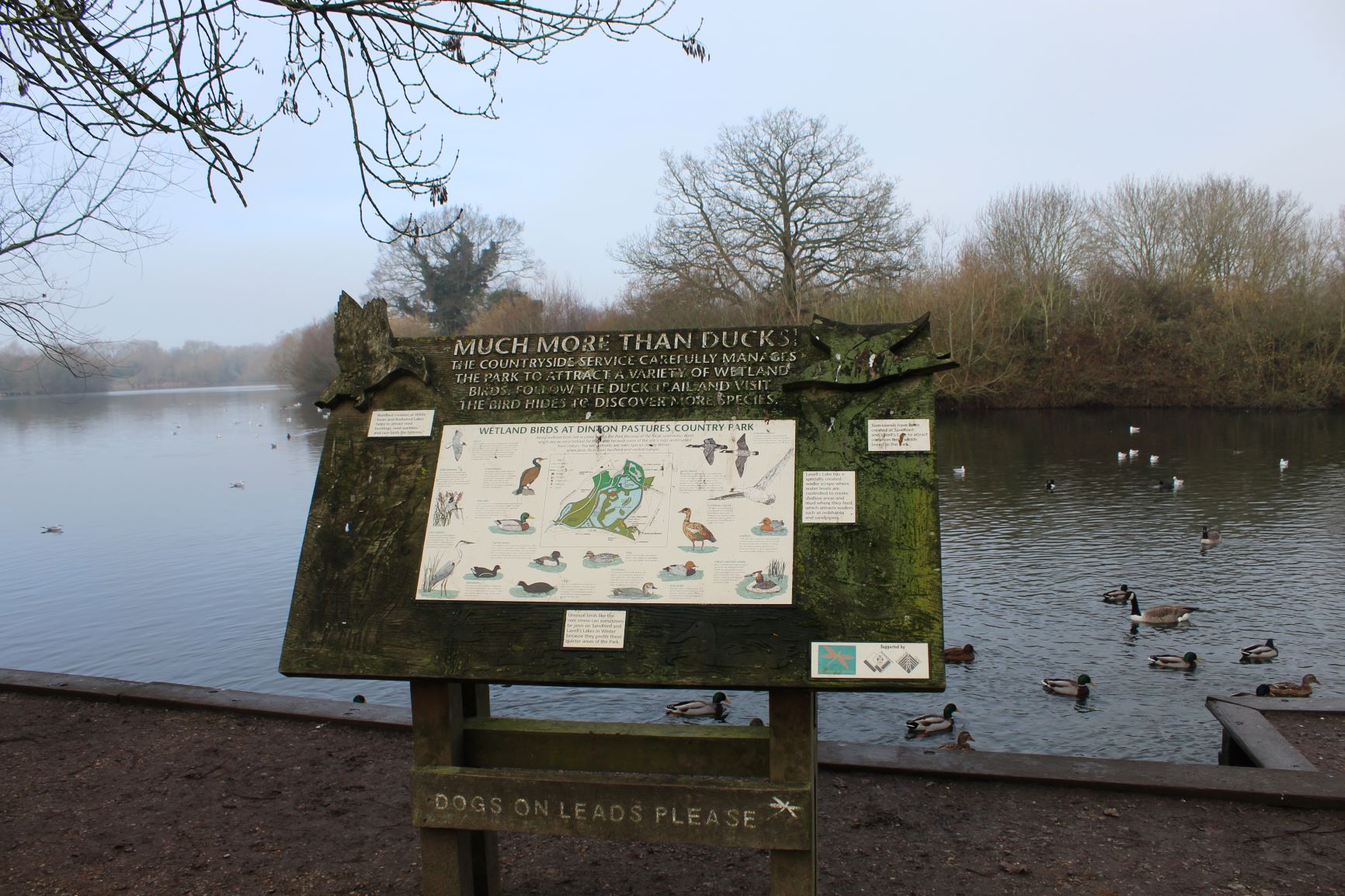 If you do feed the ducks do yourself a favour if you have your dog make sure it's 1 on a lead (as it should be in this area). 2 if the swans are hissing at you its because your stupid ass dog is too close and pissing them off. They probably have Cygnet's (baby swans for you thicko's) back the shit up.
Dog Friendly
Now that I'm on the subject of dogs. Don't leave poor Fido at home he or she will love Dinton Pastures. Me as a none dog owner was even impressed with the layout. There are very clear signs about dogs throughout the country park. There are areas where they simply aren't allowed, Areas where they can be but on a lead and then area's they can run free off a lead.
The whole time we were there i didn't see one moose knuckle ignore these signs. It worked really well. Bonus no dog shit in site either. Oh if you've forgotten your bags they have spare one's at they doggy station next to the toilets and cafe. A cafe where your dog is welcome too might i add.
Cafe
The cafe was deceivingly large and one of the better looking cafes I've been into at a country park in a while. There is plenty of seating outside undercover and open. Inside was more of a struggle though but we managed to find somewhere. Sent the husbeast to order the kids some lunch. I really couldn't be arsed with a picnic today.
He came back with 2 lunch box deals for the kids which included a sandwich and 5 items and a little toy for £4.75 which we thought was pretty good. he ordered us each toasted ciabatta which were actually really nice and despite how busy it was. Served up pretty quickly.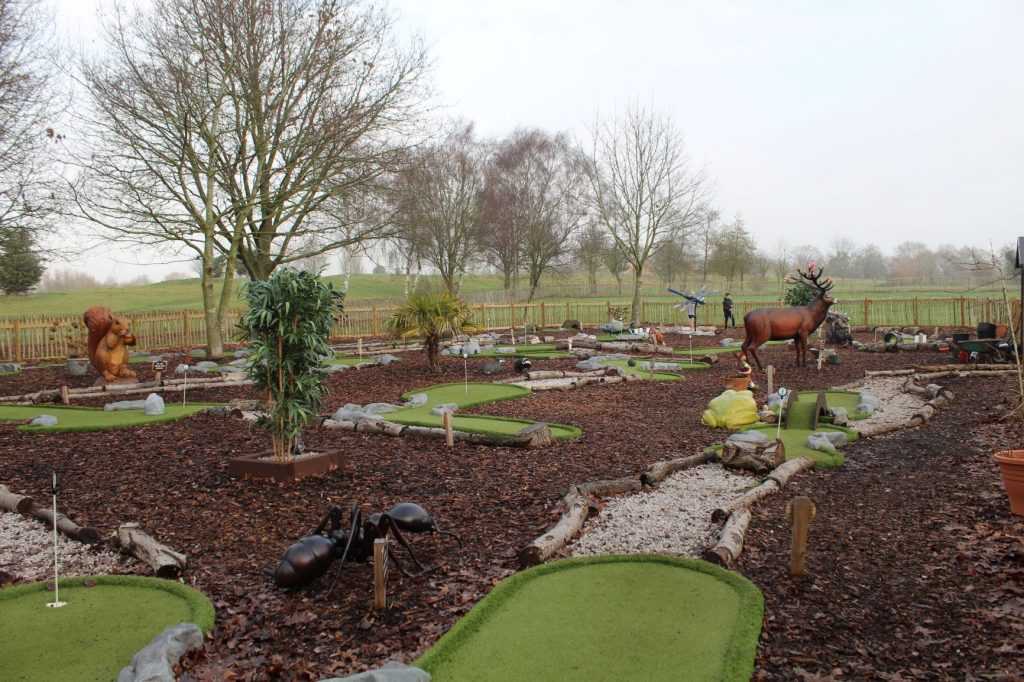 After lunch we went for a little explore, got lost had to back track and finally found the crazy golf. Its pretty cute but ill admit I've seen crazier. Despite Clark's begging we weren't about to endure the 3 hour torture of trying to explain to a 5 year old how to hold a golf club correctly. While he shouts " but i know how to hold it " while wielding it like a fucking mallet hammering in tent pegs. I've also been on the receiving end of the plastic club we have a home when Elliot got hold of it. He can shit right off if he thinks I'm giving him a metal one.
Round 2
We headed back to the park for another play. Normally we avoid doing to rounds of a park but we actually really liked this one and were pretty happy to let them have another play. By not the fog had lifted and as far as I'm aware no one had been lifted up to the giants castle in the sky.
The kids had another play while i took in the views over the lake. What a view! It was a lot bigger than i expected and if it had been on a day when my ankle hadn't been fucked over at Stanwick lakes a few days previous i would have dragged the kids round them all. However my hobble was peeing me off so we decided to pop the trek on hold for another day next year.
Dinton Pastures stats:
Distance from Bicester: 1 hour
Sat nav: Davis St, Hurst, Wokingham RG10 0TH Click To Load Sat Nav
Wheelchair friendly: Yes but might get muddy
Equipment upkeep: 10/10
Cleanliness: 9/10
Facilities: 10/10
Age range: All ages
Safety: 7/10 (common sense needed in places)
Fun factor: 10/10
Dog friendly: Very much so!!
Conclusion
I say next year because we will 100% be back to Dinton Pastures. we loved it here. If you're an outdoors, Country park kind of person you cant not love it here. Your kids will thank you for it, Your dog will thank you for it and if you don't have either you will thank me for it.
AOB
You really should pop Dinton Pastures on the list of places to visit next year. Have a look at their website HERE they sometimes have events on throughout the year too.
For more country park reviews click HERE
Have a goosey gander at the photo 's and video below too if you want to see what we got up to.