I asked and you didn't disappoint. A few of my readers suggested Cannock Chase for a place to meet my parents on fathers day and boy am I glad you all did.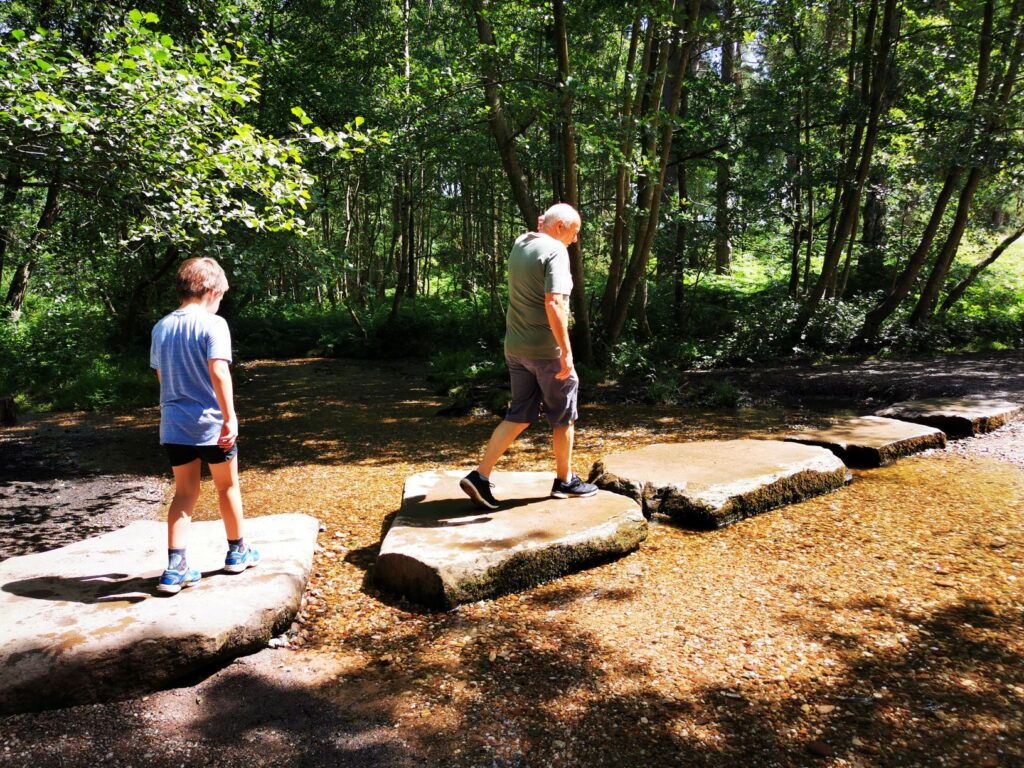 Cannock Chase
So for us Cannock Chase is 1hr and 30 mins away which is the same for my mum and dad. Its a lovely half way point that isn't a service station on the M6. There's shit loads of parking in a couple of areas. I will add the sat nav for the one we parked in in the stats section later.
Think Wendover wood on Steroids and then you'll be able to Imagine just how big Cannock chase is. There's no way we could have even slightly make a dent in exploring the place in one day. That's not to say we didn't give it a good go though.
There's so much to do. Possibly the biggest go ape I've ever seen. Ok it was shut because of Corona virus but it was still impressive. Everywhere we walked we kept finding new bits. Then you have god knows how many trails (Including a Gruffalo one) for a variety of levels. Some great for on foot and some awesome looking mountain bike trails too. There's even a dog activity trail too!
When we visited there were a bunch of portaloo's too. The cafe was open (for takeaway) the ice cream shack and even the bike hire hut. Parking was £6 for the whole day which in my opinion is well worth it. we arrived at 10 am and had no issue whatsoever finding a space.
Children's Trail's Cannock Chase
I forgot to say that we didn't go on the Sunday in the end because the weather was forecast to be crap. Instead we headed over on the Monday which worked out well because the weather was perfect and it wasn't too busy either. I reckon when things are back to normal (If that ever happens) the place will be rammed.
Took us a while to park because my dad forgot his glasses so couldn't see what he was doing. Then when we did it for him mum went to put the ticket in the car and i shit you not she took about 30 mins because she got lost on the way back!!! It was a straight fucking line.
Anyway we managed to study the trails and figure out which one we wanted to do. We decided to start with the Ladyhill trail. Its a flat 1 mile circular with fairy toad stools to follow as you go. It runs along with the Gruffalo trail too. Absolutely perfect for toddlers and great for their bikes too.
The boys we're having a blast finding the toadstools (Not hard) and while its not Rushmere fairy trail its still good. They loved finding the characters from the Gruffalo and they found a brilliant den building area too.
Quick Spot Of Lunch
My favourite part of the Ladyhill trail was the very end firstly there's the Gruffalo statue (Fenced off). Secondly there's the fairy trees. Super cute small wooded area with fairy doors carved into the trees it was really cute. Best of all was the fairy postal service area where i could see people had hung dummies. Absolutely genius so if you're thinking of using the dummy fairy as an excuse then take them here.
We ended up having early lunch on one of the many benches around. We sat near the play park which for obvious reasons wast open (corona virus) but it looks good for when it does re open. A squirrel came to join us while we ate and then we decided the first trail was far too short for us so we cracked on with the next green trail The Fairoak.
The Fairoak trail was perfect for us. When we go again we'll probably just head straight for this one. Its a 2.5 mile circular which runs alongside the pools which had loads to keep the kids interest going. Thankfully we were with mum and dad though because if we'd tried to make them walk 3.5 miles on a normal day they'd have bitched and moaned the whole way round.
The signs are really easy to follow. Just follow the green arrows. If i can do it you can do it. There are lots of areas for the kids to climb up higher and walk along a different path while still being in sight all the time which they loved.
Fairoak Trail Cannock Chase
One thing I will mention is to keep your eyes and ears open for bikes. There's a lot more whizzing about on this path and some of them go bloody fast with no shits given for the people on foot. Most of them are courteous and careful which is a great when i have Elliot in tow.
The ponds are really lovely and a great place to sit and have a rest there are a few getting bigger the further you go. We got around half way and then we came across a fantastic area between 2 ponds. Oh yeah a little river with stepping stones. I'm gutted i didn't pack a towel because its a perfect area for a little paddle stop. You cant really spend all day there because its the main route across but a lovely pit stop all the same.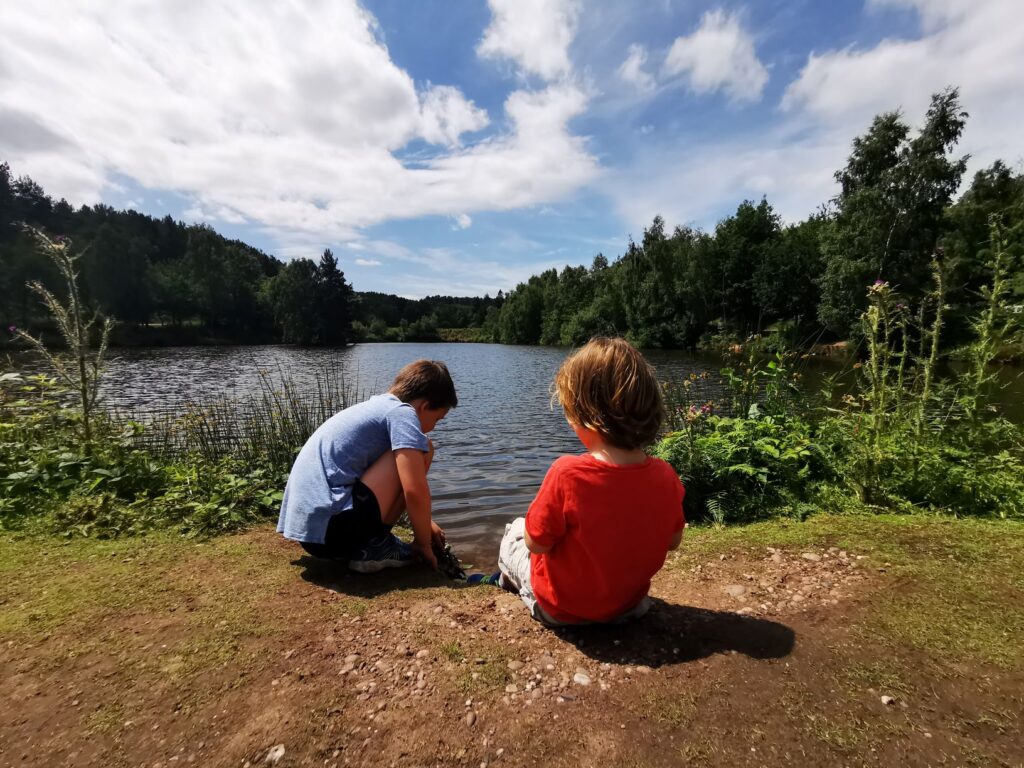 As we went on we came across one of the bigger ponds. When do they get big enough to be classed as a lake?. There were loads of geese and their goslings and several fishermen too. As we walked round the boys stopped to watch one fisherman land his catch. He was super friendly and told the boys they could come and have a closer look. They even touched the fish too which they both said was slimy and gross.
It was the end before we started heading back in the loop. The way back was lovely again and rejoined the route we took on the way out after crossing the Stepping stones. We had a quick pee stop once we got back to the main area and all had an Ice cream too before heading off.
Cannock Chase Stats:
Distance from Bicester: 1hr 30mins
Sat nav: Birches Valley Forest Centre Car Park, Birches Valley, Rugeley WS15 2UQ Click to load sat nav
Wheelchair friendly: Yes the 2 trails we did were anyway
Equipment upkeep: 10/10
Cleanliness: 9/10
Facilities: Car park, toilets, cafe
Age range: All ages
Safety: 8/10
Fun factor: 10/10
Dog friendly: Yes but pick up their shit pleaseeeeeeeee
Pushchair Friendly: Yes
Bikes and Scooters: Perfect for bikes
Kite Flying: Yes
Conclusion
We had the best day at Cannock Chase I'm so glad we found it. For us it was well worth the journey and its a brilliant half way point for us and my parents. So so happy to find it. In my opinion it pisses all over Wendover and I still love it there too.
Cannock Chase is massive so i'm confident we will find something different every time we visit. I really cant wait to head back with the bikes it'll be awesome and lord knows after this virus I could do with losing a bit of this trunk I've put on.
It really does for us anyway tick all the boxes. I don't normally recommend place out of the hour radius of Bicester but honestly you can easily spend a full day here and have a great time.
If you can then you need to get your arses to Cannock Chase. Its perfect for all ages and I'm confident you will have a cracking time like we all did.
AOB
For more information check out their website HERE
For more days out check out the giant map HERE