When does a woods become a forest? Is there a difference? In my head a woods is smaller than a forest. If this is true then why the hell isn't Wendover woods a forest? It's bloody huge!
I have heard of Wendover woods before but in my head it was a lot further away than i thought. I had no idea it was under an hour away. Well it should be under an hour away unless you have a husbeast like mine that cant follow directions even from a fecking sat nav.
Big Drop Down
The road into the forest is a long road and if like us you probably haven't been before you'll start to wonder if maybe you took a wrong turn. You haven't but my god don't swerve. The drop off the side of the road was making me touch cloth. I don't have a fear for heights but i do have a fear of falling of a mountain road in a car with the kids in.
We we're originally supposed to be taking the kids to Hinksey park in Oxford with the kids a some friends but the A34 was shut due to a crash and diesel spill. So our friends suggested Wendover woods. I'm glad they did in the end.
We go there early and it was bloody freezing. Considering how much i go outdoors on walks etc I'm totally unprepared for the cold. Luckily the kids are kitted out enough to survive an ice storm like the one in the Film "the day after tomorrow" (well worth the watch btw)
Car Park
The car park was bloody huge. Brand spanking new too by the looks of it. It was new for our friends who had been before. It did make me wonder how many trees they had to cut down to build the car park though. The parking is in my opinion reasonable £2.20 for 0-2 hours, £4.30 for 3-4 hours then £8 for 4 hours plus. which if I'm honest I'd make sure we didn't stay over the 4 hours. It's pay at the machines as you leave and number plate recognition. Its slow so don't panic like we did.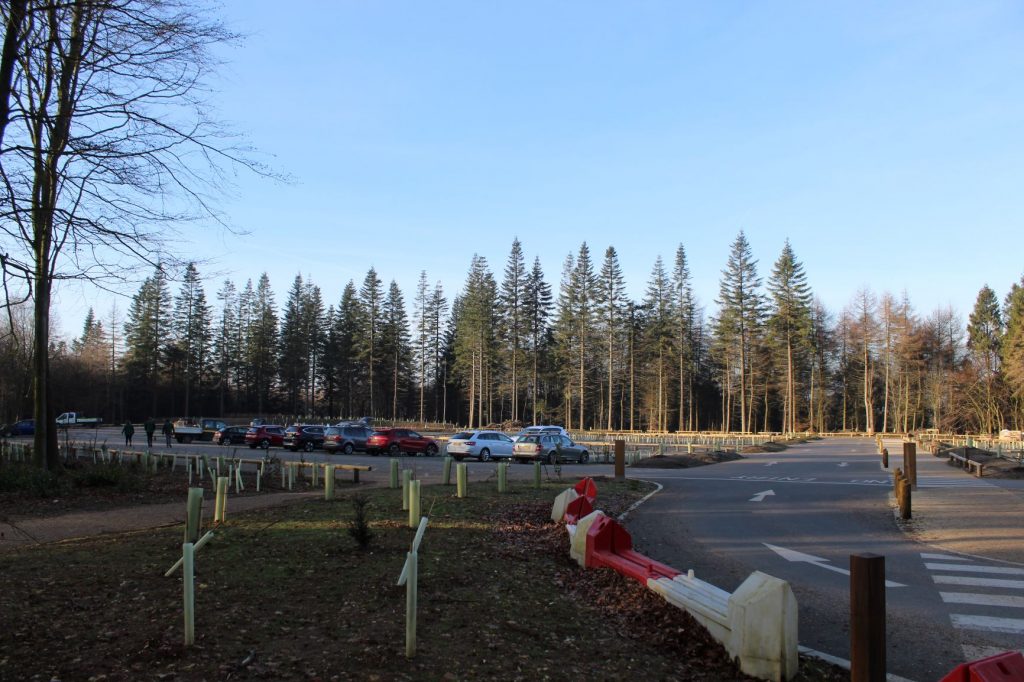 Wendover woods is the home of the Gruffalo trail £1.50 to grab a map and take part. That will have to wait until our return visit. We weren't planning on staying too long as we had things to do. We did see that they had a bran new play trail which our friends hadn't done before either.
New Play Trail
The play trail is still in the process of completion but you can still walk it. There are 2 routes the short route and the long route we did the long route (I Think). It was a perfect length for the younger ones. Added bonus of having play equipment at different points round the trail. It was a great way to keep the kids going including a lovely lookout point with some cracking views.
We got to a big clearing which was full of picnic tables and a few BBQ points. I do wish I'd brought some coal it would have warmed us all up. My nips were staring to interfere with radio signals it was that cold. Great to know for the summer months though. They did have a volleyball net and a couple of balls to play with. However the net was knackered. The had a great time booting the balls around though.
The kids stopped for a snack. Clark was being particularly difficult today (aka he was being an arsehole) we had to make him sit on the thinking tree stump a couple of times as we didn't have a chair to hand. Not that it made the blind bit of difference.
Baby Crack
We've recently banned Haribo from the house after discovering that shit was like crack. We have nicknamed them baby crack. It sends the kids on a drug fulled rampage within seconds of consumption.
The adults patience was wearing thin especially old grumpy bollocks. Our friend Jon is so similar to Victor Meldrew its uncanny. How his wife puts up with him i'll never know ;). we decided to finish up the walk and head over to the cafe for a hot drink. You know how runners pour bottles of water over them to cool them down? well i was tempted to do that with my tea to warm me the fuck up.
Cafe
Right the cafe. Lovely little wooden cabin with indoor and outdoor seating. Its not very big but we luckily managed to get seats inside. I can imagine this place will get rammed when the woods is busy. There was a fair hefty queue when we wee in there.
The service was great though and the staff were friendly. The lad behind the counter had a sense of humor when my friend asked if it was her spoon. Sam loves a good spoon bless her. For the 4 of us we had 2 bacon sandwiches (which were lovely and loads of bacon) 2 teas, 2 ice creams (Is there any weather the kids wont want an ice cream in) and 2 more drinks for the kids and it came to £18 which isn't overly expensive but not cheap either.
If we had planned to come here all along or if we came in the warmer months we would 100% be bringing a picnic. Oh the cafe is dog friendly too which is good to know for all you dog owners.
We finished up in the cafe and sent the husbeast's and kids off to the park while me and my friend went and had a nosey at the new build which is really impressive looking. Its empty at the moment but i have a feeling it'll either be a new visitor center or cafe.
Gruffalo Trail
The Gruffalo trail starts right by this building too which my friend informed me has moved since she last came. Im really looking forward to going back to Wendover woods and trying the Gruffalo trail. The whole woods looks amazing. I am going to hold off until it warms up a degree or 2 though first.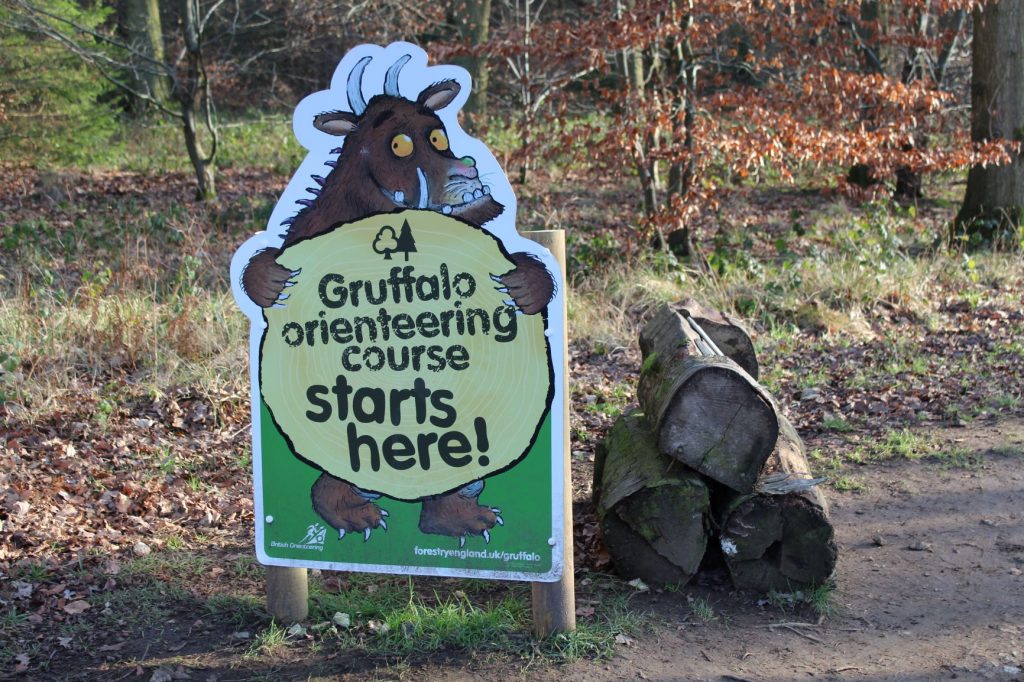 The parks not a bad little park but I've been to loads that were better. This didn't bother me one bit though as i didn't even know there was one. We went for the woods not the forest. There was a pretty cool tepee though that Elliot loved.
Wendover wood's stats:
Distance from Bicester: 46mins
Sat nav: Wendover woods, Aston Clinton, Tring HP23 6LD
Car parking: Huge brand new car park
Equipment upkeep: 10/10 extensive works still ongoing in certain areas
Cleanliness: not much rubbish and no dog poo.
Facilities: 10/10
Age range: All ages
Safety: N/A i cant possibly score this
Fun factor: 10/10
Dog friendly:100% yes
The place looks perfect for bikes, It has a go ape which looked like I'd die and Your dogs will be your best friend forever if you take them here. There were a few dog bins around that we spotted too so no excuses to dangle their crap in a bag from a tree.
It's muddy pack your wellies and a change of clothes get stuck in and let me know what you think. I'd 100% recommend Wendover woods to anyone….maybe not hunters though. I reckon you'd see loads of wildlife too. We never see wildlife because they hear the kids a mile off. My Boys voices would have been a great substitute for an air raid siren in the wars!
AOB
Check out all the factual bits on their website HERE
If you'd like to look at the other woods and forests we've been to check HERE