New Years day walk, Bernwood Forest. Never been before but the CC family recommended we all booted up and tried it out. Call them the CC's because like everyone else we cant be arsed to say their bloody surname.
They rallied another family in too so in total we had 3 older kids all in the same year at school and 3 younger kids who are still in the process of throwing a shit fit if they don't get what they want when they want.
Bring your Wellies
If you're going to come here in the winter. Boot up and wrap up! Possibly one of the muddiest walks we've been on for a while. Its awesome. If you don't like getting messy you may as well stop reading now. You wont like it here.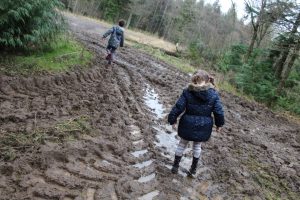 I'm going to kick this off with a pretty big statement. Bernwood forest is now my favourite no frills nitty gritty forest walk. You're not going to find a cafe in this forest so maybe bring a flask. Possibly a compass and a tent too for when you get lost. Bernwood forest is on big ass forest.
Bring your dogs
I had never heard of this place before which is pretty shocking considering how bloody close it is too. If i was a dog (Which i have been referred to on several occasions in the past) i would look at this place as my kind of heaven. So many other dog's butts to sniff too.
With how big the forest was i didn't see one single dog poo on the main path. I'm under no illusions that there was a graveyard of turds off the path but thankfully none where we could see. The dog bin at the main entrance was oversploding with dog crap though and shit me (Pun intended) the smell when you walked past made my eyes water. Its a bit annoying but with Christmas and all that I'm guessing workers have been off. At least the dog owners aren't hanging them from trees like some kind of bauble on an anti Christmas tree.
No Moaning
The kids today shocked the hell out of me. Each and every single one of the older kids walked/ran the whole way around today without so much as a single moan. This for us was nothing short of a miracle. Clark cant usually walk to Tesco express 10mins without declaring his feet are going to drop off from exhaustion.
I have no idea how far our route was on that day but it took us around 2 hours. Next time he moans i'm going to be calling bullshit. In all fairness i think the key was going with his friends. They were all so happy running around, using their imaginations and getting muddy.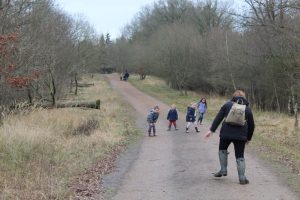 Off road
We started off sticking to the main route. Then i took the older kids and Elliot off road. It was awesome! a natural playground. There has been so much forest work done there are lots of branches stacked up in areas. The kids realised they could use this as a natural trampoline. Well Maybe not Elliot he just realised that every time he stacked it (which was a lot) it didn't hurt.
I'm no Christopher Columbus and soon got lost. The old forest gump had to come and save the day and lead us back to the main path (Cheers Karl).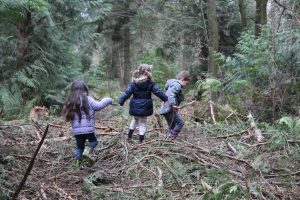 The kids ran off and found a den that someone had made and stated playing 3 little pigs. We eventually got them back and headed further into the forest now. All the adults were trying to guess which direction the car park was so we could loop round. This place is a frickin maze people.
Read the Signs
There are lots of signs around Bernwood forest telling you to STOP and go no further. Obviously we all ignored the sign and walked straight on past it. We came to the conclusion that as it was new years day none of the big trucks would be working which is what we assumed the signs were protecting us from. Please be careful and don't be idiots like us. Abide by the rules. We had a human shield in case it all went wrong. Well they didn't know but i was going to shove the husbands into the danger take the kids and run.
Alas no such Sacrifice was needed.
All the heavy machinery has left huge tire tracks in the mud which has filled up with water making Irrisitable muddy puddles for the kids (Puddles are like crack to kids) i managed to get them all to avoid this one deep one. Or so i thought until i heard an almighty wail. Yep Elliot had decided to show me the proverbial middle finger yet again and do what the fuck he wanted to anyway. Resulting in him on his back legs akimbo in the muddy puddle. I was torn between taking a photo and helping him. Had i been alone the photo had won. However the other parents were watching so i settled for an after shot. I'm not not as heartless.
Poonami
At this exact moment Roo Roo one of the other younger kids had decided to take a shit. A shit that was so big has created a poonami. Queue the stress. I was trying to get Elliot changed while at the same time trying to get a photo of the stress of the shit storm happening next to me.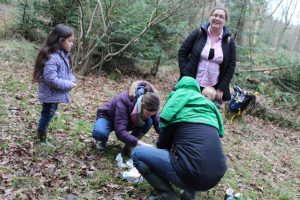 2 semi naked toddlers in the middle of a forest with a woman in a pink checkered shirt and leggings laughing at them. Roo Roos Mummy mid change with the help of Roo's dad trying not to get human faeces as well as the mud on her lovely new looking Joules wellies. My Husbeast moaning at me to "put the fucking camera down" While the older kids with no concept of the stress we were under decided to come and ask for snacks haha brilliant. I think the saying should be. If a tree fell down in the middle of the fores with us lot stood next to it. Would we still hear it? Absofuckinglutely not.
Mexican
Trauma over, Kids changed and off we fucked deeper into the maze of trees. At this point the smaller kids had started to lag. Which give them their due was pretty impressive for their chubby little wobbly legs. It was time for the mum's to carry their spawn. Well not me i had a bad ankle that decided to flare up after climbing a look out tower. I have absolutely disregarded any safety signs today much to the horror of the husbeast (Nicknamed safety boy by his own son) . In my defense i was egged on by one of the other dads. Hes Mexican and a bad influence. Not sure if they're linked but hey hes the only Mexican i know.
At this point the older kids were still going strong. We'd refueled them with Midget gems halfway. The track had started to get even more muddy and the main path was nowhere in site. Were we lost? Probably. It wasn't and easy time to be carrying the younger ones and there was no way the one pushchair that was brought along could be used anyway. However we made it. The big kids found the track again and miraculously no one was hurt. Which is pretty shocking as something normally always happens to me.
Bernwood forest stats
Distance from Bicester: 16mins
Sat nav: Bernwood Forest car park, Oakley Rd, Boarstall, Aylesbury HP18 9UR
Car parking: Yes though can be a tight squeeze
Equipment upkeep: N/A
Cleanliness: not much rubbish and no dog poo.
Facilities: N/A if you need a wee find a tree
Age range: All ages
Safety: N/A i cant possibly score this
Fun factor: 10/10
Dog friendly:100% yes
Conclusion
Long and short of it all is. Bernwood forest is the best working forest (that's all i can think of to describe it) that I've ever been too. They haven't made this place for the general public its all about the nature and my god there's enough of it.
Grab your wellies, Grab your dogs, don't forget your poo bags and for the love of god take snacks. You'll need the energy.
Parking was a bit of a squeeze it was only a small car park which its pretty much a small area flattened out. If you do go please take not of the signs and lets try and keep this gem tidy. Its a great place to blow away the cobwebs.
AOB
You can read actual facts about Bernwood forest on this website HERE
If you would like to see what other woodlands we've been too have a look HERE