I don't know why I've left our favourite place so late before reviewing it Rushmere country park. We haven't been for a few months but i think I've been scared to write the is review up because my pretty crappy wording will never do this place justice.
This is without doubt our number 1 place to be as a family. It may not be the kids favourite (they still love it) but if you want an all rounder that'll keep adults and kids happy this is the place!!
If you're lazy and don't like walking stop reading now. Stay at home grab yourself a 4 pack of kit Kat chunkys and have a "PJ and duvet day" aka I'm too hungover to move my arse or dress my kids day! (We've all had them no judging here….yet)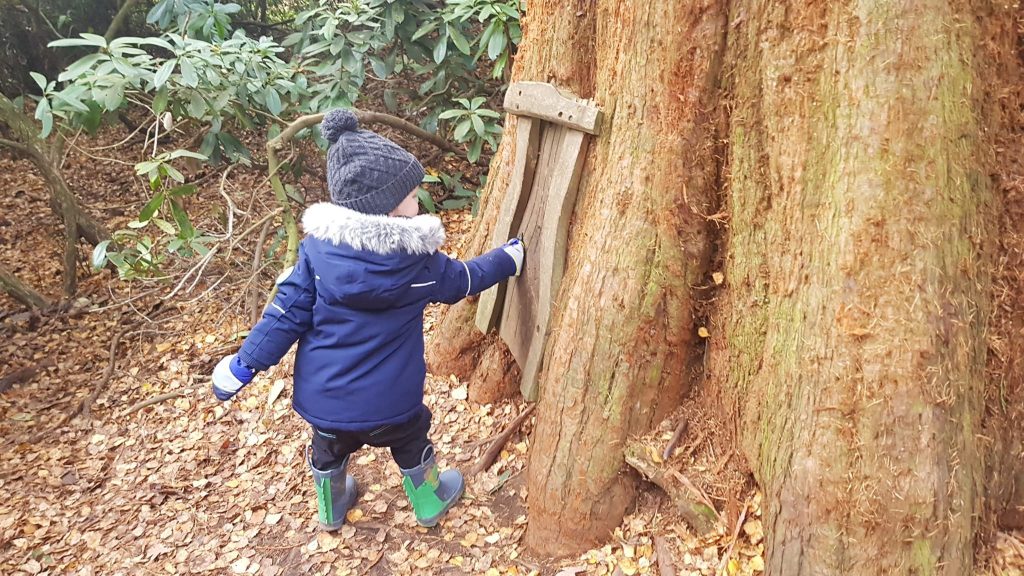 Rushmere has it all, including a really creepy lake that no matter the weather, always has a mist over its surface. I've always day dreamed about killing off the husband and dumping the body there whenever we walk around it. It's perfect for body dumping, horror film sets…..or you could just walk round it and feed the ducks as nature intended (ffs take bread your kids and the ducks will thank you for it)
Fairy doors
The main attraction though has to be the fairy doors. I'm not on about the shitty ones you've made in your front room with lollipop sticks during "craft afternoon" (another hangover) that have now gone mouldy in the rain (not mocking the effort btw) but these bad boys are the dogs bollocks of fairy doors. I wouldn't be suprised if real fairy's actually lived behind them, or hobbits whichever you prefer. They are beautifully made and made to last. Hidden in and amongst the trees on the main trail from the tree top cafe. You will not be disappointed…If you are well then you're probably dead inside.
Cafe
It does have a cafe its a bit shit or at least it was last time we went. The staff on weekends are young kids that have been forced by their parents to get a job when all they want to do is sit at home watching you tube and playing computer. Shame as its a stunning setting but just take a picnic. You can pop out onto the balcony and watch the herons in the heronry below through the free pairs of binoculars provided. It's cool!
The cafe is in the same building as the toilets and the info desk. If you're crap at being outdoors go get a map from the information desk this place is huge you will get lost and possibly die.
Next to the cafe you have a fenced in play area. It's cute and the kids like it. It has slides, sand pit, climby things blah blah dont go here just for the play park if you want a play park go to stanwick lakes.
Huge slide
However if you want one of the best slides ever go to the other side next to the toilets and feast your eyes on that bad boy!! It's a beast! Now for the love of god if you're precious or you kid doesn't know how to behave on a giant slide ffs do. Not. Put .them. on they will break, you will, cry, you'll try and sue Rushmere country park because your little shit hurt themselves and Rushmere country park will have to close the slide again. Ruining it for every one else. Stay at home in your bubble wrap and stop poisoning the gene pool!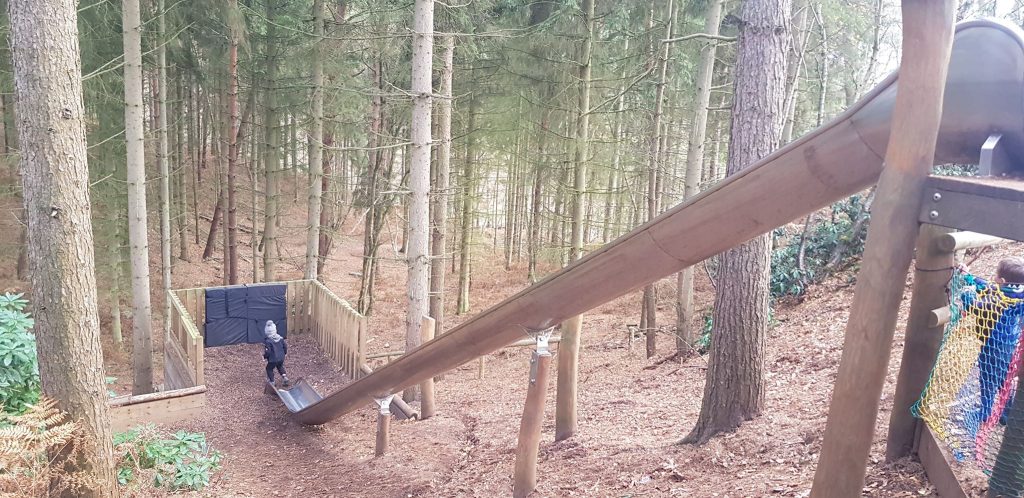 I'm trying not to turn this into a huge rant haha. The kids route/sculpture trail is brilliant it has a giant chair, giant spider, climbing structures, little chairs and so much more to keep them going. We personally like the wing it route. This way we find something new every single time (no exaggeration) we've found shrek's swamp, the Gruffalos cave even the bridge from the three Billy goats gruff (this is the kids imagination going btw in case you're a bit slow) the swamp really is impressive though have a look it's right next to the lake.
Keep it clean
As I'm writing I keep remembering more and more. Take the wellies and waterproofs if its been raining. Take your dogs but don't throw their shit in a tree. Pick. It. Up! Rushmere country park doesn't have bins around the forest take your own rubbish home please! Or use the bins near the cafe. Take the bikes, older kids and adults can use their huge bike trails (don't walk on these trails it bloody hurts getting ran over by a bike) take a BBQ, take bats and balls. You can spend a whole day here and it's free. Take care of it too or we'll lose it!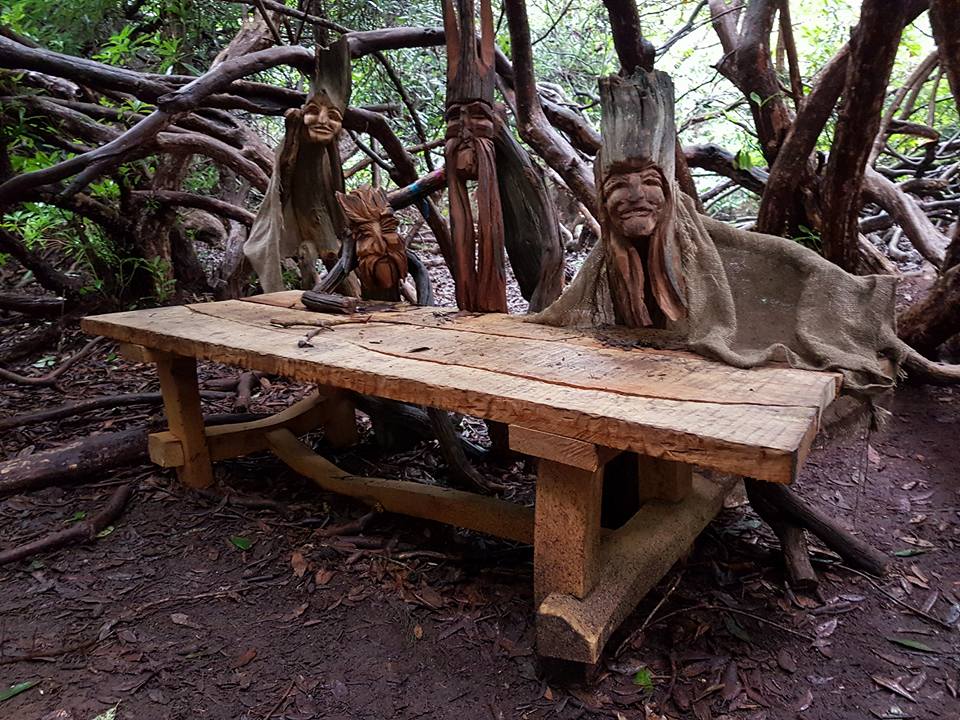 Parking is £3 there is so much parking you will have no issues. There are 2 entrances but We use the main one by the tree top cafe which is by the fairy doors and play areas.
Rushmere country park stats:
Distance from Bicester: 43 mins
Sat nav: Old Linslade Rd, Heath and Reach, Linslade Road LU7 0EB Click for directions
Wheelchair friendly: yes in parts
Equipment upkeep: 10/10
Cleanliness: 10/10
Facilities: 10/10 cafe, toilets, parking etc
Age range: All ages
Safety: 9/10
Fun factor: 10/10
Dog friendly: yes
Conclusion:
Please visit Rushmere country park. Explore! everyone I've told to go here that has gone has never had a rubbish time. I've taken all of my family. Apart from the mother in law (she's got bionic hips) we've taken prams round and carriers round (watch that last hill on the way back though it's a bitch) we've been here in every season and it's simply stunning.
I saw my first ever real life toadstool at Rushmere country park. The proper red and white ones. Take your bug kits and have a look at what events they have. Christmas is magical 🙂 I have zero bad things to say about this place and I haven't mention all of the good things. We love it you may not agree but ah well at least it's free.
AOB
Have a look at our country parks map for more place to visit click HERE
To keep up to date with any of Rushmeres event you can find their Facebook HERE