Just got back from the best £20 we have spent on a day out in a very long time. Ladies and gentlemen. Boys and girls put your active wear on and get your arses over to Umberslade adventure.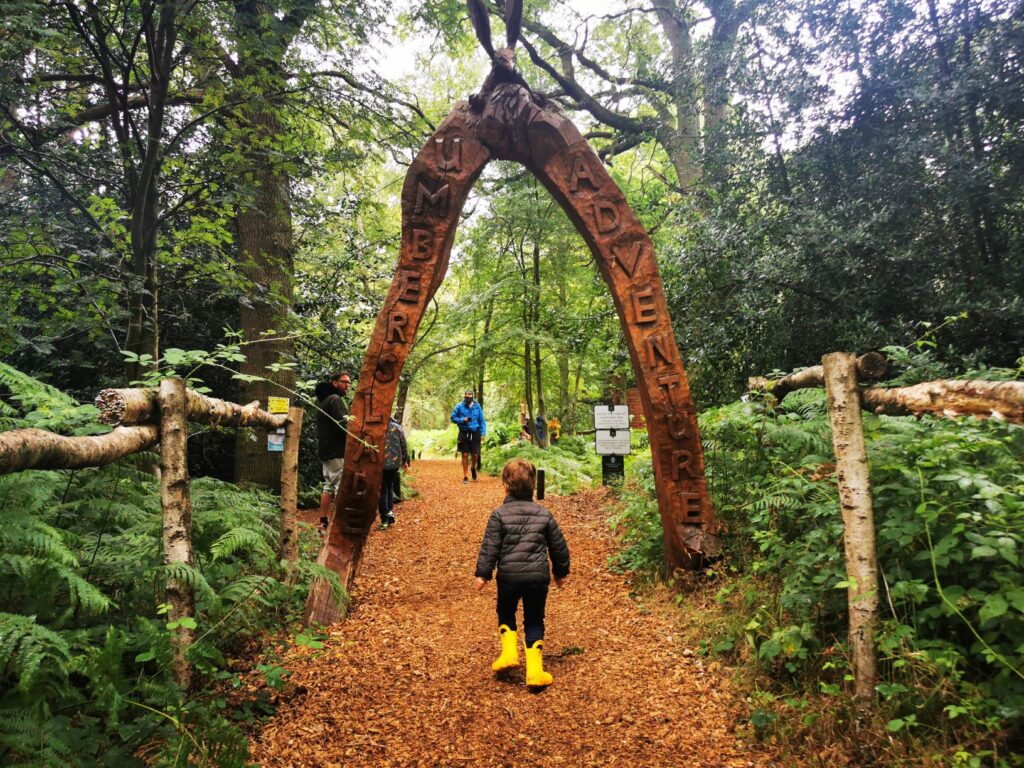 Umberslade Adventure
My day started off a bit wanky. Although i'd only had 4, 5 or 6 gins the night before I was hanging. In my defence it was my first pub visit since lock down. Then as I dragged my carcass out of bed and opened the curtains I saw it was pissing it down. 2 paracetamol and a bacon and egg butty later I was raring to go (I was dying inside really).
A we headed out the weather cleared a bit…..Then we realised we were heading into the worst of it. The weather had just gotten worse it ha hit monsoon level. The kids were laughing and the husbeast wasn't impressed it'll be fine we've got our coats and wellies (well the kids did).
We arrived and at the entrance you can see that there's a paint balling place there too which looks pretty cool. Elliots going to fuck some shit up when hes old enough to be let lose in one of those places. For now we were heading to the right in search of a different adventure which involves less pain… hopefully.
The single track road through the woods is quite cool. You will see the motorway to the right In fact you're never that far away from the motorway you can hear it the whole time you're in the park but it was never an issue. Loads of space in the car park (Probably due to the weather). We suited up and headed in (its the right path once on foot by the way).
What Is Umberslade Adventure?
It should be noted that you can't just rock up and pay on the door. We had to pay in advance. It was cheap as chips and easy to do. For the 4 of us it was only £20 and it was well worth the money. I can imagine some people will argue this because you can do similar in some places for free. For us it was quiet and unique enough to be worth it though.
There were a couple of activities that weren't running due to Covid. It was the zip wire and the tree climbing. Although they looked amazing it didn't bother us but we will 100% be going back to try them out when they reopen them. Still plenty of zipping and climbing to be had anyway.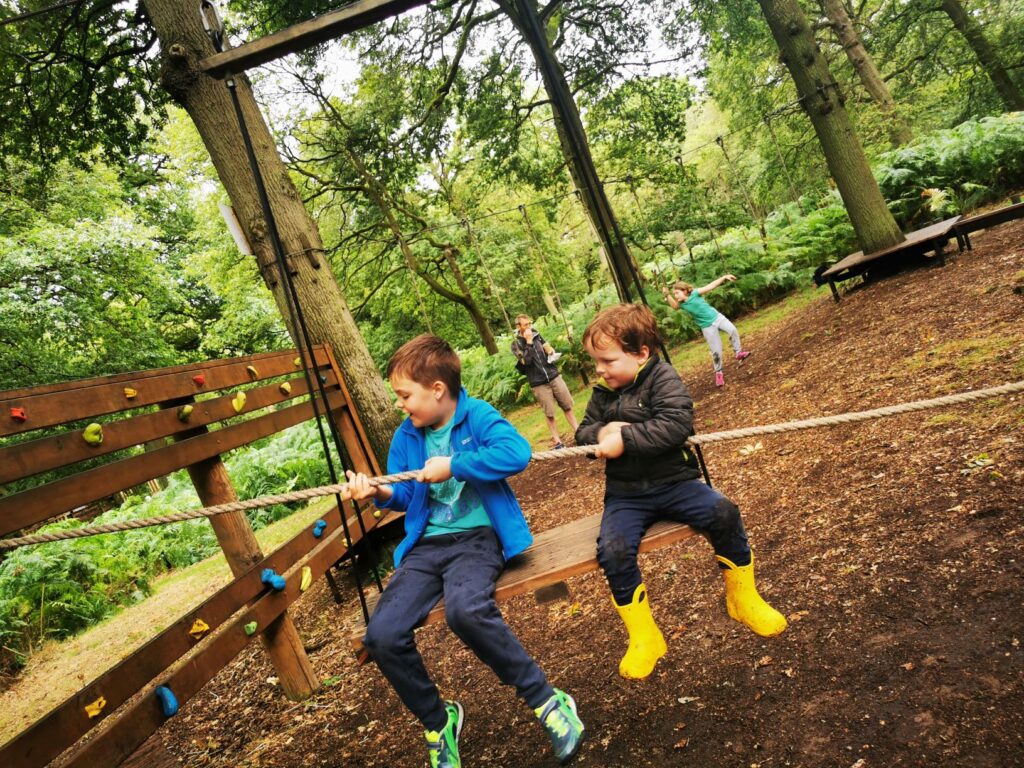 There was a play area at the start and at first we worried that was it. Haha just beyond the camping field (oh yes you can also camp!) was where the real fun began. We started off at the assault course (After Elliot walked there and declared he needed the toilet after walking past it at the entrance). The assault course is really cool. Maybe not ideal for really young kids but I guess it depends on their confidence and ability.
My 2 were off there was shit all chance of staying clean but then i guessed that and dressed them in their scruffs. Wet arses were first on the agenda as they slide down the wet slides but no fucks were given. They were happy and thankfully not much assistance was needed either.
The Low Ropes
Once you're in all the activities we did were free. I think there's a small fee for the archery and I'm not 100% sure about the big zip wire and tree climbing. The low ropes were the highlight though and You can see why.
We rounded the corner and the boys were off. Balancing (falling) climbing, zipping and sliding everywhere it was amazing. We never had to wait longer than a min for a turn either. No one got too close and it was never busy. It was perfect and to top it off there was hand sanitiser everywhere (automatic too posh gits).
Even me and the husbeast had a go too. This is where I discovered that I have the upper body strength of a new born. Fell straight off the rope zip line haha. Kids did amazingly well and you could see how chuffed they were with themselves when they could do something after a bit of practice..not me though I was shit every single time.
The low ropes are brilliant for little ones too. Yes some of the areas they will need a lot of help still but Elliot (just turned 4) was mostly capable on all of the equipment and if he wasn't he just moved on to something he was able to do.
What Else Is There To Do At Umberslade Adventure?
So apart form camping, Play ground, Assault course, Big zip wire, Archery and tree climbing. You will notice there's also 2 huge trampolines. Although the boys wanted to go on them we said no. They would have needed to take their shoes off and we hadn't brought spare socks with us. They have a trampoline at home anyway!!
We decided to head for a walk into the forest next. It was time to explore the wildlife trail. Oooo we do love a good trail too. Basically just follow the yellow arrows. A few parts of the forest is shut off. The forest itself is lovely. Covered in ferns (my favourite type of plant at the moment) and there are a few wooden carvings to spot on the route round too.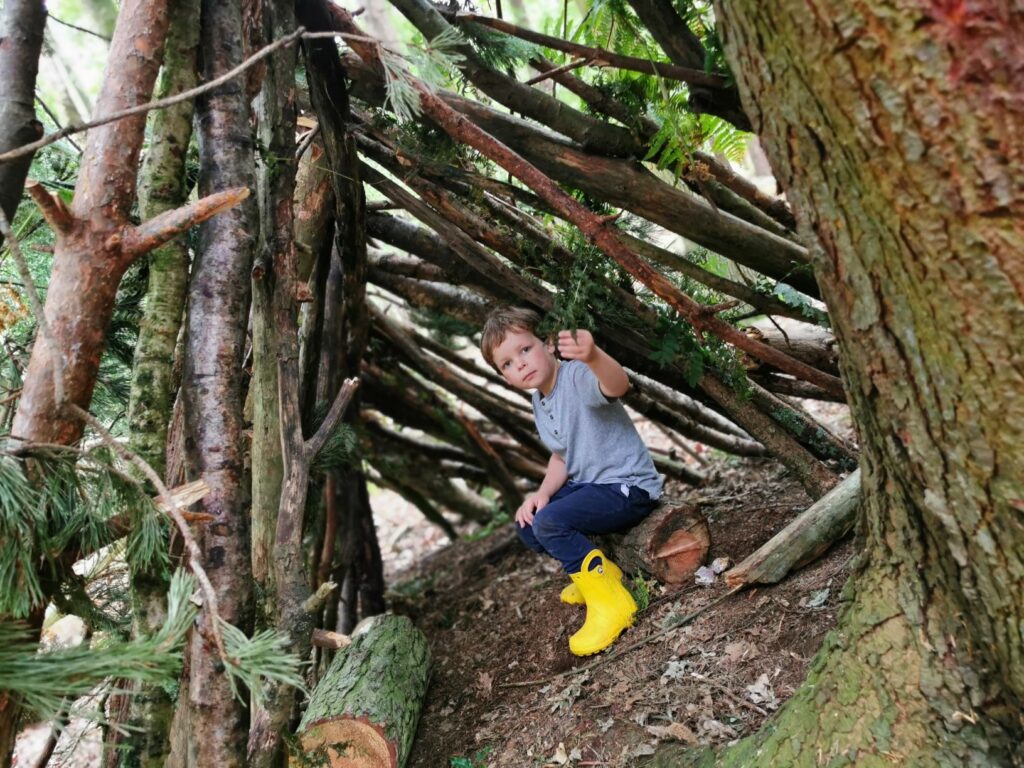 We eventually ended up in the den building area. This was possibly busier than the low ropes and assault course too. It was lovely seeing so many families building dens. There was a clear competition going on between some of the adults to build the biggest and best haha. We found a spot right up at the back and started cracking on our own.
It always seems sad to take down another persons den to build your own but its how things work in the cut throat world of den building (weirdly the address for this place is on cut throat lane). We spent ages building one and we all joined in together it was lovely. We then finished the trail and headed back to the low ropes for another play.
Bit Of A Snack Before Heading Home
Today I was too hungover to make a picnic. You 100% will need to make a packed lunch. I got away with feeding them the few snacks I'd shoved in the bag before leaving the house.
There are loads of lovely benches and a huge hand carved table too. there was even a huge fire pit which i'm guessing the rack up in the evening once the day visitors have buggered off. If you are camping you get to use the equipment late into the evening too. Quick zip wire in your Pj's before bed. Why not?
You will notice the little food van in the middle of the field area. They take card and cash, make a cracking cuppa and sell a few items Including fresh doughnuts. Now i'm not a lover of fresh doughnuts but the kids wanted to try them so we bought some. They didn't go down well if i'm honest and they're still repeating on me now (more than last nights gin)
Would have been great if they'd sold sandwiches or maybe even some chips but it was a great little van and did the job. Clark loved his hot chocolate. By this point we'd lost track of time and we needed to head off. The weather turned out to be pretty good in the end. Just a few downpours but the temperature was too warm for us to run about in our coats so we dropped them back off in the car and braved it. We were fine didn't even notice after a while.
Umberslade Adventure Stats:
Distance from Bicester: 50 mins
Sat nav: Chalcot Wood, Cut Throat Ln, Earlswood, Hockley Heath B94 6SE Click to load sat nav
Wheelchair friendly: Yes
Equipment upkeep: 10/10
Cleanliness: 10/10
Facilities: Everything you need
Age range: I would say from the ages of 3yrs and up
Safety: 8/10
Fun factor: 10/10
Dog friendly: No dogs allowed
Pushchair Friendly: Yes
Bikes and Scooters: Not scooters and I did see a sign for a bike but I cant find info
Conclusion
We had the best day at Umberslade Adventure despite the weather. In fact I think the shit weather helped because it was so quiet. The boys are already planning our next trip for when the big zip wire and tree climbing is open.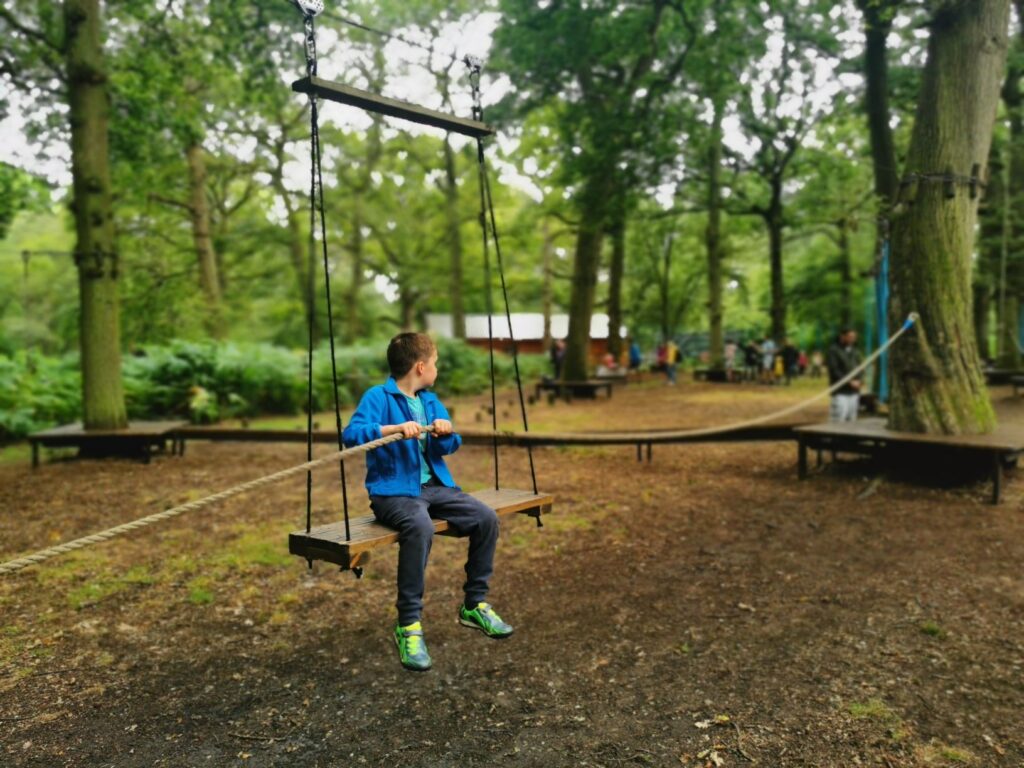 I did have a mooch on trip adviser and there were a couple of bad reviews one mentioning how busy the place was so i'd bear that in mind when booking. Maybe pick a rainy day, fuck it. It definitely didn't take any fun away from our day that's for sure.
AOB
To book your tickets check their website out HERE
For other ideas for a day out check HERE