I don't think there could have been a better place than Wychwood wild garden to spend my birthday. Its's been on my radar for over a year now. So when I saw that Red Kite Days had recently visited too and sang its praises I thought it was a good shout.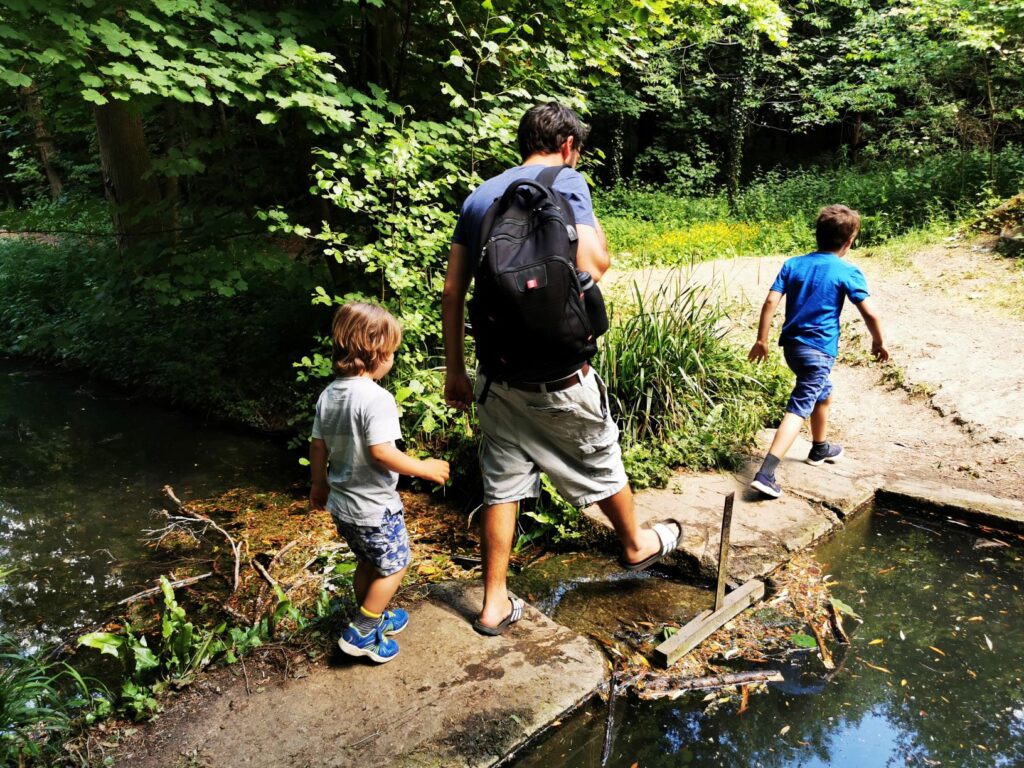 Wychwood Wild Garden
Wychwood Wild Garden is utterly beautiful and whats even more amazing is that its owned by the residents of Shipton-under-Wychwood. It's these residents that maintain the upkeep and let me tell you that cant be an easy task. I struggle to mow my own lawn. Thankfully they do and and boy do they do it well.
Parking wasn't an issue for us when we arrived and it was a stunning day too. Just pop Wychwood Wild Garden in the sat nav and it'll take you right there. The lane is narrow and only wide enough for one car at a time once people are parked. You just need to find a spot along the lane. Then walk up to the gates (Cant miss it really)
At the start it was a tad busy but nothing that made social distancing difficult. With a bit of patience and side stepping everyone got in the gate. As soon as we stepped through the gate I knew we were going to love it.
If your kids are like mine and they love water then move over Mel Gibson because this is Oxfordshires very own version of waterworld….minus all the killing and none of the end of world stuff. Ok maybe not even slightly the same but its awesome.
What Can You Do At Wychwood Wild Garden?
For all you dog owners out there you'll be happy to hear that dogs are allowed in the garden. However they MUST be kept on a lead. Pick your crap up too please (while we visited we did see a couple of bags in the trees). I should point out that the dog bin by the front gate was overflowing. Understandably during these difficult times for everyone so maybe double bag the poo and take it elsewhere.
There are a few rules to take note of before heading off on your walk. Most are common sense. Stick to paths, take your rubbish home, no bikes, no fires and no one (Or dogs) to enter the water at all. There are ducks and when we visited little ducklings and baby moorhens too.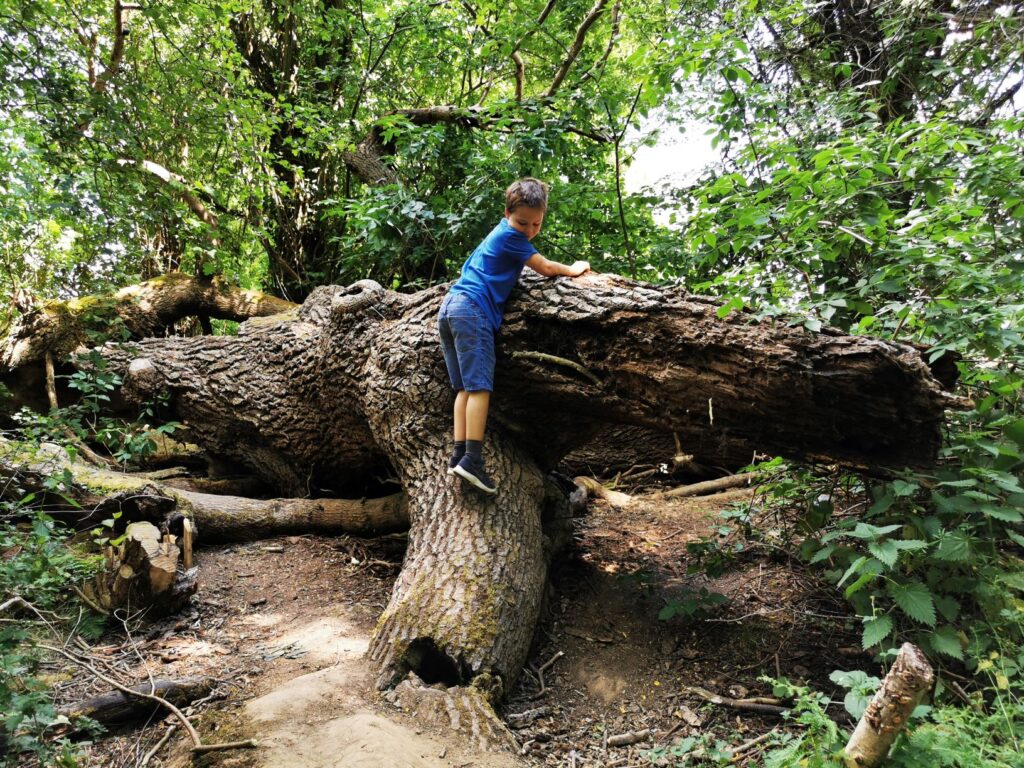 We took a picnic with us and found a spot in the woods just by the dens to have our lunch. This was the easiest spot for us as we were out of anyone's way off the paths. The kids had a great time making dens too.
I should point out there there are no public toilets in the gardens that I saw and the paths can be narrow in some parts. However once all this covid crap is all over and done with there are a few pubs in the area to have a spot of lunch, drink and a pee.
Magical Gardens
No matter how many photos I post know they they just wont do this place justice. In my opinion its stunning. From the ponds running the full length of the gardens, To the mini waterfalls, bridges stepping stones, woodlands,den building and even the wildlife I fell in love with the place.
After out picnic the boys sat and watched a bee for around 30 mins digging into the ground. Sounds a bit crap but there was no chance in hell i was going do disturb the silence. I've been stuck 247 with these 2 for months now and I think I've developed an allergy to my own children's constant noise.
We found a cracking tree or should I say fallen tree to climb too on our way round. You can do a full loop of the gardens. There are some private fields surrounding the garden so behave and don't wander off.
We found an amazing spot on our loop and it was the top pond by the big ass redwood (I think that's what it was anyway. Tree fyi) and we must have sat there for about an hour. There was a little cascade from a pond at the top to one further down. The boys raced leaves down it and the watched the ducks climbing up. The water was so clear in these top ponds that you could see the ducks swimming under water. The boys were having a blast and so was I.
Wild Wychwood Garden Stats:
Distance from Bicester: 45 mins
Sat nav: Shipton-under-Wychwood, Chipping Norton OX7 6DB Click to load sat nav
Wheelchair friendly: Yes but bumpy and hilly in parts
Equipment upkeep: 10/10 what we saw
Cleanliness: 8/10 bit of litter around and dog poo. Please don't be dicks
Facilities: No Facilities parking along the adjacent lane
Age range: All ages
Safety: 8/10 (open water)
Fun factor: 10/10
Dog friendly: Yes on leads
Pushchair Friendly: Yes
Bikes and Scooters: No
Conclusion
Even if the country wasn't in the midst of a pandemic I'd have been happy spending my birthday at Wild Wychwood Garden. The kids were happy I was happy and even the husbeast wasn't as miserable as usual. Did help that we were surrounded by stunning views.
We cannot wait to visit again and hopefully next time visit with friends too. Or mum and dad they like flowers and stuff (Don't all old people haha).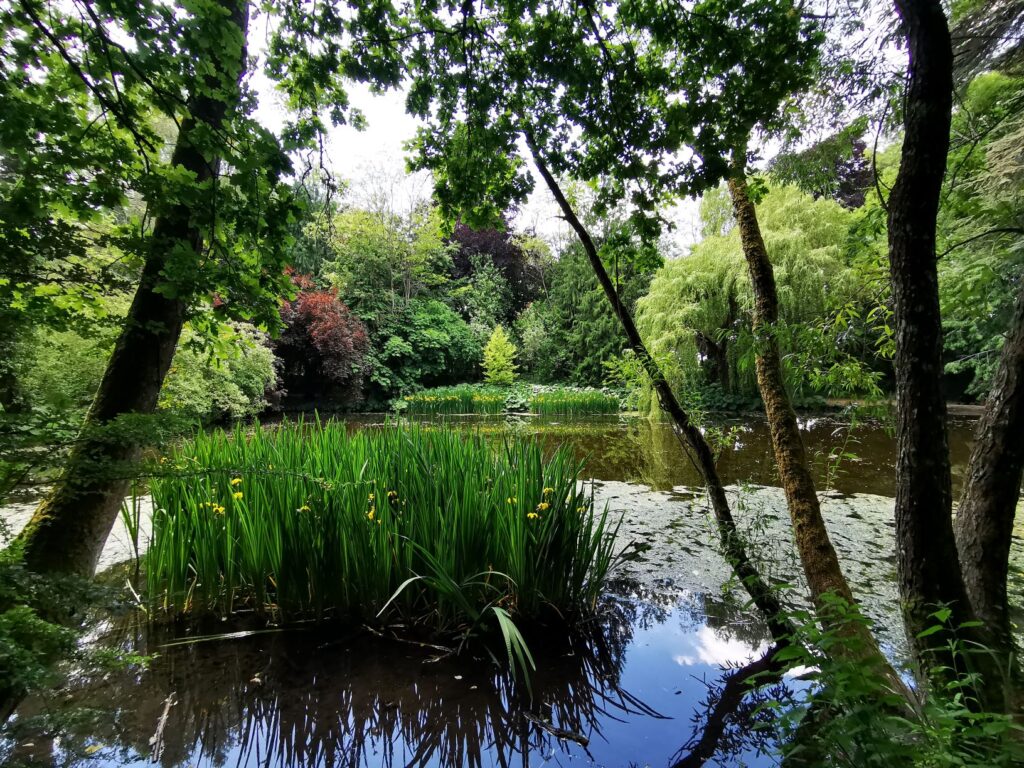 As I mentioned above Wild Wychwood garden is run by volunteers. To help them with the upkeep of the gardens they need volunteers and or donations. You can become a member for as little as £30 a year and personally I think it's well worth it. I will be donating anyway.
AOB
Have a look at Wild Wychwood Garden website for more information HERE
For more Ideas for days out check the map HERE