woodlands
Watersmeet | Picture Perfect & Fun For Kids
After my post about the stunning Dovedale the other day it only makes sense to tell you all about another favourite of ours, Watersmeet. Its simply stunning and if I was to get married again (someone rich next time) Then I'd want it to be here.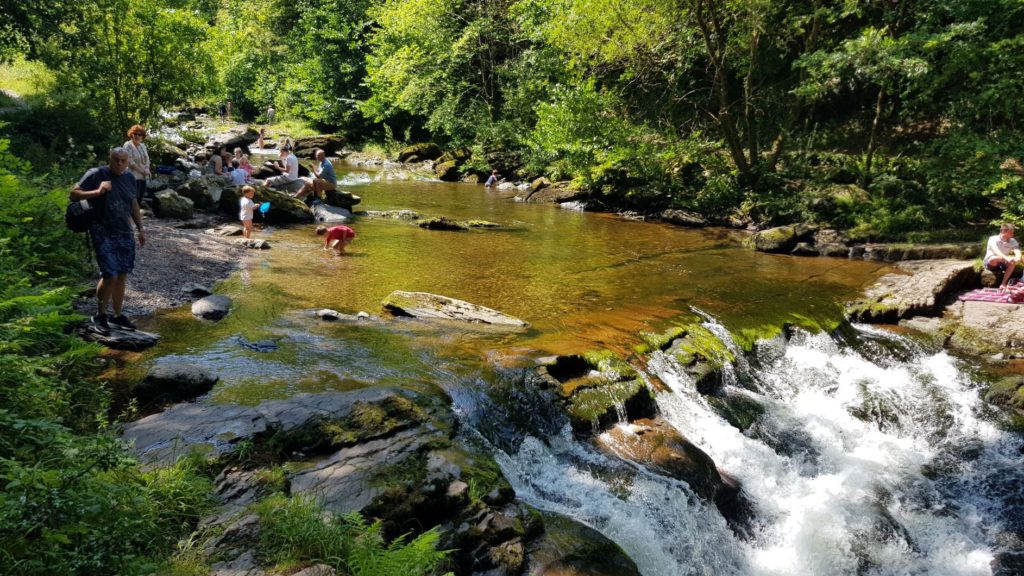 We visited Watersmeet while we were on holiday in North Devon (Woolacombe). We were lucky enough to have stunning weather too. Although I'm sure its just as magical all year round.
Watersmeet
Watersmeet is basically a huge river gorge surrounded by ancient woodlands and has a quaint little tea rooms too. Its looked after by National trust but its free to visit.
When we visited we had my mum and dad with us too. There are loads of walking routes in this area. None of which we did because the kids weren't in the mood and the paths didn't look as easy as the ones in Dovedale.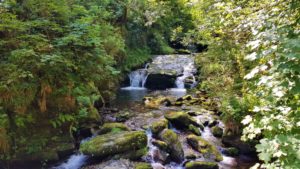 We drove there and like with the rest of Devon the roads are narrow. Add that to a steep incline and loads of passing traffic. Then you'll probably soil yourself as the passenger looking over the edge. Luckily the husbeast drove because I wouldn't have been able to do it.
We parked at the side of a cliff face car park its on the road and you'll know what I mean when you see it. The parking was pay and display even for National Trust members. I believe there is more parking in the area too but we stopped here. My heart couldn't take any more of the road.
Walking Down To Watersmeet House
From this car park the walk down is not for the feint hearted, Its steep. One wrong foot and you'll tumble down the slope like a sack of shit and probably twat your head on a tree on for good measure too. Although it would be a lot quicker.
By now you'll have probably guess its not for people with mobility issues or prams. The boys were absolutely fine walking down (It was the way back up that was painful). Once you see the river you'll start to see why the walk is worth it. Its magnificent.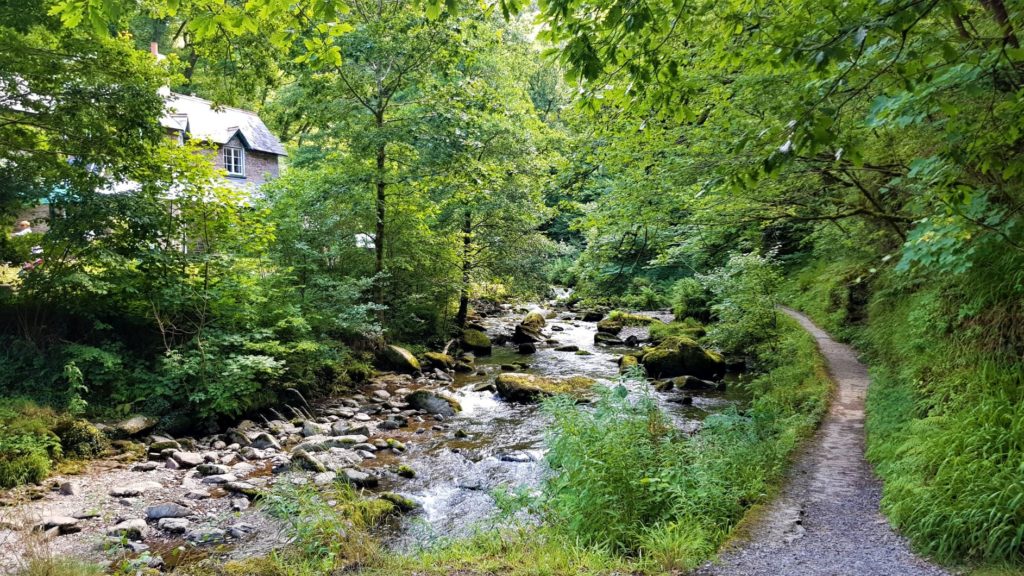 There are bridges to walk over, windy paths, steep steps and some big bastard drops on the way down. Once you get to the bottom though you're instantly impressed…or at least I was anyway.
The tearooms were already busy but we didn't head there straight away. There are toilets to the back of the property though. Nice clean and plenty of them.
Little Paddle And A Walk
We didn't venture too far from the tea rooms when we visited but we didn't need to. We found a cracking spot and the boys were stripping off to go in. The water is pretty shallow in the areas that we saw anyway.
Little tip though would be to take water shoes. because the stream is full of pebbles and stones. Mostly huge ones for the kids to climb over but I'm sure there will be some sharp ones too. Clark had a great time stacking the stones Goldsworthy style (Artist fyi). Elliot enjoyed throwing his own stones at them stacks Clark was building.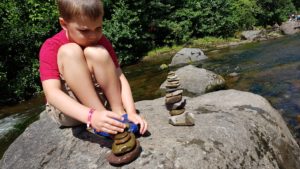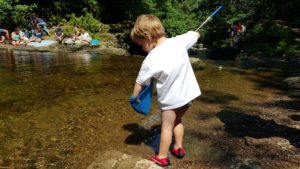 We went for a little stroll up the river a bit and found an even better spot to paddle. There was a large flat rock shelf which meant less climbing. We plonked down and watched them try to catch fish….not even sure there were any.
Took me a little while to figure out that we were right next to a pretty big drop in the river. Yep right near a waterfall. Then I had the joy of making sure Elliot didn't dive over the edge Lemming style.
Watersmeet Tea Rooms
Mum and dad were clearly getting bored watching the kids launching stones at each other so they fucked off to the tea rooms. I could have sat there all day watching them argue marginally less than usual because they were in water.
However it was lunch time and we decided to head to the tea rooms too. Fuck me that queue was a big un. I sat outside in the sun with the kids and my dad while the others queued for around 30 mins. They only came out with a drinks and a few sausage rolls.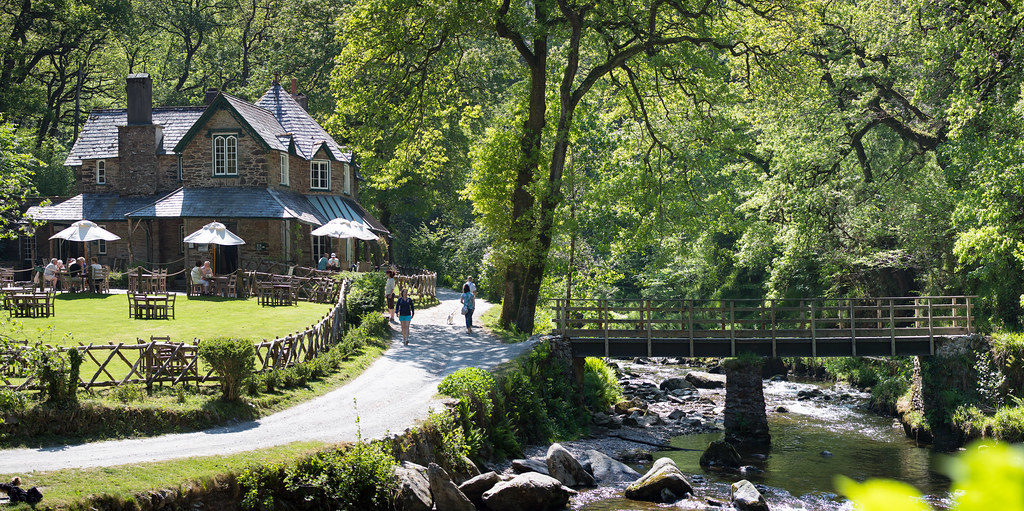 As with most National Trust cafe's it was expensive but it did the job. Apart from Clark declaring the sausage roll was too spicy. That child is the fussiest git I've ever met.
The gardens in the tea room are stunning. There's a well in the middle… at least i think it was a well and there are lots of birds. The birds were lovely to watch and they're really timid. Put a couple of crumbs down and they'll hop onto the table with you. Blue its and goldfinch were just some of the birds we saw.
Watersmeet Stats:
Distance from Bicester: 3hrs 20 mins
Sat nav: Watersmeet House, Watersmeet Rd, Lynmouth EX35 6NT Click to load sat nav
Wheelchair friendly: No
Equipment upkeep: N/A
Cleanliness: 10/10
Facilities: Toilets, Tea rooms and a little shop
Age range: All ages as long as you can put smalls in a carrier or sling
Safety: 6/10
Fun factor: 10/10
Dog friendly: Yes
Pushchair Friendly: No
Bikes and Scooters: No
Public transport: You could maybe walk to it from Lynmouth it'll be a trek though.
Conclusion
Watersmeet reminded me very much of Dovedale. Its absolutely stunning and a perfect free outdoor activity with or without the kids. We're already planning to go back again next year to do some more exploring of the area.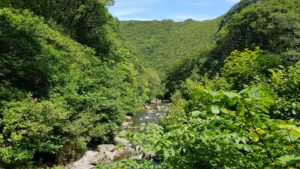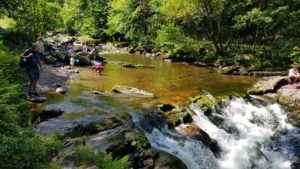 There is so much to do in the area too. We headed down to Lynton afterwards and did the Lynton and Lynmouth railway but that's another review that I haven't got around to doing yet.
If it wasn't for my readers on Facebook I would never have known about Watersmeet. So thank you to everyone that gave me suggestions while we were on holiday.
AOB
If you'd like a bit more information than I'm giving then check out the website HERE
For more ideas for your next day out then check the map HERE