Not going to lie i had no idea that Snowdrop walks were a thing. I knew about the bluebell woods and walks but no idea about snowdrop walks. This year I'm going to fully embrace it mostly because it fits in with this years theme of being Frugal.
Talking of being Frugal, Today is the 13th of January. So far this year has dealt us with:
A broken oven
A smashed 1 year old TV
A broken front door
A huge crack in the windscreen
Last but not least i shit you not. Tonight my washing machine has packed up.
Needless to say The Family Ticket are absolutely shite at being Frugal. I'm now on a mission to make our days out as cheap as humanly possible.
I've decided to compile a list of a few places you can visit within an hour of Bicester that apparently feature the best snowflakes. Now some of these places i have already visited (not to see the snowflakes though) so i will add the reviews. I am going to be visiting these places over the next month or 2 so i can add photos as we go.
So here you have it The Family Tickets guide to the best snowdrop walks.
Waterperry gardens are hosting 2 weekends where they offer free guided tours (at set times) of their snowdrops when you purchase a Winter Garden entrance ticket. The dates are 16th, 17th, 23rd and 24th of February. The gardens really are lovely and you can read the review HERE
Evenley wood Gardens are hosting their snowdrop days which run from the 2nd to the 28th of February. The 2nd of February is also their first open day since their break over Christmas (minus a few events) I absolutely love this place and you can read why HERE in my Review.
Cliveden (National Trust) Have their snowdrop walk. We visited Cliveden for the first time the other day and we loved it!! and funnily enough i got a photo of some of their first snowdrops! Cliveden is a great place to visit for the whole family so could be a good shout to keep the kids happy. They have a free trail you can pick up from the information centre and is running Throughout February and March. You can ready my review HERE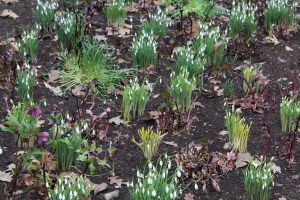 Waddesdon Manor (National Trust) another great venue for the family. Lots to do for the kids. Especially their huge play area. I've only done a review of their Christmas lights which has made me realise i need to go and do a normal review. If you want to read it though feel free to HERE
Welford park is one that we haven't visited yet but i have it on good authority (Google) that this place is shit hot for snowdrops. So as soon as we can we're going to have a visit and let you all know what its like. It is a private property so is only open at certain times so do check their website first.
Wednesday 30th January 2019 to Sunday 3rd March 2019 but are closed on Mondays and Tuesdays.
Stowe (National Trust) have a really cute name for their snowdrops…..Stowedrops! we've been here before and really liked it but I've never reviewed it so guess where I'm off too asap. They have a map that you can download too that shows you where the snowdrops are.
Badbury Hill (National trust) Jeeze the amount of national trust sites I'm advertising i should be getting commission! This is another one on my list of places to visit so will have to make the effort to visit while their snowdrops are in bloom.
Colesbourne Park now this one is a bit further away but just about on the hour radius. I've had to add this one because it has featured in lots of other snowdrop guides and boasts to be one of the best. you can see their snowdrops
Every Saturday and Sunday from 2 February 2019 to 3 March 2019. Pre-booked guided tours for groups of 20-50 are also available on weekdays.
There you have it The Family Ticket's guide to Snowdrop walks. I will be adding more as we go then maybe next year there will be loads to chose from. Feel free to send me a message and let me know of any good spots.
If walking is your thing then why not try out one of the many country parks we've visited. You can find the list HERE