I'm all over National trust like a bad rash at the moment. Next up is the stunning Stowe. I adore this place and not because it has the best kids play area or a giant maze because it doesn't. I love it because of it grandeur.
Stowe is beautiful
There is no doubt in my mind that Stowe has one of the most visually stunning grounds of any of the national trust that we have visited.
I took Elliot on Monday. We needed to get out of the house and walk. Fat club weigh in is Wednesday and i want to be size zero in 3 weeks max (I also want the moon on a stick). If you're Looking for a walk here is your place. You can even take the dogs (on leads).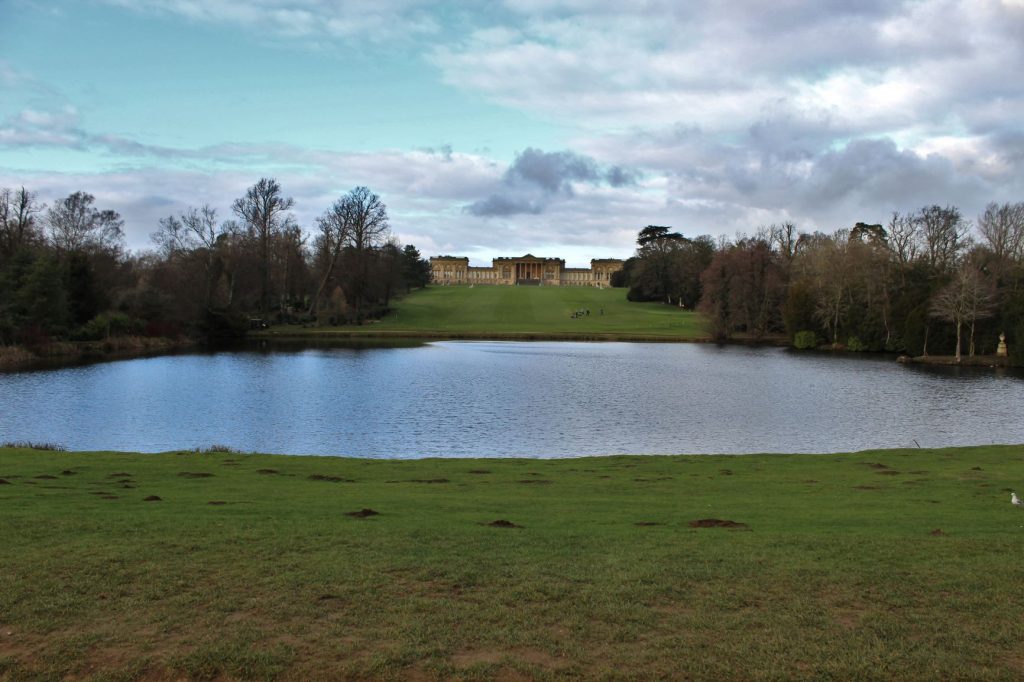 I had to take the pram with me today because of how large the landscape gardens are. I knew Elliot wouldn't be able to make the whole way round and he can bugger off it he thinks I'm going to carry him. It's hard enough carrying my own weight let along his too.
Car parks huge and free if your a National trust member. When we went it was really quiet and the house was shut. Not that I'd have taken Elliot the TV smasher in anyway. Even with the house shut there is plenty to do still.
Big walks
To get to Stowe and the gardens you will need to walk through the visitor centre. This is where you'll find the nicer toilets, Cafe, Garden centre bit and the shop. You will need to go down some steps to get to them though but they have made them accessible for wheelchairs. The staff are really helpful and offered to help me with the pram (I just bumped it down with no child in).
Although we didn't visit the cafe it was busy and it looked really nice.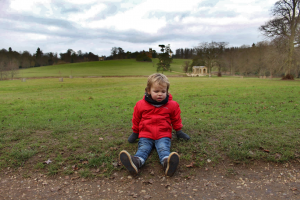 The walk down to the gardens is a pretty long one especially for little legs and the less mobile. The do run a shuttle service. You'll need to speak to someone at the desk to arrange that though. Its one of those posh golf buggy things. The walk itself is lovely and runs alongside fields with sheep and some lovely views.
As soon as you walk through the gate you're greeted with a spectacular view over the lake to the house. This place is a photographers dream. Instagram eat your heart out.
We picked up a map because i have the navigational skills of a Tethered donkey. Elliot had already started to get a bit tired but soon perked up once he saw the grounds so he could start squirrel chasing.
Stowe For Kids
The kids will be able to enjoy the open space there lots of room to swing cats and Climb. Bridges to play pooh sticks, Swans & Geese to spot. We even saw the farmer herding the sheep right through the middle of the gardens much to Elliot's excitement.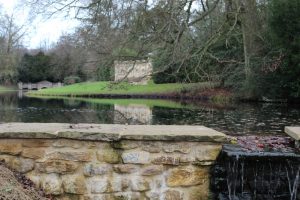 After getting home i had a look at their website and realised there's a little area that's a bit more child friendly for the kids. Its a new play area to explore. If you head to the very top of the Labyrinth, then turn to the right. You'll find a giant skittle alley with wooden abacus to keep score for a fun game of outdoors bowling. Then if you walk further down the path You'll find a giant garden swing. Ok i know its no adventure playground but its still something.
Stowe Golf course
We walked up to the house via the sand bunkers. I always find it funny how a golf course runs through the middle of it. Had to stop Elliot from kicking the balls on the floor. He also had a lovely little play in the sand bunkers raking the sand. Ok this may not be an activity you want to encourage but i did a quick check and no one was about. Whats the harm haha.
The house itself is really impressive… well it is from the outside at least. I got some great photos of the lions on the pillars guarding the entrance. They're meant to be fierce but there's something about their bog eyes and goofy teeth that got me laughing.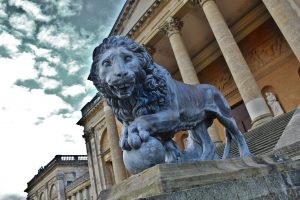 I was snapping away with my camera i couldn't help it. Elliot i'll admit was now pretty bored. He'd had enough and wanted to go home. We headed back via some more lovely monuments. I couldn't tell you anything about them because with kids you don't have time to read anything.
We did get to see some of the first batch of Stowedrops though (snowdrops) and Elliot had a great time at the heads. Basically its a load of Bust's (Not boobies) of lots of famous men. Elliot like picking their noses.
We headed over some bridges and over the goose fields and eventually came back in a full circle.
Stowe Stats:
Distance from Bicester: 30mins
Sat nav: New Inn Farm, Buckingham MK18 5EQ
Wheelchair friendly: Yes
Equipment upkeep: 10/10
Cleanliness: 10/10
Facilities: 10/10 Find out where the toilets are first though
Age range: All ages
Safety: 8/10 (common sense needed in places)
Fun factor: 7/10 (for kids) 10/10 (For adults)
Dog friendly: Very much so!!
Conclusion
We must have spent a good couple of hours there walking about and stopping for a picnic. In the summer i can imagine it'll be even nicer and a full day could be had here. I love how close it is to where we live and i have a feeling its going to become a favorite place for a walk.
I would recommend Stowe to anyone even if you don't have a National Trust card. It's a great day out for all including the dog and they often have events on for the kids too throughout the Holidays. Throughout the year they also run a toddler Tuesday session. Which is on the 1st Tuesday of every month. Also a Monthly dog walk!
AOB
Have a look at their website to keep up to date with any activities or if you'd like factual information HERE
If Houses and grounds are your thing you can check out some of the others we have visited HERE