Castle Ashby Gardens has been on the list for a while and over the weekend we finally managed to get there after they have been shut over winter.
Fairly easy drive but as usual our crap nav took us to the wrong place so be weary of using the post code. Although saying that it was a very pretty detour through some villages in the sun.
Castle Ashby Gardens
Castle Ashby Gardens is a day out for fairer weather. If it was pissing it down i'm not sure if we'd have had as much fun as we did.
Its not the cheapest place especially of you have kids over 5 (under 6's are free) and at £8.50 a pop for adults you have to like walking round gardens which luckily we did. Castle Ashby gardens are just gardens though its a bit more unique than that and our kids loved it.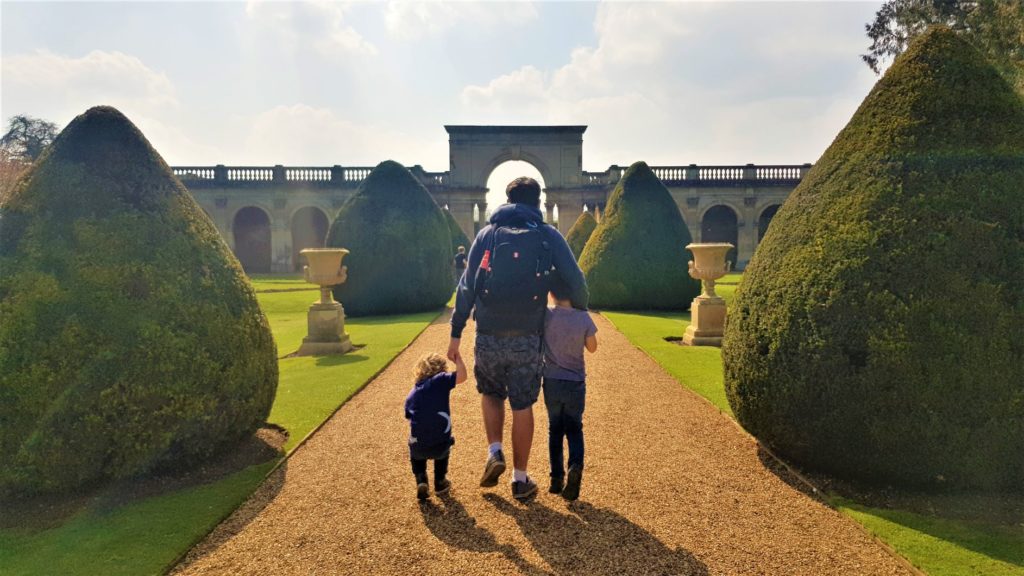 Car parks a decent enough size with the overflow and its right next to the entrance which is where you'll find the cafe, toilets and a really cool play area.
You'll be hard pushed to get the kids past the play ground without a play first. There is no avoiding it at all. We went around lunch time though and armed with our packed lunch we sat by the park and let the kids play/graze on the food. Its a really great set up for lunch and play. Lots of tables around the park.
Castle Ashby Gardens Play Park
Now the park itself is lovely looking but if i'm going to be honest with you all i'd say its a bit shit for younger kids. Its not the type of park you can just sit back at if you have able climbing toddlers. If Elliot was more Clark's age (5) We'd be laughing. We could have been sipping the prosecco in the sun while the kids knackered themselves out.
Prosecco will have to wait on ice for a few years yet. Picnic done and it was time to bribe the kids away from the park. Which luckily wasn't too hard. So off we trotted to find the gardens.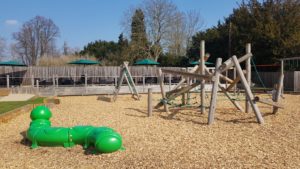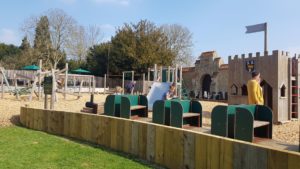 Castle Ashby Gardens are a bit strange within the grounds you still have residential houses which are private so you have to be a bit respectful of that when going round. It even has its own church too.
Unfortunately the house is private (you might be able to arrange a viewing privetly though if you're desperate) You can still get a good view of the house and gardens though and its really lovely….. well as lovely as a house can be. Not that the kids could give two shits. They were off chasing each other over the lawns.
Castle Ashby Gardens
You'll come to the orangery (not a single orange in sight) but its a lovely glass house (posh conservatory) with a pond in the middle. The kids enjoyed watching the goldfish while i had a nosey around.
Back out into the gardens and i have to say its really nice. I saw a few people comment on reviews saying the gardens aren't very well maintained. Not sure what they saw but it looked pretty good from where i was stood. Maybe they should come and have a look at my garden for a bit of perspective.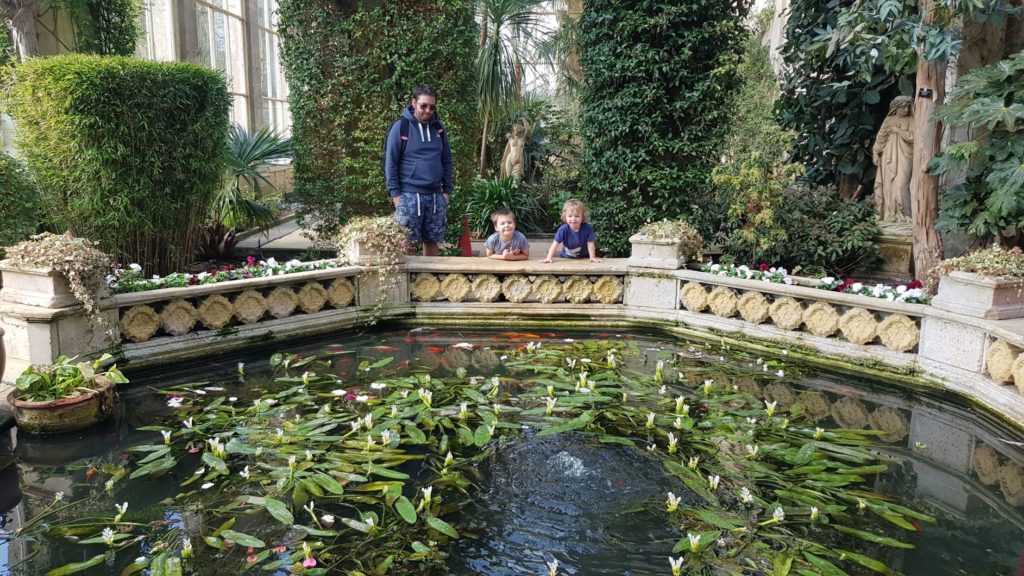 If you go straight down the middle between the lawns you'll come to a huge walled field. I'm not really sure what it is. You cant go in and there was a single pony in the field when we went. It looked like an old jousting field maybe. You'll also see 2 what i thought were feeding pens but actually ended up being Victorian beehives which i thought was cool (again kids couldn't give a shit they wanted to ride the pony)
If you have kids I'd recommend going to the walled garden next. Especially if they have hit the borderline getting bored point.
Mini Zoo At Castle Ashby Gardens
In the walled garden you'll find lots of edible plants (Not pick your own though) and the animals! Yep Castle Ashby Gardens have their own small zoo. When i say small i do mean small. Don't expect an elephant to come rocking up round the corner.
You will however find a large enclosure for Meercats. All kids love Meercats don't they? Well our did anyway. Along with the marmosets, Tortoise, birds, pigs and goats. Its a really lovely area and the boys spent a good deal of time in here running between the animals.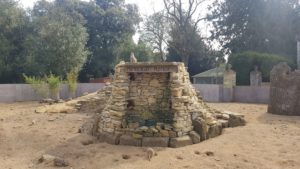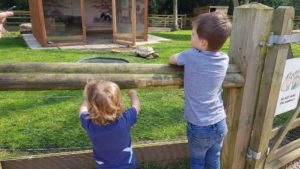 After the animals we headed over to the Arboretum which at first the husbeast didn't want to do because Elliot was at his walking limit. Sod it i just ignored him and carried on anyway hahaha. Glad i did though. If you've brought a picnic save it for this area its stunning.
Head to the terracotta bridge and you'll see loads of fish in the lake (pretty sure they're trout but i'm no David Attenborough). The daffodil and flowers were out in full force too. It was as i was walking round i realised that lots of the trees had either animal plaques on them of little fairy doors. This was a perfect distraction to keep the kids going too.
Fucking Selfie Wankers
We got to the pond area eventually after being stuck behind a really annoying couple that kept stopping for a selfie every 2 fucking seconds. I mean Jesus i know they may not have been to this country before but there's only so many photos with a bloody tree you need surely?
We soon lost our patience and all manners went out the window as we squeezed by and photo bombed them as they were having a smooch on yet another fucking bridge! Glad i'm not friends with them on Facebook.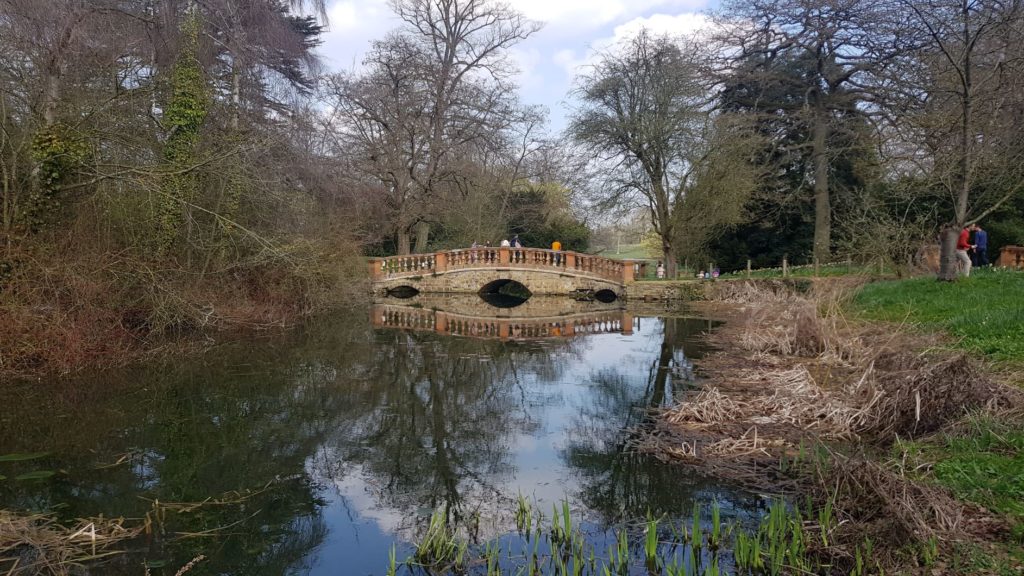 As you pass over the other bridge keep your eyes looking up in the giant redwood with a plaque on it. There's a giant spider in the tree which the kids were delighted with. Whether its left over from Halloween of not i don't know but it cool all the same.
Lots of cool trees to climb and bugs to spot on the way round the kids will have plenty to keep them occupied. Elliots a great climber (probably better than his older brother) but he still hasn't grasped the concept of getting down. Hes still at the point where he thinks once you're at the top you just jump down no matter what the height. Unfortunately for me it was my face he jumped into skull first and fuck me did it hurt. He put on the tears and got all the cuddles while i tried to hold in the swear words (like when you stub your toe in front of the kids).
Ladybirds and gonorrhea
We headed back in to the main gardens to explore the rest. Its really is lovely i think it helped that the kids weren't being total dicks either. There were loads of ladybirds about which Elliot would scream at the top of his voice every time he saw one. Even i was shocked at how many there were. Then i had a sudden flash back of a story i saw on facebook about an invasion of ladybirds with STD's so now i'm panicking that the kids were going to get a bout of gonorrhea because they've been playing with ladybird's. Out came the baby wipes, Baby wipes solve everything.
The boys found a stunning spot to play in underneath the magnolia trees. They were in full bloom and the boys were playing with all of the fallen flower petals. This was right next to a huge border of Hyacinth which smelt amazing. Well i thought they did Clark said they smelt of pee. Meh maybe that's why he hate my perfume then. I must go round stinking of piss great one.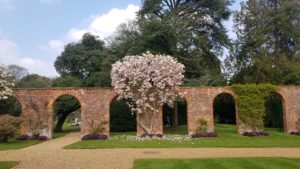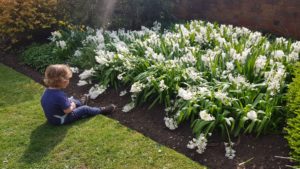 Back onto the lawns we saw families playing games and having picnics by the fountains. I'm not sure on the rule of ball games but i can imagine its a no go.
Make sure you find the lovely carved tree which has been carved into a lovely nature seat. I managed to snap a photo or 2 of the boys sitting next to each other like they actually loved each other. For once they weren't pissing each other off… or me for that matter. That lovely moment lasted until we strapped them back into the car!
Cafe
Now we didn't use the cafe ourselves but it looked lovely and something we will definitely be trying next time we visit. We did get the boys an ice cream from the shop too. The shop like the play park is something you wont be able to avoid you have to walk through it to get in and out. Maybe take a bribe with you to navigate through it if you don't want to buy anything.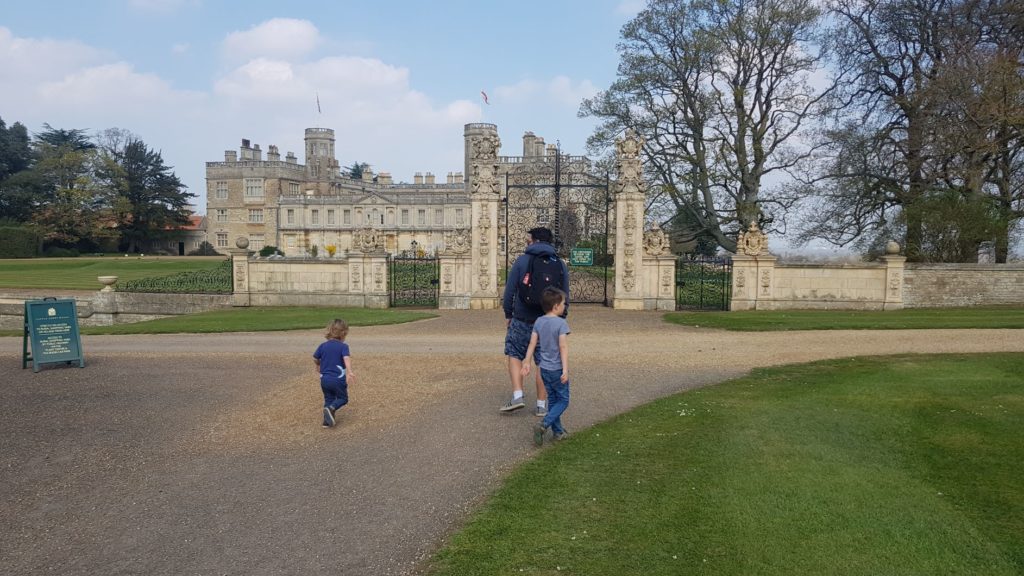 On the way out i thought i'd ask about the trails that we saw. The woman seemed a little bit flustered about the question. She eventually came back with we usually have packs and prizes for the trail but they aren't ready because they've only just re opened. We've been faced with this excuse a fair bit lately with the seasonal openings. I think its a piss poor excuse if you ask me. Oh so you've just re opened after being shut for the whole of the winter………Clearly not enough time to get your shit together!
Anyway my point is when you go maybe ask them if they have any trails available. I know its an activity that most kids like. Luckily ours like spotting the fairy doors and bugs anyway and it didn't cost us any more this way.
Castle Ashby Gardens Stats:
Distance from Bicester: 55 mins
Sat nav: Castle Ashby, Northampton NN7 1LQ Click for sat nav.
Wheelchair friendly: Yes
Equipment upkeep: 8/10
Cleanliness: 10/10
Facilities: 10/10 ( not toilets in the gardens though)
Age range: all ages
Safety: 9/10 be weary around the water areas
Fun factor: 9/10
Dog friendly: Yes
Conclusion
We had a really great time at Castle Ashby Gardens i can imagine its not everyone's cup of tea though. We love being outdoors and sometimes making our own fun which i would say is needed if you're going to visit. If you're more of a family that needs constant stimulation and adrenaline then i would advise you against going here for fear you find it boring.
Otherwise if you're anything like us you'll love it. Its great for adults as well as the kids here. Yeah your kids will probably prefer a soft play but if like us we fecking hate the places.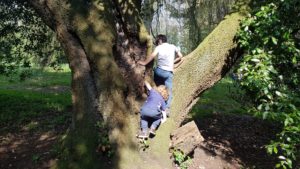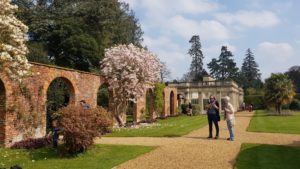 I think Castle Ashby gardens are perfect for the families with dogs too. All dogs are welcome however they must be on a lead in the gardens but once you get to the Arboretum there's a sign saying dogs can be taken off the lead.
We would visit again and we will be keeping an eye out for some of the events they put on too. I'm hoping the next time they will have the kids trails ready…if they have enough time that is.
AOB
For more information have a look at their Website HERE
If Houses and gardens are your thing then check out the map of some of the other places we have visited HERE