Now the summer holidays are over and done with. I can get back to typing up the mammoth list of places we visited that i couldn't really be arsed to type up because i was too tired. 1st up Is Basildon park which has become one of my favourite National trust properties after our visit. Here's why…..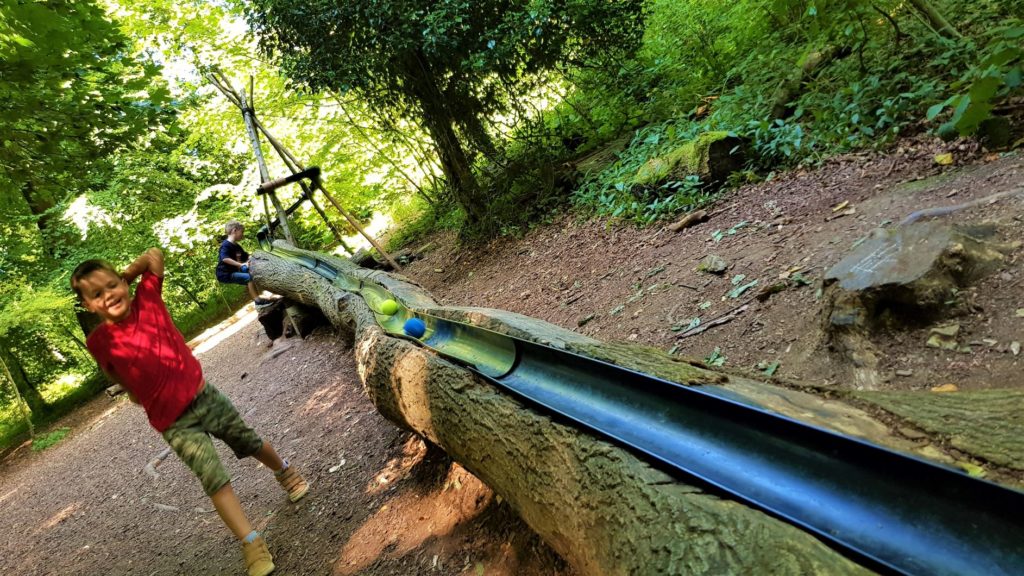 Basildon Park
Luckily for me Basildon park was under an hour away. Well it was supposed to be until my sat nav cocked up yet again and sent us into the arse end of nowhere. I've started to like this little feature now. Me and the kids call it a magical mystery tour sometimes its shit and sometimes we find some gems.
Make sure you keep your eyes peeled for the entrance though it creeps up on you. If you've been to Beale park before you'll recognise the roads. They're practically a stones throw away from each other.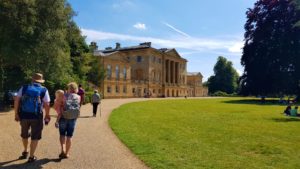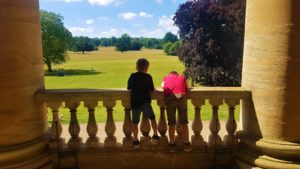 There's loads of car parking space and considering we went in the school holidays i was shocked at how quiet the place was. Today it was just me Clark and his Bestie Finley. When Clark has a friend with us on a day out it means he moans considerably less. I don't think i will ever be able to stop the moaning 100% but then how could I when he's so similar to his mother.
As I'm a National trust member entry today for us was completely free. Now I'm not making any money by saying this but National trust has got to be one of the best memberships we have as a family. I mean its no Merlin pass but its a shit load cheaper and we use it loads.
Basildon Park For Kids
Thankfully we visited on a sunny day. I went in not really knowing what to expect. I had heard there was a play trail though which was enough for me to head over and check it out. Thankfully we did too.
You can purchase a map of the play trail in the reception its only £1 but if you're super skint or generally a stingy fucker you really don't need to buy one. We did and for ages it confused the fuck out of me because of the first play area you come across. I made the mistake thinking this was the beginning of the trail. Its not! and the map made no sense haha.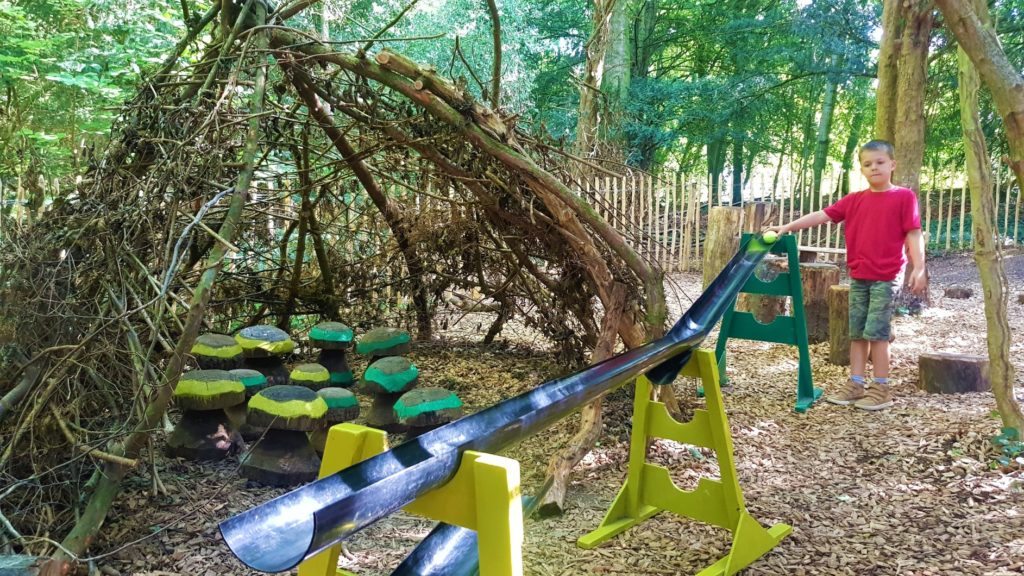 When we headed in we made our way to the left into the woodland area. To the right over the fields is the Play trail route. Not long after entering the woodland area we came across the first play area that the kids absolutely loved. It was just a glimpse of things to come.
New Play Area At Basildon Park
I've never been to Basildon Park before so I'm not sure if its always been good for kids or not but if not it is now. They even have their new play area. Its not your stereotypical play area with swings and slides. Oh no this is much more unique. Ball runs!!
From ready made runs built into the tree trunks to build your own. It was fantastic and the boys had a great time working together to make the perfect run. They had plenty of tennis balls when we visited but as with most things I'm sure they go missing. Might be a good idea to take your own.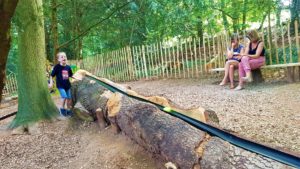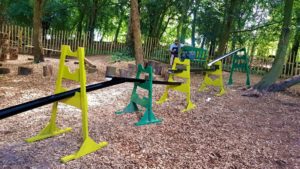 The play area isn't overly large but we did find that all the children worked and played well together which was nice. To be fair a lot of adults were getting stuck in there too (me included) its bloody addictive this ball run making.
There's a few benches scattered around as well as a little den in one corner with some cute multicoloured mushroom stool for the kids to play in too.
Trying to Find The Wild Play Trail
Earlier i mentioned my mistake with the Wild play trail. Well the new play park is the reason for that! If you get the map the new play area isn't number 1. Don't confuse the shit out of yourselves like i did. We headed through the little woodland walk which has a few nice little areas for kids to play.
When we got to the end the boys decided to head for lunch before trying to find this bloody trail so off we went in search of food. No sniffing out food is more my area of expertise. It didn't take long to find the cafe which is in the house. Even if you've brought a picnic you should walk through the tea rooms they're stunning.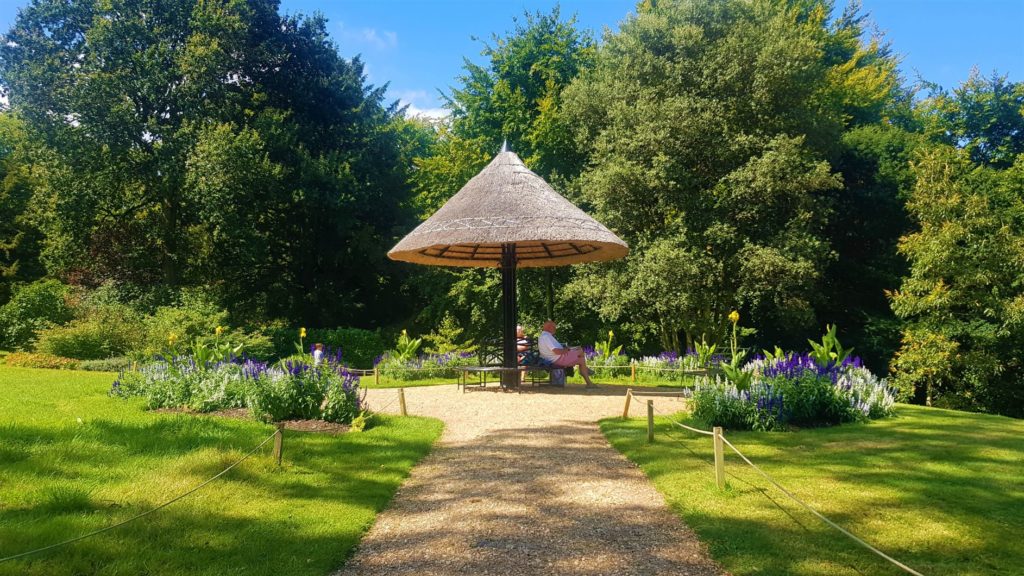 As per with most National Trust tea rooms they are indeed fairly expensive. The boys got a sandwich box each and i had a wrap. We chose a seat inside in the hope that there would be less of those buzzy bastard wasp. Good shout too.
I was pretty shocked at the boys next decision. They actually wanted to have a walk around the house. Who was i to stand in their way. Clark normally moans like a bitch when we try and coax him into these places so i went with it.
The Mansion
Little tip….DONT collect the pine cones. I did wonder where the boys were getting them all from. Turn out they were collecting them from the chairs in the mansion. That is not their purpose haha. Cant say i blame them really because who in the world would know that a pine cone on a chair is a way of telling you not to sit there.
It wasn't long before the game of find a chair without a pine cone formed so they could sit on it. The boys rushed around the house but every now and then stopping to look at something interesting. This was fine by me, No point in forcing them to look at things they didn't want to. I personally liked the shell room (you'll know when you see it)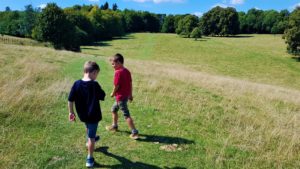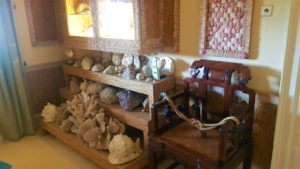 If History is you and your kids thing then you'll all have a great time. Maybe this is bad of me to admit but the house for me was the most boring part. I blame my parents for dragging me round multiple mansions when i was younger bored out of my skull.
It was time for us to head outside and find the beginning of this bloody play trail. Not before a quick meander around the gardens. The gardens are lovely and the boys could also train spot from there too.
Found The Play Trail Whoop!!!
It was getting really fucking hot in the sun now and the kids were starting to get a bit fucked off with my shitty map reading. They just wanted to play and i just wanted silence. Thankfully i found humans to ask and they pointed me in the right direction…..Up a huge sitting hill. I could see Clark's eyes roll even though he was behind me. The "my legs are tired" line had begun. He could shit off if he thought I was going to carry him up as well as the weight of my own arse.
When you get to the gate turn left not right haha (I really am shit at directions). Luckily the trail is in the woods in the shade. I could feel my skin starting to make crackling.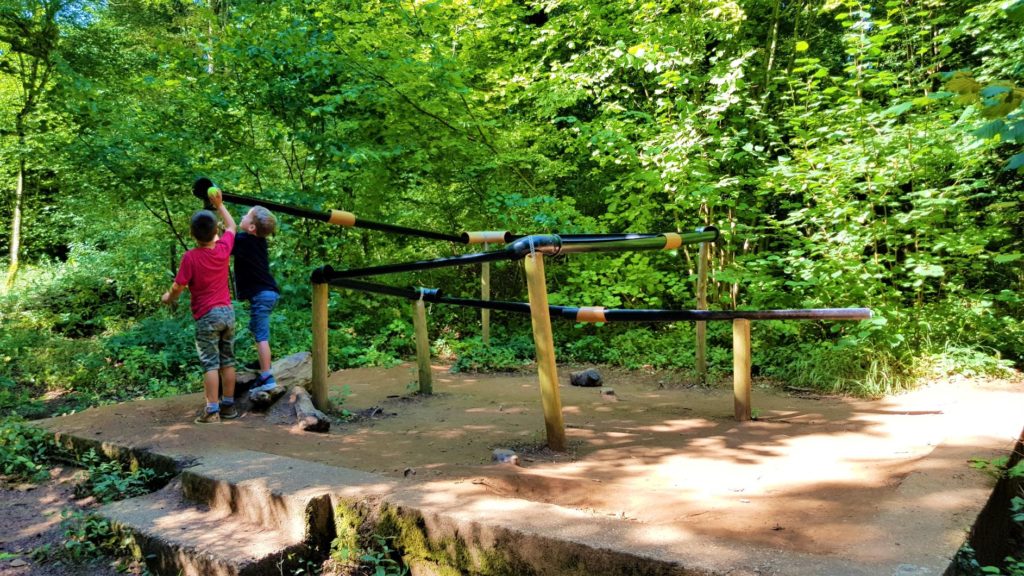 This is where the fun begins. If you thought the ball runs in the new play area were good then wait until you see these bad boys. They're only simple and made from drain pipes but by god they give endless amounts of fun. The 1st one is easy to find as its on the path. The 2nd one is in among the trees a bit more.
The 2nd was the boys favourite. I plonked my arse on a log and let them play for a while before we moved on to the next bit of the wild Play Trail.
What Can You Find Along The Play Trail?
I'm not going to talk about all of the things you can find because there are loads, You need to find them yourself and also i can't be arsed. There's sensory area's balance logs as well as den building.
Unfortunately we didn't get to do the whole trail today because Clark genuinely was shattered. We had already done loads of walking (lots in the wrong direction) and Clark was stupidly up at 5AM!!!!!!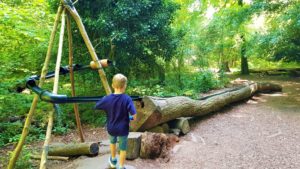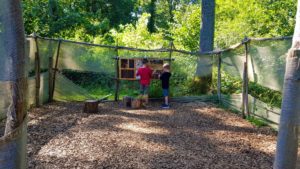 There is a short route for tired legs which we decided to take. This cuts out a few of the activities but not too many. I didn't mind because this has given us an excuse to go back again. I think Elliot will really love Basildon park…Maybe even the husbeast too.
The shortcut across the field really gives you some cracking views of the Mansion too. I can imagine the place will look magical in the snow too. Oh watch out for cow pats too. Keep an eye out for the cows too for that matter.
Electrocuted The Kids!
Got to the bottom of the hill and there i was wondering what this tree was which looked like raspberries growing from it. Logan berries I figured out after a quick google.
There i was minding my own business as the kids played. Didn't realise what they were playing with until i heard Clark giggling saying he just got a shock off the fence. Turn round to see Finley grab the fence and hold on.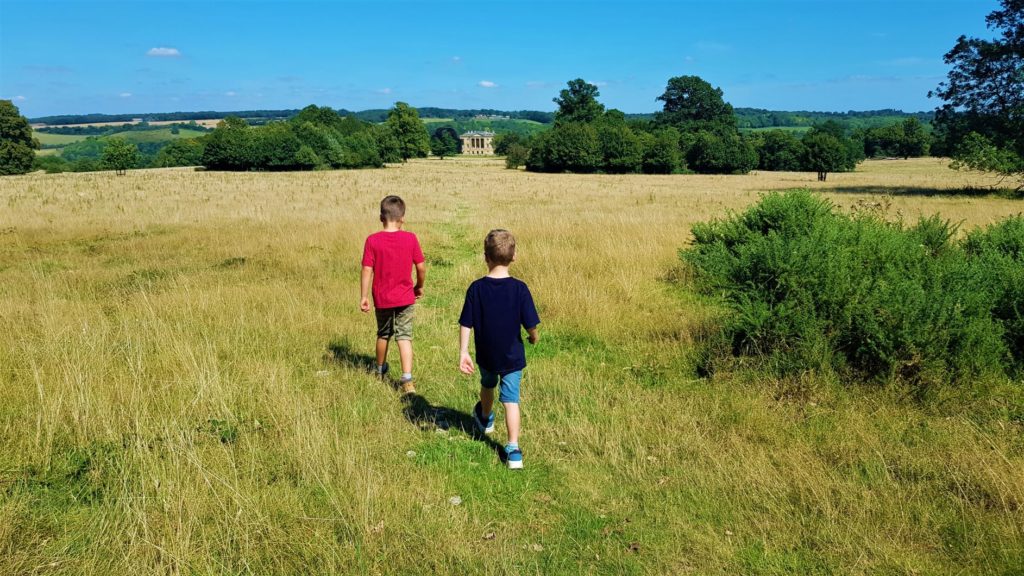 Ah shit it was too late heard a pretty big bang and he'd got a much bigger shock than he was expecting. To be fair to him he took it pretty well. No tears, almost but i managed to distract him in the only way i knew how. Scooped him up and pissed myself laughing. Didn't take long for the initial shock to wear off and join in laughing at the fact that he'd been electrocuted by a cow fence.
This is why i shouldn't be trusted with other peoples kids. I can barely keep my own alive ffs. Thankfully his arm was ok and we had a great conversation about the time my dad got properly electrocuted. I'm hoping this is a lesson in future. Definitely was for me anyway i must admit i did touch cloth a bit when i heard the bang.
Basildon Park Stats:
Distance from Bicester: 50 mins
Sat nav: National Trust – Basildon Park, Lower Basildon, Reading RG8 9NR Click to load sat nav
Wheelchair friendly: Yes
Equipment upkeep: 10/10
Cleanliness: 10/10
Facilities: Everything you need
Age range: All ages
Safety: 7/10 don't play with the cattle fences!
Fun factor: 10/10
Dog friendly: Yes on leads
Pushchair Friendly: Yes May struggle in areas
Bikes and Scooters: Nope
Public transport: From Oxford get the train to reading and get off at Pangbourne. Then get the 143 bus to Goring and get off at Basildon park gates. Takes just over an hour.
Conclusion
In all honesty I loved Basildon Park National Trust. I was pleasantly surprised with how well they cater for kids. There is easily a full day out to be had here and If you're a National trust member a free day out too.
Cant wait to take the boys back and hopefully next time there will be less electric shocks involved. Although if i take Elliot I've no doubt he will try and push his brother onto it face first anyway haha.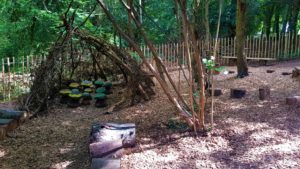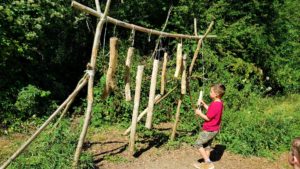 There is no reason for me not to recommend Basildon park based on the day out we had. If you get the chance then you really should get over there. The kids will love it.
I think its safe to say its gone up into my top 3 favourite National Trust venues we've been to so far.
AOB
For more days out similar to Basildon park then have a look HERE
Have a look at Basildon Parks website HERE