Well aren't you in for a treat if you haven't been to Wroxton Abbey before. Not only had we not been before I'd never even heard of it either. I saw a comment on my Facebook chat group where another mum recommended it to someone.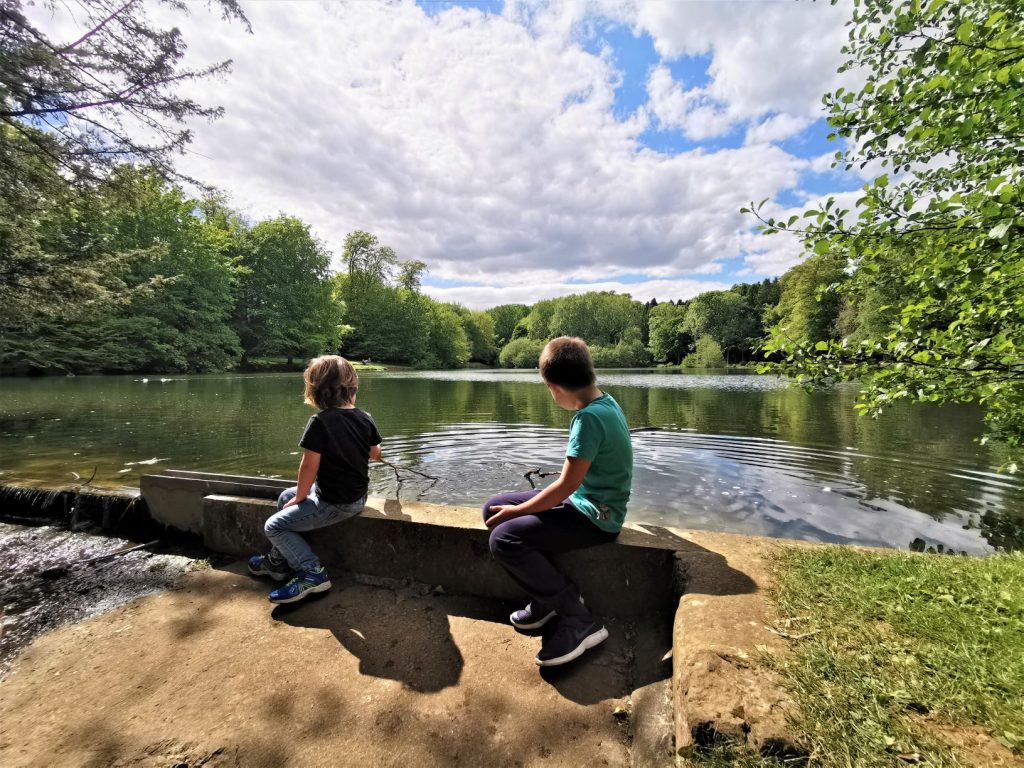 Finding Wroxton Abbey
At the time I didn't think much of the comment and stored it away in the "another day" section of my brain. Since lockdown Clark has been desperate to head back to Burton Dassett hills. Now that the travelling ban had been lifted we were off. When we arrived we realised that I should have checked google first. The car parks were still shut bollocks. That's when Wroxton Abbey popped into my head and I knew it wasn't too far. So off we went with a grumpy Clark.
Wroxton abbey isn't far from Banbury. Funnily enough its in the stunning village of Wroxton. When you arrive you will see the huge gates so you'll know you're in the right place. We parked on the road alongside the grounds. There are residential house so for the love of god be respectful and don't park like absolute tools!
When you first walk through the gates you'll notice a big sign with some rules. No dogs, no picnics to name a few. As much as I don't mind dogs I was happy to see we wouldn't be standing in any dog turd or worrying about any off lead running up to us.
You will see the house almost instantly down the end of the huge drive lined with absolutely enormous trees. Its stunning and it helped that it was sunny too. The boys headed straight for the hills.
Exploring Wroxton Abbey
The hills are probably some of the best hill rolling hills we've seen in a while. The buys spent about an hour just rolling down them. I'll admit I had a go myself too and fuck me it was fast I'll leave it to the kids in future.
We finally dragged them away from the hills to resume our walk. There's a huge lawn which is basically a field where a few families were sat (Cheeky picnicking going on). Some had frisbees and balls with them too and there was definitely the space to do so.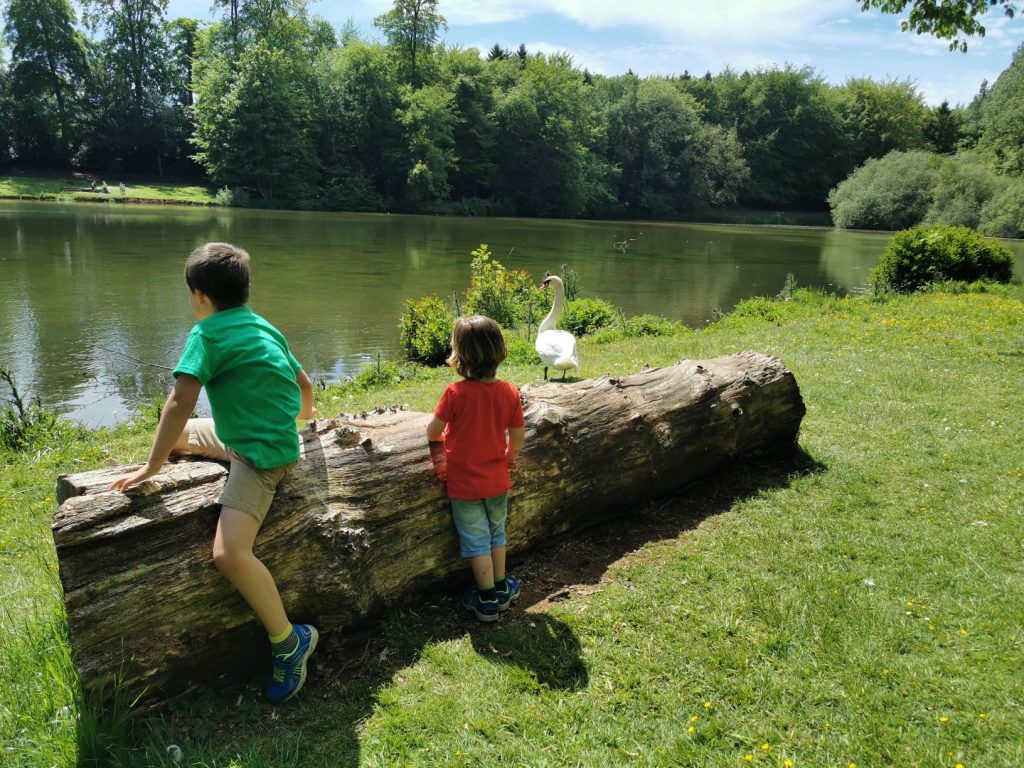 We headed over to the pond which is really lovely and at the beginning of an even bigger walk round the lake. If you have little ones you could just walk round this area with the ducks and trees I'm sure they'll be happy.
There is a small woodland area with a stream to walk through before getting to the lake and the boys had a whale of a time stick hunting. Every stick is a gun in Elliots eyes so it always takes us ages walking through woodlands with him.
Lake And Waterfalls
As we came out the the woodland area we were greeted with the site of a pretty hefty lake. There were a couple of swans floating about and a nest in the reeds too. Its so lovely round there and easy enough to keep our distance too.
There are a few spots round the lake where you can stop and have a rest too. we carried on the the end of the lake. That's when Clark heard it. Mummy is that a waterfall I can hear?. Well he wasn't wrong because at the end of the lake you'll see a cascade of water over some steps. At the top to the steps are some stepping stones to get across. You could chose that route or do what we did.
We headed down the hill to go round the river area and take the longer route and its from here you will see the waterfall its really lovely. It even has a ledge and a little cave area behind it. Of course the boys wanted to go in but there's no way they could do it without getting soaked. Plus we didn't want to get told off.
We ended up doing a full loop heading back through some trees. Clark loved it so much he wanted to go back for his birthday on the Monday. On our second visit we saw a terrapin basking in the sun on a log and ventured up to the tower that you'll see on your right as you come in.
Wroxton Abbey Stats:
Distance from Bicester: 25 mins
Sat nav: Wroxton Abbey, Wroxton, Banbury OX15 6PU Click to load sat nav
Wheelchair friendly: Yes
Equipment upkeep: 10/10
Cleanliness: 10/10
Facilities: Road side parking and possibly toilets when reopened properly
Age range: all ages
Safety: 8/10
Fun factor: 10/10
Dog friendly: No Dogs allowed
Pushchair Friendly: Yes
Bikes and Scooters: It doesn't say they're not allowed.
Conclusion
Wroxton Abbey has such stunning grounds with so much going on the kids fell in love. We took an aeroplane with with us (The ones you throw) on our second visit and played on the lawns for ages.
The stepping stones and waterfall were the boys favourite bit. The whole place was so peaceful and really lifted our moods. Without a doubt if you can visit then do so i cant imagine you could be dissapointed no matter what time of the year you visit.
They do have a sign warning that if social distancing is not being adhered to then they will shut the grounds. Its a fantastic free resource and basically don't all flock at once and fuck it up for everyone else.
Clark said it was his best birthday yet bless him. Other years we've been to Legoland and other places where we've spent shit loads. Maybe the best things in life really are free……apart from cake.
AOB
For some history and facts on Wroxton Abbey check out their website HERE
More ideas for days out then check the map of everything HERE