Ever since i saw Knebworth House it has been on the list of places to visit. However its been shut over the winter months so i had to wait patiently until it reopened. We visited Last Saturday which was their first day open since winter and the boys were not disappointed.
Where Is Knebworth House?
I'll start off with the annoying part for us. Knebworth house is a bit of a fucker to get to. The drive is a right bitch and its broken the hour barrier that we normally stick to. However i don't regret going there's loads to do to fill up your whole day.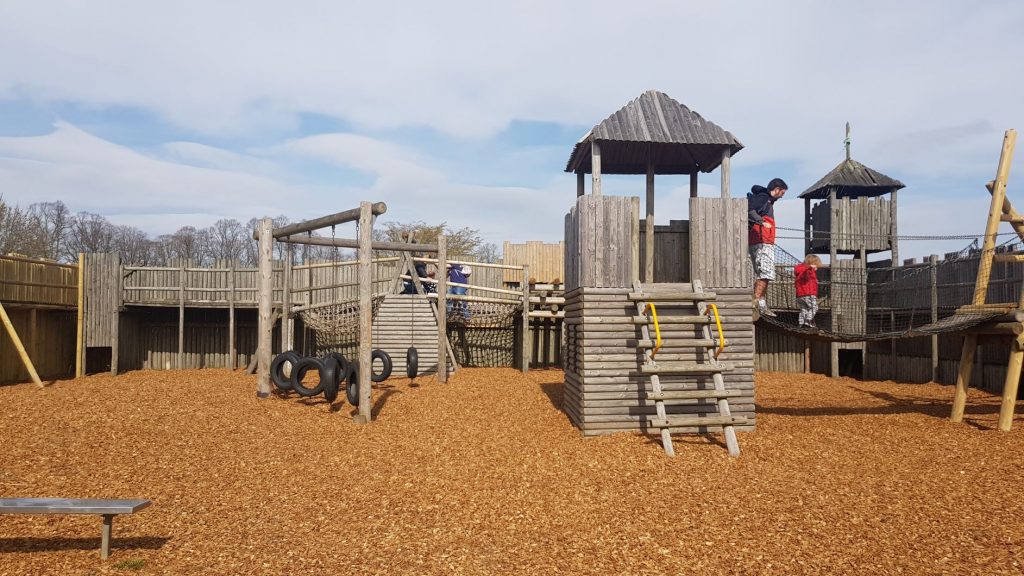 We bought our tickets the night before. They can get booked up so we didn't want to take the risk of turning up and them not having any space left. Tickets are the same price for all ages but under 3's go free. We just bought the park and gardens tickets because we couldn't be arsed to drag the kids moaning round a house.
Knebworth House Adventure Playground
When we arrived to Knebworth house we chose to park at the adventure playground. Its basically a huge field. We were lucky with the weather and it was also pretty quiet so got a decent spot. The kids saw all the play equipment straight away and were ready to bolt for it. Opened the car doors and boom they were off.
The play area of knebworth house is so bloody big and spread out you'll probably be stuck for where to start. I couldn't decide to just let the kids take the lead. Typically the first thing they tried to go on was the big metal hoop thing which was recommended for over 8's. Like my 2 give any shits about what a sign says. They see it as more of a challenge then. Alas neither of us could make the bastard work so they soon moved on.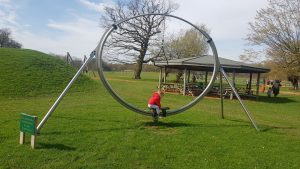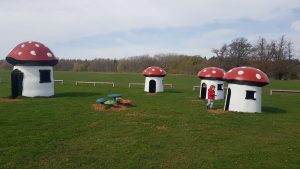 Zip wires were the next point of call. There were 2 so they could race next to each other. They're pretty high up and fast so be careful. We saw some kid get to the end and plummet to the ground below face first. Secretly i was happy it wasn't one of mine like it normally was. Not happy that the kid was hurt. I'm a bit of a dick but not a total twat.
The little toadstool houses were super cute. The boys had a great time playing in those for a while but with so much going on they were constantly wanting to get to the next thing despite us telling them there was no rush.
Knebworth Play Fort
It was time for a wee stop. If you're at this end the toilets are in the fort i can imagine these can get very busy. To get to the fort you have to go past the bouncy castle. I hate bouncy castles i put them on par with the springy face twatters you fin in parks. It always ends in tears or in our case another broken collarbone. Luckily there's enough to tempt them away from a bouncy death.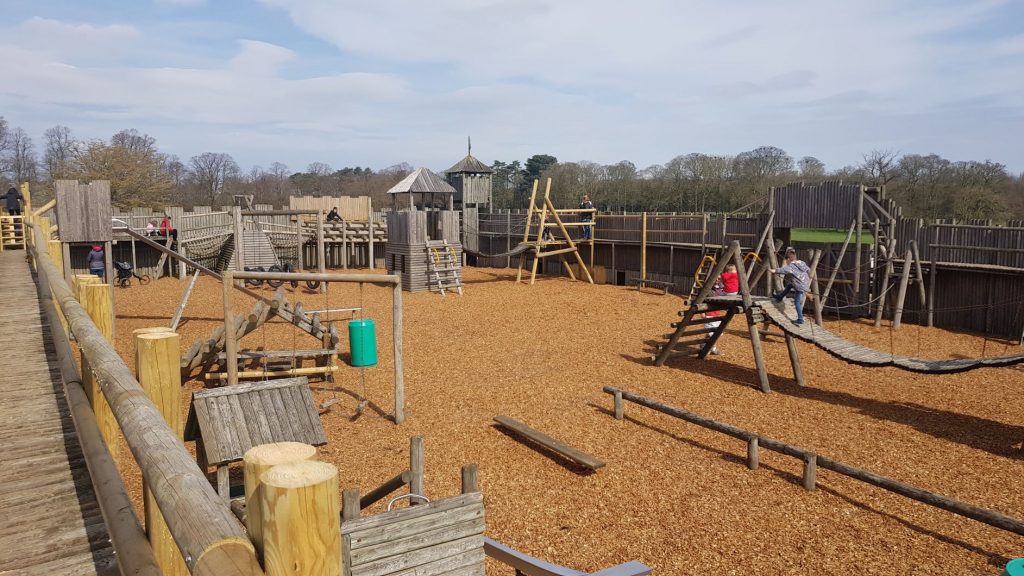 Fort Knebworth. Well what an awesome structure this beast is. There's nothing your kids wont want to do in here. Probably one of the best play Forts we've ever seen. You wont want to leave younger ones to do this alone though. There are so many places they can and probably will stack it. The whole thing is made of wood if you stand up the top and rock a bit the whole thing sways. If you're a sucker for safety you might want to give this one a miss although your kids will hate you forever. No amount of wood chipping is going to cushion a fall from the walls of this beast. I reckon the kids could detect the danger element which is why they loved it so much. Bribed them away with the promise of slides.
Massive Balls Required For Knebworth House Slides
Now the Slides at Knebworth house aren't just any shitty little slides. Oh no these slides are skid making slides. You need some serious weighty bollocks to go on the drop tunnel slide. Obviously Clark has those and showed no fear. Haha his face when he came off was so funny his exact words were "woahhhh that was so fast it nearly pulled my face off" yeah i stayed down the bottom with my tiny balls taking photos.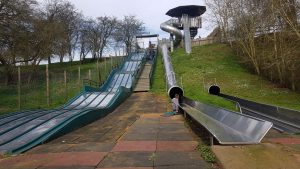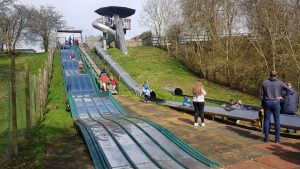 There are height restrictions so make sure you check first. The husbeast let Elliot go down the spiral tube slide and he loved it . Came shooting out the bottom quicker than last nights curry. The wavy slides are ok but a bit of a disappointment as they lose momentum before they reach the end. Still a good set for the kids to race.
All of the slides are also manned and the staff were really lovely and friendly. In fact the staff throughout the whole of knebworth house were really nice and helpful. Not sure how long that'll last after a few weeks of business.
Snack Time
We decided to head for some snacks at the kiosk by the fort before checking out some more of the playground. Luckily i packed snacks because we didn't take cash and the kiosk only accepted cash. So don't get caught out and take pennies with you.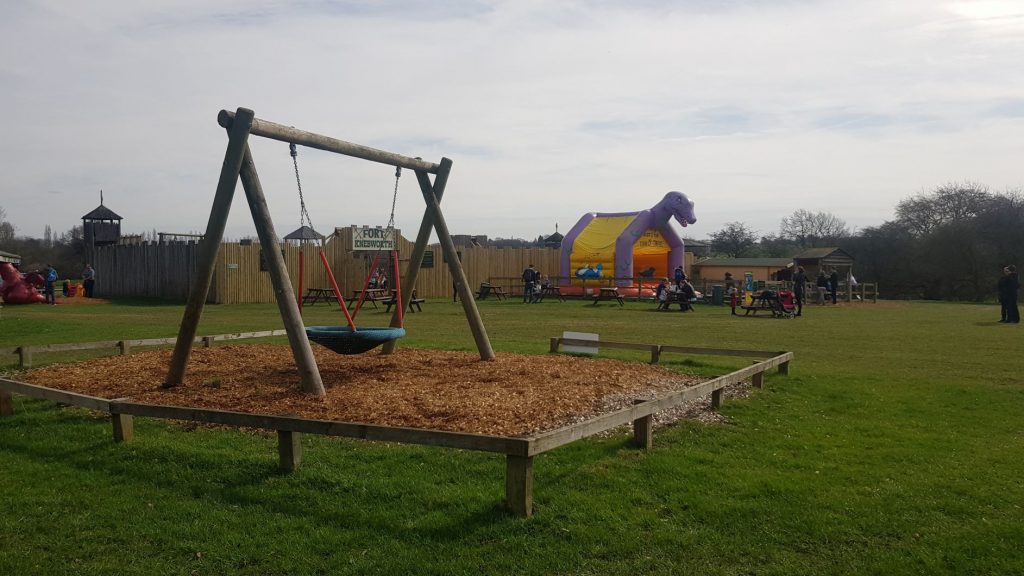 If we were to go again we'd take a picnic. Knebworth house is well equip for picnics. Loads of benches even has plenty under shelters too. Loads of room for ball games too.
Next tip… take a change of clothes. Their water play area is pretty cool. They have the usual pump and dam area (if i'm being honest could do with a bit of tlc) However the kids didn't care about that. Nope they wanted the fountains.
Water Play
Not just any fountains going off randomly. These you had to make work yourselves by using the seesaw. The kids loved it!! so did i. Not seen anything like these before. The area behind got me there i was trying to figure out how to make it work. Pumping away and looking at the small fountain. Next thing i know i cop a face full (sounds so wrong when i read it back) I was soaked and the kids were in hysterics. I'm not going to tell you where to look out because that would be boring.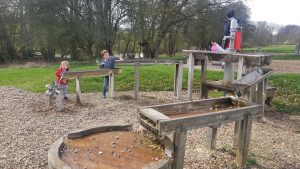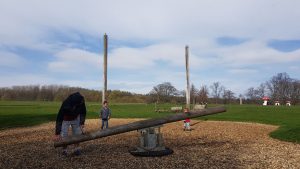 The kids got soaked and had a great time in the water area. Kids don't care if its not hot so you really should take a spare set if its not warm at least.
The park is a bit of a walk from the house and gardens. One which we'd normally do however i was still ill so decided to drive up there instead.
Gardens & Cafe
You don't want to miss the gardens especially if you have dinosaur loving kids. Its a bit more civilized at this part of Knebworth house. You'll find more modern toilets and even a cafe which takes card. We decided to have some lunch in the cafe.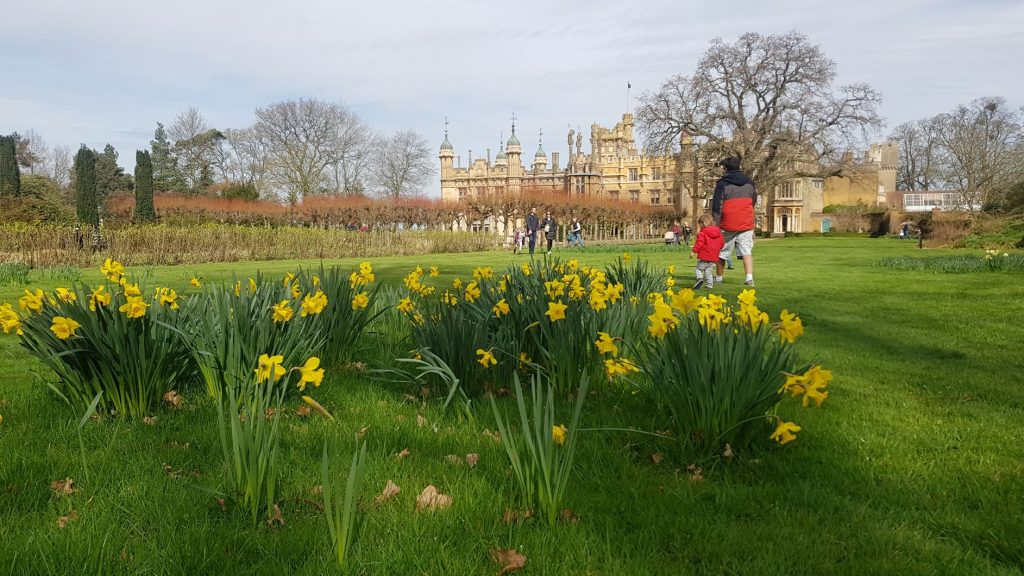 The cafe was nice with a good selection of hot and cold food. The kids had lunch box deals with wraps in which went down well. It wasn't overly expensive either….or maybe were getting used to the expense of all these places we visit now.
We headed into the gardens after lunch and if i'm being honest i wasn't expecting much. How wrong was i. The gardens of Knebworth house were lovely. Not the most stunning up kept gardens I've ever seen but then i cant even keep on top of mowing my lawn once every couple of weeks and that's tiny.
Sculptures
Throughout the gardens you'll find loads of beautiful wooden sculptures. They really are lovely and the boys loved spotting them. Most of them come with polite notices about not climbing on them. Obviously you'll get some selfish skanky families that couldn't give two shits about other people properties or teaching their kids about abiding by the rules that still climb all over them. Please don't let your kids climb on them for a sake of a photo. I cant whittle a stick into a straight line so god knows how much work have gone into those sculptures!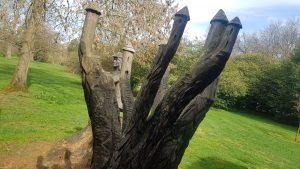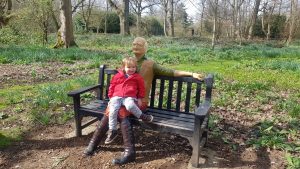 The maze is a lovely little maze. Its no Blenheim maze but its still growing possibly. Because the hedges aren't full height it makes it perfect for kids to go it alone…… maybe not toddlers though they're still a bit to short to see over the top.
Dinosaurs
The Dinosaur park is also in the gardens so another reason not to miss it. Don't get me wrong its no west midlands safari park but its still good and the kids loved it. There are a few interactive points as you go round too. The dinosaurs are more retro and less realistic than some of the others we've seen but i think only adults and older kids will notice this.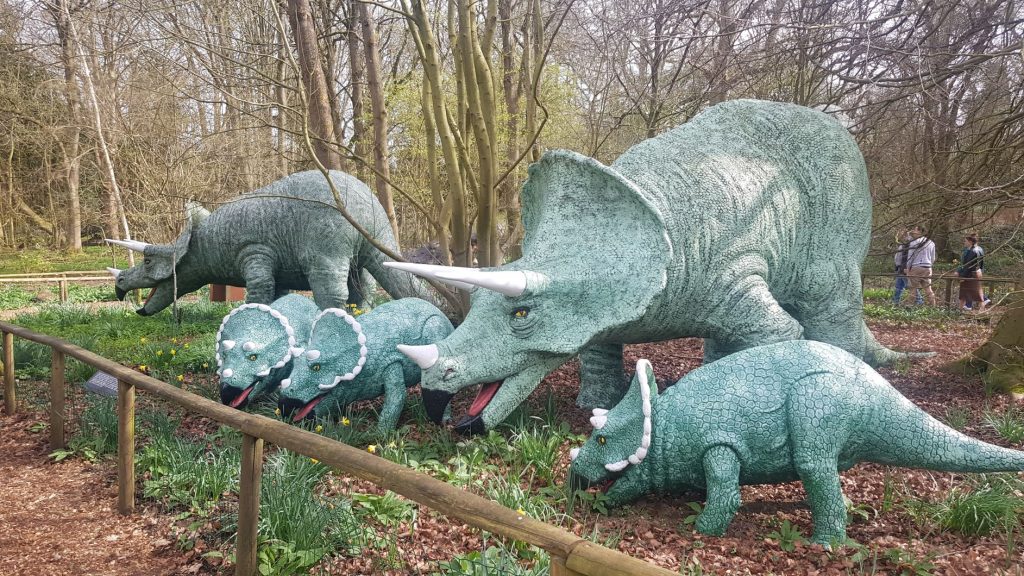 They did have a huge chalkboard which went down a treat. Little buckets of chalk and sponges and it kept the kids entertained for ages while we had a sit down on the benches opposite. Youll notice signs dotted around the whole of the gardens asking you politely to not do things one of them being is no picnics. So if you are taking a picnic make sure you find somewhere other than the gardens to get your much on.
Keep Rolling
Even though there were dinosaurs, mazes and sculptures in the gardens the kids favourite part of the gardens was the hill. Yep a pretty steep hill that they loved rolling down over and over again. Just watch out for the sticks from the trees on the way down Clark took one to the face but he soon got over it.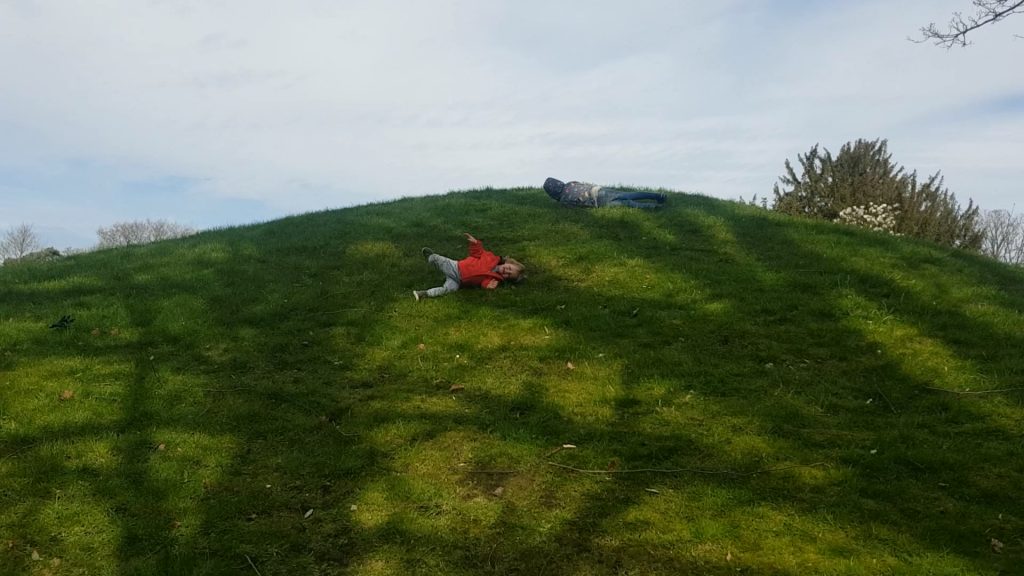 We had a walk up to the house and had a walk round the outside of it. Its a nice looking house with some cool gargoyles but the boys couldn't have cared less if I'm being honest. You'll have to figure out if its good for your kids on your own I'm afraid. Were not a family that walk round big houses. We keep that for when were child free and even then i find myself drifting off and dreaming of cake.
Knebworth house stats:
Distance from Bicester: 1 hour 20mins
Sat nav: Old Knebworth Ln, Knebworth SG3 6HQ Click for Directions
Wheelchair friendly: Yes
Equipment upkeep: 7/10 few bits pretty dated now
Cleanliness: 10/10
Facilities: 10/10
Age range: All ages
Safety: 6/10
Fun factor: 10/10
Dog friendly: Dogs are allowed in the Park only, not in the Formal Gardens, Dino Trail or the House. Dogs must be kept on leads and under control at all times. Assistance dogs are welcome in all accessible areas.
Prices: Lots of different options check their website for offers.
Conclusion
Knebworth house was a brilliant day out the kids loved it and the old ones had a great time too. You could spend the whole day here. We were lucky that it was fairly quiet when we visited. I think my review would have been totally different if it was busy.
I think they really need to update some of their equipment. In fact i think i saw a sign saying they were doing work on the fort.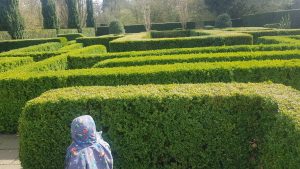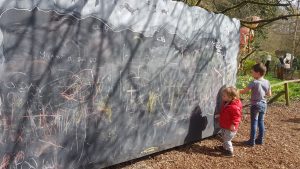 I would definitely recommend a visit and its really worth the money we paid. However i doubt we would go again. For us its a been once don't need to go again job. That being said if we lived closer i'd probably be buying an annual pass.
Your kids will not be disappointed here. There really is something for everyone. Take the grandparents too i bet they'd love the house.
AOB
If big houses and gardens are your thing then check out some of the other family friendly ones we've reviewed HERE
For more information, Ticket prices and events for Knebworth house then check out their website HERE