Why the hell I've never been to Compton Verney before I don't know. We went last Thursdsay and we had the best time. So much so that we upgraded our tickets to a family Annual pass and went again on the weekend. I can see us getting a lot of use out of this pass. Oh and its only £33!!! pretty much the same price for one adult and one child for one day at Mead Farm.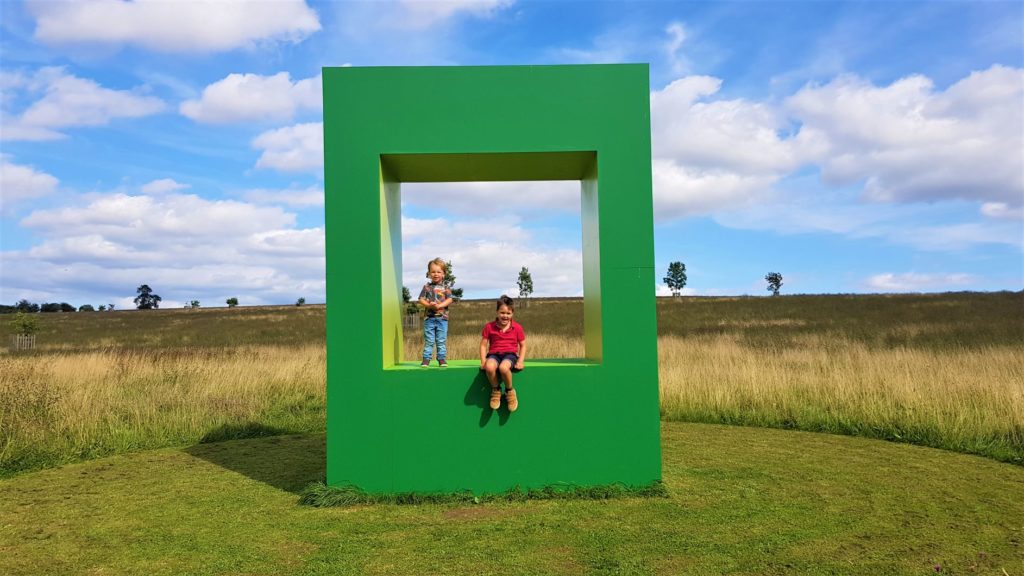 What Is Compton Verney?
So Compton Verney is basically an Art gallery which is why I've avoided it up until now. Don't let that put you off because its so much more . You and the kids will love it, there's so much to do for everyone. Whats even better is that there's options for indoors and outdoors fun.
Its really easy to get to too which is always good for me and my sat nav. Its just down the road too. Ok its a long road but more or less a straightish road that takes 40 mins. Its just out the other side of Gaydon near the British motor museum.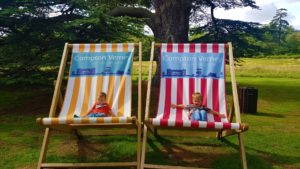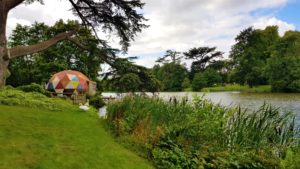 There is parking and an overflow too so we had no issues finding a space on the Thursday. However on the weekend with an event on we struggled. Luckily we found a space because not long afterwards they shut the car parks because they were full. Literally turning people away so if you are going on an event day bear that in mind and get there early.
When we visited on the Thursday we went with friends and their boys. We also found out that there was a free forest school on every Thursday too. Love a good forest school and the one at Compton Verney didn't disappoint either.
Compton Verney Forest School
Now when i say the forest school is free I mean with your entry. Or if like me you have an annual pass. I've been to a fair few forest schools and i must admit this is one of my favourites. In fact I love it just as much as the Hedgehog club forest school at Blenhiem (every Wednesday) they are however totally different.
Please bear in mind I'm basing this on one visit and it could be totally different every week. The forest club is situated right next to the adventure playground (will get to that next) and its in a huge clearing with loads of tents. You head over and a lovely member of staff lets you in. Then the kids were off. First thing they did was head over to the big buckets of water in the middle, pickup the instructions and equipment needed to make a mini raft/boat and ask me to bloody make it.
Each tent had a different activity in there from bug hunting to quiet time reading a book. There was tea bag painting which was loads of fun. Elliot particularly liked the huge mud kitchen and the spray bottles. In fact both Elliot and Clark loved the spray bottles along with every other kid in forest school. The bit i loved was the pirate ship in the middle. The forest school staff were really lovely and helpful too making sure that all the children got turns with different things.
I can't wait to head back for the forest school again. In fact i could sit there all day and let the boys dig make mess and make painting with mud Its fantastic. My friend preferred the less structured play of the Blenheim forest school which I also love equally as much. I love having the option of both depending what mood the kids are in.
Adventure Playground And Den Building
As I mentioned earlier the adventure playground is right next to the forest school which is great for popping in and out. Its set among the trees too which offers shelter from the sun or maybe the rain.
I've always tried to get the boys to build a den from huge sticks and up until now they couldn't have given less of a shit. Today however they had a great time. Ok so maybe they were taking down someone else's hard work to build their own but I'm guessing it swings in roundabouts and i didn't want to put them off. It probably helped having their friends to help out too. Even better when my friend brought a flask of tea so we could sit and have a natter while they played. Her flask tea is loads better than the shit she makes if we go to her house too!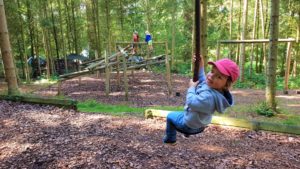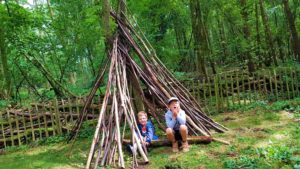 The adventure playground is a nice area. Its not Blenheim or Waddesdon but it was equally as fun and not overly busy like the other 2 normally are. In fact the whole day was pretty quiet wherever we went.
The playground has a zip wire, swings, balancing course and a cool climbing frame with ropes etc. This was the only part where i had to keep an eye on Elliot too. I love that hes nearly at the age where i can leave him to it in a park. Although as soon as i do that i bet he ends up breaking a bone.
Exploring More Of The Grounds
After the den building and a play we headed over towards the house/Gallery. Along the way the boys found trees to hide in, willow tunnels to run in and a really cool "hole house" as Elliot named the old Ice house. The boys loved running in and out playing house and looking down the huge hole. I did touch cloth at first when I thought the drop wasn't covered but it turns out it was just Clark winding me up!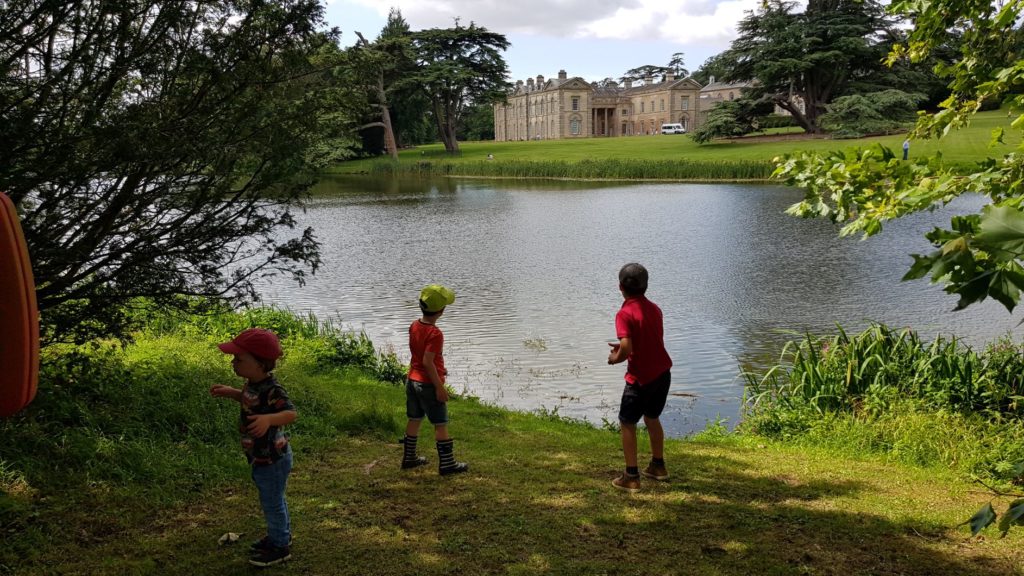 Next the boys were heading over the bridge over the lake onto the lawns and rolling down every hill they could find. Having the best time. I did notice the bird shit sign a bit too late but thankfully none of them had rolled into any. They soon made a beeline for the huge fuck off boulder in the middle of the lawns…..Turns out it was a piece of Art. Cant say the kids were impressed as i stopped them trying to climb it haha.
The gallery building is a lovely building and with the grounds as a backdrop the whole place was stunning. As we were having such a great time outdoors i decided it'd be a great idea to check out the gallery. Why that thought ran through my stupid head i have no idea. i like to call these moments Dumb fuck moments.
Compton Verney Art Gallery
the gallery is where you'll find the cafe and main shop. This was really busy when we visited and we never used the cafe. We were fully equip with a picnic anyway. Instead we headed up to the Tea exhibition which is where the shit began to get hairy.
Unless you have a nice calm kid that actually gives a fuck and or listens to a word you say do. not. go. in. the. Gallery!!!!! everywhere I looked was a breakable and 9/10 Elliot was running round it. My arsehole was well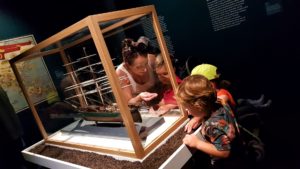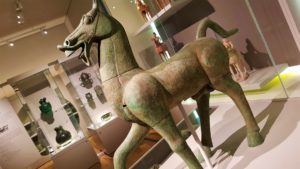 and truly in my mouth and i was shit scared. A lovely lady tried to teach the kids and get them to listen which was an epic fail. She even let them into a plastic sheet covered room with the most delicate intricate clay model I've seen in my life. I'm going bald at this point. Elliots smushed his face up against the plastic sheeting trying to wind Clark up that's inside. I could see the woman start to panic. We needed her to politely shut the fuck up so we could run the fuck away somewhere safe.
Instead we went out of the frying pan and into the fire. The next room. Now i swear the woman ran ahead to warn the other stewardess about my kids. They kept us close but we quickly ran the fuck out again and she informed up of a better area for the boys. The sensory rooms #thankfuck
Gallery For Kids
Now this half of the gallery was more like it. The first room had lots of different teas for them to smell and feel along with a huge tree and lots of leaves that they could write their own tea leaf names and stick onto the tree. It was actually really lovely and a fraction less stressful.
The next room had a huge table and chairs in the middle with lots of paper and colouring in all tea related. Clark sat down and started drawing i even had a go. Elliot was playing on the bean bags with his friend looking out of the windows. We added our art work on the wall with the rest of them.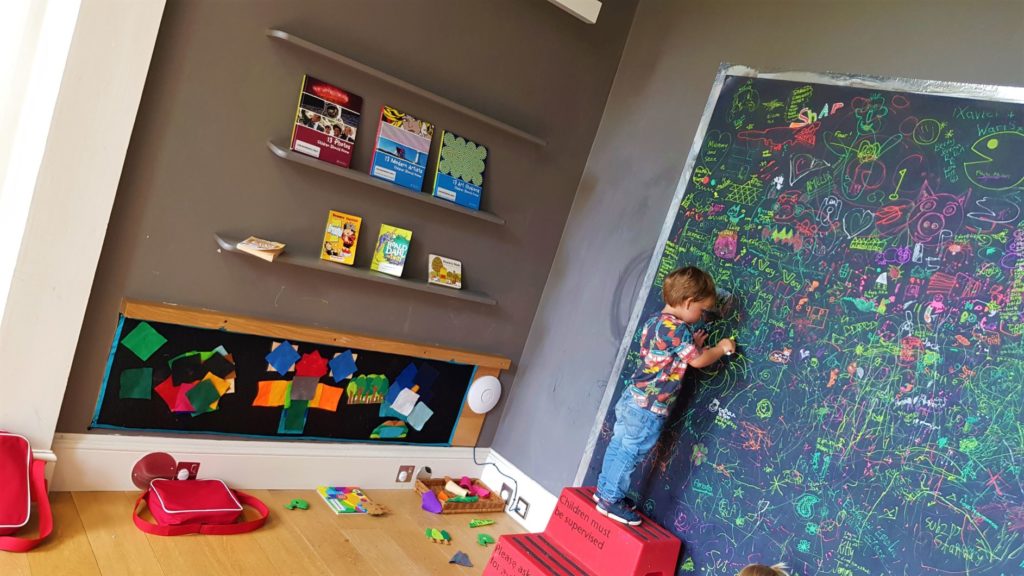 I'm going to call this next area the clay rooms and boy what a surprise this was. We headed in and we were greeted by a lady who asked the boys if we'd like to make something from clay to add to their wall. The boys couldn't wait to get their hands on the grey play doh. That shit never comes out of its box anymore. They had a good go and so did I. Our friends little boy made a nice little crocodile to take home. We made a leaf and added it to the lovely wall with the rest of the other work before we headed to the last area.
Now this area is a permanent fixture and its fab. From being able to write on the walls, read a book, build, play Lego or use any of the multiple sensory equipment on offer. It was like a toddlers paradise. Even the 2 older boys were happy too. It was time to head back outside to our safe place though.
What Else Is There To Do?
Ok I'm rambling on i get it. There's just so much to tell you but i equally don't want to bore the shit out of you either. It was lunch time now and we needed to get our picnic on. We found a great spot by the sandpits. Oh yeah not just one but several individual little sandpits with accessories too. there were some giant deck chairs too or as Clark calls them "relaxing Chairs". I had to laugh. Like he knows what relaxing involves!!!
After a play on the sandpit we headed over to the green space meadows while our friends headed over to the little house on the lake. Now the green space is a huge meadow with large green blocks. When we arrived there were children climbing allover it so of course the boys naturally wanted to join in. Only realised the second time we visited with the husbeast the sign say please do not climb! oops.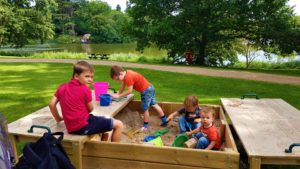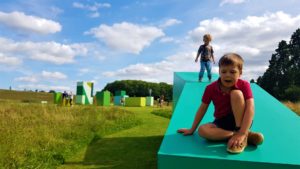 I'm glad we visited again because we got to do and see the bits we missed the first time round.One of which was the ferry.Boy did the kids love that. Basically a floating platform that the boys had to pull on a rope to get us to the other side. It wasn't far but it was a great bit of fun. Thankfully we go there when it had just opened because the queue was huge later on. It doesn't run all the time either because it depends on the volunteers.
Some of the other things to do which we haven't done yet include the pond dipping. Bird watching in the bird hide and for the life of us we couldn't find the bloody labyrinth haha. What I'm saying is there's shit loads to do and easily a full day out.
Compton Verney Stats:
Distance from Bicester: 38 mins
Sat nav: Compton Verney, Warwick CV35 9HJ Click to load sat nav
Wheelchair friendly: Yes
Equipment upkeep: 10/10
Cleanliness: 10/10
Facilities: Everything you need
Age range: All ages
Safety: 8/10
Fun factor: 10/10
Dog friendly: Yes on leads in the grounds
Pushchair Friendly: Yes
Bikes and Scooters: I saw scooters but not bikes
Public transport: Wouldn't bother
Conclusion
I'm shocked we haven't been to Compton Verney before and so far this has been the best value day out we've discovered this summer I just wish we had found it sooner. £33 for a family for a whole year. Cant go wrong really. We've had the pass less than a week and already got our moneys worth especially after their great Alice in wonderland event.
100% you have to go. It really is brilliant and makes a nice change from the usual suspects that we normally go to. The forest school alone is worth the visit.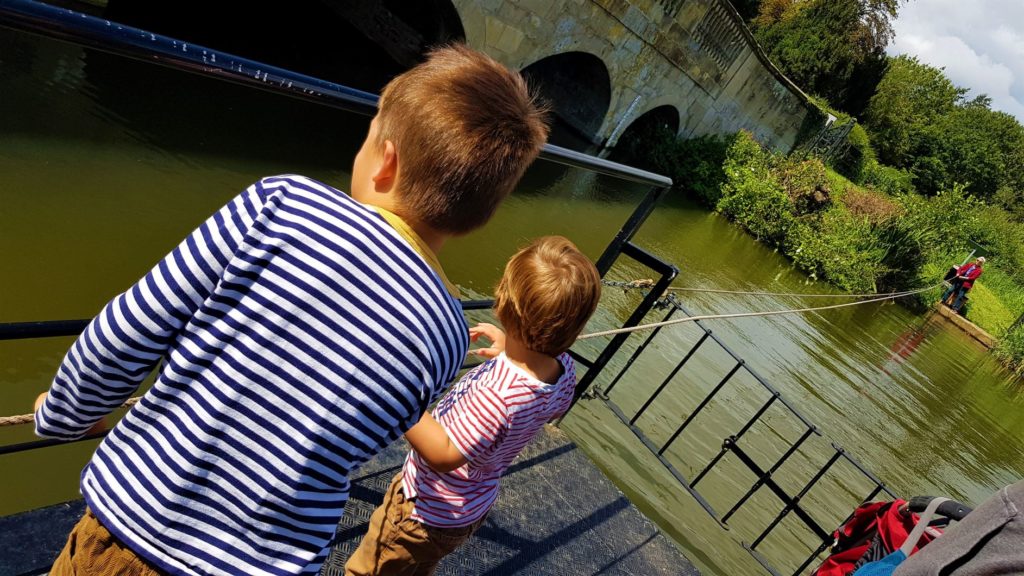 The only negative thing i have to say is that yes they are child friendly in the gallery (the even have explorer packs) but i don't think they're prepared for all types of kids. I.e I don't think they're used to boisterous children but then i don't think i am either and i have 2 of them.
Oh i nearly forgot they have a shuttle bus from the main entrance to the gates too for anyone with mobility issues!
AOB
For more information about Compton Verney have a look at their website HERE
For more days out near you check out the map HERE