Someone messaged me and gave me a heads up about little billing waterfall. After a bit of digging and searching I found out where it was. I packed the kids up, shoved them in the car and went to investigate.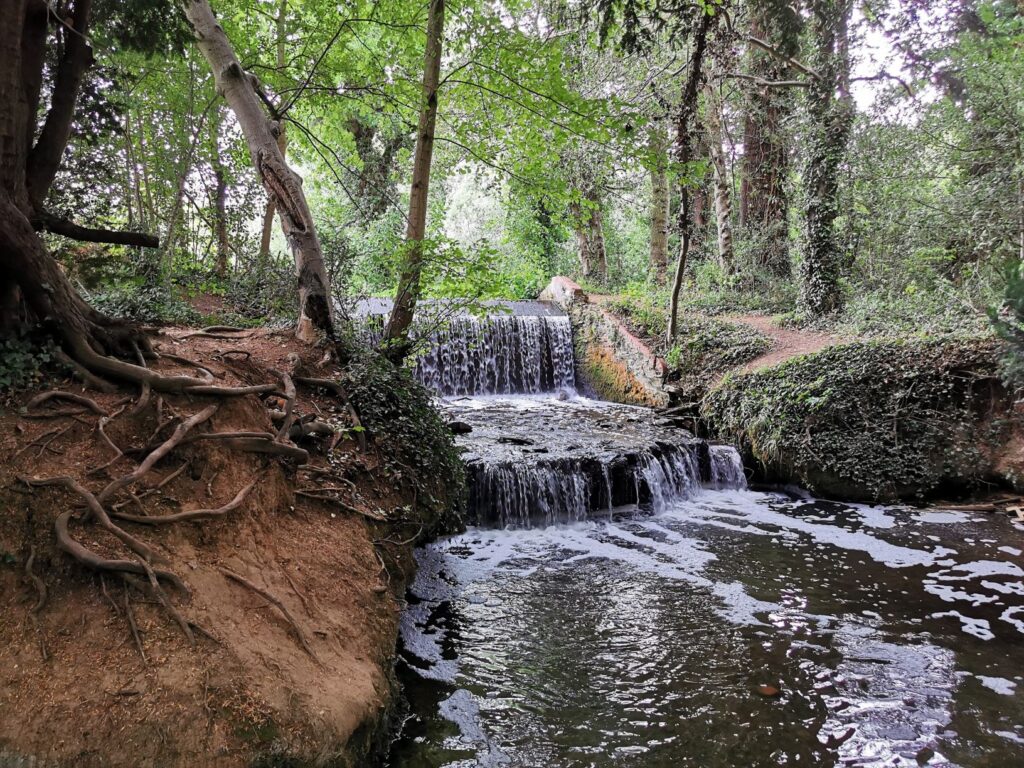 Little Billing Waterfall
The boys love a good waterfall unfortunately being in Oxfordshire means there isn't a huge selection of these wonders powerfully flowing off the edge of a mountain. So when I saw a photo I knew we needed to go and have a look.
Its going to be a difficult review because yes the river and waterfall was stunning but because of where it was it also meant it was a bit of a shite whole too. Its was slap bang in the middle of a housing estate. As with everywhere humans are. Unfortunately it comes with the arseholes that don't give a shit about whats in their neighbourhood.
We cagily parked in a bay on a road and couldn't see any private parking signs. Then I saw a guy heading towards his car. I asked him if it was private parking to which he very kindly said "nah bruv anyone can park here. Give me a tenner and I'll look after if for you". I did an awkward laugh and said thanks. I got Elliot out first because so he could warn him off with his toy gun and resting bitch face. Triple checked I'd locked the car, said a prayer, hoped it'd still be there when we got back and off we fucked.
The path was directly opposite where we parked. Once you head in you will see a bridge, cross the bridge and turn right. We chose to go down to the rivers edge to walk but you can walk along the upper path which will be a better shout if you have the scooters or bikes.
Finding Little Billing Waterfall
The water along the stream /river/brook whatever its called was really shallow and looked really clear. An added bonus for spotting the cans of special brew launched in their by lazy twats that couldn't bring themselves to use the bins provided.
Once we started to ignore the litter Elliot was up ahead and shouted "Mummy whats this?" he was poking his stick at something. I ran up hoping he hadn't poked whatever it was with his finger. A MUTILATED FUCKING PIGEON!!! It was bloody grim only things left were blood, guts a few feathers and its feet. Gave it a wide birth, threw Elliot's stick away, got him a new one and headed on in our perilous quest for this fucking waterfall.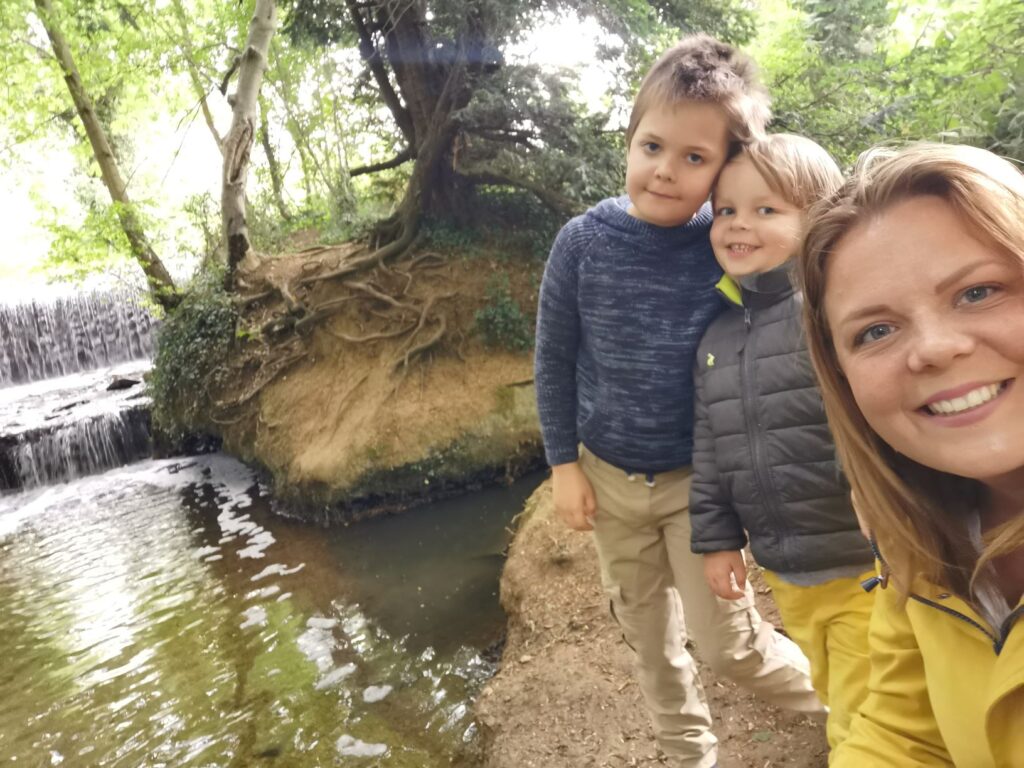 As we walked along there were a few dogs in the water having a blast. The people we passed by were really nice and friendly too. This made me think maybe we just got off to a bad start. That's when we heard it….falling water. Just round the corner too.
As it came into view I forgot all about the mutilated pigeon, the meth head and the special brew in the river because it was actually pretty impressive for an urban waterfall. Then to add to the magic as I got closer a kingfisher flew off with something in its mouth (probably a tin of sardines). Couldn't believe my luck. I shit you not this was the 2nd kingfisher in 2 days. I had seen one the day before in Dry Sandford when I was lost.
Exploring The Area
So the waterfall is the overflow from the pond above. We had a walk up to the pond saw some ducks, A swan with its Cygnet and decided to head back and see what was in the other direction. The walk to the waterfall wasn't a long one and after the 40 min drive to get here I wasn't about to drive back again.
After heading back to the bridge we crossed back over as this is the side where the path along the river was now. There was only so far we could walk before we needed to head up to the main path. The main path is also a bike route so it might be an idea to take the kids bikes or scooters along too.
I must admit heading out this way the river seemed a little less littered and cleaner. It opened up to some fields (after crossing the road). The kids found a hill to roll down too. They have been taught to scout for dog shit first now though (homeschooling at its best)
All was good until we headed under the road this is where we saw the trolly graveyard. I've never really understood why people throw them into water? It would seem like trollies and water go together as well as a thong on a fat hairy bloke. Just because you can, doesn't mean you should.
Great Billing Aquadrome
If you carry on and head past the trolly graveyard you will come across a blue kissing gate. This heads into Great Billing aquadrome. Now i'm not sure if we were meant to be there or not. There were no signs saying not to. I really wanted to explore the area but the boys legs were tired and it was getting late.
We could see all the statics but we didn't head in enough to see the rest because according to google maps its full of water. In the background the boys spotted a fair ground too which I'll assume is open when the campsite is. So could be worth heading back for a nosey.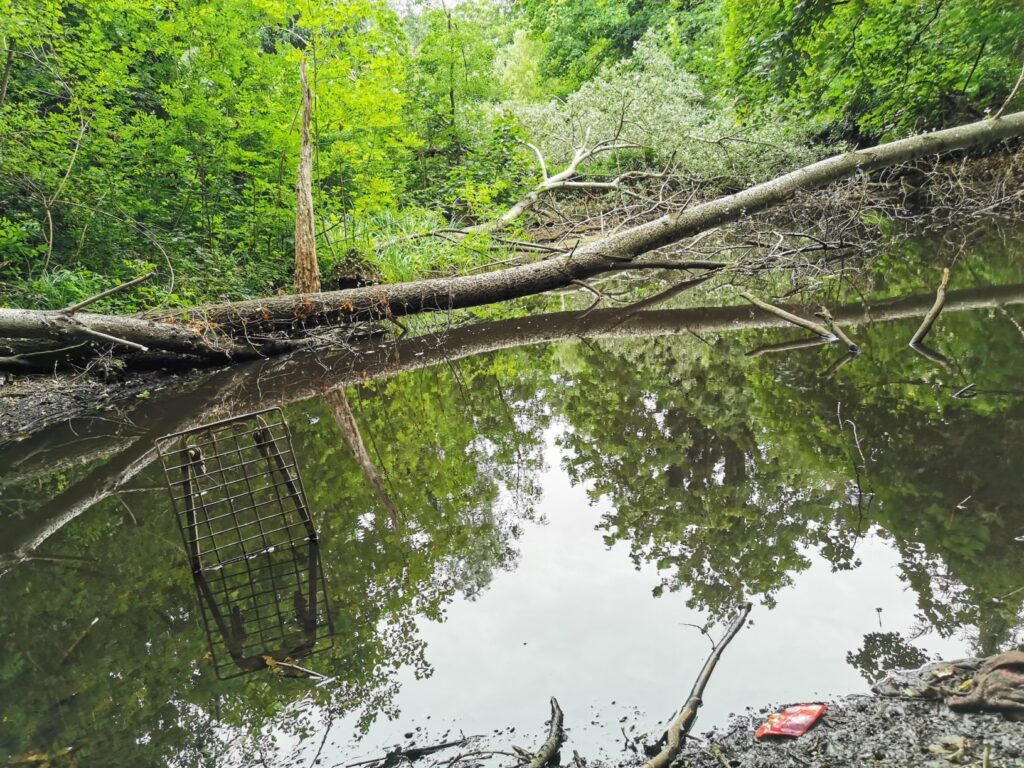 A friend of mine did tell me that it was one of the roughest campsites she'd ever stayed in though so i might give staying there a miss but could be worth a nosey for a day out.
On the way back we found a lovely pond with another trolly and a tree with a swing on it. The boys had a quick go before heading back to the car again. A few meters down the path we came across another mutilated pigeon?! We must have missed it on the way out. That or the pigeon killer had recently made another kill. The kids kept busy spotting all the graffiti on the way back to the car. Thankfully it was still there but then so was the guy sat in his car. Strapped the boys in quickly and buggered off before he asked for that tenner!
Little Billing Waterfall
Distance from Bicester: 45 mins
Sat nav: 1-55 Campion Ct, Northampton NN3 9BW Click to load sat nav
Wheelchair friendly: Yes
Equipment upkeep: N/A
Cleanliness: 4/10
Facilities:No Facilities
Age range: All ages
Safety: 7/10
Fun factor: 6/10
Dog friendly: Yes They will love it
Pushchair Friendly: Yes
Bikes and Scooters: Yes perfect for them
Kite Flying: Not really
Conclusion
I don't really know how to conclude this review if I'm honest. It was all a bit bizarre. Yes the waterfall was pretty impressive. Yes there was a shit load of mess and mutilated pigeons. Would I go back ? No. Was it a wasted journey? No. I'm glad we got to see it and the boys enjoyed their walk.
If you really want to see a waterfall then little Billing waterfall is great if you cant get to wales any time soon. Is it a day out? No. If it was in the middle of a country park this place would be heaving. However its a local place for local people in the middle of a housing estate but its worth a nosey and I'm glad we saw it.
AOB
If you'd like to contact me with some more ideas for days out feel free to contact me on Facebook HERE
If you're after more idea for days out near you check the map HERE