Thanks to 2 amazing Milton Keynes bloggers (Milton Keynes Kids & The Outdoors mum) both of who featured Teardrop lakes. We got to spend a fab afternoon here with the boys.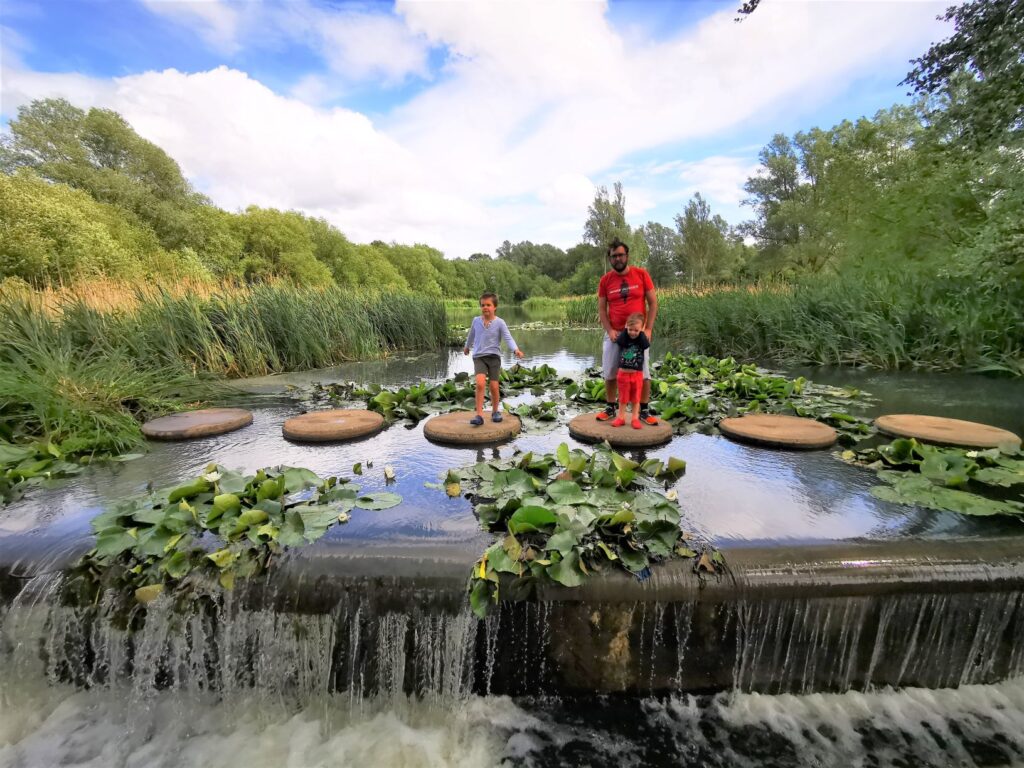 Teardrop Lakes
For us teardrop lakes was a perfect afternoon walk. Not too long, not too short, Just the right distance away and loads for the kids to see. There are a couple of car parks to chose from. The one we were in was fairly small but managed to bag a spot. If you're lucky you will see the horses in the equine centre over the road too.
We headed over the bridge to the left of the car park and went that way round. It wasn't too busy. They stopped at the first little water area which was like a little weir. They must have been locals because the kids were straight over the fence and on the walls. Looked fun but nothing I personally would advise there was a trolly in the water and its bloody deep. Of course the kids wanted to join in though.
We managed to drag them away and under the bridge. Moaning to go head first into the water stopped once they caught a view of the lake. It didn't take us long to discover the stepping stones either. Love a good set of stepping stones and this is the second set I've found in Milton keynes.
There was another family at the stepping stone when we arrived so we waited for them to have their photos then i sent the boys and daddy over. You will need to keep hold of the kids the water looks like it could be deep.
Teardrop Lakes stepping stones
The stepping stone are by the very end of the lake and does have a fence surrounding but with a gap so you can get to the stepping stones. Now we didn't go the whole way across because one of the stones is completely overgrown. I couldn't see where it was and knowing my luck I'd have missed it and gone head first in.
After playing about on the stepping stones and watching the ducklings Clark wanted to head over to hill he'd had his eye on. Who doesn't love a good hill roll. At this point Elliot stacked it on the gravel path again. That childs knees are shot to shit the amount he falls over.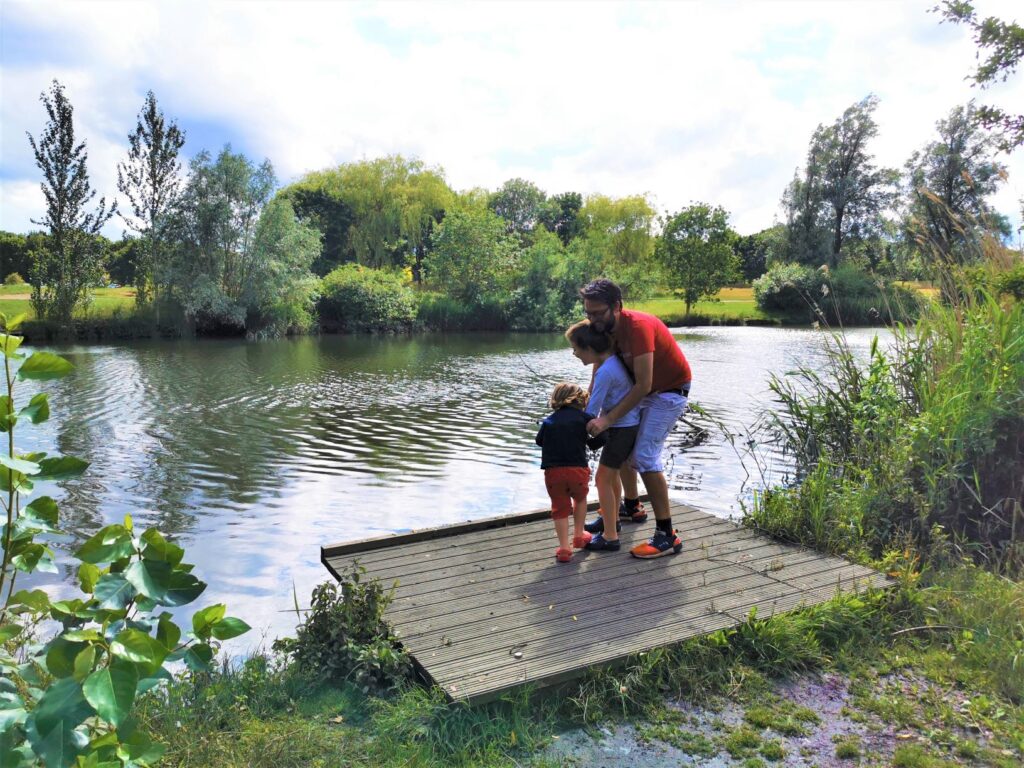 The huge hill has a bench at the top me, Elliot and the husbeast sat at the bottom and watched Clark rolling down. We did have to tell him to watch out for the giant dog shit right at the bottom of the hill (Some selfish fucking dog owners as usual). A huge group of teen at this point descended on the hill so we decided to have a look round the rest of the park.
If you have a child that loves trains then you 100% need to head here. Clark was in heaven watching the trains speed past. There was 1 every few mins or so it was great. They can be seen better on the side of the lake that runs nearest the road. There are a few clearings which offer a better view too. Clark wants to go back for a picnic next time. Think we'll take the kite next time too.
Teardrop Lakes MK Stats:
Distance from Bicester: 37mins
Sat nav: 30 Redland Dr, Loughton, Milton Keynes MK5 8FB Click to load sat nav
Wheelchair friendly: Yes
Equipment upkeep: N/A
Cleanliness: 5/10 Unfortunately a fair lot of mess when we visited
Facilities: small car parks, no toilets that I could see
Age range: All ages
Safety: 7/10 (deep water please be aware)
Fun factor: 10/10
Dog friendly: Yes but pick up their shit pleaseeeeeeeee
Pushchair Friendly: Yes
Bikes and Scooters:Perfect for bikes and scooters
Kite Flying: Yes
Conclusion
We had a surprisingly lovely walk at teardrop lakes. The stepping stones were my highlight but Clark loved watching the trains flying past. Yes there was a fair amount of litter but if there's one thing this lockdown has taught me is that some people are selfish, disgusting, lazy bastards.
We really love Milton keynes there's always something new to find every time we go. We love Willen lake still but maybe because of everything that's on offer when its all open. I think I prefer Teardrop lakes for it's simplicity and less commercial side of it all.
If you do get a chance then I recommend teardrop lakes for a lovely walk and change of scenery. Or if you're feeling guilty for dragging the kids round Ikea then you can treat them with a visit here afterwards haha.
AOB
Special thanks again to Milton Keynes kids and the outdoors mum for featuring Teardrop lakes on their websites so have a look for more MK inspiration.
If you're after more ideas from me have a gander HERE