Porth Wen Brickworks is an abandoned brick factory on the coast of Angelsey. Its Creepy, beautiful, interesting and a tad dangerous. What's not to like?? Oh and I forgot to mention 100% Free too!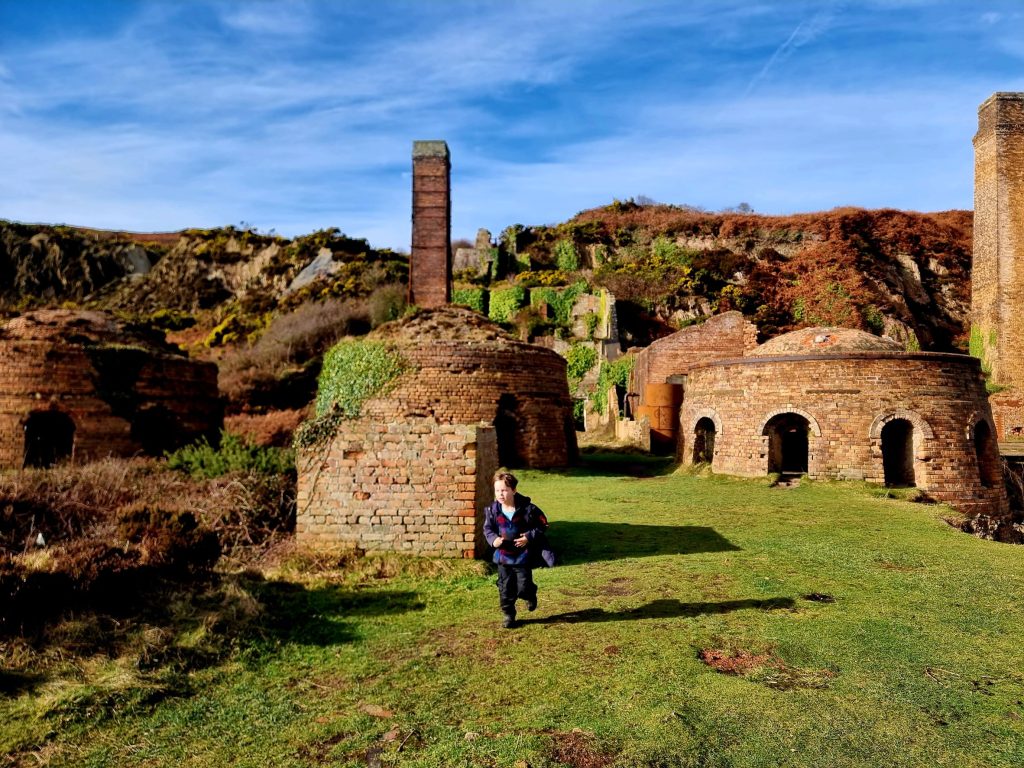 We set out on a mission to find the old brickworks in Porth Wen (Anglesey) and its absolutely worth a mooch. Bearing in mind we visited in the February half term too. Could be even more stunning in the summer. I'll Let you know because we will definitely be heading back again.
Access To Porth Wen Brickworks
This is a walk that is definitely not for the lesser able. I personally wouldn't take a child younger than 5 but you know your own kids. Elliot Is 6 and a half but he was more than able. Though he is also used to us taking him to some random places.
The walk down is steep, rocky and slippy after rain which is a lot in Wales whatever the season. The paths are narrow with spikey bastard plants on either side so if you're going in summer and you're wearing shorts you legs will get shredded.
The view on the walk down is beautiful even before you see Porth Wen brickworks. The bay was stunning and so still when we visited. In fact I'd hazard a guess that its pretty sheltered or I'd have thought the brickworks themselves would have been in a worse state? (I'm probably wrong though)
Exploring Porth Wen Brickworks
Once you do get down to the brickworks be prepared to be amazed. Well we were anyway. There are some sheer drops, random holes and some places that you could fall to a grizzly end or at the least shatter some bones. Honestly it's worth it but please for the love of god watch your step its not monitored and its not a tourist attraction.
You can enter some of the old kilns, see some of the old machinery and the huge chimneys are still there too. However nature has taken back over! It's like something in a post Apocalyptic film (Think the last of us)
We were there when the tide was out which meant we could have chill out on the beach. The water was so still we had a skimming competition followed by some beach combing for shells and then had a play around some small caves.
It looked like a lot of the areas on the beach would be inaccessible at high tide so might be worth checking tide times before visiting if you did want to have a nosey around the beach.
Porth Wen Brickworks Stats:
Distance from Bicester: 4hrs 27mins
Sat nav: Layby of the A5025 for parking Click for sat nav
What 3 Words: ///vocal.gravest.mountains Click to load
Wheelchair friendly: No
Pushchair Friendly: No
Equipment upkeep: N/A its an abandoned factory
Cleanliness: 5/10
Facilities: Zero, Nadda, sod all go prepared
Age range: Ages 5/6 and up
Safety: 3/10
Fun factor: 10/10 we absolutely love this kind of thing though
Dog friendly: Yes Eric had a blast.
Cost: 100% Free
Last Few Bits
I've heard that you get a fair few wild campers down there now too. We didn't see any but you could unfortunately see what the scruffy bastards left behind.. A fair whack of litter. I'm not saying all wild campers are to blame by the way. If you do visit please leave no trace aka take your shit home with you.
This place is not monitored, its not a tourist attraction and I doubt anyone will be to blame or claim from if you hurt yourself so please don't be a dick if you visit.
Parking is veryyy limited we parked in a lay-by and walked up the road behind. The walk from the car to the start of the walk isn't too far. Its the second public footpath on the right after the farm on the left. The walk down is around 20mins. Probably quicker without kids.
For more child friendly walks check out the website
HERE