Kids got so excited when we told them we were off to an Island. You should have seen their faces when we told them it wasn't one off the coast of somewhere hot. Although as far as British weather goes we got it pretty good when we visited Ray Mill Island.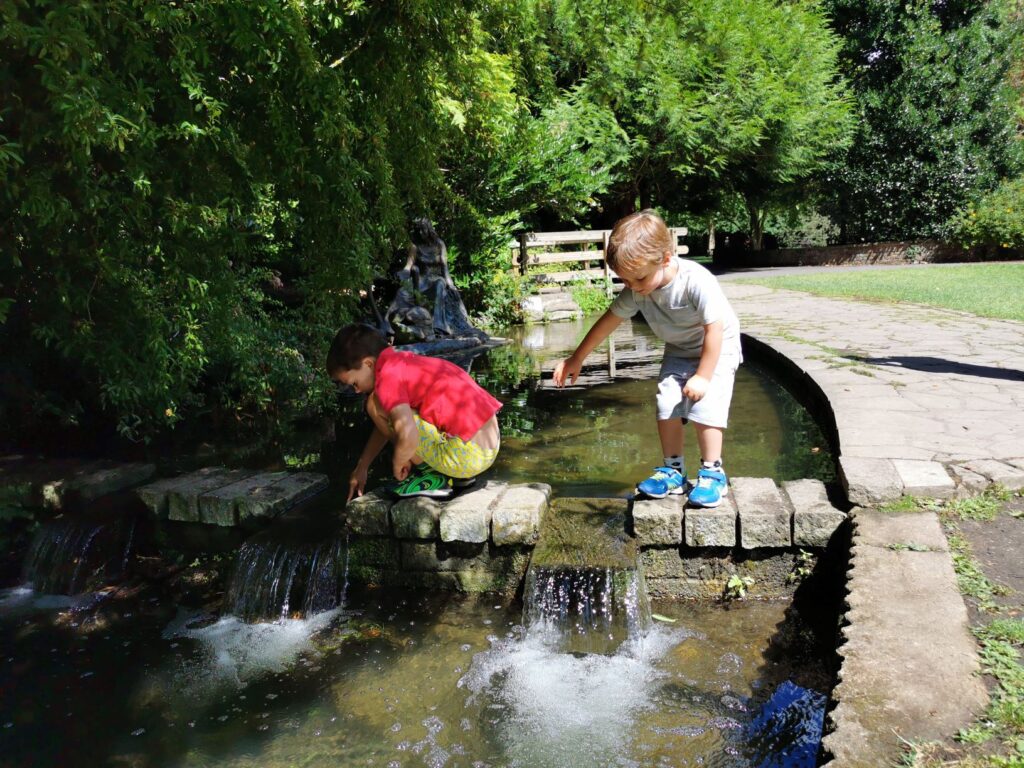 Ray Mill Island
For some reason I always get Maidenhead and Hollyhead mixed up. One of them is grim so when I first saw Maidenhead I was put off from visiting. You'd never have guessed I did A level Geography. Although makes a lot of sense with the result I got haha. Once I realised this place was under an hour away in a nice area. I set my sights and off we fucked.
Found a car park and headed there. We arrived around 10am ish and had no problems finding a spot. When we left however that was a different story it was rammed. It only cost us £1.50 for 10 hours too. If I'd known we'd have brought the bloody tent.
To get to Ray Mill Island from the car park is very easy and close. Its a lovely little walk too. We stopped off and watched the queue of boats heading through the locks. Love a good lock me. Mostly liked looking at the rich peoples boats and wondering what the fuck they do for a job to make so much money.
Anyway after watching the boats for a bit we headed over the bridge. There's a stunning looking pub overlooking the river with a lovely balcony. Me and the husbeat have earmarked it for September when we can ditch the kids again (literally can't wait). The husbeast wanted to head over the big bridge for a mooch first. It leads to a riverside green space and some new builds that make the cost of houses in Oxfordshire look cheap.
Whats On Ray Mill Island?
We headed back over and back onto the Island which Elliot was adamant wasn't actually an Island. Its only small so I was worried it was going to be super busy. Not once during our visit did it feel crowded. There was one woman who seemed desperate to brush up against me. My "I'm going to fuck you up" look eventually came out and she buggered off again. Apart from that all was good.
The Island is stunning. Little cascades for the kids to race leaves in, Ducks to feed on the river, Toilets, A cafe and even a fountain. The boys spent a fair bit running on the grass near the fountain because with the breeze they kept getting sprayed. They liked when it made rainbows too. Love it when the kids are easily pleased.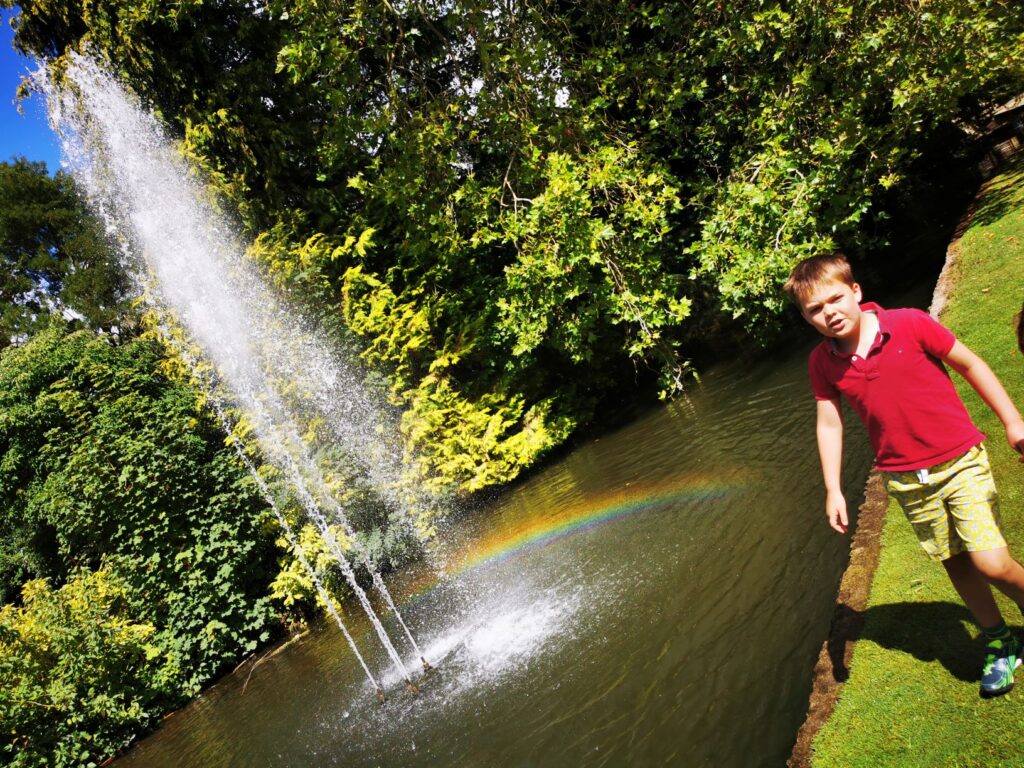 Next we decided to head for some food. Couldn't be arsed to make a picnic today. We were eating out with the boys for the first time since lock down. Ok it was only a kiosk and the seating was outside but they were happy. We bagged a seat and ordered some panninis. The menu isn't huge but the food was bloody tasty (About £4 a pannini).
Next to the cafe you will find the toilets. Doesn't matter if they walk to the other side of the island before telling you they need a pee (surely not just my kids do this) because they're never more than a few mins away.
What Else Is On The Island?
Right by the cafe is the play area. Don't get excited its nothing to right home about at all. In fact its pretty shit for any child over the age of 3 I'd say. Good distraction while you wait for food though and ideal for toddlers.
If you didn't want to eat in the cafe there is an abundance of space for picnics and a load of benches scattered about too. There are a few wooden animals in the field next to the cafe too. The kids can have a climb over them. Beware of the rocking duck it'll smash your kids teeth out. Luckily it just twatted Elliot in the mouth and all teeth remained. He was pretty upset with his fat lip though. Managed to distract him though. "look Elliot a bridge oooooo".
In the centre of the Field there is a stunning tree sculpture and all of the leaves have a child's name engraved on them. As sad as it was the Berkshire Sands baby memorial tree was such a stunning way to remember the children.
Then we saw the cages oh yeah loads of cages filled with guinea pigs. Who doesn't love a guinea pig. Well if you don't there's loads of bird in their aviary too. This is were that lady with no idea of personal space came in. Anyway we were kind of thinking that was it then. Small but really cute the kids were happy. They're always happy when I don't make them walk too far. But then i heard a noise in the distance. I'm deaf as shit so it could have been anything. Only this time it was actually not tinnitus.
Boulters Weir
Now I'm from Chester and I've seen my fair share of weirs. Never before have I seen a beast like this. It was like Berkshires very own Niagara falls the roar from the water was impressive. No wonder even my ears could pick that up.
You can walk down to the bottom for a better look but please keep hold of the kids. I was touching cloth the whole time. I don't think the bunches of flowers on the railings filled me with confidence either. You don't have to have too many brain cells to know that the water is lethal here.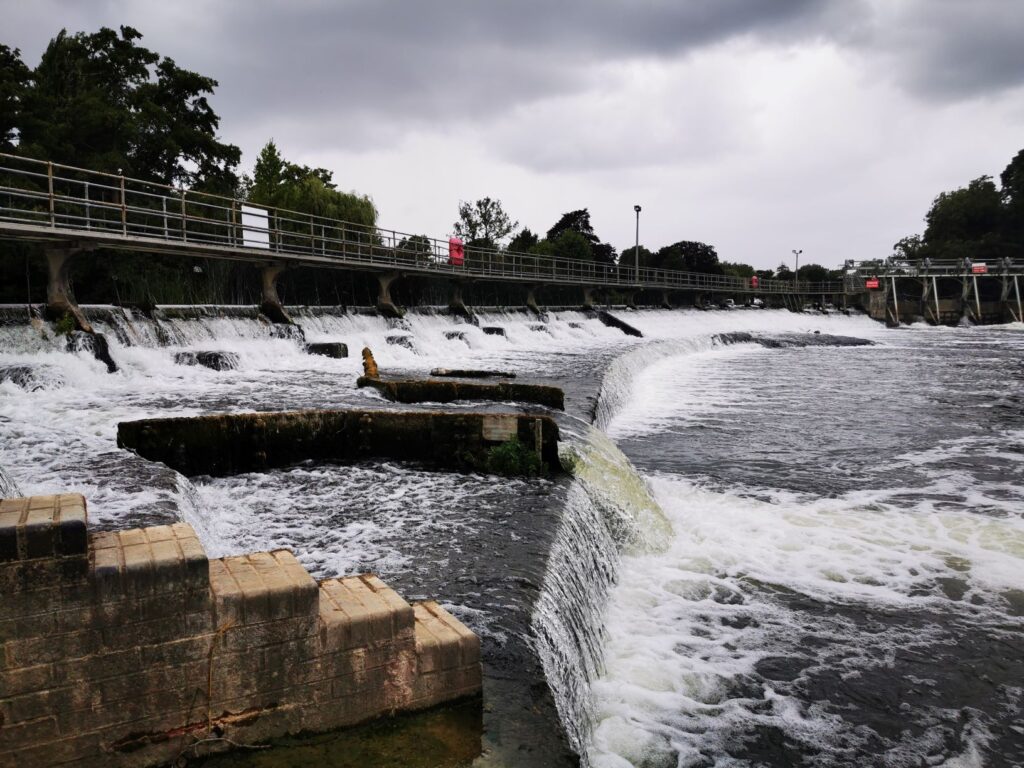 Walking back we stopped and watched the residents with their little boats head out from their private moorings in their back gardens. They were all so lovey and waved to the boys. It looked like they were just popping to the shops for a loaf of bread too. I'm not even sure if there was road access or not.
It started to piss it down so we made a run for it. Sheltered under a tree until the worst of it had passed then headed back to the car before heading home. A cracking little walk in a stunning area. Then we played spot the biggest house on the way home. Why am I not rich. I could get so much lipo too.
Ray Mill Island Stats:
Distance from Bicester: 50 mins
Sat nav: Boulters Car Park, 7-15 Lower Cookham Rd, Maidenhead SL6 8JN Click to load sat nav
Wheelchair friendly: Yes
Equipment upkeep: 10/10
Cleanliness: 10/10
Facilities: Everything you need
Age range: All ages
Safety: 7/10 (due to all the water)
Fun factor: 10/10
Dog friendly: No dogs allowed
Pushchair Friendly: Yes on a lead
Bikes and Scooters: Yes we saw a lot of children on bikes and scooter
Conclusion
We had a fantastic day exploring Ray Mill Island and the boys loved it. The Island has so much to offer despite being small and not overly commercial. Me and the husbeast have already said we'd definitely go back and the boys agree.
Taplow itself is a stunning village/town too. Judging by google maps there's a lot of water and lots of opportunities to explore the area further. There must be some cracking paddling spots near by too.
AOB
For more information on Ray Mill Island check the website out HERE
For more days out check the rest of my website out HERE