So I've known about Kirtlington quarry for some time now and I'm shocked at myself for taking so long to visit. I had visions of pure danger and Elliot launching him off a cliff face head first. While that is still a possibility it wasn't as bad as all that. In fact Kirtlington quarry is a cracking place to explore for all ages.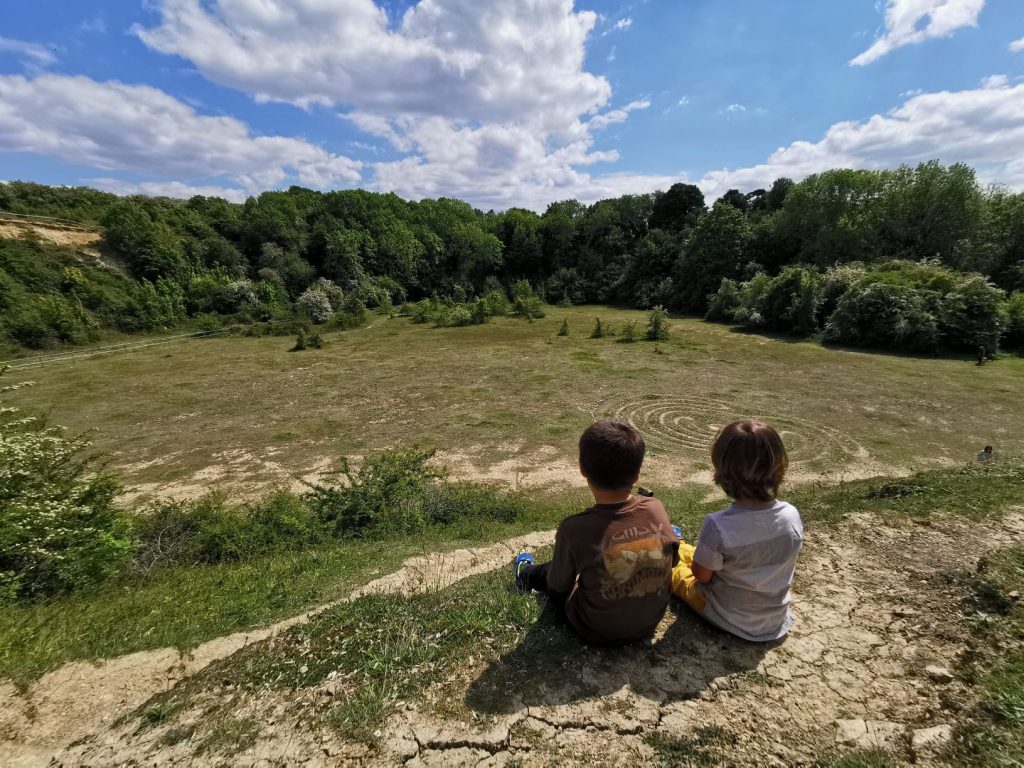 Getting To Kirtlington Quarry
Finding Kirtlington quarry can be a bit of a bitch. There are a few post codes knocking about and trust me when I say nearly all of them send you into the arse end of no where.
We did finally manage to find the right route. Mill lane is the road you need to head for and this is where you need to park if you can. There are several inlets on the narrow road to park. Its a bit of a bugger to turn round in f you don't find one though. Luckily I wasn't the one driving today. We managed to bag a decent spot right outside the entrance to Kirtlington quarry though.
I wasn't really sure of what to expect but i know it wasn't what we saw. It was better than I imagined. It wasn't busy by any means but there we're a few more people than what we had seen on our other walks. This sent the husbeast into twitchy overdrive with the kids.
The kids were like a spring ready to go. Shit loads of different route options. Clark straight away was up the biggest hill he could find. Elliot hot on his heels but not quite able to keep up. Little tip don't wear nice clothes they spent a fair bit of their time on their arses scooting down the side of the quarry.
Kirtlington Quarry Mountain
We decided to head up some steps first because the husbeast saw a person and waned to go in the opposite direction. Well fuck me if like me you've been mostly sat on your arse for the last couple of months this hill/mountain is a killer. Once you get up though its worth it. There's some cracking views into the quarry floor.
Keep an eye on the smalls as there are a fair few chances to slip off the side and they're pretty steep. Not that my kids gave a shit. Once you're at the top there's a circular walk and you can head down a path with some steep steps to the bottom of Kirtlington Quarry.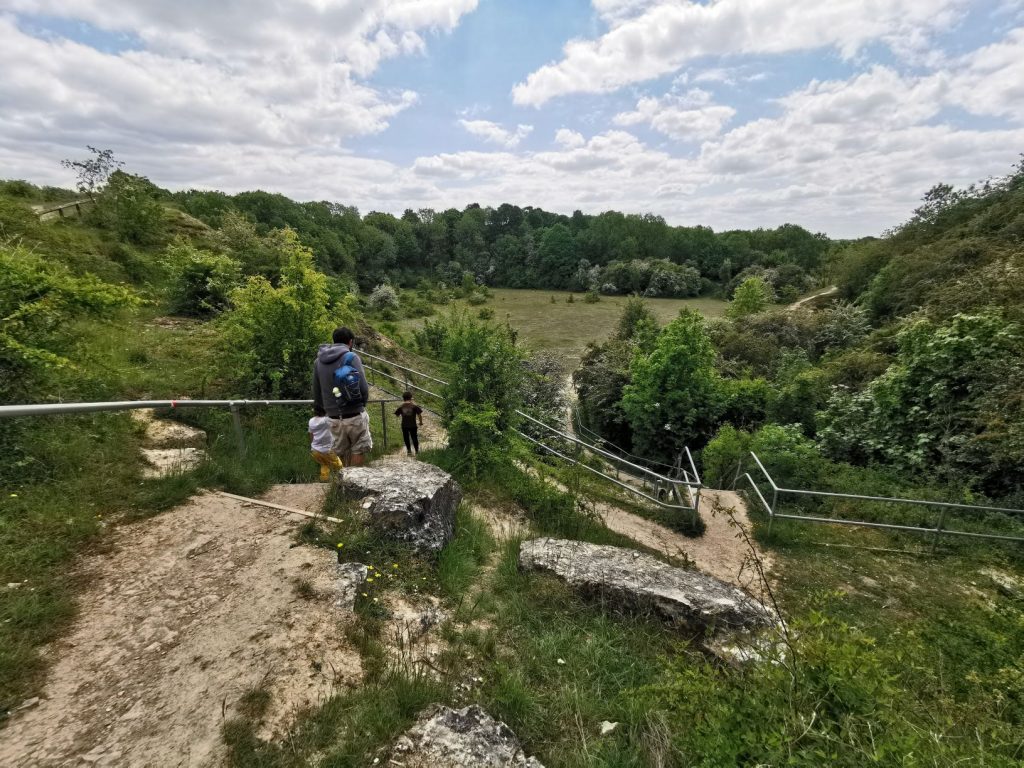 Once at the bottom the kids really let off some steam. There's a lovely swirl pattern made from rocks on the quarry floor but the kids favourite part was climbing up the sides and sliding down on their butts. I joined them at one point and nearly shit myself! bloody steep and slippy so be careful.
There were a few families knocking about and all wanting to do the same but everyone was respectful of social distancing. Dogs are also allowed in the quarry and although a few were off their leads we didn't run into any problems there either.
What Else Is There To Explore
After a good explore of the quarry we decided to follow one of the numerous footpaths into other areas. One we walked took us to the canal side which was really cool. A friend mentioned you can walk all the way along the canal but it can get really fast flowing and a bit dangerous in areas. She walked all the way to Tackley! sod that with my kids.
We followed the canal a short way and then headed into the woodlands. The woods are really cool. Its lovely in there we even came across a huge swing. Basically it was a load of material tied together. I had zero trust that it would hold the weight of my arse though so we avoided that.
If you've got bike then i can imagine this will be awesome for BMXs. Load of dirt ramps etc. One family had just set up shop in one area and their child was rolling round the hills it was a really good idea. There's plenty of space and again so many different directions so you'll likely come across something I didn't.
The woodland area was really lovely the husbeast preferred it in their than the quarry but he's just even worse with germs now than he was before covid and there were less people in the woods. We headed home after this and after getting back and having a bit more of a look I saw that we missed a lock right at the bottom of the lane that you park so may be worth a nose if you head over.
Kirtlington Quarry Stats:
Distance from Bicester: 16mins
Sat nav: Mill Ln, Kirtlington, Kidlington OX5 3HW Click to load sat nav
Wheelchair friendly: Not really but may be possible to the quarry floor
Equipment upkeep: N/A
Cleanliness: 9/10
Facilities: Road side parking
Age range: Confident walkers and up or smalls in a carrier would work
Safety: 5/10
Fun factor: 10/10 great exploring
Dog friendly: Oh YES!
Pushchair Friendly:You could round the quarry floor but I doubt you'd be able to get higher up
Bikes and Scooters: Bikes yes but not scooters the grounds not great for them
Conclusion
Kirtlington quarry, yet another great place on my doorstep that has taken a pandemic before we visited. Its absolutely brilliant for a walk and exploring . A great free day out and the kids will love it.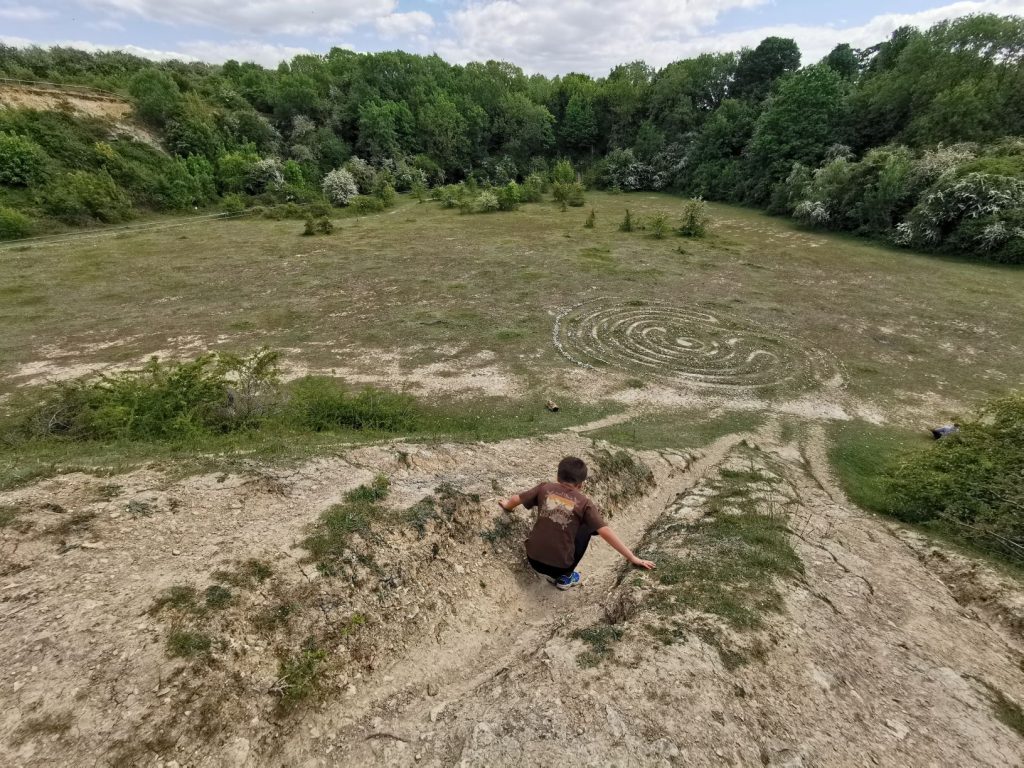 We will 100% be going back especially after leaving it so long before visiting in the first place. Its not the best for none walkers and kids that like to bolt off though so it might not have been right for us before now.
I know loads of you have probably done Kidlington Quarry to death but I couldn't not have it on the website as a great local walk.
AOB
For more walks have a look HERE
If you have any other ideas for local walks give me a shout on Facebook HERE