I'll admit I've been a bit sly on the walk front. Well this one anyway. Why? Because it's my favourite and I didn't want to share it. We've been visiting the Aynho deer park walk for just over a year now and we love it.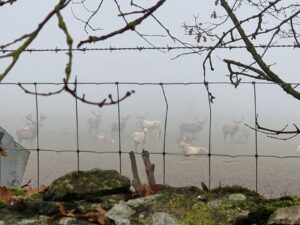 Aynho Deer Park Walk
Main points:
Limited parking
Stick to public footpaths
Floods in heavy rains
Path for a fair bit of the walk
Dog friendly
No facilities
Now that I'm finding more local walks I'm slightly happier to share this absolute gem. I shit you not we could spend hrs here and we have never done the loop. Yes there's a loop. a few in fact so make sure you explore if you can.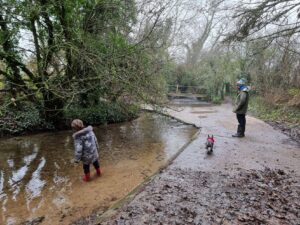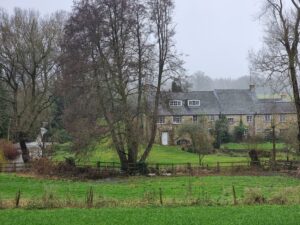 How To Find The Walk
This bad boy is in Aynho, parking is tough so if you do visit please park responsibly. DO NOT PARK DOWN THE LANE! It is private and a public FOOT PATH only. I swear to fuck if any of you make me hated in another village I won't share the nice things any more. You have been warned haha. I don't want to be witch hunted every time I leave the house. Its on Station road and the lane to walk down is the first turning on the left if coming from Aynho or last on the right if coming through Clifton.
You will need to park road side where it's safe. Then walk down the lane. If you manage this you will see deer, shit loads of deer big stags, little stags and deer that I thought were sheep (they're behind walls but you can spot in certain areas)….oh you'll see sheep too.
If you keep walking down the track you will come to a split on the road. Stay to the left over the field with the paved track. Keep going and you will see the most stunning cottage I've ever seen. This is straight out if a fairy tale with its own waterfall too.
Although you can't access the cottage you can walk the road in front that goes over the road. The river/stream is shallow enough for wellies and a paddle. If it's not flooded like it was when we visited. If it's flooded don't walk through it you might miss the edge of the road and snap your cankles.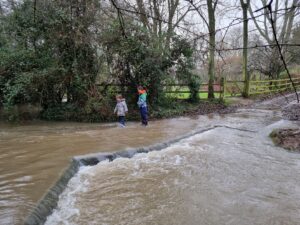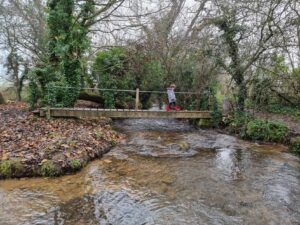 Aynho Deer Park Walk Stats:
Distance from Bicester:
13mins
Sat nav: B4031, Banbury OX17 3BZ
lick to load sat nav
Wheelchair friendly:
In parts yes I haven't done the full loop though.
Cleanliness:
10/10 (unless you count mud as mess haha)
Facilities:
No Facilities
Age range:
All ages
Safety:
7/10
Fun factor:
10/10
Dog friendly:
Yes but be aware of livestock
Pushchair Friendly:
Yes in parts
Bikes and Scooters:
Bikes could be ok. Maybe not for stabilisers though
Value for money :
Free
Conclusion
We only ever make it to the cottage and back but end up spending ages at the water because well kids. To be honest it's a perfect length for us and Eric too. One day we will make the full loop. So there you have it Aynho deer park walk. The photo with the arrow shows the start of the walk. DO NOT DRIVE DOWN THERE!!