If Tolkien and George R. R. Martin had a love child then the Watkin path waterfall walk is it!! Ladies and gentlemen the Watkin path is now my favourite walk.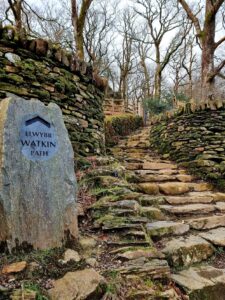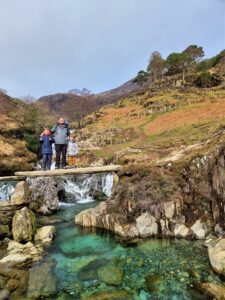 The Watkin Path Waterfall
If like me you google it first you'll probably touch cloth a bit because it's the hardest route up Snowdon. Fear not you're only going a 3rd of the way up. It took us around an HR to get to the falls but I take more photos than David Bailey. The kids wanted to play and explore on the way up and we took a "short cut" don't. take. any. Short cuts!! My trotters violated the mud let's just leave it at that.
Once you get to the falls then you'll see why the walk was worth it. Oh my giddy fucks I've never seen colours and clear water like it in the UK before. The whole place in an Instagrammers wet dream. Pools, waterfalls, wild swimming basically it's perfect, unspoilt nature at its best.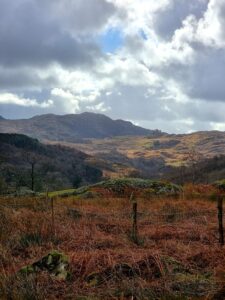 What To Expect
The walk up was a gradual incline so it really isn't too bad and that's coming from a person who resembles a potato. The kids did mind the walk either because there is so much to distract them with on the way up. For example smaller falls, Ruins, bridges, and climbing opportunities.
We had the place more or less to ourselves but I understand in the warmer months it can get busy especially as its a cracking swim spot so make sure you take your swimmers.
Once we explored the falls we headed back down again but along the river this time (back to main path down then a path branches off to the left) this took us to a farm with a path through to the road. Basically a shit load easier on the way down.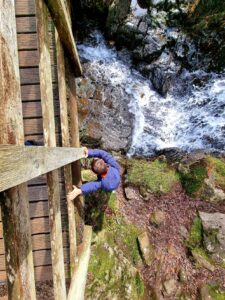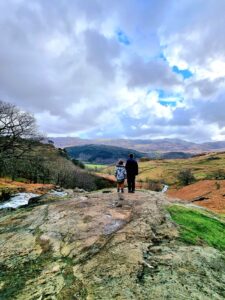 Feeling Peckish?
Little tip. BOOK IN THE CAFE AT THE BOTTOM!!! I had the best food I'd had all week (I had lots of nice food) it's in an old church, it's not expensive staff are friendly but it was fully booked. We got lucky so make sure you plan ahead and book in. It was called Caffi Gwynant. I also saw there were a few free parking spots in front of the café but I imagine they book up quickly.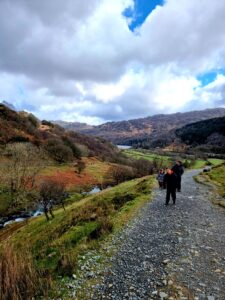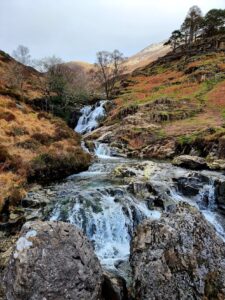 The Watkin Path Waterfall Roundup
*Not suitable for pushchairs or wheelchair users
*Dog friendly (beware of roaming sheep)
*Take your swim stuff for summer pools are deep enough to swim
*Only toilets are by the car park
*Parking was around £3/4 (can't remember) but you might get lucky and bag a free spot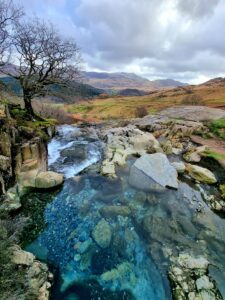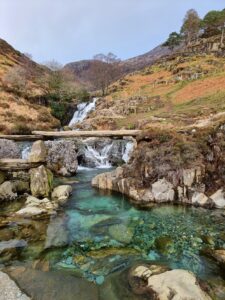 Conclusion
No matter what the weather is as long as its safe you need, no you must visit the Watkin Path Waterfall. Its one of my top 5 favourite walks of all time and if you're in the area you wont be disappointed. Easily spend all day up there if the weathers right and you have enough supplies.
If you like a waterfall but cant be arsed to trek all the way to Wales then have a gander at some of the other waterfalls we've found elsewhere HERE. Oh I do love a good body of falling water