To celebrate Elliot becoming a fournager we decided to take him for the ride of his life. Zip worlds Fforest coaster. He's been before but he was only a baby. Needless to say he loved fricking every second of it.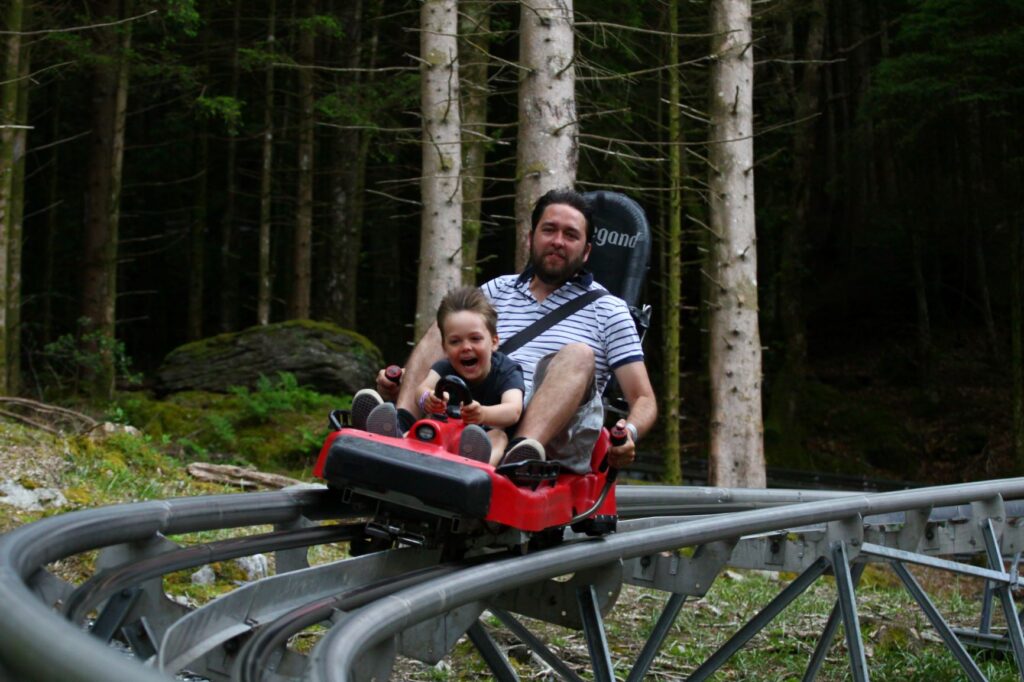 Zip Worlds Fforest Coaster
We didn't make the journey there and back in one day though. Oh no that would have been pure hell stuck in the car for over 3 hours each way with my own children. We went and stayed with their grandparents in Chester and made a weekend of it.
I'll be straight up it's not the cheapest day out but then it was a treat and well worth the money. We had the shared cart and you get 3 goes per cart. We swapped kids too so we all got to go on together. Both kids wanted to come on with me first time because well I'm awesome and probably because they know how fast mummy drives. (Legally of course apart from that one time I got caught speeding).
We chose a Monday and it was so quiet. We booked online and even filled out our waiver online too. There was no worries about social distancing at all. The whole time we were there all we saw were fantastic cleaning practises being carried out. They clean the carts after every single ride, The toilets were cleaned often too. (Although I did nearly pee myself because of this. My bladders not what it used to be).
There's a cafe (only 2 in at a time) and a food van at the bottom that you need to order in the cafe for. Sent my dad to get me a cup of tea and he came back with Earl Grey. I don't mind Earl grey but what kind of fucked up establishment doesn't have regular tea? Not that I had time to drink it though because the kids were too excited to sit still for longer than a second.
Zip Worlds Fforest Coaster Ride
We got lubed up (Hand sanitiser not KY) and headed in for our first run. By this point it was pissing it down. We were dreading getting soaked but we shoved our coats on and got ready to embrace the rain smashing into our faces at 25 mph. We needn't have worried. When they say all weather they mean it. The carts had covers.
It was mine and Clark's go first shoved him in and clicked him in and then I had to try and get in. I'm so ungraceful I slipped and nearly landed on the poor kids head (hope they've done a risk assessment for that haha). Get yourself in first then the kid something I only realised I should have done while typing this up.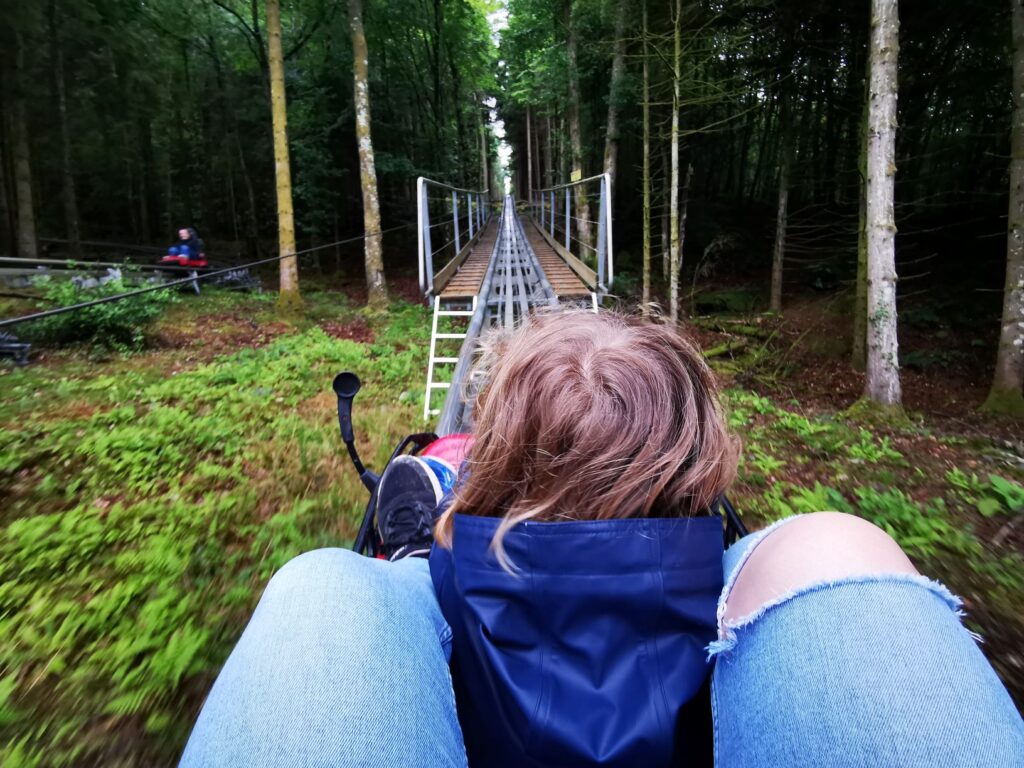 Now don't soil yourself when I tell you that you will be in control of the cart. Yep with the leavers you chose how fast or how slow you can go. Clark made me break at all the signs where it told me too. That kids a sucker for the rules. When it was my turn with Elliot on the other hand. I think we put the breaks on once. Mostly because I was touching cloth and I didn't want to give the staff and extra clean up job.
The long ride up to the top is nothing short of stunning. Through the pine forest (told Elliot it was where the Gruffalo lived and to keep and eye out). You can also watch other people hurtling down screaming at the top of their lungs which is also pretty fun too. Once you get to the top it stops briefly. Don't panic like I did, think you've put too much weight on and broke it haha you will get going again.
What Else Is There At Zip World
We all had our 3 goes each and the boys absolutely loved it. Elliot was screaming in sheer joy……Apart from the first go where you could hear him screaming Oh My God the whole way down. Bit naughty I know but at least he wasn't screaming fuck the whole way down instead.
Zip Worlds Fforest coaster isn't the only activity you can do there. You have the huge tree bounce thing, High ropes, slightly lower high ropes for younger kids, A giant swing and plummet. We saw a couple of girls go on plummet and well fuck that. Just a sheer drop where the floor disappears from under you. Nope, Nope and no thank you Their screams were of sheer terror.
If you and the kids like go ape well Zip world pisses all over that. We visited the zip world in Betws y coed (pronounced Betsy co-ed or at least that's what I say). There are a couple more scattered round Wales that we have yet to visit. I want to do the trampoline in the mountain so bad.
The views are breathtaking even in the rain. We could see the steam rolling off the mountains opposite. We had some food and a drink (food was expensive but really good) then we packed the kids up and made the start on our hellish journey home where neither kids slept because they were off their tits on the adrenaline still. So instead they argued the whole way home.
Zip Worlds Fforest Coaster Stats:
Distance from Bicester: 3hr 18mins
Sat nav: Zip World Fforest, A470, Betws-y-Coed LL24 0HX Click to load sat nav
Wheelchair friendly: Yes
Equipment upkeep: 10/10
Cleanliness: 10/10
Facilities: Car park, toilets and cafe
Age range: Age 3 plus for the fforest coaster
Safety: 9/10
Fun factor: 10/10
Dog friendly: Yes on leads but not on the coaster
Pushchair Friendly: Yes
Bikes and Scooters: No
Conclusion
I can not sing zip world's fforest coaster's praises enough. We love it so much and it was just as good the second time round. Obviously I cant comment on the other activities because we didn't take part but i will say they looked awesome too.
If you're thinking of a staycation this year then you need to give Wales (Snowdonia) some serious consideration. We know the area pretty well (Not hotels though as we always stay at my parents) so feel free to ask me any questions. Betsy co-ed its self is magical all the walks, the river and the waterfalls to see. You could easily spend a whole day there.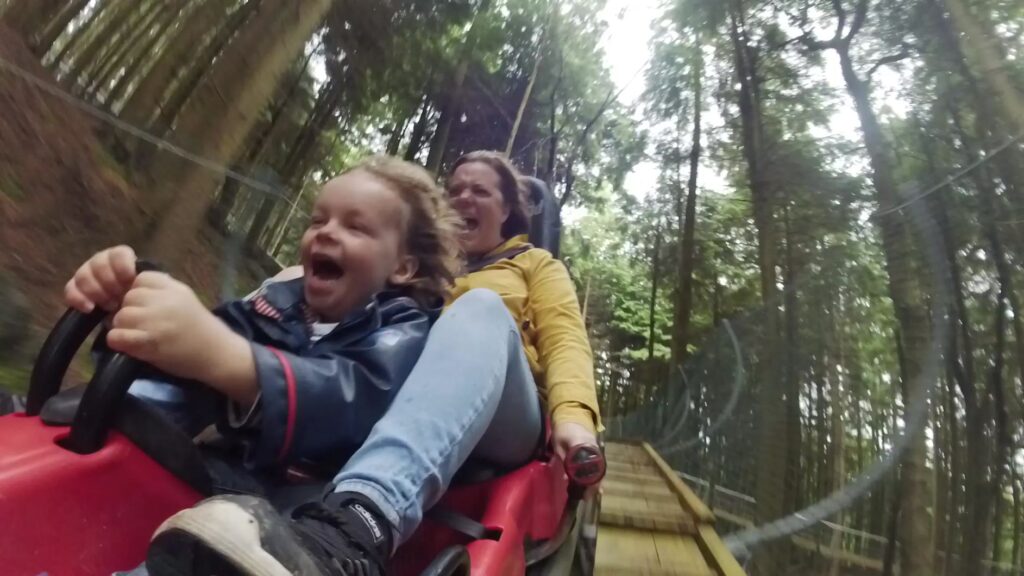 I forgot to mention on the way in when you collect your wrist band they weigh you. It brought flash backs of slimming world for me. I got the sweats, I started to empty my pockets and even kicked myself for not having a shit first. That part was the worst bit thankfully I wasn't too heavy to ride it though. This isn't me being rude but do check the weight restrictions for the activities before booking.
Basically if you can get to zip world then go. I cant imagine any child not enjoying the fforest coaster. We paid extra to have the video of us on the coaster and even though i have a face like a melted wellie you can see just how much the kids and adults loved it. GO THERE NOW!!!
AOB
Have a look at their website HERE
If you want to see what else there is to do up that way have a look HERE. I will be adding more soon