When we rocked up to Loggerheads country park I was proper chuffed to find that the visit was going to cost us £2 and that's it! That £2 was for 4 hours worth of parking. Obviously you can pay more for longer of you want to.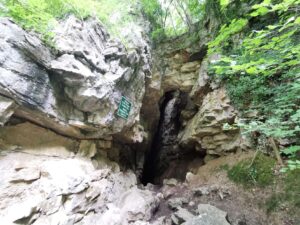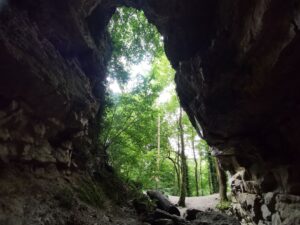 Loggerheads Country Park
Kicking off with the main points
Wear suitable footwear for walking.
Take towels/change of clothes/wellies
Not suitable for wheelchairs on certain walks
Not suitable in all areas for pushchairs
absolutely shit all phone signal
You can pick and chose where you go here and what walks to do or not. So if you cant be arsed you can just stay near the visitor centre and have a paddle.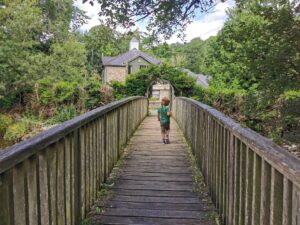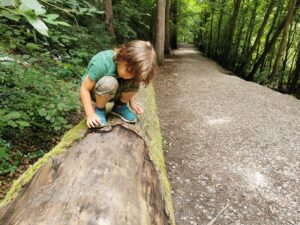 More About Loggerheads Country Park
Loggerheads country park is bloody awesome. Its a network of stunning walks along a river intertwined with a network of caves. There are steep walks as well as the opportunity to stay flat.
There's a cafe which if you can't be arsed to look around will Bend you over and totally fuck you. £8 for a sandwich
#offyoufuck
.
Instead take a picnic or do what we did and pop over the road (literally 2 mins) to
We
T
hree Loggerheads
pub. A stunning pub on the River with cheaper food, better food and cracking service.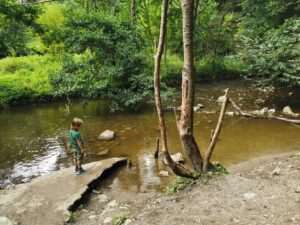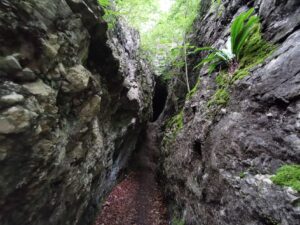 The Devils Gorge
We. OK I had one place in mind to visit…… The devil's anus. So really its called devil's gorge but anus sounds way better. You don't have to do that walk there's loads of choice and it looks like there's a trail for kids too on one of them with some wooden sculptures.
We/I chose to do the longer trail instead. Loads of places to paddle along the way (kids and dogs) stunning views and caves.
At the end there's a shit scary drop called devil's gorge and when we were there lots of rock climbers were scaling the rocks…..topless (not sure why they have no shirts but it wasn't a bad view so I'm not moaning for once)
The walk wasn't an easy one, well its easy to not get lost but there are drops, uneven terrain and a shit load of mud. Not one for toddlers, prams or wheelchairs. There are still other options for accessible routes by the look of it though although we didn't explore them this time round.
Apparently the cave at the gorge is a network of old mines and very easy to get lost in. Wish we'd known I'd have sent the devil's spawns back to their natural habitat and buggered off home for some peace and quiet.
So if you're in North Wales give this bad boy a shot for £2 you can really moan and if you do you're just being a bit of a dick.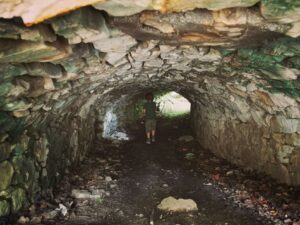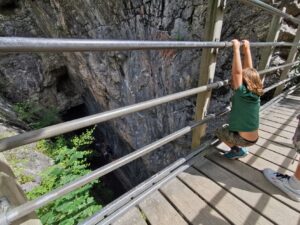 Loggerheads Country Park Stats:
Distance from Bicester:
3hrs (Ish)
Sat nav: Ruthin Rd, Mold CH7 5LH
Click to load sat nav
Wheelchair friendly:
Nope
Equipment upkeep:
10/10
Cleanliness:
8/10
Facilities:
Toilets at bottom, car park and overflow, cafe and pub over road
Age range:
Confident walkers plus
Safety:
Please pay attention to the warning signs
Fun factor:
10/10
Dog friendly:
Yes
Pushchair Friendly:
Not on the higher routes
Bikes and Scooters:
Maybe for the experienced adult mountain biker
Value for money :
£ cheap as chips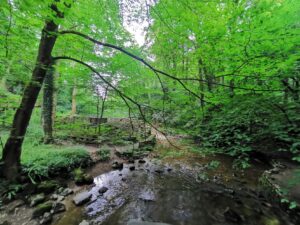 Conclusion
Yeah I know another one in North Wales. However if you're out this way its a must. Cracking paddling spot, pocket friendly and simply stunning. Loggerheads country park is a place we will visit time and time again when we come to visit the grandparents. In fact its been better than some of our paid outings up here.