Soooo finding walks on our doorstep has been interesting thanks to the twat of a virus. However I must admit I'm shocked at some of the awesome walks we've found so close to home. Trow Pool water tower walk being just one of them.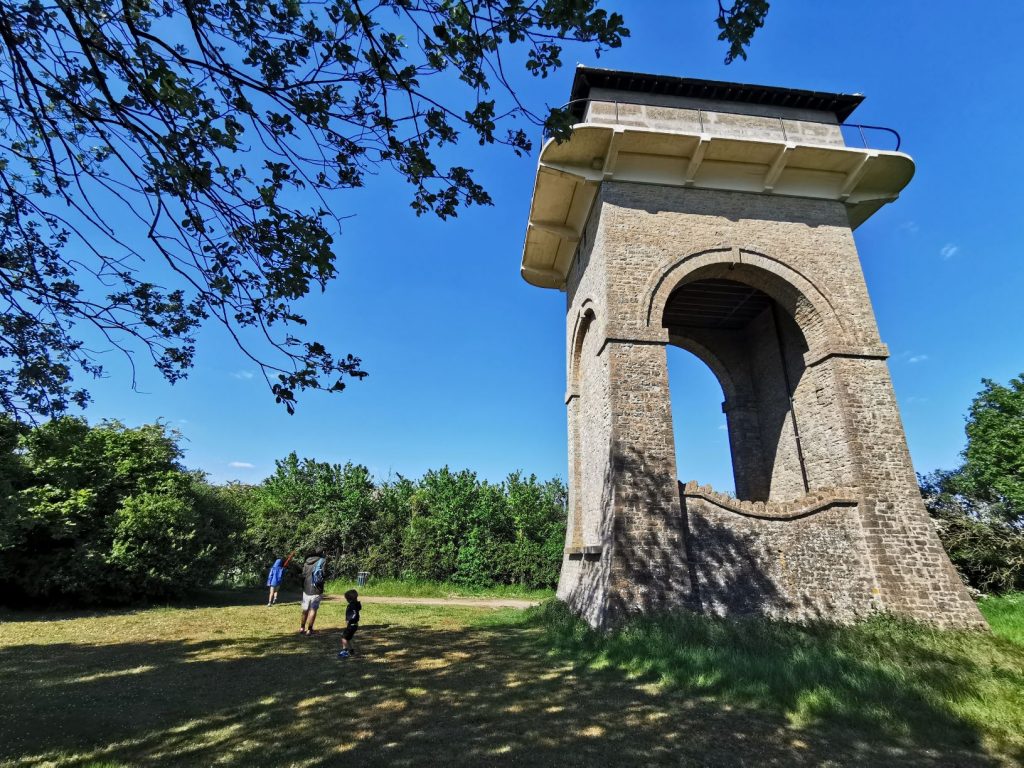 Trow Pool Water Tower Walk
Considering we have lived in Bicester for around 7 years now I'm shocked we haven't been here before. A lot of you will probably recognise the tower if you whizz down the M40 enough.
Now we drove to Trow Pool to do the walk because well my kids legs apparently get tired instantly when they have to walk anywhere further than the fridge these days. If you're kids are less whiny than mine (Highly likely) then you could attempt the bigger walk from Bucknell. Otherwise just do what we did and park at the small parking area at the end of the lane making sure you don't block the farmers gate.
Its a cracking walk for little legs and easy enough for push chairs to get around too. I love that you can make the walk as big or as little as possible. We left pretty late the day we visited so it was only a small walk but we'll try more next visit.
Plus side when we visited was that it was absolutely dead. We bumped into 1 person leaving Trow pool (Not physically, social distancing and all that) and they were leaving as we were heading in.
Water Tower At Trow Pool
Trow pool water tower is pretty cool or at least I thought it was anyway. You'll come across this first if you've parked where I said. I wont go into depths about all that history bollocks its pretty self explanatory. Its an old water tower for Bucknell.
You can walk around the bottom and through the arches. Clark was pretty pissed that he couldn't access the top. Personally I was thankful we couldn't as I hadn't brought a change of clothes in the event of soiling oneself like I would have at the top of that bugger.
I took a few arty farty photos that I'm sure thousands have done before with a sunset behind to then post on the Bicester chat pages with the title "So thankful to live in Bicester" Yes Sharon because an old water tower with a sunset in the background alongside the M40 makes those bike thieving wankers round Sainsburys seem less annoying (wow bit of an off topic rant there sorry)
Anyway its right next to the M40 which to be fair the kids loved because they could watch the traffic whizz past. Not close enough to cause a danger to anyone though.
Walking Round Trow Pool
After we were done exploring the water tower we toddled off to find Trow pool. Elliot had a plastic sword in hand at this point and was "Bush whacking" in between twatting his brother across the back of the legs (been watching too much Bear Grylls on netflix)
Its a short walk to the pool/lake/pond. Its where people go fishing apparently however there were no fishers when we visited. The water was crystal clear don't get me wrong I still wouldn't go for a paddle in there.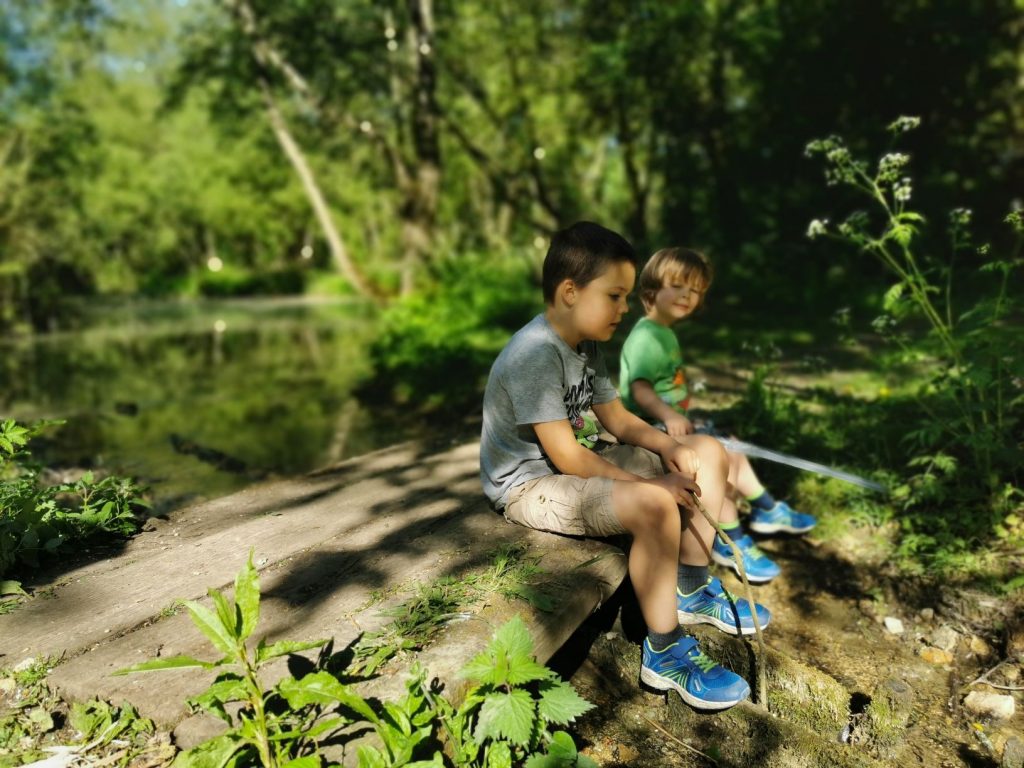 There were some ducklings about too so if you visit take some bread or frozen peas depending on your stance of this matter. the walk round it a really good size again with enough going on to keep the kids interested. My boys love water especially if there's a bridge which there was so they could sit down and have a play with sticks.
At one end there's also a "Waterfall" according to the boys. Technically its the overflow pipe from the lake running into the stream. However it was another nice little area for them to play. I nearly stacked it twice into the sodding stream so be careful its bloody slippy.
Distance from Bicester: 12min
Sat nav: Middleton Rd, Bicester OX25 4TB Click to load sat nav
Wheelchair friendly: Yes but bumpy and narrow around some part of the pool
Equipment upkeep: N/A
Cleanliness: 10/10 didn't even see a dog turd
Facilities: Space for around 3/4 cars to park
Age range: All ages
Safety: 7/10
Fun factor: 9/10 good little walk
Dog friendly: Oh YES!
Pushchair Friendly: Yes
Bikes and Scooters: I personally wouldn't but I guess you could
Conclusion
Ok so Trow pool may not seem like the most exciting place to take the kids normally but when you've been cooped up indoors for the best part of 2 months its the nearest to lake Garda you're going to get.
The kids didn't whinge once…ok apart from when Clark was being hit by a plastic sword. Its a great sized walk with the option of going further. Its less than 15 mins away if you don't get lost that is.
It was so quiet and made a really nice change of scenery for us. I know we will be back anyway and I'd urge anyone looking for a short walk somewhere pretty to go and check out Trow pool.
AOB
For more walks now that the exercise restriction has been lifted check out the map HERE
If you've got any other idea for a good walk in your local area then please do let me know via Facebook HERE