I've been sat on this little gem for a while now. Selfish I know but I wanted to be able to take the boys somewhere for a paddle in peace hahaha. We all do it and now the weather has cooled off I think its safe to share our experience of Thrupp Community Wood.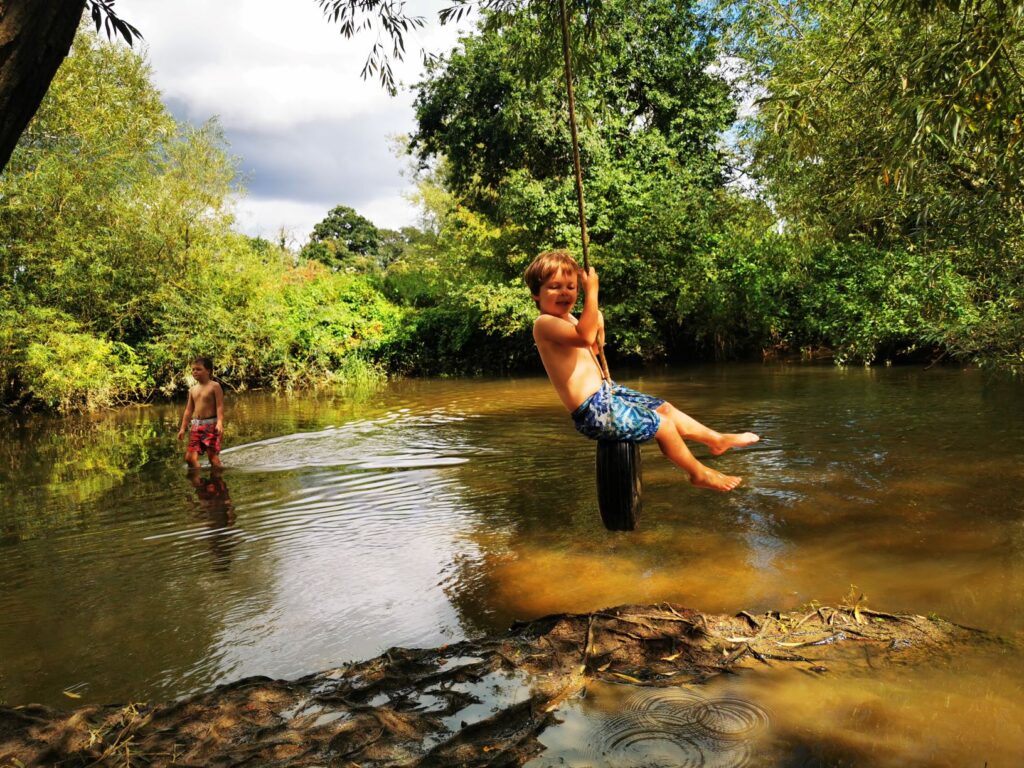 Thrupp Community Wood
Many of you will already know about Thrupp thanks to the beautiful Annies tea rooms along the canal. If you haven't been there then you 100% should go. We visit every time we go to Thrupp community wood and treat the kids to and ice cream.
Well if you pop the tea rooms into your sat nav then that's where you can park the car. Be aware driving down the road along the canal is an absolute bitch if cars are coming the other way. Keep going over the bridge (unless its up that is) and you will see the cars parked. If its a sunny day get there early because the car park can get rammo.
To get to the woods head towards the train bridge and go under it. You will see some allotments on your right. Its a cracking place for a spot of train spotting too. You will see a map of the woods on your left.
Throughout the summer the stingers (nettles) were rife. The place is swamped with them but the paths are well trodden. Just keep hold of wobbly footed kids as you wont want them taking a nose dive into one of those bushes.
Crayfishing At Thrupp Community Wood
As soon as you head into the wood there's a footpath immediately to your left which runs along the fence. If you head down that way you will come to the river which runs under another train bridge.
Set up camp here (find the rocky bit) and take some raw bacon and nets and if you have better luck than we did you will find the crayfish. Don't get me wrong we saw them we just couldn't catch the little fuckers.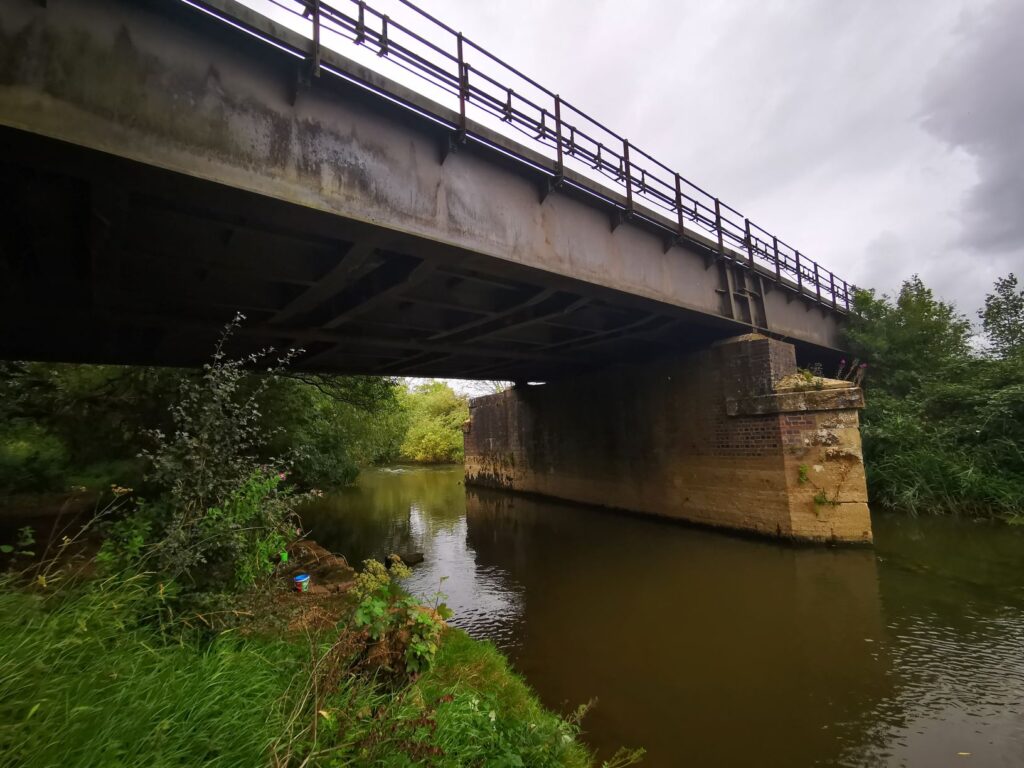 Might be worth noting you and the ids will likely shit yourself when a train goes overhead it's bloody loud. After the initial soiling of your pants it was pretty funny. My kids didn't have the patience to watch mummy continuously fail at catching a crayfish so we headed back to the main path in search of the paddle spot.
To find the paddling spot just keep walking straight from where you first came in. Its the most trodden path so you cant really go wrong. I mean I'm sure you can but we managed it anyway and my sense of directions pretty shit.
Getting our Paddle On
The paddling spot can get busy but never really too busy. While we're all trying to social distance its best to bugger off and come back later if it is busy. There's plenty to do in the area and you never know there might be another spot you can find that I didn't.
You will need to bring a change of clothes and a towel. The bank is steep in certain areas and at the bottom (the beach area as I call it) it is basically just mud. Its hilarious the kids love having a play and painting themselves with it too. Be aware that a fair few people bring their dogs along for a swim here too but we've never had an issue with them unless one tries to nick me sarnie. That's when I get a bit shitty I wont share foods with my kids let alone a dog haha.
There's a really cool tyre swing too and all the kids have thus far shared nicely. If you have smalls your best bet is to get them into the water near this area. Once they're in though its shallow all the way over to the other side. Its when you start moving up or down the river it starts to get a bit deeper.
You will more than likely slip on your arse. As its on a slope its slippy as fuck. If the tree hadn't been at the bottom i'd have taken a dunk a fair few times that's for sure. Once we settle down though we could easily stay there for hours. We always take a picnic too and to be fair we never go on the really hot days well because we mostly don't like people haha.
Exploring More Of Thrupp Community Wood
Despite their being a map I have no idea where the fuck the path leads. Me and the husbeast tried it once, assumed it was going the wrong way, went off track and got sooo lost. We had to cut back through a hedge got stung to shit and ended up in the farmers fields.
We did come across a creepy arse hut next to the train line though. No idea what it is. If its something to do with the train line or if its ex army. All i know is that it was creepy. I could see the duvets through the window things. The kids wanted to go in but fuck that right off. Dead body, IT, Murderer who knows. Most likely dirty needles though so just be a little cautious if you are exploring the area.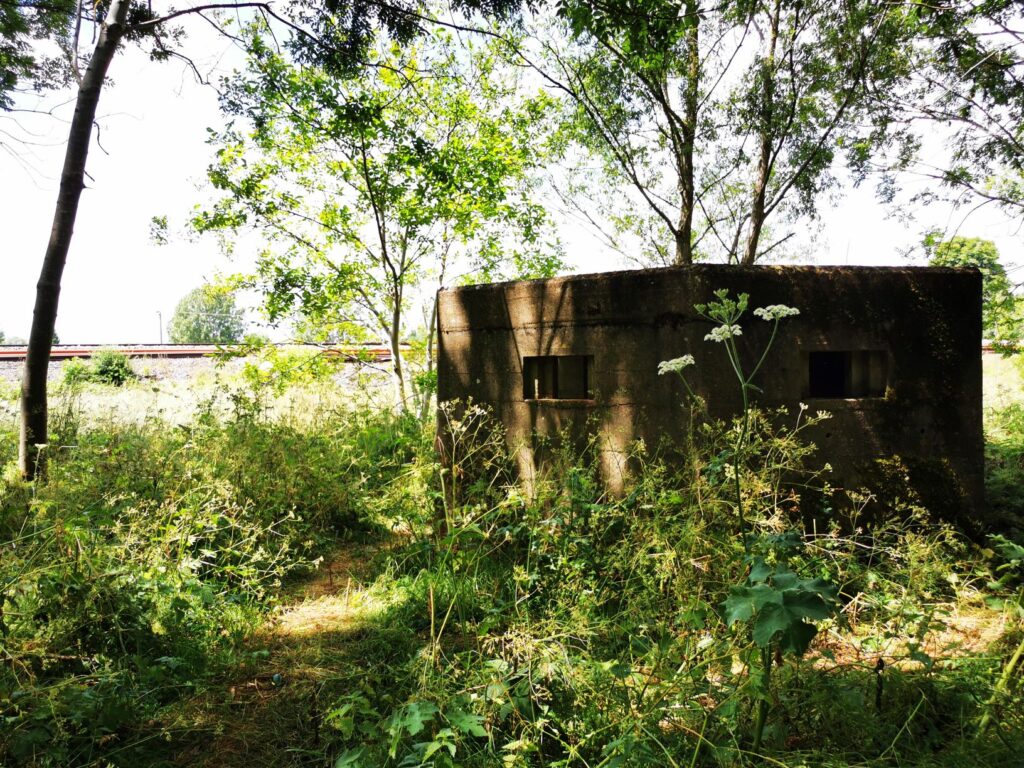 Like I mentioned earlier once we finish with the paddling and getting lost we head over to Annies tea rooms for an ice cream. Jam and scones if I'm not on fat club too. The boys always want to have a nosey at the canal too. There are normally some ducks about if you fancied feeding them.
One of our visits Elliot started saying look snake. Thought he was high off the sugar in the Ice cream. Well turns out that kids got better eyesight than an eagle. There was a bloody snake too. Next min it jumped or slithered whatever they do and started swimming in the water. It was pretty amazing really. Even the ducks were like "what the fuckkkk" ended up with quite a socially distanced crowd watching it before we decided to head off.
Thrupp Community Wood Stats:
Distance from Bicester: 25 mins
Sat nav: Canal Yard, Canal Road, Thrupp, Kidlington OX5 1JZ Click to load sat nav
Wheelchair friendly: Possibly but narrow and uneven in places.
Equipment upkeep: N/A
Cleanliness: 10/10
Facilities: Annies tea rooms nearby otherwise jungle wees
Age range: All ages
Safety: 7/10
Fun factor: 10/10
Dog friendly: Yes
Pushchair Friendly: Doable but not the easiest
Bikes and Scooters: Not really
Conclusion
Thrupp community wood was an absolute saviour for us over the summer holidays and during lock down. Probably why I haven't blogged about it until now. Ah well I've shared it now so it's one for the bank.
If you haven't been before then you really should go and check it out. There's even a pub if you fancied something a little stronger. Anything to get you through the day with kids no Judgment here.
If you know about this place and you're pissed off that I've shared it well I'm sorry but its kinda what I do. Share I mean not piss people off although both normally go hand in hand with me.
AOB
Have a quick nosey at Annies Tea room's website HERE
For more paddling spots then check my reviews out HERE