Saturday we visited half of North Loughton valley park. We loved it so much we decided to head back on Sunday to explore the other half with the husbeast.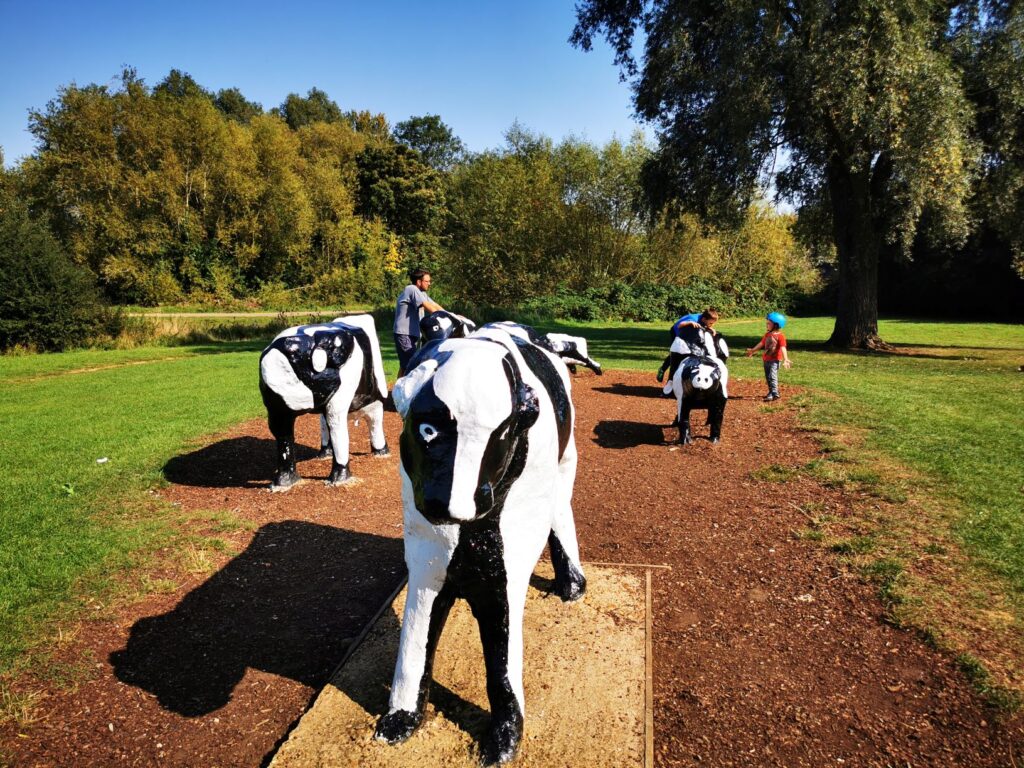 North Loughton Valley Park
So this half of North Loughton valley park has some interesting parts to it. We again parked in the same place (Milton keynes discovery centre) only this time we headed towards Bradwell Abbey. I would have liked to have stopped and had a look around but basically the kids couldn't give 2 shits about it so off we wondered in search of these concrete cows!
We headed under a train bridge to start then under the road and then over a bridge over a river. Sounds complicated but it really isn't. Make sure you head along the dirt track with the abbey on your right. Get to the gate at the end go through and then turn right and you'll be on the right track.
Kids had their bikes again and the sun was shining. The husbeast was trying to hide his hangover. He knows if he moans it'd be a lot fricking worse for him.
If you only want to do the concrete cows then don't cross over the river as you'll be on the wrong side. Didn't take us long to figure that out but we decided to head on exploring and loop back to see them later.
Exploring North Loughton Valley Park
The paths were much the same as the other half of the park. Flat and well maintained. The path runs alongside the river which was a little deeper and clearer this way. As we'd waited until lunch time to visit it wasn't long before we stopped for a picnic.
It was around now we realised we'd left the boys bottles in the car. I blamed the husbeast so I made him go back and get them while we ate (yes I'm a mean wife but he had a day off yesterday). By the time he got back we were all done anyway so it worked out quite well in the end. The boys had a play in the field before we headed off looking for the next part.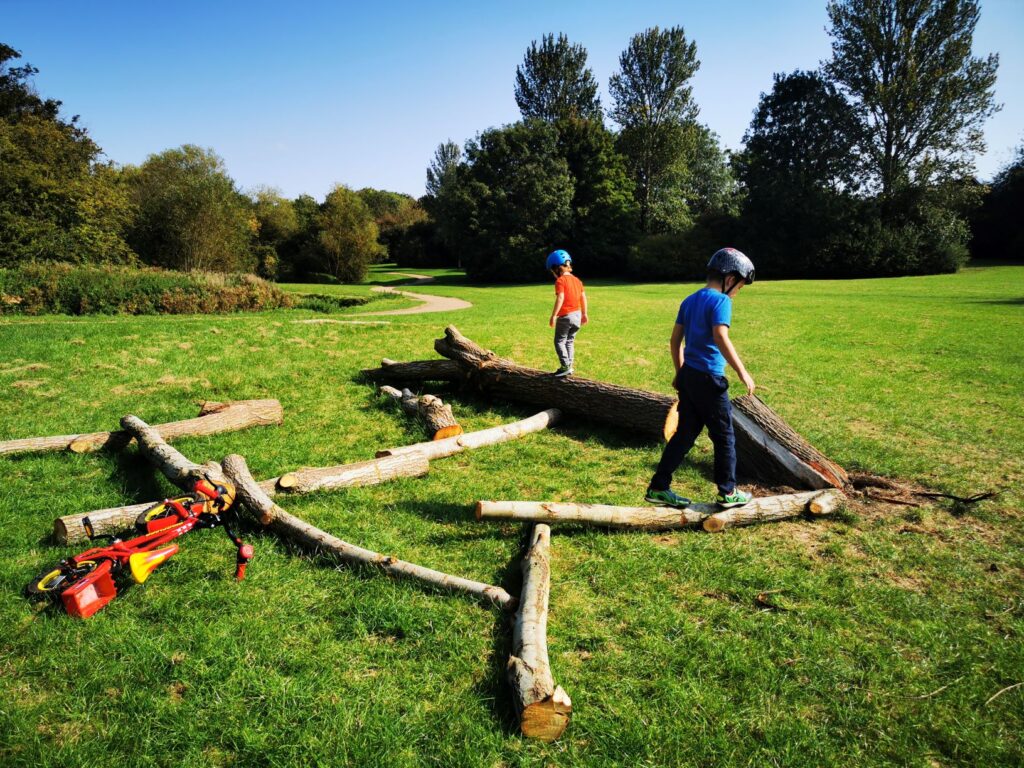 We came across a bunch of logs. They looked freshly cut but they were placed in such a way it made me think they must have been to encourage balancing. Well the boys did anyway. Whether they'll be there or not next time I've no idea.
Even if its not there the boys managed to find a good few hills to roll down. Just make sure you search the area for do shit first. Thankfully we haven't had an accident like that yet but we have had a few near misses and a couple of sheep turds to the face ones.
Bancroft Roman Villa
With the river still on our left we headed onward. There was an opportunity to cross over to the other side about halfway. So you can make this walk smaller if needed. I on the other hand had good old google maps out and had spotted Bancroft roman villa and what looked like a bridge across over that way.
It wasn't too far of a walk to be fair and the kids were still in good spirits by the time we got to the bridge. Its a pretty cool bridge/walkway and once you're over it you cant miss the roman villa.
I was actually pretty shocked at how interested the kids were. Don't get me wrong they were more interested in balancing along the "maze" and trying not to fall off while screaming the floor is lava. I tried to do my bit and followed them round shouting historical facts. Basically they couldn't give a fuck and just tried to run away from me while turning into a game. Ah well at least i tried.
This area was marginally busier but still super quiet. We had the villa to ourselves for a while (shame it wasn't a villa in Spain). Me and the husbeast ended up sitting down for a bit and watching them play for some time before deciding to head off in search of these concrete cows.
North Loughton valley park concrete cows
Lucking we managed to find a path on the same said as the concrete cows so we didn't have to head back the same way we had come. This side of the river is a bit less flat and gravely. The boys are not keen on hills at all even though they we barely hills. So as usual me and the husbeast ended up pushing the bikes for a while.
The train line ran along the right of this path too so the boys were stopping every few ins to count the carriages but we managed to get to the cows in the end. They are pretty cool and the boys had a little climb. I wouldn't say its anything spectacular but a nice focal point to the walk and a great backdrop for some photos…..of cows made from concrete.
We were going to head back but both boys begged to go back to the stepping stones. They weren't far so we headed there instead. Both boys got their dig on and Clark managed to find some clay. He handed it to me and I'll admit i honestly thought it was dog shit. Luckily it turned out to be clay so we made his name and it actually set hard….either that or we've managed to sculpt Clarks name from dog turd and let it dry in our garden.
Just before the car we made it to the conker trees. There were so many conkers! the boys had fun doing what I did and throwing a stick up to get the conkers down (please don't start moaning about the sodding trees and how we shouldn't do that because I'll likely tell you to shit off). It was so lovely to see how much fun they had doing what i used to do as a kid. They ended up filling both of their helmets to the brim with conkers before we called it a day after about 45 mins collecting them.
North Loughton Valley Park Stats:
Distance from Bicester: 35 mins
Sat nav: Alston Dr, Milton Keynes MK13 9AP Click to load sat nav
Wheelchair friendly: Yes.
Equipment upkeep: very well maintained paths and benches
Cleanliness: 9/10 less litter along this stretch
Facilities: No Facilities. picnics and jungle wees all the way
Age range: All ages
Safety: 8/10
Fun factor: 10/10
Dog friendly: Yes
Pushchair Friendly: Yes
Bikes and Scooters: Yes. Perfect for them.
Conclusion
We couldn't have had a better finish to our weekend. A weekend that was totally free and healthy for the boys. We love North Loughton Valley Park and it ticks so many boxes for us as a family. We will 100% be going back.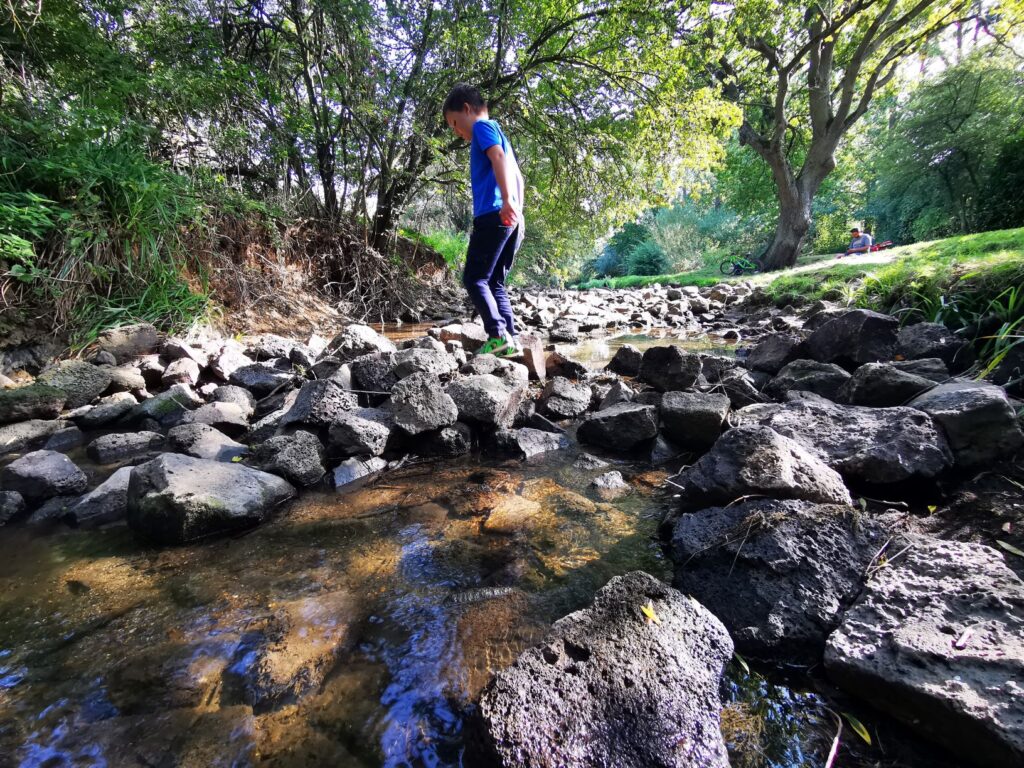 I really loved the ruins and collecting the conkers. The boys i think loved the conkers and playing the floor is lava while i tried screaming historical snippets at them. I was also thankful that it was more than likely not shit that we made Clark's name from.
Basically if you can get there and you don't mind making your own fun then you should all get the kids down to this bad boy as soon as possible. If you don't like it then well I dunno maybe we just don't like the same things….but you're more likely dead inside.
AOB
If you'd like to say thank you for finding a good day out using this website then you can buy me a cup of tea. (or Gin) No pressure what so ever as I do love helping you find places to take the kids. If you do it will help towards the petrol bill the husbeast keeps moaning about HERE
To see what we got up to for the other half of the park then check it out HERE