Parents visited this weekend and we needed somewhere to go on the Sunday before they buggered off back home again. Luckily Hatton Locks was on their way home.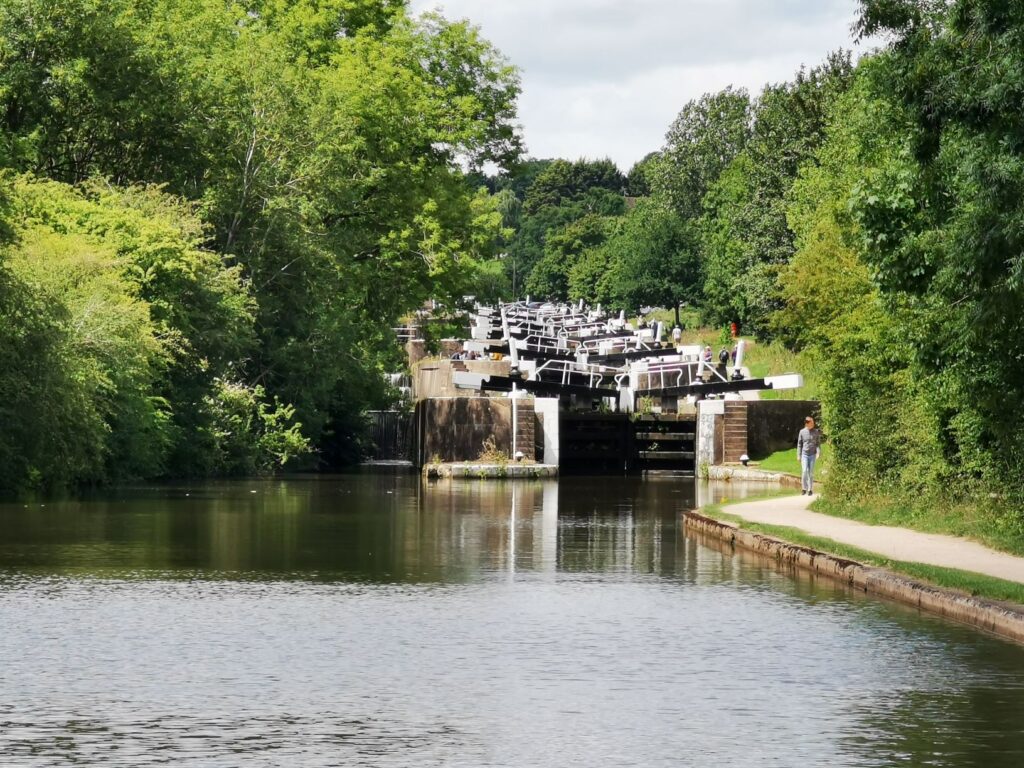 Hatton Locks
I've wanted to visit Hatton locks for some time. May sound a bit boring but from the photos online it sure looked impressive (Sign of my age maybe). Its only a 40 min drive from us and I really wanted to see what 21 Canal locks looked like.
When we first rocked up I did panic a bit it looked rammed. There were cars parked (badly) down the narrow lane making it bloody difficult to get in and out. We carried on and found the car park. Again it was rammed but by sheer luck as we arrived 2 cars were leaving whoop. 2nd bit of luck was finding out the car parking machine was out of order too. Although I don't think it costs a lot to park anyway.
We all headed over the bridge and turned to the right. It was at this point we noticed more parking and a special designated area for disabled parking too. As we walked along the boys got followed by a load of ducks so make sure you go loaded with duck food when you go.
There was a barge coming through the locks now so we all sat and watched how they worked them. Poor guys got hit with a shit load of questions and jokes they must hear over and over again but they took it well. The work they had to put in for 1 lock haha and they still had 18 to go. Sod that….although I reckon it would help shift some of this extra trunk I've collected recently.
Hatton Locks Cafe
Despite there being a really nice looking pub on the opposite side of the canal with loads of seating and space for the kids to run around the parents wanted to head to the cafe. Not sure what their obsession with cafes are but hey off we went to stand in a queue for 30 mins.
To be fair to the cafe they were doing as well as they could. Only 1 person/household allowed in at the same time and their indoor seating was closed. We did find a table outside and once we'd ordered it didn't take long for the food we'd ordered to arrive. It tasted good and was reasonably priced too.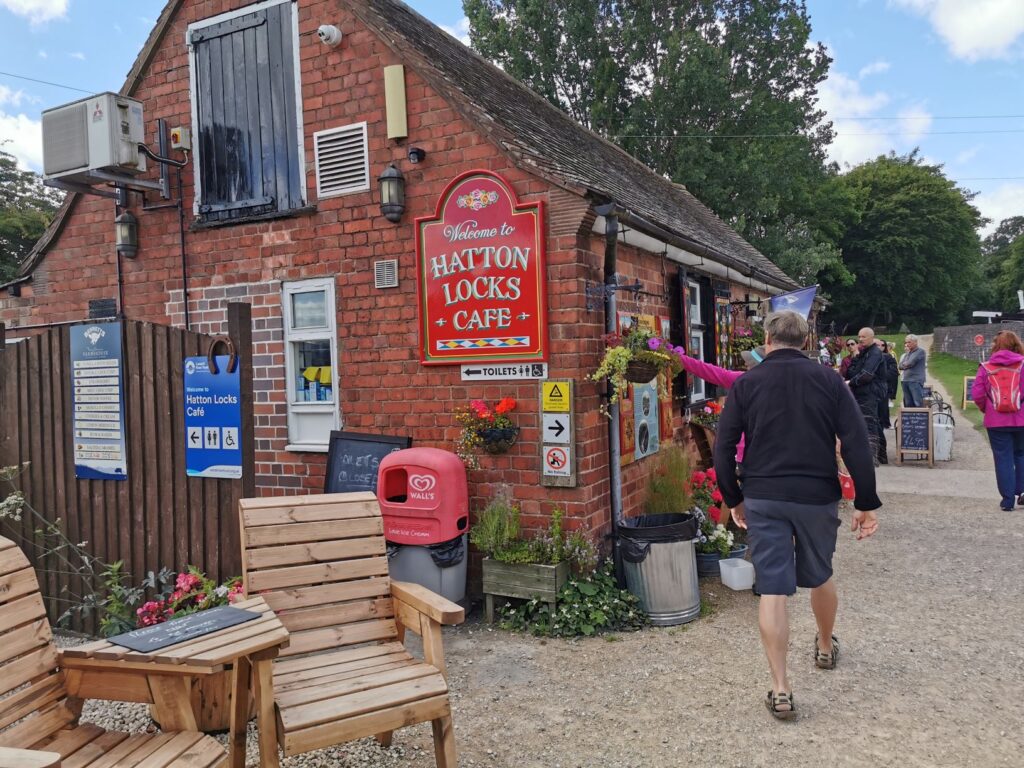 After finishing up we headed back towards the car park. Along the way not far from the cafe theres a little area where the kids can play on a boat and learn about the different parts of the lock.
Back over the bridge and out the other side which is were the rest of the locks were so we headed out that way to have a longer walk and a mooch about. The boys loved watching all the waterfalls and leaking bits as they called it. They were up and down the steps over and under the paddles and generally having a great time.
Amazing Views Of The Locks
The walk down was lovely and even though its canal side the paths here are wider so its easier to socially distance yourself. You still get the occasional tool that just wont move. In some areas there are 2 paths that run adjacent to each other too which makes it even easier. I think the top path is supposed to be for bikes so if you have older kids this could be a lovely bike ride for you all.
We didn't make it right to the very end the kids were starting to get a little tired and we were aware we needed to head back up the hill to the cars. Me and Clark headed over the bridge near the bottom in search of the trains we could hear. We came across a public footpath and a really cool railway bridge. Sadly no trains though. We didn't go any further so I cant say where the walk will end up.
If you feel like another activity while you're walking along the locks then you can take crayons and some plain paper as there are rubbings along the path which have various snippets of information which I thought was a lovely touch.
The photos you can get along Hatton locks if you're any good at photography can be amazing. There so much to take in and its really impressive especially from the bottom looking up. Unfortunately we didn't see any more barges travelling through the locks apart from that one up the top near the cafe. It was still really impressive though and well worth the visit.
Hatton Locks Stats:
Distance from Bicester: 40 mins
Sat nav: Hatton Locks, Hatton, Warwick CV35 7JL Click to load sat nav
Wheelchair friendly: Yes
Equipment upkeep: 10/10
Cleanliness: 10/10
Facilities: Small car parks, cafe, pub and toilets (by cafe)
Age range: All ages
Safety: 7/10
Fun factor: 10/10
Dog friendly: Yes
Pushchair Friendly: Yes
Bikes and Scooters: Bikes yes but not for young children in my opinion
Kite Flying: No
Conclusion
I absolutely loved Hatton Locks It was something different, Educational and seriously impressive to see. I think next time we visit we'll try the pub out but the cafe was really nice and great that they had their toilets open for customers.
The boys had a great time even if i was bricking it with Elliot near the edge of the water. That childs a runner and does not listen so a fair bit of the walk my arse cheeks were clenched when I wasn't holding his hand that is.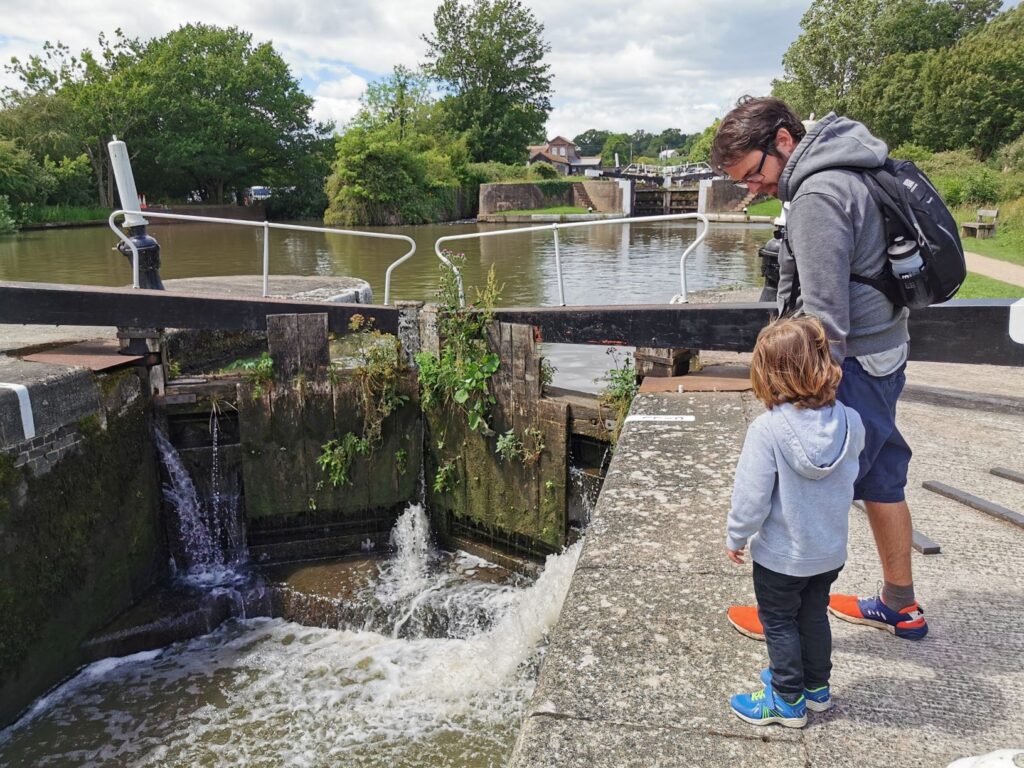 I would really recommend a visit to the locks because it really is a sight to behold and hopefully you will see boats than we did. Don't forget your duck feed and if you if you fancy it it's a great picnicking spot too. We saw one family had crossed the lock and sat in one of the middle sections away from the path and in no ones way.
If you're thinking of visiting Hatton country world its not far from here at all so it could be a great pit stop on the way home too.
AOB
For more information on Hatton locks check out the website HERE
For more ideas for days out check the map HERE