Maybe I'm turning Into an old woman because I used to hate the smell of lavender but now I love it Thanks to Cotswold Lavender. Not only does it smell amazing but its absolutely beautiful to. Cotswold Lavender was absolute perfection.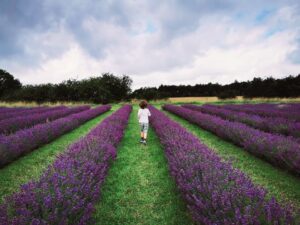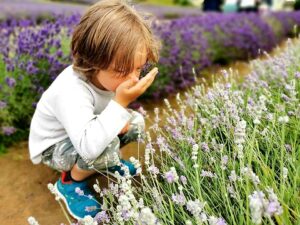 Lavender Fields
I've wanted to visit a lavender field for years and I can finally say I've been to one Now. Cotswold Lavender didn't disappoint at all.
I'm not going to lie its a bit of a mission it was an hour from us but we were in the area anyway. Unless you really want to go then I wouldn't say its particularly a destination for kids. Though if you can bribe them to smile then my go have you got yourself a cracking photo for the wall.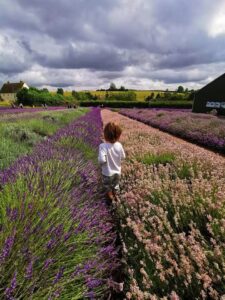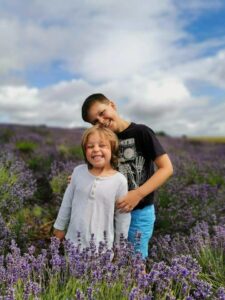 The kids despised the idea of the lavender fields when I told them where we were going. However once we were there they loved it (They even shocked me) they called it a flower maze. They soon got over the fear of getting stung by the bees. Oh if you have allergies to bee stings then by god do not visit.
The smell hit me as soon as we were out the car. You could see more lavender fields in the distance too it was stunning.
Instagrammers Wet Dream
The place was full (but not busy) of photographers and their subjects 9/10 females in a straw hat and flowy white dresses, candidly Stroking the lavender as they walked looking over their shoulders all coy. Such a cliché. If you are a professional photographer you cant just rock up. You need to pay extra for the privilege.
My kids? Haha just look for yourselves. Tried to get them to smile gave up. This way is much funnier. They were hurdling over the rows of lavender aka stacking it.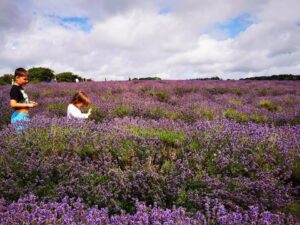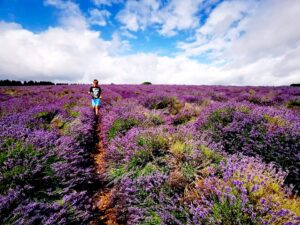 The bees were awesome you can hear the hum/buzz constantly it's was really cool. The boys had a great time watching them work. They caused absolutely no harm whatsoever.
There was more than just lavender flowers in the fields there were patches of wild flowers too along with a huge mass of yellow flowers which I've no idea what they were called.
Cotswold Lavender Stats:
Distance from Bicester: 1 hour
Sat nav: Cotswold Lavender, Hill Barn Farm Cottage, Snowshill WR12 7JY
Wheelchair friendly: Yes
Equipment upkeep: 10/10
Cleanliness: 9/10
Facilities: Toilets, Parking and snacks available
Age range: All ages
Safety: 8/10
Fun factor: 10/10 no frills fun (Maybe not so much for kids)
Dog friendly: Yes
Website: https://www.cotswoldlavender.co.uk/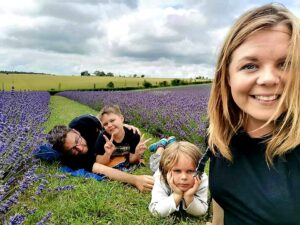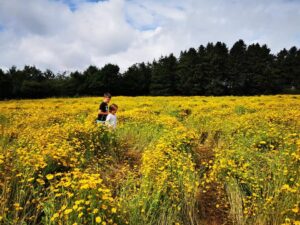 Other Information For Cotswold Lavender
There are toilets and a shop that sells drinks, ice creams and lavender stuff but we didn't bother as we had a picnic. I did catch a look of the price list. Not something I'd be willing to pay anyway!
We paid on the door but this was towards the end of their season and I know they were running a booking system so make sure you check before visiting.
It is a seasonal attraction so again make sure you check their socials first.
For more days out check out the maps
HERE