If you're after a free day out with a little bit of everything then I shit you not Denham country park is the place to go.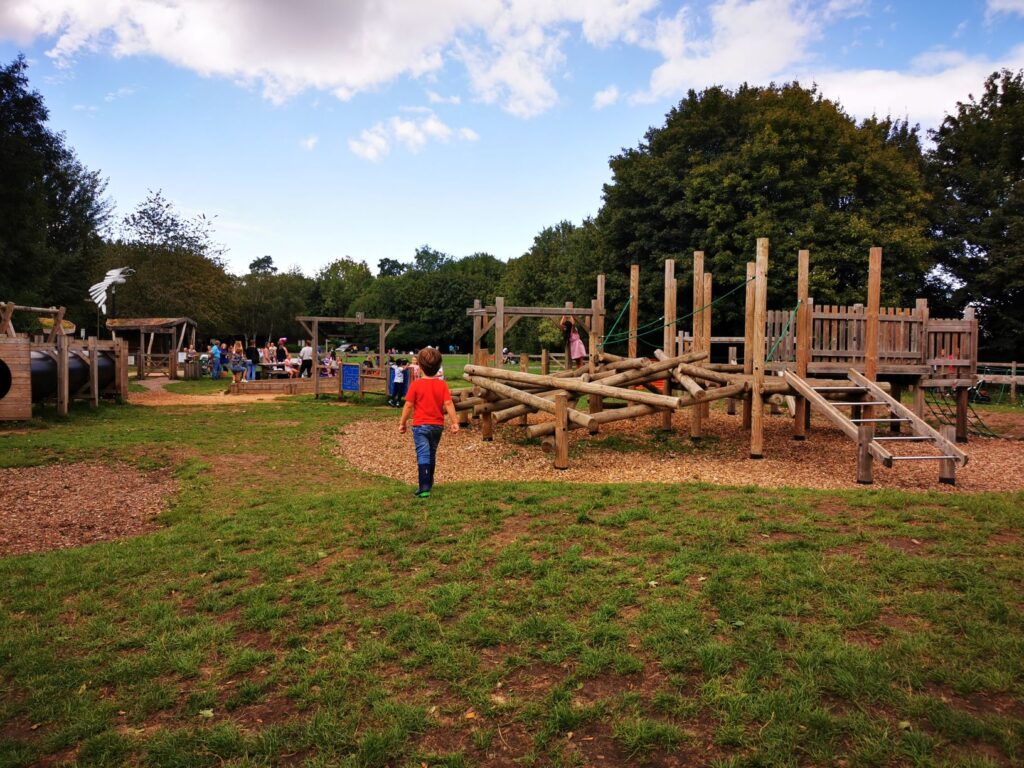 Denham Country Park
Ok so when I said free I should have said apart from the parking. However £4.50 parking for the whole day was fine by me . There is an option for less time if you want but we made full use of the whole days worth of parking. We arrived around 10/11am which is pretty late for us. We headed to the overflow and found a spot. Couple of hours later and people were struggling to find space so bear that in mind.
We visited on the Saturday and I'm glad the husbeast was driving. Its fairly straightforward until you hit the roundabout with fucking roundabouts on it. Why do they do this shit. Its like the one in high Wycombe. Down the lane we needed to go to was possibly the biggest car boot sale I've ever seen in my life too and trust me I've seen a lot of boot sales.
Denham Country Park Play Area
First up for the boys was the play area. Its a pretty decent size too with lots for a good range of ages. It would have been quiet too if it wasn't for the kids birthday party. Yep a huge group of parents had set up camp next to the fence. Basically trying to be as close to their kids while letting them play while they got pissed on prosecco and ate their Waitrose picnic. Can't say I blamed them.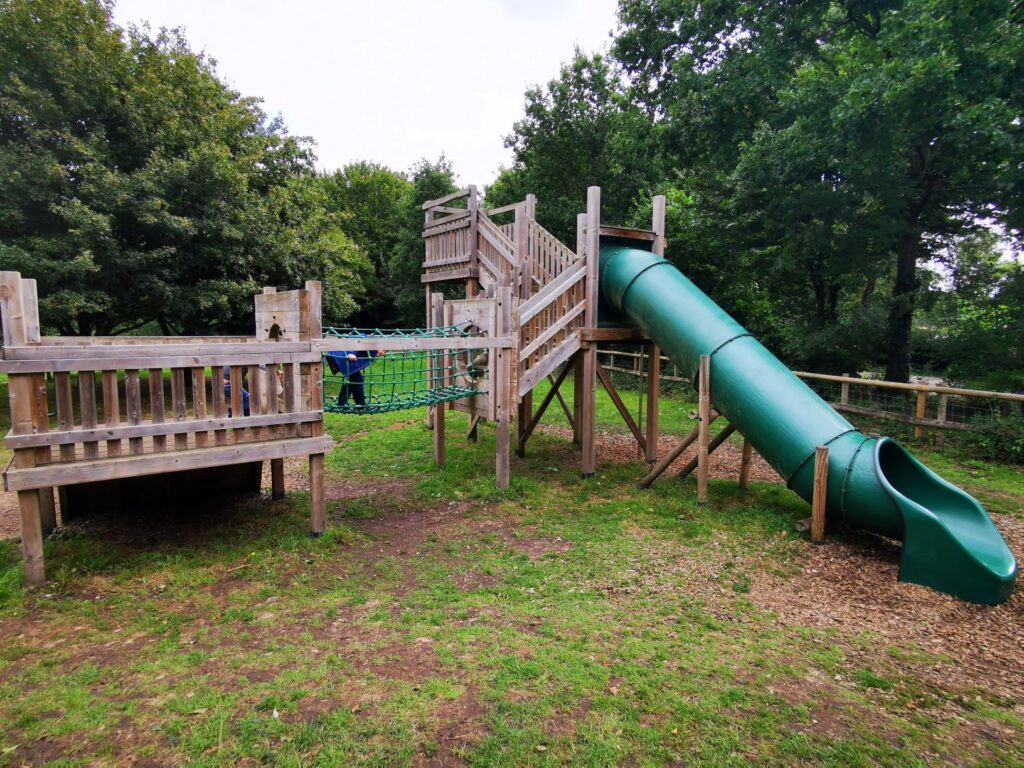 Denham county park is towards London and when we visited there wasn't the usual mix of little shits. Oh no the kids (not all) we encountered on that day were the unsupervised, entitled little shits. Wasn't a huge problem but seeing the shock on their faces when an adult told them they couldn't just push in was pretty funny. I also stopped a Toddler taking a boot to the face after running in front of the swings. Where was mummy and or daddy? why they were stuffing their faces on their Waitrose picnic and bitching about the commute into London of course.
After a long play in the park which was actually really nice and not overly crowded (I just like to moan). We went and found a spot to have our own picnic. Our picnic was a hybrid of tesco, Lidl and Aldi though….It was spiffing. We went and sat right next to possibly one of the biggest bug hotels we've ever seen. Then I went to grab a cup of tea.
Cafe And A Cheeky Paddle
When we arrived the queue was too big so I waited to pounce. Only 3 in the queue now so off I waddled. Make sure you eat and have some water on you because you'll need the stamina to stand in the queue for the length of time it took to get served. That being said it was a lovely cup of tea and I reckon in normal times they'd have their shit together a bit better.
If you can find a spot head to the area nearest the cafe because there is a lovely little paddling spot. Its shallow the whole way across. Both the boys had their wellies on and Clark could reach the other side without filing his boots.
I bought a map from the cafe too. Grab one if you want its only 10p for a print off but what I will say is be careful because the map is a lying bastard haha. It was funny but totally wrong resulting in some crazy off roading with the kids. I will get to that later though.
We picked the Nature trail walk because it took us along the river and the canal with a lock near the end. Off we trotted tea in hand and some very handy sticks. Seriously grab some sticks for your walk it kept the kids happy for hours.
Exploring Denham Country Park
Walking along the river Colne was lovely. The water was crystal clear and the views were stunning. We came across the fist bridge and on the other side was a huge anti HS2 poster. Upon further investigation there was a whole camp with anti HS2 protesters. It would be horrific for that bloody railway to destroy even an inch of this area (or any area for that matter) so good luck to them.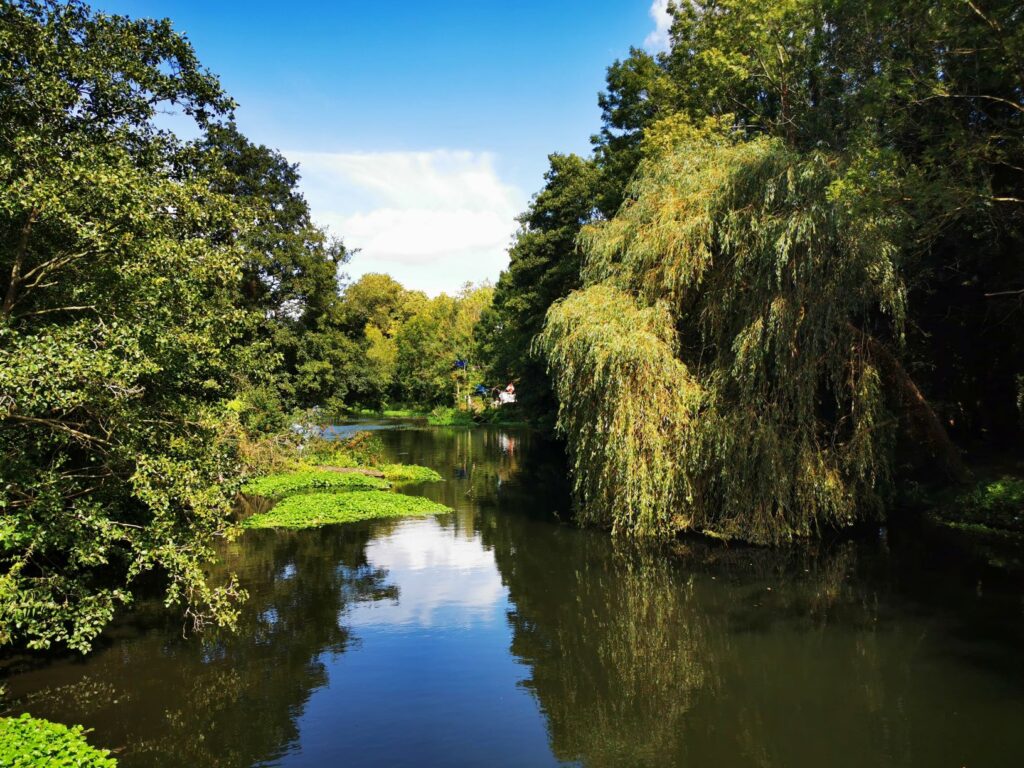 We kept stopping at the water side to measure the depth with Clarks giant stick which was actually really nice because it kept his attention. Then we came across a muddy section and we must have stayed there playing in the mud for about an hour. The stick managed to go into the ground about a meter deep causing water to spew up which was actually pretty cool.
We moved them on by feeding them blackberries on the way round. We then decided to go away from the nature trail over the anal bridge and down the footpath on the opposite side. There are lots of signs because its a private fishing lake however there is a public footpath down the side.
Getting Lost
I wouldn't advise this route unless you're happy to carry on walking round the lakes or turning back. The lakes are stunning though and the view were well worth it. However when we got to the end of the lake the footpath just came to a bend away from the lock which is where we planned to end up.
Elliot dropped his stick off the small bridge and bawled his eyes out. Clark bless him came to the rescue waded in and thankfully the stick got caught a little further downstream so he managed to grab his stick……..Elliot then decided he didn't want the bloody stick because it was wet!
Clark didn't want to go back the way we'd just been so instead we looked for another route. We could see the lock next to us. The husbeast managed to find a dodgy route through. It was really swampy though and fuck me did it stink. Other people must have made the same mistake as us though because there was a really bad attempt at a bridge across.
Husbeast went got halfway and the fucker snapped clean in 2. Elliot at this point was screaming because he thought daddy was going to die. I was kicking myself that i wasn't filming it and Clark was laughing. However the husbeast made it across and left me on the other side with 2 scared kids. By now I was staring to worry about getting my Doc Martens in a state. I had not planned to go off road today.
Over The Lock
Thankfully I'm not a panicker and i manged to find another route across a little further down. Elliot was still bawling his eyes out though bless him. Normally he's the one laughing. I managed to calm him enough to throw him to the other side. Ha I'm kidding I didn't do that. We found a sturdier tree to cross over.
Then we realised we would have to cross the lock which isn't ideal with 2 small kids. We decided to wait for the lock to fill up before attempting to cross. Not sure if that was the best idea but we didn't fancy that huge drop. Thankfully we all survived, made it across and went on our merry way.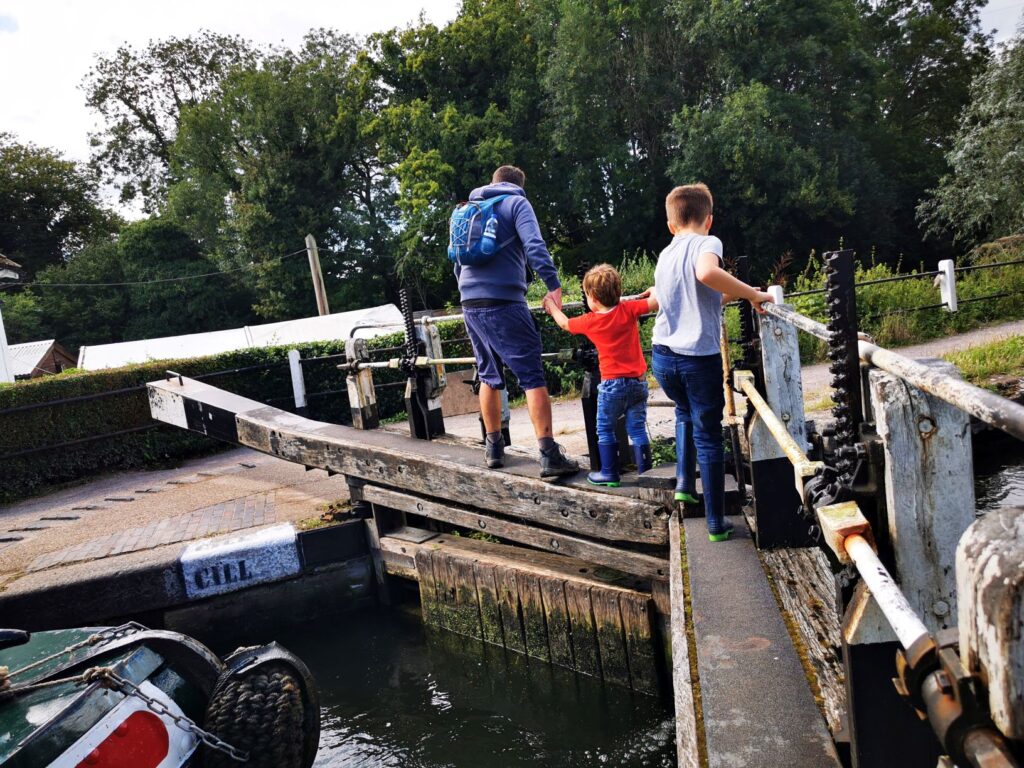 By the locks was a tea room which we will be popping into next time. Instead we decided to head back for another play in the park, An ice cream and one last paddle.
The rest of the walk back was pretty uneventful but still stunning and the boys got just jump over the giant cow shits on the way. One of the fields had grazing cows so bear that in mind if you've brought the doggo.
Denham Country Park Stats:

Distance from Bicester: 50 mins
Sat nav: Denham Court Drive, Denham, Ickenham, Uxbridge UB9 5PG Click to load sat nav
Wheelchair friendly: Yes (Not over the canal bridge though)
Equipment upkeep: 10/10
Cleanliness: 10/10
Facilities: All you need
Age range: All ages
Safety: 7/10
Fun factor: 10/10
Dog friendly: Yes but not in the shop or the cafe
Pushchair Friendly: Yes
Bikes and Scooters:Yes
Conclusion
There is so much more to explore in this area but we simply didn't have any time left. Denham country park is such a cracking day out It's entered my top 5 favourite country parks to visit.
We will 100% be going back and truing out another route. You really need to get the kids over there and try it out. There is so much to do you can easily make a full day out from it.
I forgot to mention there are toilets too and they seemed to be in pretty good nick as well. I always see it as a good day out when the kids don't moan. Happy kids equal happy adults and they didn't moan once.
"]