We've only been to Sywell country park once before and that was before Elliot was born. I'll admit the first time we weren't impressed. I think that was to do with the Cafe though and we didn't visit that today.
Picnic in the freezing cold it was. Aka Tesco meal deal for 4 al fresco.
We were lucky on Saturday most sane people stayed at home because it was cold enough to make your privates part go into hibernation. We no longer use ours for fear of having another child so we didn't give a shit.
Car Parking
Sywell country park was pretty quiet making parking easy. Not sure what they do when its busy though as the car parks pretty small and i didn't see signs for an overflow. its not expensive to park, £3 for up to 4 hours and £5 for 4-12 hours. Cheap day out if you ask me.
Wrapped the kids up welly boots on and off we went in the direction of the waterfalls.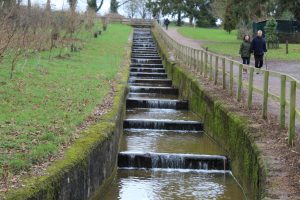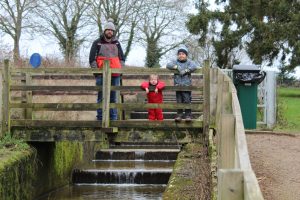 The kids were fascinated with this water feature. Basically some big steps with water running down making lots of waterfalls. Its nicely fenced off so no worries of a plummeting child. Unless they climb when you're not watching. Natural selection and all that.
If you've come to get the kids walking I'd recommend doing the walking bit first. Once they get into either of these play areas there's no getting them out unless you've knackered them out with the walking first.
Walking
Now if your kids enjoy walking there is a bigger walk around Sywell country park lake or reservoir. Whatever it is there's a big ass body of water you can take them round. We value our health and decided not to take the kids because we cant bear the moaning.
The walk we went no was perfect. The kids can watch the swans and ducks while at the same time walk along the wall. We all know how kids love to walk on walls. You might want to take some bread for the swans and ducks too.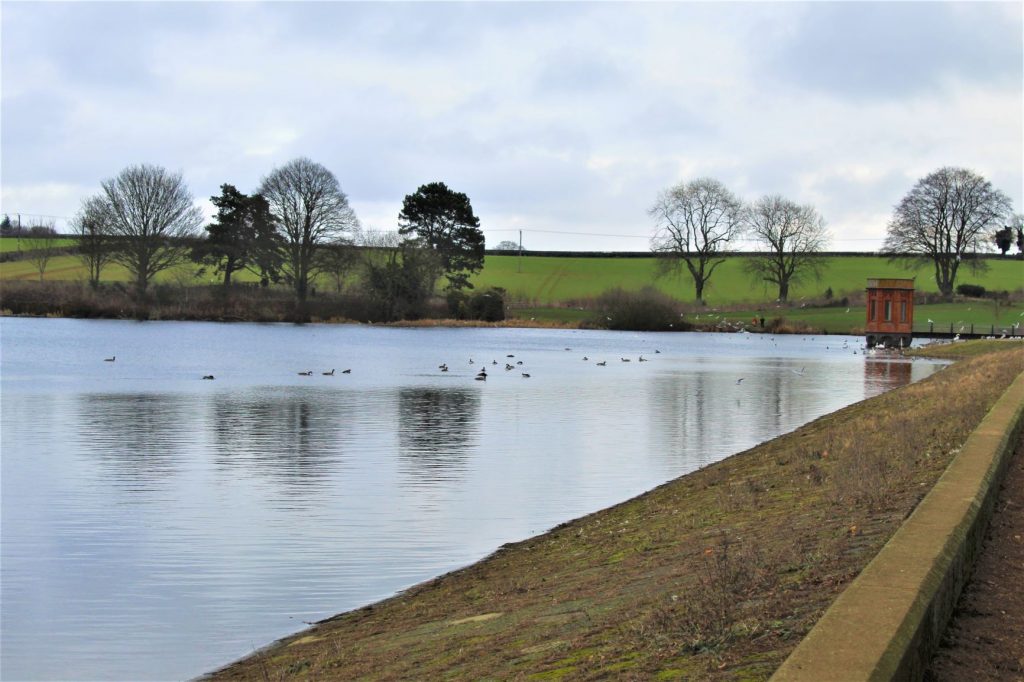 After here we had our picnic. Typically it had started to piss it down too. There are lots of picnic benches scattered round Sywell country park so you shouldn't have a problem finding anywhere to sit. If you go in the warmer months it wont matter anyway with all the grass you can sit on too.
Brockwood
Right next to where we had lunch was the first play area. This area is called Brockwood. Now this i would say is probably my favourite play area out of them all. In here you will find tunnels galore. Might not be great for younger ones to go in alone though. They're bloody pitch black so unless you fancy going on a rescue mission don't sent the little ones in without an older one. If you're skinny i wouldn't worry too much. I reckon my arse would have had a job squeezing in though.
Clark loved being a rabbit though. Thankfully Elliot didn't throw a shit fit and try to follow. He was quite happy playing guess which tunnel Clark was going to jump out of.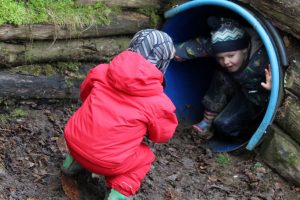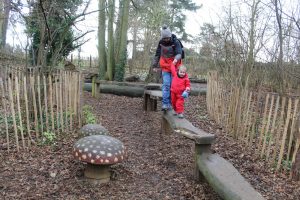 Round this area you'll also find the balancing beams that wind through the middle of the trees. Its so nice its like a little network and you can change directions too. Elliot loved this and they were big enough for us adults to go on too.
Lots of wooden animal sculptures here too, the snowdrops were out as well making the whole area like a little fairy glen. Despite it pissing it down.
There's a great slide here too. 2 different was to access it. Steps one way for the younger kids and then a rubber cargo net right next to the slide for the older ones. Its not easy by the looks of it though. I had a great time watching all the kids stack it and slide all the way back down again. It was like a natural mud slide.
Another play area
I could have stayed here for a while but the husbeast had "flu" so wanted to rush round everything. We headed over to the flatbed. make sure you get the kids to have a climb in the huge tree on the way round.
The flatbed is what i would say is the main play area for sywell Country park. Its an odd one but really good. Its odd because its built into a ditch. Its basically a big fuck off sand pit. Your kids will get sand in their cracks make sure its bath night.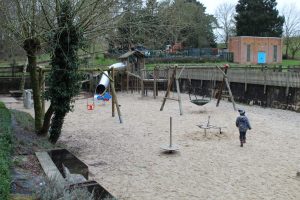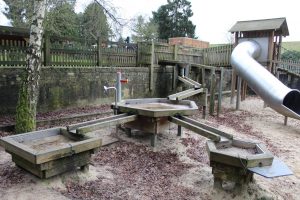 The water play area is bloody impressive. It wasn't working today which we were pretty thankful of. However i remember it form the last time and its epic. One of the best water plays we've been to. Someone goes up top and pumps the water down while all the kids play below.
Older kids can get to the top area via the older climbing frame with the larger slide. This is ok but in my eyes its outside the play area and if you're below it makes me a little uneasy especially if you're solo with more than one kid.
That being said its a great play area for all ages. There's a smaller climbing frame for the younger ones, Some springy face twatters, Swings, and a great digger in the middle. If we come back in the summer we would be bringing our buckets and spades too.
Toilets
So everything's looking good for Sywell country park right. Nothing bad to report? Wrong!!!
Only go to the toilets if you're desperate. Holy mother of god they were bloody horrible. I was supposed to be taking Elliot (potty training 2 year old) but decided to let him pee up a tree instead.
The toilets are next to the cafe. Don't say i didn't warn you. The husband mentioned that the men's were equally as bad.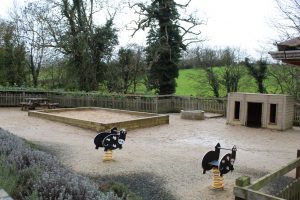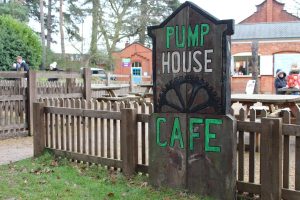 Inside the cafe is pretty small but there is plenty of outdoor seating. We had no need to use the cafe today because we brought a picnic. It does look pretty handy though. There's another little play area outside of the cafe which is perfect for little ones while you sit and have a coffee. Be warned though….more sand.
Sywell country park stats:
Distance from Bicester: 50 mins
Sat nav: Washbrook Ln, Ecton, Northampton NN6 0QX
Wheelchair friendly: Yes
Equipment upkeep: 8/10 toilets need refurb
Cleanliness: 7/10. toilets let it down
Facilities: 7/10 would have been 10 if not for the toilets.
Age range: All ages
Safety: 7/10 (common sense needed in places)
Fun factor: 10/10
Dog friendly: Your dogs will love it!
Conclusion
Overall we had a great time. Its a really lovely country park that all the family including your dog can enjoy. I can imagine it'll be rammed in the summer months. Especially with that cool water play.
I think the fact that the kids were constantly entertained also helped. As it kept their level of twatishness at a minimum which always makes a day more enjoyable.
Apart from the toilets this place has far exceeded our exceptions after our previous visit. I would 100% Recommend you get to Sywell county park with the kids at some point this year.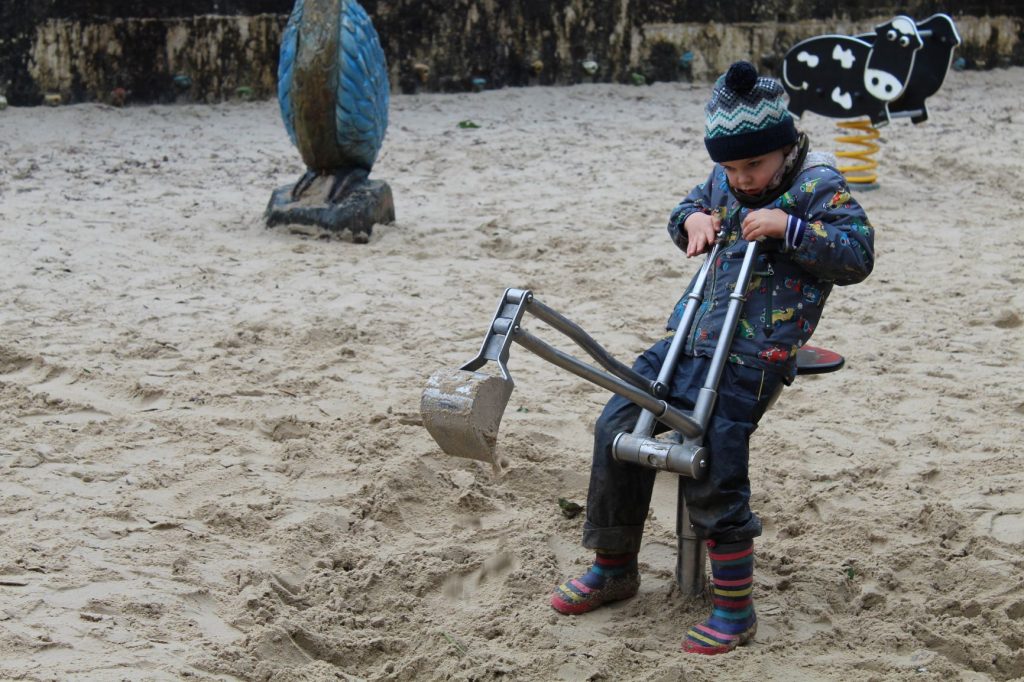 AOB
Have a look at their website HERE for more information on Sywell country park.
Have a look at some more of my reviews of other country parks in the area HERE