Another country park! This one was a bit of a roller coaster. First impressions good, then it got a bit crap then we really got into it and we finished on a high. Definitely a good day overall and worth the drive. Ladies and gents I give you Ryton pools country park.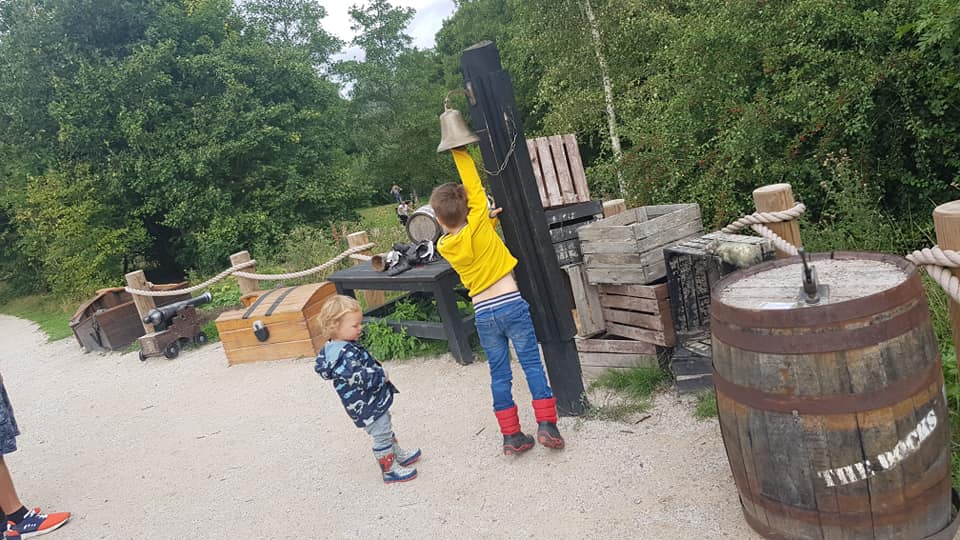 Ryton Pools Country Park
I class this as a free day. Parking was £3.50 (take change) but for whats on offer its worth it. There are multiple walks, kid trails to keep their attention spans stretched to the max (about 7.6 seconds) play parks and nature fun to be had.
It took us just under an hour to get there parking was easy but we did get there early. Lots of different car parks spread out. We took a picnic (goes without saying now) but there is a cafe there (food looked good)
We headed over to the play park first which was right by the cafe. It's a pirate theme which I'd say runs throughout. It's a pretty good park not the best but I'd say particularly good for the smaller one's. There's a cute little sand area which you could fit 1 or 2 kids in at a time. The place was busy so I found it hard to get decent photos without looking like some dodgy adult taking photos of other people's kids. We didn't stay in the park for very long we were eager to find something a bit more impressive.
We popped into the information and gift shop and picked up some trails (£1 extra charge applies). We've found that these trails keep Clark entertained for longer so he's less whiny and walks further. One little hint would be to take your own paper and a big wax crayon if you didn't want to spend anything at all. You can still get the kids to join in but you can sort your own reward at the end. The little shop has a cute discovery area too which Elliot particularly liked with magnifying glasses and fish etc. There was also a sensory garden outside which was a nice idea and I can imagine would be great if they could be arsed to maintain it.
Exploring Ryton Pools Country Park
Off we trotted on our walk. We went for the longest walk 1. To burn off our cake and 2. Because that's where our trails were. There are smaller trails available too but the yellow one wasn't too long in our opinion.
This route take you past the miniature railway. I feel like I should add a fan fair tune here. Miniature railways for us are the dogs bollocks. The attraction of all attractions. Clark has been obsessed with trains for as long as we can remember and its showing no signs of stopping. One day this wont be as cute but for now we're rolling with it. The station didn't open until 12.30 though so plenty of time to walk with the added bonus of a threat of no train if he acts like a turd.
This is where things started to get a bit shit. I mean not horrible just a bit meh. There were lots of people (we're not big crowds kinda family) they were all on the same path and it was hard to feel like you were in the countryside especially with the main road on the other side of the hedge. At this point it didn't have the open space beauty impact that we got at Emberton the other day and it all seemed to be a bit on top of each other.
We got to the lake and decided to feed the ducks with the duck food we bought from the shop. Their little beaky faces lit up as they swam over to get their fill. What absolute robbing bastards don't bloody buy that duck food crap they will literally look at you like total morons and swim off to find a sensible adult that has ignored the signs and has brought bread for the greedy gits. Those children whose adults brought bread were happy. Ours were slightly pissed off and confused…..until I pointed out that a giant rat had snuck out and decided to eat the duck food instead. Phew melt down averted. Check the duck photo and see if you can spot splinter we were half expecting to see 4 turtles swimming after him too.
Started To Get a Bit More Fun
We followed the path round and eventually we started to pull away from the road and that's when things started to get better. The people had thinned out (probably headed back to the shop for the duck food refund) and it started to feel a bit more like we were in the woods now. The boys were really enjoying the trails and bug spotting now. Me and my husband had our hands full making sure that Elliot didn't plummet off the path down the steep verge straight into the lake (might want to be weary of that yourselves)
Then it happened then moment we had been waiting for. The big wow……The second play park. Boy was this a good one (bit better for older kids) it had lots of cool play stuff including…..a zip wire!! Haha. The swings were cool and for once both kids could swing next to each other. The slides were cool especially the really tall one, there were tunnels, balancing circuits and a hugeeeee climbing ropey thing. Way better than those web shaped ones too. They must have recently re chipped the park it smelled lovely (I'm weird I know) it was super soft too (all the better for catching your little dears with) this was a good park the place had started to redeem itself.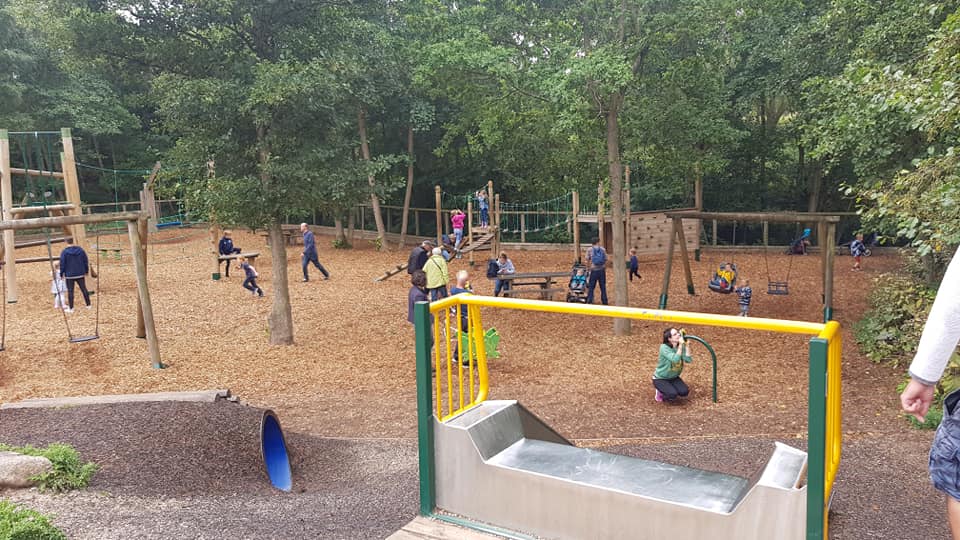 The kids hadn't even noticed the garish pink ice cream van parked in the trees opposite (I'm making this sound seedy its not supposed to be). When we were ready to go we were able to bribe them out with the promise of ice cream. Do not skip this opportunity! Possibly the best ice cream van I've even been to (I've been to a lot believe me) this is like the Willy Wonka of ice cream vans. I had a snickerboker glory! You can have marshmallow ones, Terry's chocolate orange ones and even simple ones its a bit pricey for the none vanilla (£3.50) but we didn't mind.
We carried on the walk and came across the woodland walk. We didn't do it this time round but will the next time we visit. It then swung us round to near where we began which put us on the cursed coin pirate themed walk which is a brilliant little walk. Not too long and really engaging for kids. You can pick up a trail for this at the gift shop too (£1) and collect all the stamps.
Loads To Do At Ryton Pools
After we'd done this walk we went and collected the reward for the bug hotel trail. I won't mention what it is but its not great hahaha. Its only £1 and the kids enjoyed the trail so was still worth doing.
We then headed over to the final activity of the day. The miniature railway we all had a go it's only £1 each and under 3's go free with an adult. It's a great ride it goes on for a while the tracks pretty big in comparison to other more expensive ones we've been on. The kids loved it (so did the adults) after this the kids were pooped we decided to call it a day.
We took Clarks scooter this time. I'll tell you now don't bother. The paths aren't scootable, do however take their bikes and yours too if you like. There were loads of families cycling this could be down to the cycle hire hut there. This again is something we'd maybe look at doing next time if I can't get my bloody bike onto a rack (teach me for going for beauty over practicality). We saw lots of happy kids going round on some weird bike kart things which looked cool.
Ryton pools stats:
Distance from Bicester: 55 mins
Sat nav: Ryton Rd, Ryton-on-Dunsmore, Coventry CV8 3BH Click to load sat nav
Wheelchair friendly: yes
Equipment upkeep: 7/10 some parts need updating
Cleanliness: 9/10 very clean no dog poo in sight
Facilities: 10/10 cafe, toilets, parking etc
Age range: All ages
Safety: 6/10 lake side a bit dodgy
Fun factor: 9/10
Dog friendly: yes
Bikes & Scooters: Bikes yes scooters no
Conclusion
Ryton pools country park is definitely worth a visit. It's not our favourite but enough to call us back especially to try the walks we didn't do. Make sure the kids go to the toilet at the start they're the only ones.
AOB
You can find Ryton pools website HERE
For more country park reviews click HERE
Photos :