Boy do I love a good country park. Its been a while since we've been to one too. Stanton country park is an amazing 100% free day out too so shove it on your list if you haven't already.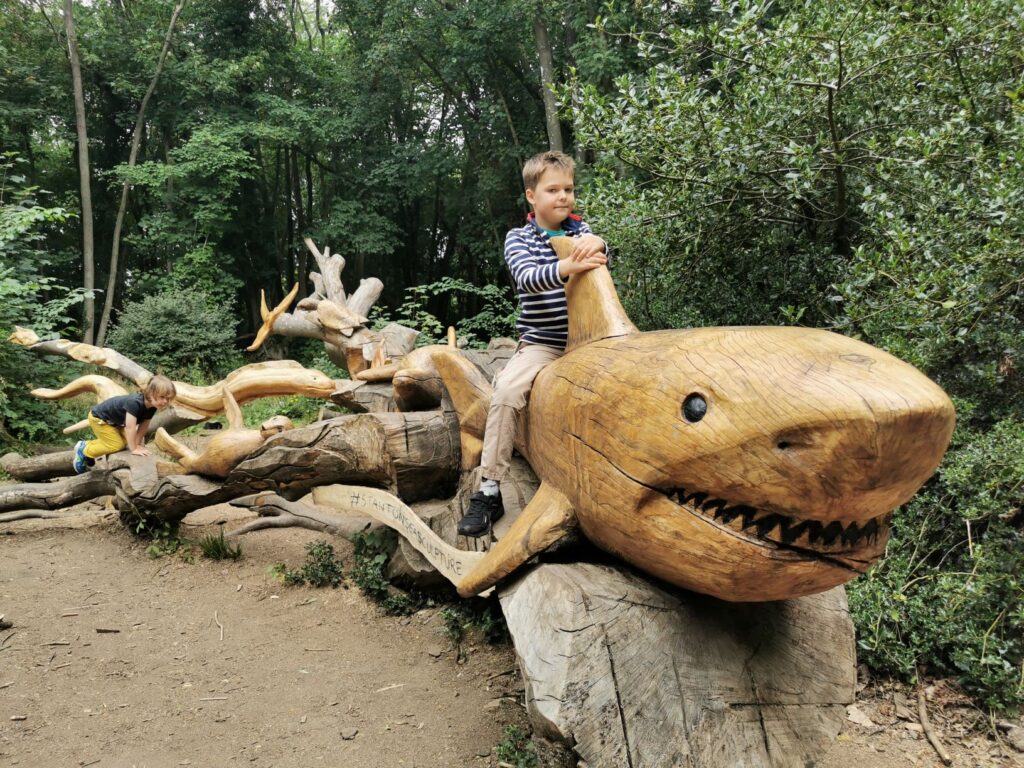 Stanton Country Park
We were pleasantly surprised that parking was free here. Not many country parks are these days. There's a descent sized car park too so we didn't have any trouble finding a spot. What we did have trouble with was trying to navigate the bloody map. We did a piss poor job of it in fact. Not that the shite signage through the park helped much though.
So apart from my piss poor navigation the place was amazing. Its fricking huge though. It took us ages to find the lake too. What we did find before though was pretty damn cool anyway.
I'm not going to attempt to give you directions around Stanton Country park because basically we never had a clue. We started off in the middle of a woods. We let Clark take the lead. It was a great walk but we ended up having to ask for directions. Thankfully we did because we were heading in the complete opposite direction haha.
I'd seen a few FB posts about this place and their new sculpture additions It was on the top of my list to find. When we did find them I was not disappointed they were amazing. That's no exaggeration either.
Stanton Country Park Sculptures
If you are visiting you must and I mean must go and see the wood carvings. They have new additions too so if you've already been you might want to venture out again. There's a giant merman which I personally thought looked a bit like Jason Mamoa in aqua man. If it wasn't so heavy I'd have swapped it for the husbeast. I'd much rather wake up to Jason Mamoa every morning even if it is a giant wooden version.
Moving swiftly on from my creepy obsession with a wooden merman. Directly behind him is the most impressive underwater scene in a tree. I know it sounds bat shit but its awesome. A giant shark, seals, stingrays, fish just loads and all hand carved into the tree or placed on the tree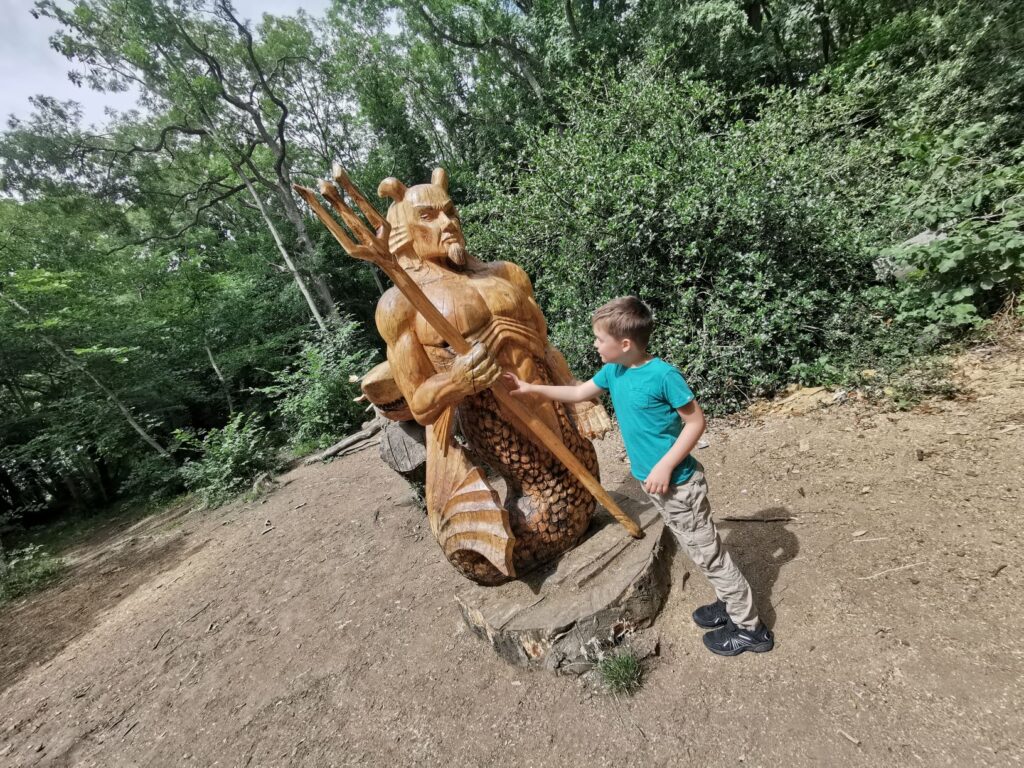 We were having a nice little mooch while there was no one round. We hadn't been there long before a total twat nugget of a family just swarmed the area giving zero fucks about social distancing at all. You know the kind I mean the ones who look like their sister is also their aunt. With the combined IQ of a foam brick.
We left them to it, had a quick sanitise and hunkered down for our picnic. We stayed in the area because the boys hadn't seen all the carvings yet. Worked out pretty well because by the time lunch was inhaled everyone else had buggered off again so they had the whole area to themselves.
Exploring More And Getting Lost Again
The area around the sculptures is great for kids to explore. There's an awesome tree swing. We actually let the boys have a go this time too. It looked a little less bone breaky than some of the others we've seen. I think it was Elliot's first go of a tree swing too. They both loved it too. Squealed in pure delight it was so funny.
After not dying on the tree swing we headed over to the house/shed structure behind. Not really sue what it was but the kids pretended it was a zip wire without the zip or the wire. basically running up and down screaming like nutters with their arms in the air.
It was around here it started to go a bit wrong. Not crazily bad but for the next hour or 2 Elliot asked every min or so if we could go home. I wasn't going anywhere until we'd seen this bloody pond or lake. We had sod all clue where we were because as I mentioned earlier the signage in the park it shit along with my sense of direction. Finally managed to navigate back to the car park. When i say navigate I mean we followed another family (In a none creepy way I hope).
We headed over to the buildings where you can see some more wooden sculptures too. This area is where the toilets are and the tea rooms. The tearooms were shut but it looks so cute. Lovely little cottage with a lovely cottage garden with areas for the kids to explore including a pond for pond dipping and even more sculptures oh and a wishing tree.
Found The Bloody Pond!
Round the back of the tea rooms theres another small area that has a few sculptures in. Not just wooden ones either. Though the giant caterpillar was pretty cool. Me and Elliot had a mooch about here while daddy and Clark picked up some ice creams for us from the little shack.
If you carry on through the small wooden area you will come across the orchard which was really lovely. A cracking spot for a picnic amongst the trees as some other family were doing in style with their chairs and prosecco. Elliot was still asking if we could go home but i still needed to find this sodding pond first.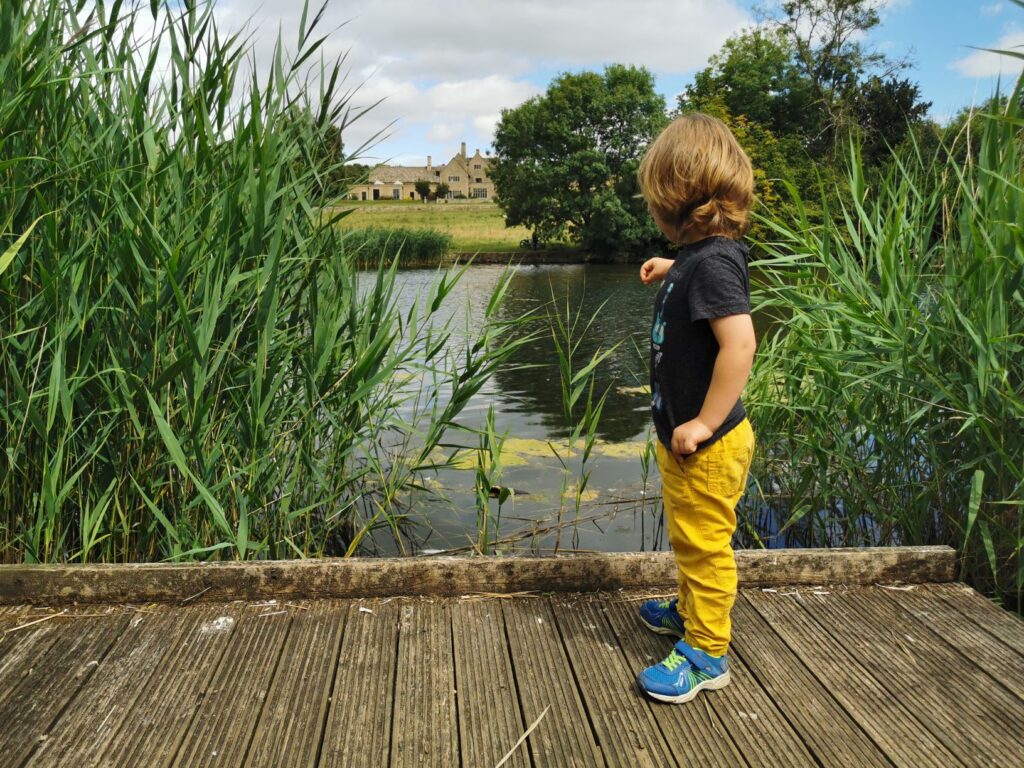 We asked the ice cream lady and off we went down the path with Clark now moaning to go home and Elliot still moaning to go home. Where the shit was this fooking pond? Finally found a sign (next to a swamp the kids thought was the pond). We were walking along side the pond now but we couldn't see it. We came across a teeny path through the bush me and Elliot went in. It lead us to a little jetty thing it was rotten and I shit myself when I stood on it and my foot went through.
The kids were really pissy now and I was getting a bit Eggy too. I left them all near this stone arch while I went off to find it myself. Finally found it……It was heaving. Full of people at the end throwing bread to ducks that couldn't give a shit because they'd probably been fed around 50 mouldy loaves already that day. you could hear parents trying to explain to their dissapointed kids that the ducks wont come because they've eaten too much (Never related to a duck so much as right then) . Ah well i found the pond so now I could get the whingers home again.
Stanton Country Park Stats:
Distance from Bicester: 58mins
Sat nav: The Avenue, Stanton Fitzwarren, Swindon SN6 7SF Click to load sat nav
Wheelchair friendly: Yes
Equipment upkeep: 10/10
Cleanliness: 8/10
Facilities: Car park, toilets and cafe
Age range: All ages
Safety: 9/10
Fun factor: 10/10
Dog friendly: Yes
Pushchair Friendly: Yes
Bikes and Scooters: Bikes yes but I wouldn't bother with scooters some of the paths would be a pain
Conclusion
Stanton country park is a cracking day out with or without kids. Its free, its huge and there's loads to do. The kids especially liked the tree swing and the sculptures. We found it a little quieter than some of the other country parks we've visited before maybe because its a little less commercial.
I really want to head back and try their tea room out when it reopens it looks lovely. I reckon most kids will love it here too. The weather wont matter much either. Shove their wellies on and let them splash the shit out of those puddles.
AOB
For more awesome country parks check out my map HERE
For their website check HERE