When I put a post up on Facebook asking for recommendations of places to visit while in the Isle of White. Blackgang Chine was mentioned so many time that I couldn't not go and check it out.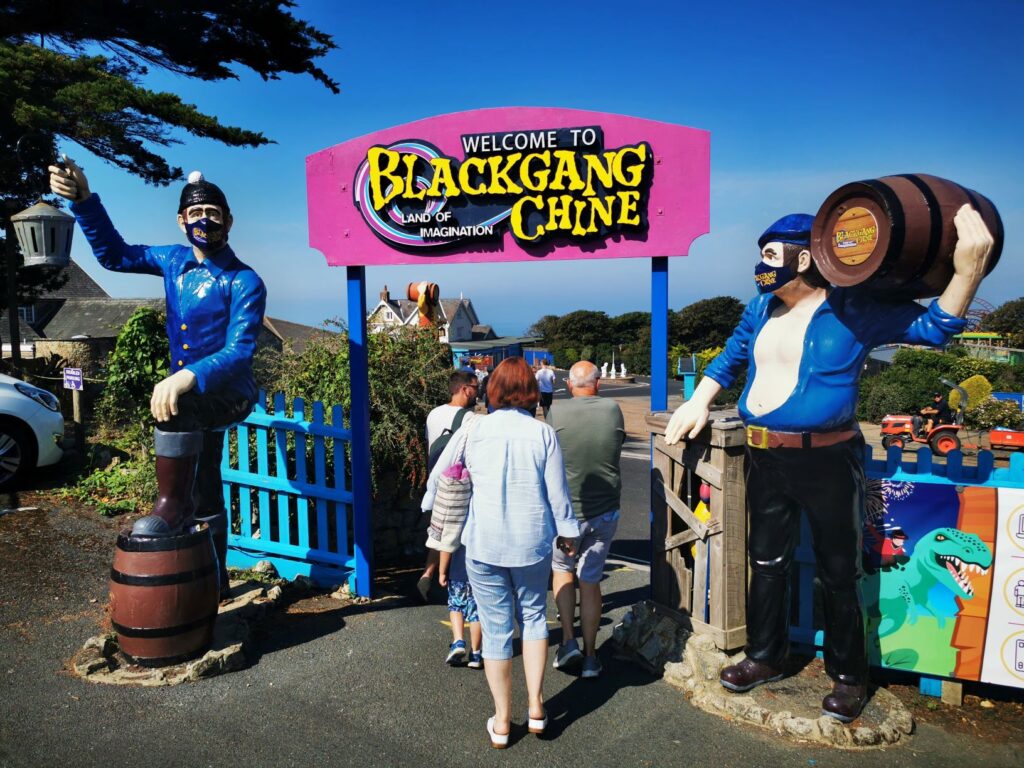 Blackgang Chine
This was our first visit to the Isle of white so we literally had no clue where to go. Luckily the island is pretty small so everywhere you do visit is under an hour away. The kids were probably more excited about the lack of driving than the actual places or at least until we got there anyway.
We booked our tickets online the night before and headed over for opening. It's £20 each and under 4's go for free. I was a little reluctant to part with the money especially as we'd been having some amazing days out for free but I just sucked it up and paid.
Once we arrived parking was actually really well managed. Better than some of the other shit shows we've been to recently anyway. The kids by this point had seen the roller coaster so were buzzing higher than a crack whore. I was just praying to the gods of height that Elliot was tall enough to go on.
We didn't have to queue up for long. We had our temps taken and a quick hand wash and we were in. First port of call? the roller coaster. We always like to get the big stuff done early before the queues start and I'm glad we did too because we hardly waited long at all.
Blackgang Chine Rides
Luckily a massive shit fit was averted and the height gods had answered our prayers. Elliot was tall enough! he did stand on his tip toes but the attendant wasn't falling for that and made him stand straight and he just and I mean just made it at 1.1 mtrs.
The ride was a pretty good one and the kids loved it. If you're not afraid of rides then give it a go because the view from the top is phenomenal. We got to go round twice and it was so nice seeing the kids so happy and enjoying some form of normality since the lockdown too.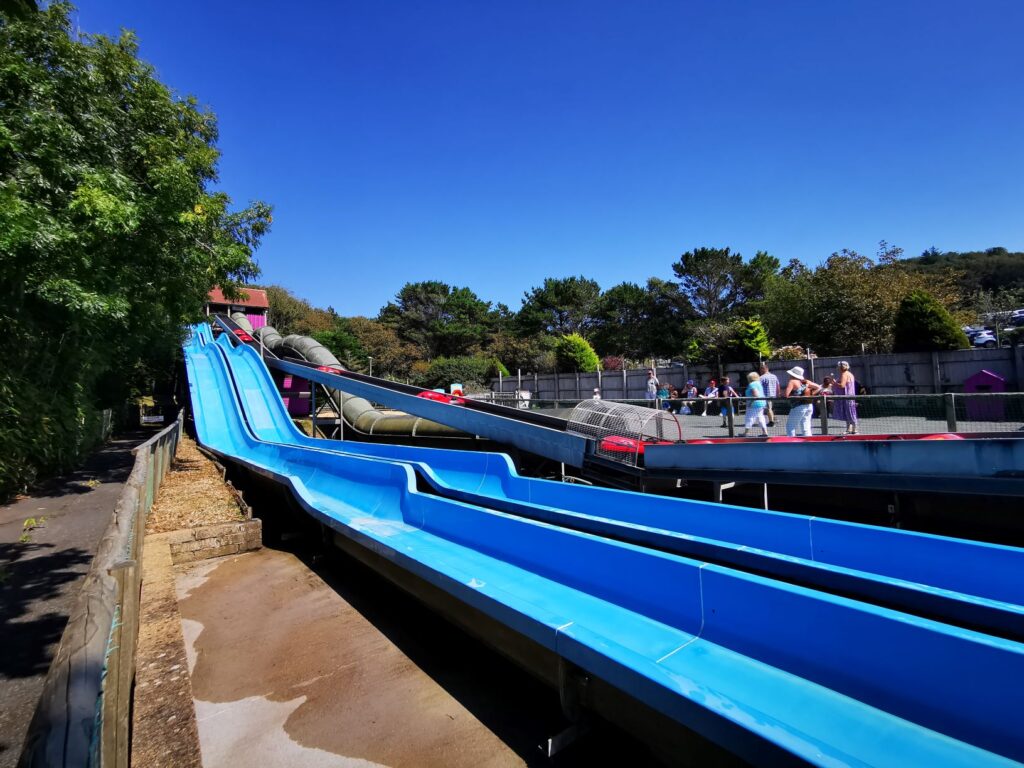 It was all a kind of blur from them. It was hotter than Satans ball sack and there was little shade. Thankfully I creamed them up to the point they looked pale. They were on and off the rides that were there. Some we went on with them some we let them on alone.
One of their favourites was the water ride which unfortunately we didn't get wet on but fuck me it was fast. The heavier you are the further you fly and boy didn't we fly (lockdown has not been kind)
Exploring More Of The Park
With the promise of an ice cream we managed to drag the kids away from the rides so we could explore some more. Ironically we got lost trying to find the entrance to the maze. The when we did finally find it, it was shut. Understandable really but could have do with some better signage for those of us that don't use our brains.
Next we rocked up to this weird arse area with dodos singing haha. It was bloody bizarre but funny it was starting to remind me of watermouth castle now. In and amongst the dodos there was a really cool play area. Nets to climb into but the safe kind that even the smallest of kids couldn't fall out of. The boys loved it they were off.
There was a bit of an incident next which involved Elliot getting twatted by another kids. Clark went in to defend his brother (so cute) but then bless him he stopped once he realised the little lad was lost and had leaning difficulties. Although Elliot was upset it was a great lesson for him about other children not all being the same. The reason i mentioned this part was because after the parents were found and the child calmed we went on our way. However a member of staff went out of his way to find Elliot and offer him an ice cream because he got punched We said no because it wasn't necessary but it was so nice of them to seek us out and make sure he was ok.
The Black Pearl Vs The Interceptor
Ok not the actual ships but this next part was by far the boys favourite area. 2 big ass ships with cannons on. Not just any cannons but cannons that shoot water out. They were in heaven and luckily it was hot enough to not care if they got wet or not.
In fact right down the middle of the 2 ships you could see adults running while the kids screamed happily trying to shoot their adult. It was so funny, I went through a few times. I shit you not when i say it was hot. the water was a welcomed relief from the big burny bastard in the sky.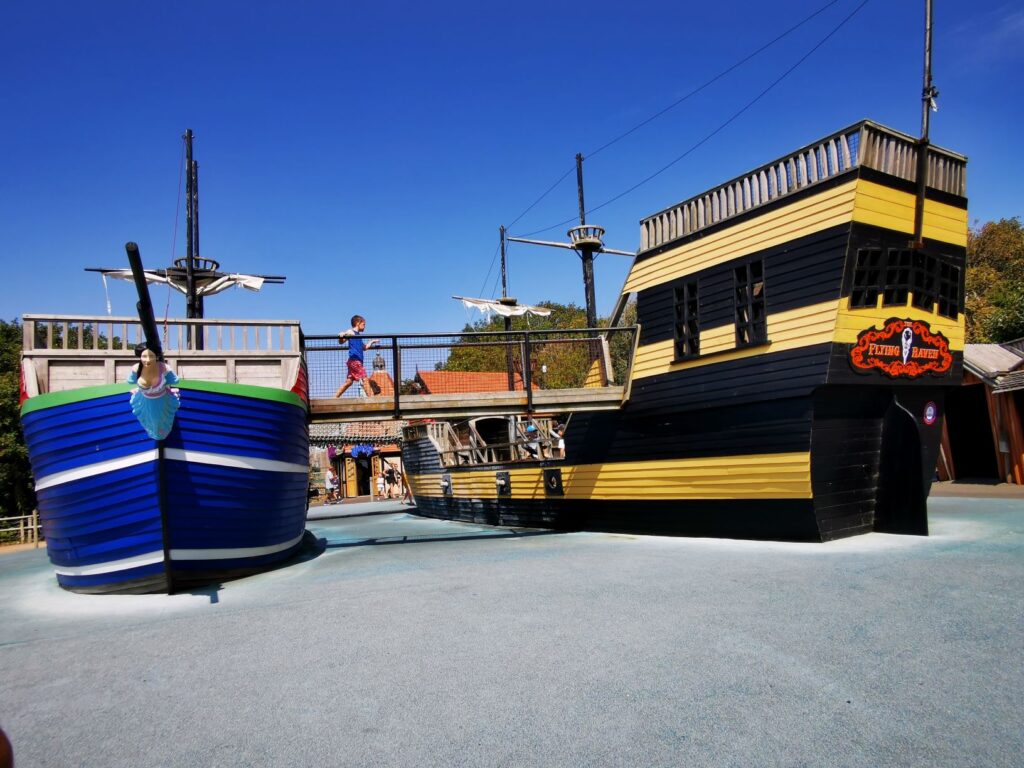 After a soggy lunch we decided to visit the underwater world. Not going to lie we were expecting maybe some more water features. Nope that's not what we got. If you're into your drugs don't go in here high. Basically you don't need to. The whole walkway is like a massive trip. It was all kinds of crazy but cool. The most impressive part was the huge whale suspended in the air above towards the end though.
The kids weren't too fussed with he underwater world but i think that's because they may have been a bit too old for it. I can imagine a toddler would love it though. The boys had spotted a monsters head they could climb into (more trippy shit)
I'm Waffling On A Bit
going to try and speed it up a bit i've gone off on one really. We came across this really cool snakes and ladders area with loads of slides and steps The aim is to play the game but i think the majority of kids were just sliding down all the slides. It was pretty cool…..up until Elliot twatted his head on the side of one of the slides. Some of them go really fast so be aware.
My gun obsessed 4 year old by this point could not have ignored the fact that loads of kids were walking round with guns and shooting people. We figured out they had come from the cowboy zone area. Nice little zone basically a recreation of an old wild west street so the kids could go in and play.
Elliot gave no fuck about playing in the pretend saloons he wanted a gun and his whining would not stop until he had one in his chubby little hand. Well they saw me coming didn't they. Nearly £20 for a sodding gun that I could have probably got on amazon prime for half the price……Bought 2 didn't I Lets not forget the caps either.
So basically I got bent over and shafted in a shop by some guy dressed as a cow boy. In normal circumstances that would have been quiet nice. Not today though it was too hot and I don't normally pay my husband for that.
Fairies, Dinosaurs And A Creepy House
On our way back down we thought we'd check out fairy land. The boys didn't want to but I really didn't want to miss anything. Basically the boys were right we shouldn't have bothered. Cute for kids that like fairies and castles but not really and good for my 2.
The creepy house was pretty cool though. Again it reminded me of Watermouth castle. Lots of buttons and characters behind windows popping up. My personal favourite was a pretty ghost singing then at the press of a button she turned into a hag with her saggy tits out. Husbeast said she looked like me hahaha cheeky git.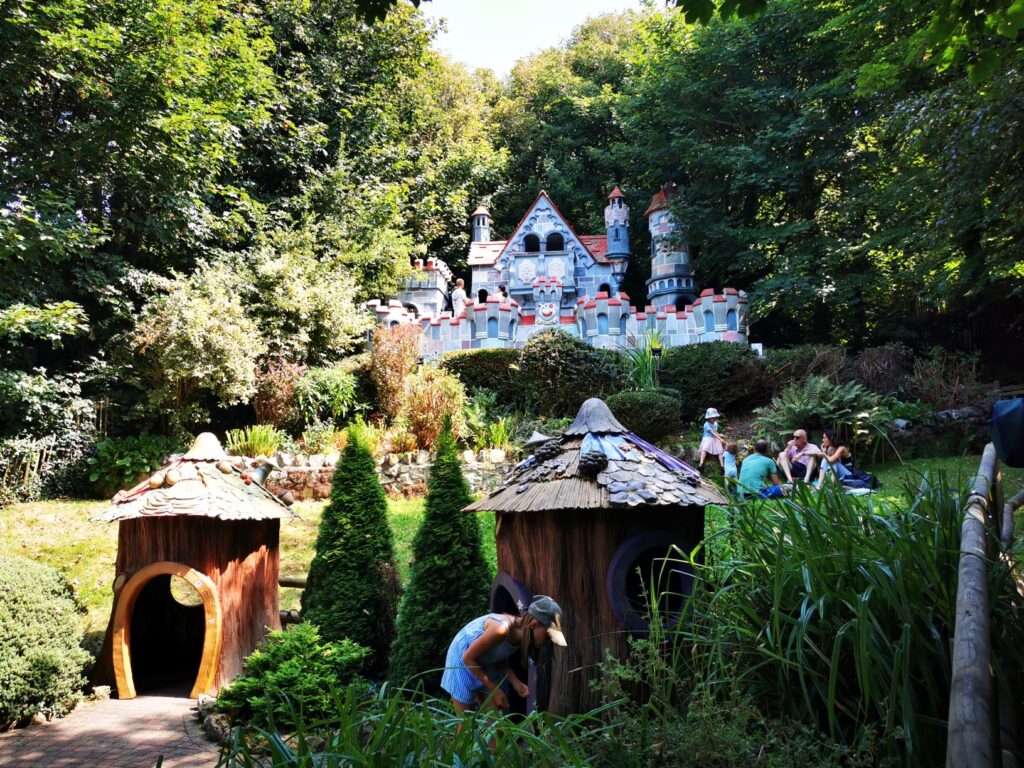 Time was getting on and the boys chose to do another round of rides over the dinosaur trail. To be fair the dino area looked good but it also looked like it was on a hill and i was already sweating my bollocks off and didn't fancy adding a hill climb to it. I was happy and the boys were happy.
In our usual parenting style we managed to bribe the kids out with an ice cream. Its maybe worth mentioning that at the moment Blackgang Chine aren't taking cash. Let hope covid fucks off soon so we can bring back some more normality because i for one and not pro cashless society.
Blackgang Chine Stats:
Distance from Bicester: 3hr 14 mins (not a day trip kinda place)
Sat nav: Blackgang Chine, Ventnor PO38 2HN Click to load sat nav
Wheelchair friendly: Yes
Equipment upkeep: 9/10
Cleanliness: 9/10
Facilities: Everything you need
Age range: All ages
Safety: 8/10
Fun factor: 10/10
Dog friendly: Yes but to be kept on leads at all times
Pushchair Friendly: Yes
Bikes and Scooters: No
Conclusion
There's no denying that Blackgang Chine is like one big crazy acid trip. However there's also no denying that it was one of the best days out we had while on holiday. The kids loved it. There was as much for the kids to do as there was the adults.
You will need your walking shoes on because its massive or at least it felt massive. The views from the top were amazing too.
I will have no doubt left out shit loads but i was starting to get a bit tired of my own rantings and i wanted to wrap it up before you all lost the will to carry on reading. I'm wondering how many will have made it this far.
So basically if you have young kids and you're going to the Isle Of White for your holibobs make sure Blackgang chine is on your list. I would strongly advise a joint ticket with Robin hill too something i wish we'd have done but I didn't know we;d fit them both in.
AOB
For more information check out their website HERE (Its a bit shit)
For more idea of days out check the map HERE