Some of you may recognise this bad boy from when we visited over the summer holidays. Without a doubt Watermouth Castle is absolutely flipping nuts!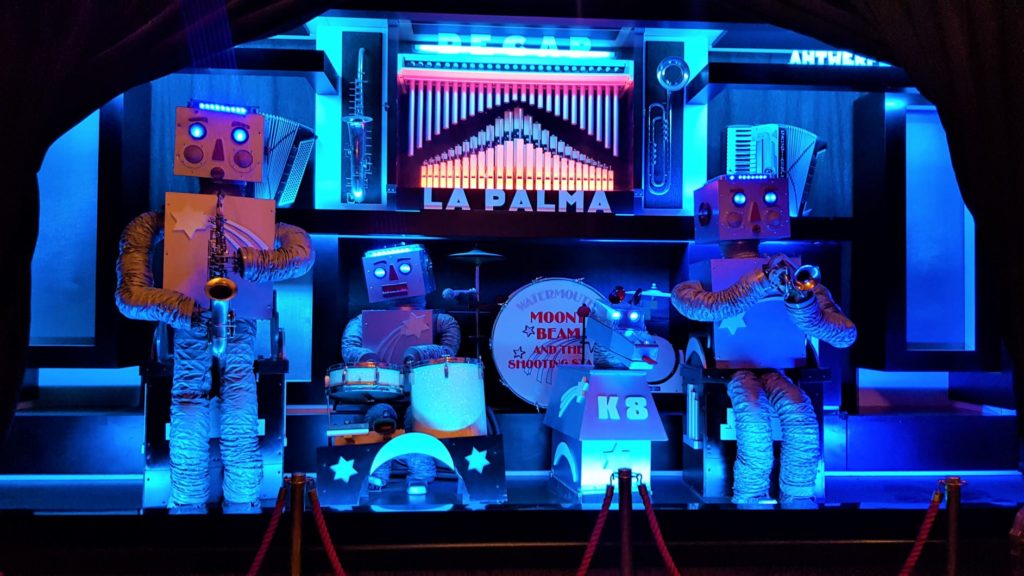 Ok it might be a bit of a mission if you're looking for a day out and you live In Oxfordshire like me. However if you're on holiday in North Devon like we were then you 100% need to see this for yourself.
Watermouth Castle
We had my mum and dad with us when we visited and none of us really knew what to expect. I was just hoping that it wasn't going to be shit. We managed to park close to the entrance too. In fact the whole day it was fairly quiet.
We took the pram with us because we didn't know how much walking Elliot would be willing to do. Take a pram this place is hilly!! Mt Etna hilly. Got the twitching in my thighs like you do after a workout…..Not actually done a workout in yrs but i remember it. Your prams will be taken off you at the beginning and taken round the other side to meet you when you exit the castle.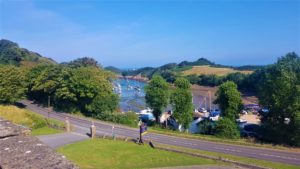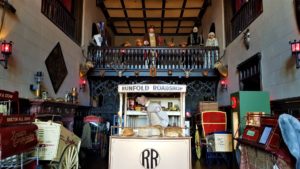 After paying (when I say me I mean daddy) we headed into some weird ass, fucked up, kooky, alternative universe that was Watermouth castle. With the strong musty smell it was like being teleported somewhere else. In the most amazing way that is.
Little tip for you. Take shed loads of change. 2ps, 10ps and 20ps. There are change machines in there too though in case you forget. It cost us a small fortune walking through the castle trying out all the vintage games. Totally worth it though. Even my mum and dad were having fun.
Inside Watermouth Castle
I think my first glimpse of what we were getting ourselves into was the robot band. Walk into the first room and there is an actual motorized robotic ban playing music. Not quietly either…..Not really sure what the relevance was but it was great. The kids had started to realise we weren't just walking round a stuffy old castle.
The castle was amazing kids have buttons and switches galore. Clark particularly loved the huge train lay out in one room. he even got to control the trains too. At this point the husbeast had spotted the vintage peepshow machines. Not bad for 10p haha.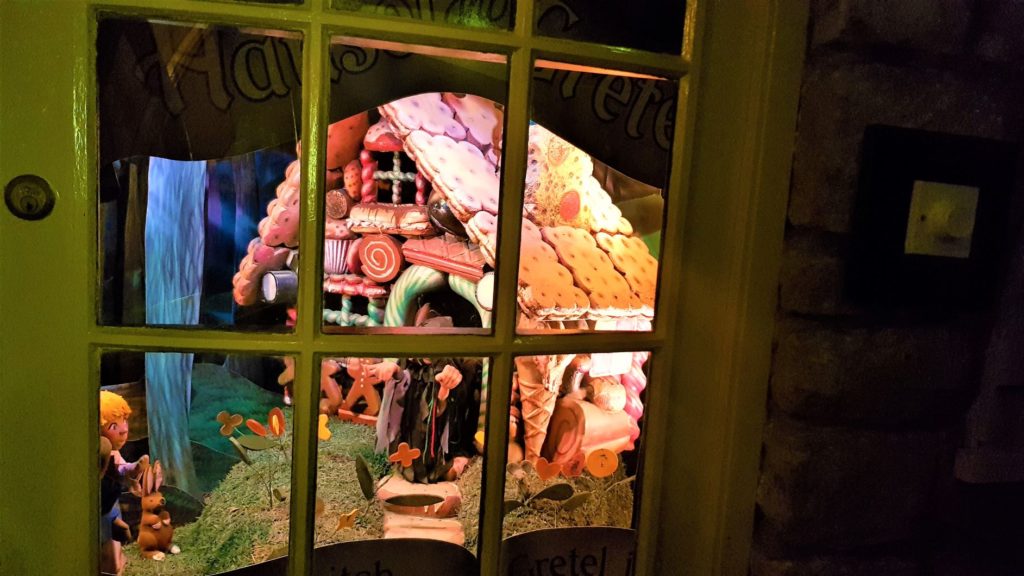 My favourite bit would have to be the dungeon bits. There are switches to click and it lights up a whole room with an amazing fairy tale scene. From Hansel and Gretel to snow white it was really impressive and so quirky.
Theres a section to avoid part of the dungeon. Mum and the kids took that route while me, dad and Hustbeast went for it. Nearly shit myself!!! walked into a room air blows out and something screams at you !!! It was creepy as fuck but bloody funny. I managed to find an amazing mirror too….One that made me skinny!!! along with loads of other funny mirrors too.
Making Our Way Outside
After finishing the walk through of the castle we headed outside. Right next to the exit was the room to watch the fountain show. We didn't do it straight away because we'd just missed the last show. Make sure you watch this show. Like with everything else its bloody crazy but fantastic.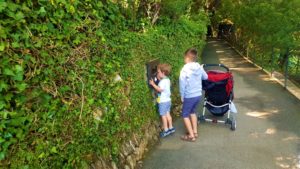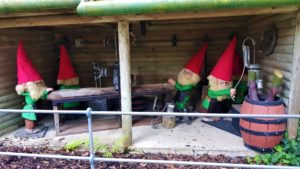 We collected our pram in the pram park with no issues. Then we started our walk up the hill….the first of many. As we were walking we started to notice toadstools and other quirky statues among the trees. It was a prefect way to keep the kids walking. What was even better were the interactive stations dotted along the path. Each one with a button to press and an action to do. From making a gnome climb up a tree to a troll in a cave and even the Cheshire cat singing a song in a barrel. It was a race the whole way to see what was next.
Gnomeland
At the top of the hill we arrive into Gnomeland. As you can imagine. It was full of gnomes (Funny that). Loads of little houses and gnome shops for the boys to explore and of course lots of buttons to press.
There was one section with a giant and his head falls off. Next to this are some stools that were great fun if you sit on one then the other will shoot up so the kids were going higher. There was even a tilted little house which the kids were amazed by.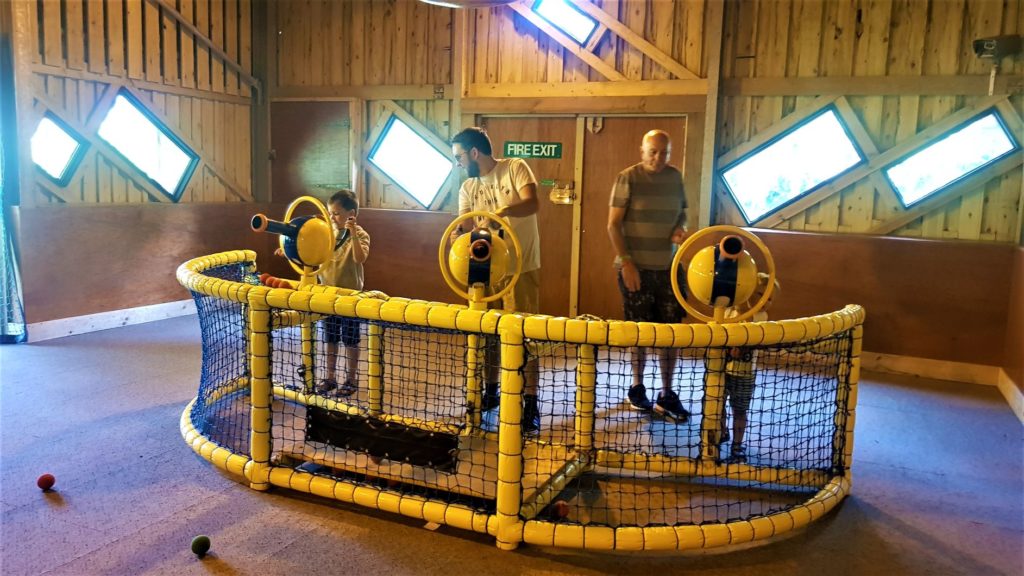 Then we arrived to the soft ball cannon shooting area. Well that was it we were stuck there for ages playing in there. We were the only ones in there and were trying our hardest to fire balls into each others faces (sounds so wrong)
We finally managed to drag the kids away and headed down into the main area where the rides were. Enjoying the view as we went over the bay. Really is a lovely setting.
Watermouth Castle Rides
The whole place is set in some stunning gardens. so there is a fair amount of walking. There so much to do on the way round though that the kids didn't moan. The grandparents were still having lots of fun too.
Not once did we have to queue for the rides. I was in shock at how quiet this place was. The rides to be fair i would say are better suited for younger kids. In fact i would say Clark (6) was too old for some of them. He was happy to go on though and they were sweet rides and the staff were nice enough too.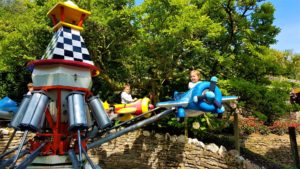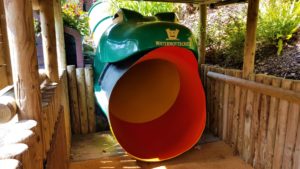 We did the maze which was actually pretty difficult but thankfully we managed to get out before Elliot peed himself. He like to keep us on our toes and announce at the most awkward times that he needs to go.
The slide was up next and its a beast. Well its a snake but its bloody massive in fact it boasts to be the worlds longest tube slide. well the kids managed to drag nanny on it and she screamed the whole way down. I shit you not she sounded like moaning myrtle.
Lunch & More Rides
After my mums traumatic experience on the slide we all headed for lunch. We managed to bag a seat right next to the play area. I don't think there's anywhere in this whole place where they haven't thought of a way to keep the kids chilled out. Maybe this is why we loved it so much.
Now the food was surprisingly cheap and wasn't bad at all. We just had a bunch of baguettes and they did the job. The drinks on the other hand Blurgh. I ordered a coke and the husbeast had a lemonade. It was in fact not coke but the cheap shit. Reminded me of the time Virgin coke was around. Maybe it still is and that's what they were palming me off with. Honestly don't bother take your own or stick to hot drinks.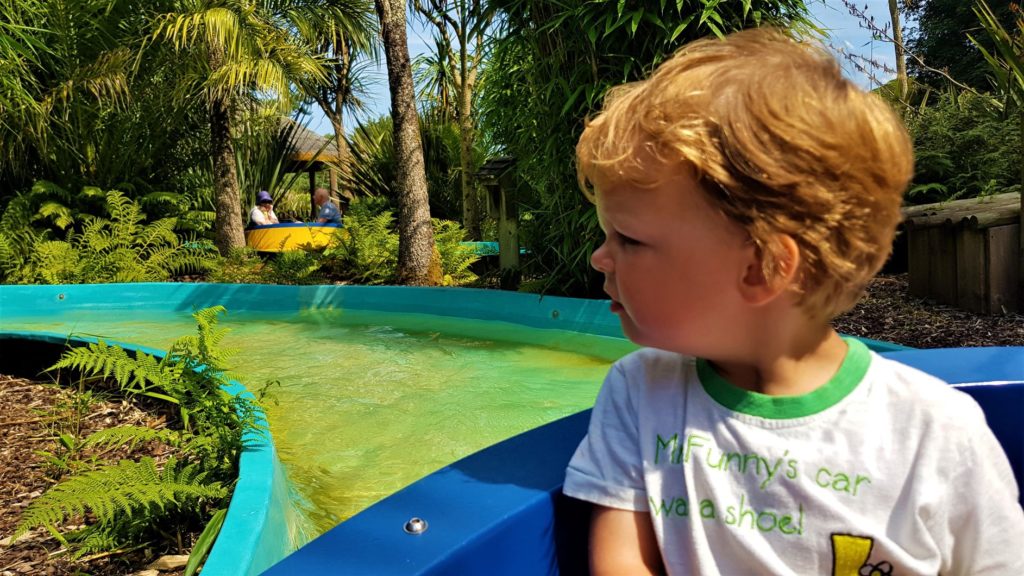 Next up after lunch was more rides. We found ourselves in the water area. We all had a go of the rapids. They weren't very rapid but we did get cooled down by the water jets. we were all sweating our balls off it was so hot today.
The best ride in Watermouth castle had to be the toboggan though. Its one that even adults and older kids could enjoy. We went down a few times taking it in turns to take the boys on with us. They have to be a certain height to go on them. 'm losing the will to continue in detail at the moment so I'm just going to try and speed it up bit.
Never Ending Fun
Between the rides there's a huge crazy golf….on a hill. I hate crazy golf but luckily my mum loves it so she played a game with the boys while me and the husbeast sat at the bottom chilling out.
There are loads of play park areas too and decent ones at that. There's little experiments on the way round and musical stations which were really cute.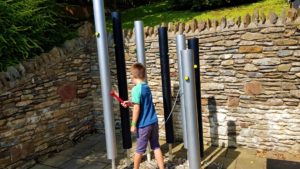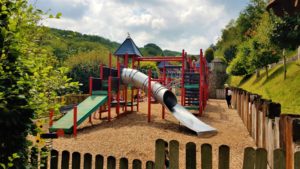 The water play areas are lovely too. Not enough to need a change of clothes for though mind. One of the water areas is in the lovely gardens by the lake/pond. Its really pretty with little waterfalls etc.
Make sure you go into the barrel roll. Its awful as in it makes you feel sick even though you're not moving. We had to go through this several times too thanks to the kids.
The Fountain Show
I mentioned this earlier and this needs a whole section dedicated to how utterly nuts it is. If i remember it runs every hour and we luckily caught this on our way out.
The rooms dark and you can sit on benches that face the stage where the show is. There's even a top balcony area too. It was dead and we got good seats. Not too near the front though we didn't want to get soaked.
Then it started. O.M.G its absolutely bonkers. Rule Britannia music blaring out of an organ and the most impressive fountains I've ever seen before. It was like a light show too. Again not a single human in sight this was all programmed.
It was brilliant I've never seen anything like it before in my life. I was laughing at the craziness of it all too. The kids loved it. We all loved it. its a bloody long show anyway. Every piece of music was like they were announcing the finale but then it just kept on going.
Watermouth Castle stats:
Distance from Bicester: 3 hrs 39 mins
Sat nav: Watermouth Castle, A399, Ilfracombe EX34 9SL Click to load sat nav
Wheelchair friendly: Yes but bloody steep
Equipment upkeep: 8/10
Cleanliness: 9/10
Facilities: All you need
Age range: All ages though the rides are best for younger kids
Safety: 9/10
Fun factor: 10/10
Dog friendly: No
Pushchair Friendly: Yes but not in the castle so bring a sling for babies
Bikes and Scooters: No
Public transport: There are busses from Ilfracombe which take about 20 mins
Conclusion
I think its safe to say that Watermouth castle is the most eccentric, nuts, unique, odd place we have ever visited and we all absolutely loved every minute of it.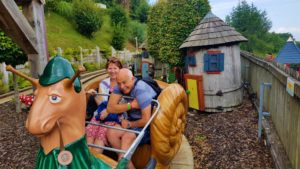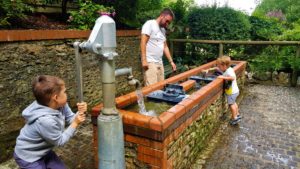 It was just 1 of many amazing days during our holiday at Woolacombe bay. If you're ever down that way you really need to take the kids to see it. I honestly don't think anyone could moan about this place. If they do well they can just shit off haha.
AOB

For more information in more details then have a look at their website HERE
For more days out near you have a look at the website HERE