Took the boy's during the Easter holidays to Brixworth country park. We took Clark's scooter and Elliot balance bike and boy did we have fun. Brixworth country park has joined my top favourite's now. Its perfect for the bikes.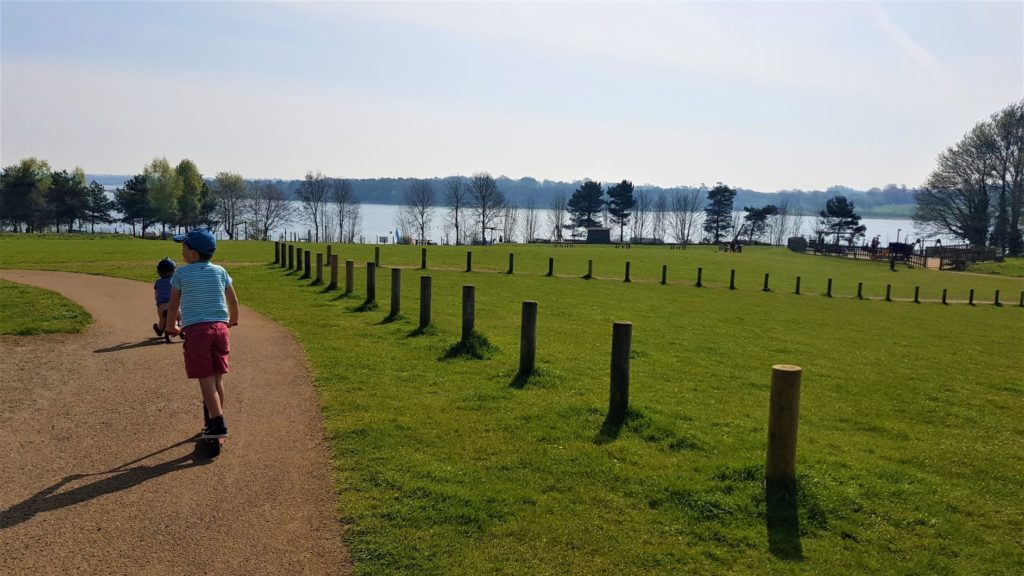 Free day out
Apart from parking Brixworth country park is a free day out. Some people moan about parking but considering there are a few options and the fact you can quite easily make a full day of it. I was more than happy to pay. Plus the sun was shining and I'm always in a better mood when the suns out.
We got to Brixworth country park pretty early and had no issues with parking at all. We bagged a spot right next to the Willow tree cafe and toilets.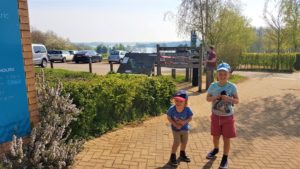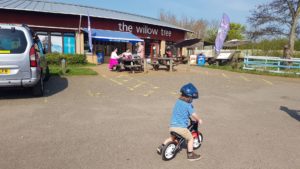 In this area you will also find the tourist information hut and the bike rental. I would highly recommend taking bikes with you or if you cant then look into hiring some. We're going back again soon with the husbeast and the bikes so we can explore some more.
Sensory Garden
Next to the car park the kids spotted the really cute interactive sensory garden. In fact we probably spent about a third of our time in this area because the boys kept wanting to go back. The garden has lots of interactive parts to it. The boys particularly liked the giant surf board, The trampoline and the spinny music maker.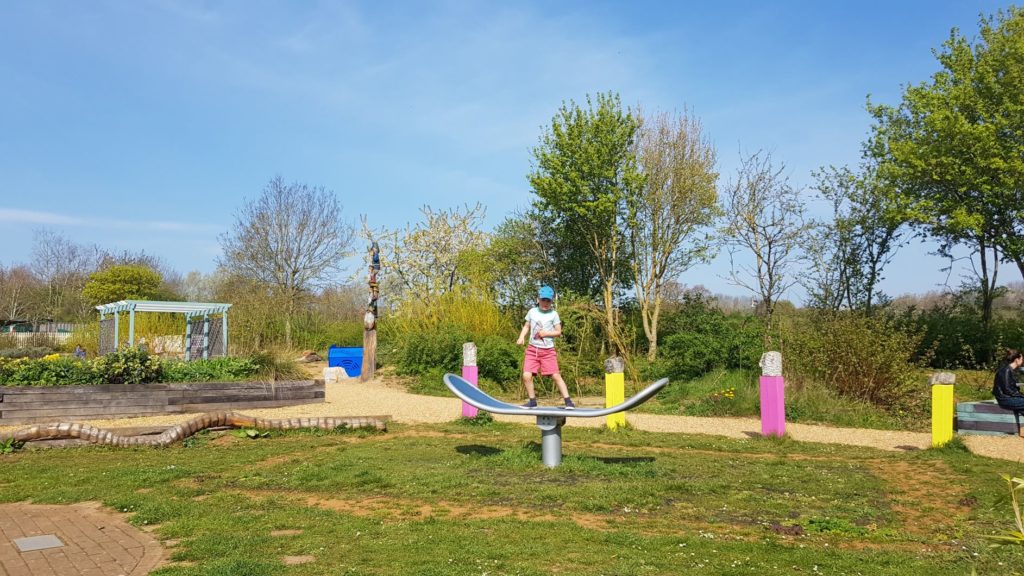 There were also music areas a sandpit (which looked like it was having some work done to it) a cool gnome totem pole and lots of wooden bug sculptures. At the top of this sensory garden you will find a lovely gated tots zone with a pirate ship another sandpit (covered) and a few other items of play equipment. We hadn't been at Brixworth country park long and we were already impressed.
After a thorough play in the sensory garden we decided to go and explore. Every area of Brixworth country park we walked around was paved although some areas were a bit too gravely for the scooters. So I'd say it was better suited for bikes (not impossible for scooters though).
Pitsford Water
The path down to the water is on a bit of a slope and if like me you didn't bring any wheels. You'll probably end up chasing your toddler that has fuck all fear, with his legs up squealing in delight as he bombs it down the path. At likely illegal speeds with no idea the pain he will be in when he realises he cant stop. Thankfully i managed to catch Usain Elliot Bolt before his face hit the gravel. I was bloody knackered though. I'm not exactly Lycra fit these days……don't think i ever have been. Just don't forget helmets!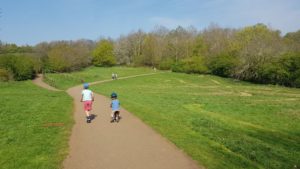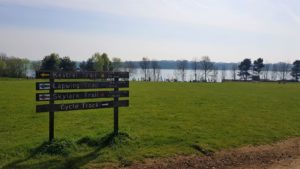 The views around the park are stunning you can see Pitsford water in the backdrop which was the direction we were heading in. Not before we took a detour to the play park though. The play park at Brixworth country park is one not to be missed either. Its pretty cool.
The Play area is on 2 levels with a cool slide down to the bottom level that the boys loved going up and down on. To get back up you can either use the steps or the cool rock climbing wall type this that Elliot shot up but Clark struggled with (still shocks me how different those 2 are)
Play areas
In the top area there is also a lovely little sand pit, Swings , a pirate ship, a cargo swing. A smaller climbing frame with a cool double side by side slide and a huge springy face twatter seesaw hybrid. This top area is best for the younger children but still enough fun for the older ones if they aren't too busy playing in the bottom section.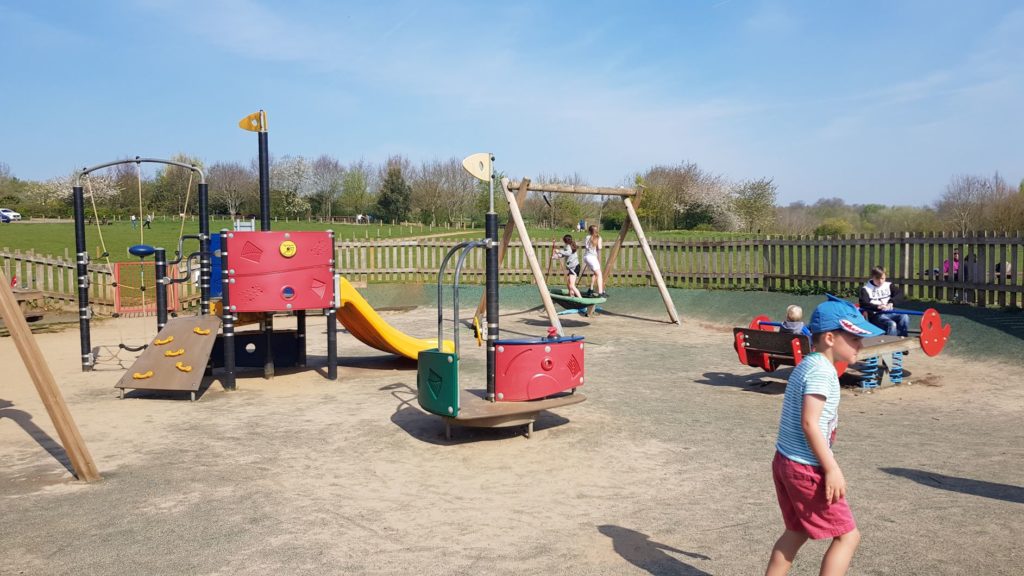 The bottom section is a mix bag. The frame down there i would say is better suited for older kids. Not sure what age but not 5 year old's. There is a cool roundabout made from chairs like you get on arcade racing games. Seems cool but surprising hard to pick up any speed (maybe need a good oil) There is also a zip wire (Clark said it was too slow though) a climbing wall and a walky spinny circle thingy (i believe that is the technical term).
Quad swing spinner
Outside the playground gates at the bottom you will see a fairly large balance course which my kids didn't touch because just in front of that is the quad swing spinner. (just made that name up too) This piece of equipment had to have been their favourite and i'll admit i had a go too. Bonus points for holding my stonage. I loved this because Elliot could also have a go because it had another one of the chairs. He held on really well and didn't try to kamikaze out of which is just as well because you cant strap them in.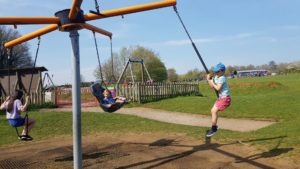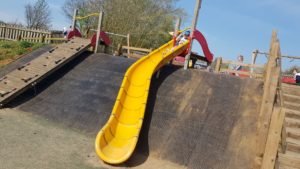 After some serious time spent in the park it was time to move on and explore some more. Now we didn't stick to any particular routes but there are loads available if you're better at sticking to them than i am.
Trails
We did come across the little grey men trail which was in a lovely wooded area based on the children's author where you can find 8 wooden panels along the trail that tell a story of the little grey men. I do love a good trail especially with a pond in the middle for the kids to bug hunt in.
We carried on our trail and decided to head toward the dam at the opposite end of where we were. Before long the boys were complaining of hunger so we stopped in a lovely shaded area not to far from the play park and cracked open the picnic. We watched the boats and bike go past as we ate which was lovely.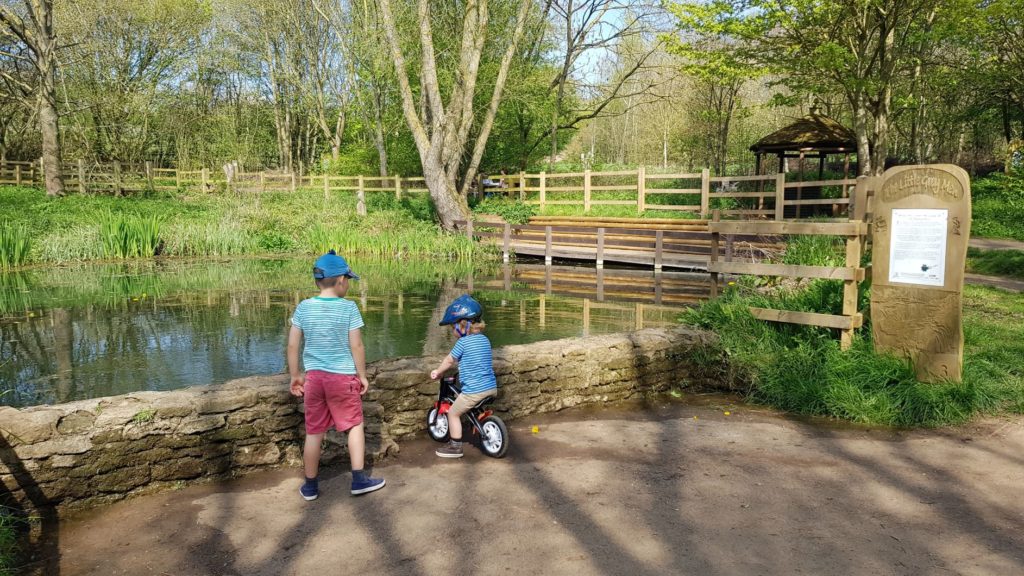 Picnic done (tidied up after ourselves unlike some lazy gits) and off we went in search of the dam. I thought that route would be perfect for the scooters and bike.
Just by the bottom of the play park you will see a small wooded area and you can just about make out a little dirt track. Obviously we would head that way instead of the path. Glad we did its a great little dirt track through the trees the boys had a great time navigating through it….until Elliot stacked it on a tree root and mangled his legs in his bike. After a bribe of raisins he was ready to crack on a again though.
The damn Dam
We got to the end and found saw our path ahead to the dam. Great off we jogged (Well more of a wobble with me).
Got onto the path and as predicted it looked perfect for both the bike and the scooter. Got on the path and noticed lots of flies which is to be expected at near to water so on we trundled expecting to get to some form of relief from what was (no shitting you) thousands of flies. i was swatting them away, they were in my hair at this point too. RUN i told the kids head to the middle it'll be ok there. HOW WRONG WAS I!!!!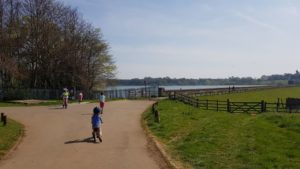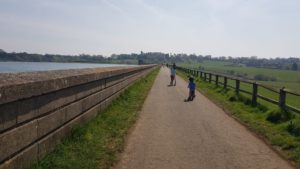 By this point there were millions of them. You could see the air moving and hear the buzz it was like we had walked into some kind of Biblical plague of locusts. I saw people heading towards us and i managed to ask them if it got any better the further you go. They didn't know they couldn't do it. They didn't make it to the other side either apparently it got worse. At this point i looked like i was having some kind of seizure with my arms flapping about so much.
I'd had enough ABORT i screamed at the kids TURN ROUND i screamed again once i realised they had fuck all idea what abort meant. KEEP YOUR MOUTHS SHUT i told them. Then had to explain i wasn't being mean but i didn't want them swallowing the Biblical plague of Brixworth country park. We bolted it and headed back into the trees safe and sound so i could brush the flies off us all. Seriously that shit was like a scene out of a horror film. The kids were traumatized so i promised them another go of the park and an ice cream.
Willow Tree Cafe
Brixworth country park had filled up by the time we decided ti head up to the cafe for an ice cream. Cars were now parking in the overflow which was in the fields. Although it was clearly busy at this point not once did it feel like it. That's why we like country parks. They're normally so big you can easily escape the crowds.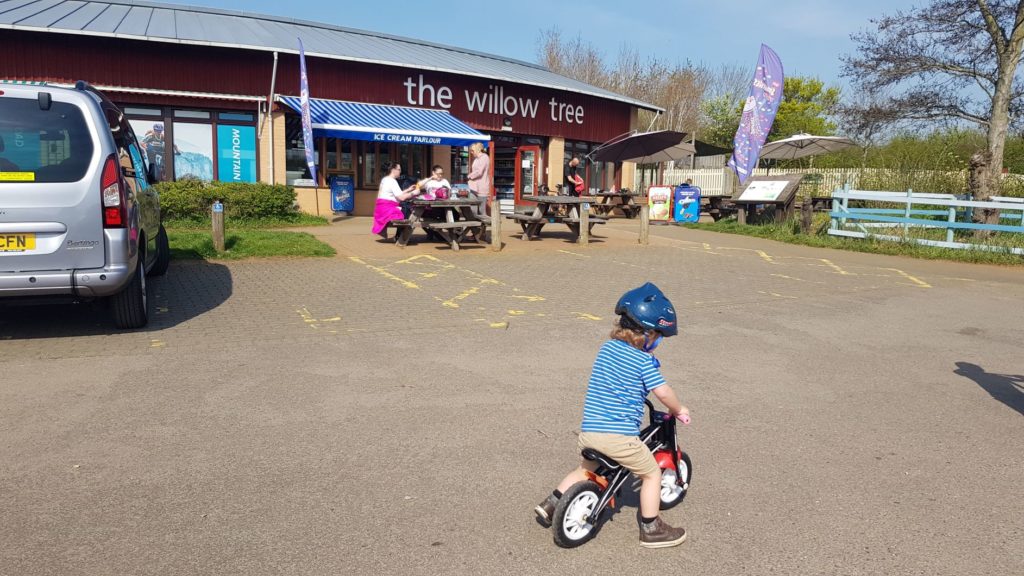 The cafe itself wasn't overly busy either. Apart from the ice creams i didn't buy anything so i cant say what the food was like but what i can say is that the menus looked brilliant. Much better than some of the crappy ones you get in other country parks. I think we will have to try it out next time we visit.
Brixworth Country park stats:
Distance from Bicester: 54mins
Sat nav: Brixworth Country Park, Northampton NN6 9DG Click to load sat nav
Wheelchair friendly: Yes (some of the play equipment can be used too)
Equipment upkeep: 9/10
Cleanliness: 9/10
Facilities: Everything you need
Age range: All ages
Safety: 8/10
Fun factor: 10/10
Dog friendly: yes
Pushchair Friendly: Yes
Bikes and Scooters: Very bike friendly. Scooters also but not as easy in some areas.
Relaxability: Lots of space to chill out and watch the kids play.
Conclusion
We love Brixworth country park and we cant wait to go back. If bike riding is your thing then Brixworth will be perfect for you.
I'm not sure if the swarm of flies was a one off or if its a permanent thing but if you go let me know.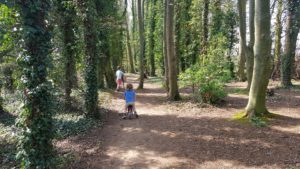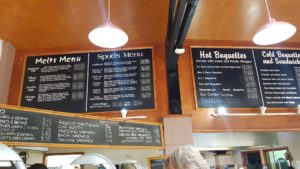 I can honestly say i think you and the kids will have a lovely time here especially with wheels.
Its a great free day out (minus the parking costs) and its less than an hour away too. You should all get your butts down here when the weathers a bit better and make the most of being outside.
AOB
Check out their website for more info and bike hire HERE
You can check out the other country parks we've visited HERE