Draycote water is probably the best country park we've been too so far for kids and their scooters or bikes. Its flat, easy, well maintained paths and the views are stunning.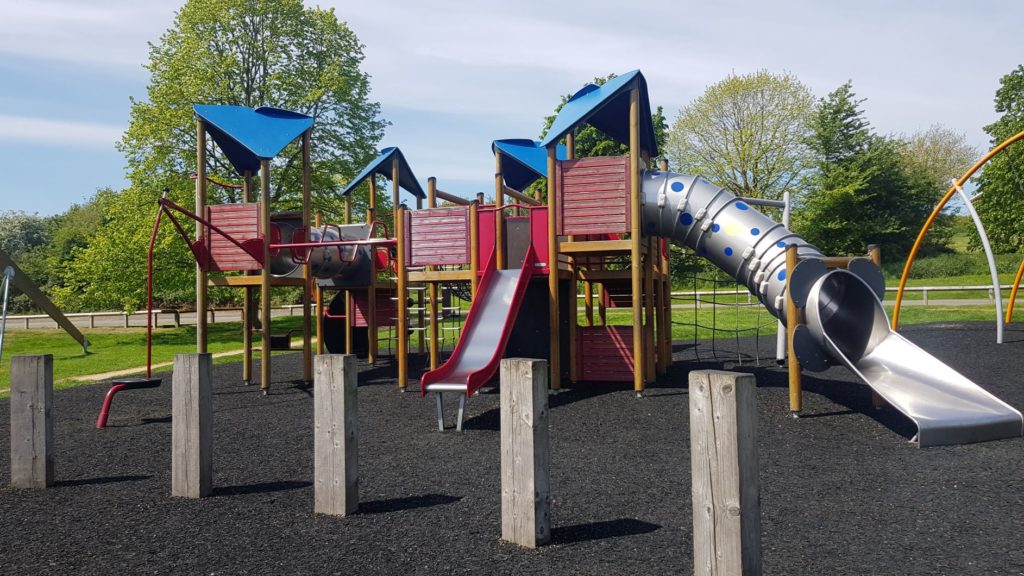 Draycote water
As you can probably tell from its name Draycote water has water. To be precise its a huge reservoir with a pretty awesome play park and a lovely looking cafe with awesome views too. If your into your fish Draycote water fishing looks really popular too.
Whats even better is that if you live near me (Bicester) Its under an hour away. Since we visited with the kids we also went back again on our own. Mostly because our kids were being gits when we went the first time.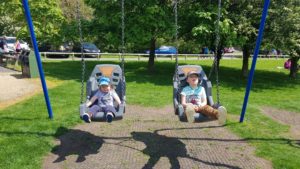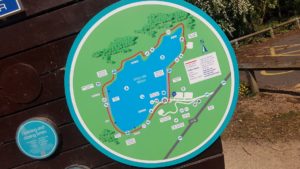 There's plenty of parking but the first time we visited we had to use the overflow aka a big field. Its pay and display though so don't forget some change. It was £4 for all day and considering the fun the kids will have that's well worth it
Draycote Water playground
The overflow we parked in was directly opposite the playground so there was no way in hell we could do what the kids class as the boring bits first (walking). It was straight to the park.
The park is bloody massive and it was pretty rammed which was to be expected because it was the weekend and it was sunny.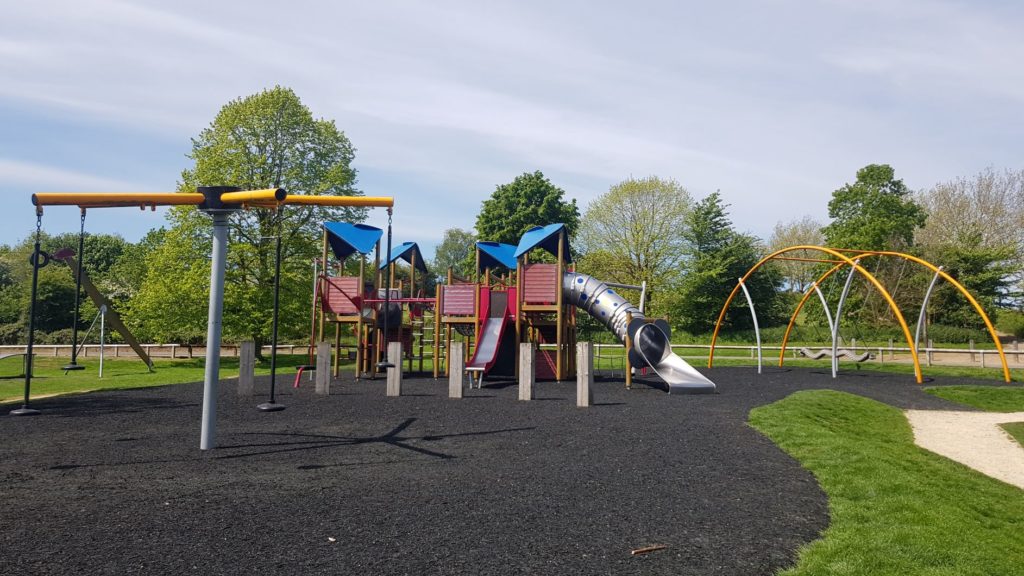 There is something for every age in the Draycote water playground. There was even a smaller play area for the younger kids which was fenced in so pretty much a giant play pen.
Elliot didn't give 2 shits about that though he was straight off to the big frame with Clark and i cant say i blame him really. Even i wanted a go.
Playground equipment | The big frame
The big frame is pretty cool it has loads of parts to it that are pretty unique which is why its so popular. I'll be honest though its a bit of an arse clencher. Especially if you have younger ones that think they can do anything or like my kids have the hand eye coordination of a worm.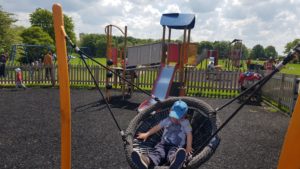 There's lots of drops and lots of parents hovering below to catch their falling kids It was a bit of a pain in the arse really. It was turning out to be a bit stressful but that was just because of Elliot really. You'll be fine if you have older kids that can hold their own.
There was no way i could bribe Elliot away from the tunnel slide anyway. Just wish they'd made it a bit easier for them to get up there.
Other Equipment
My favourite piece of play equipment would have to be the giant rope snake swing. This is a wow factor to any play park. Maybe why i love croughton play park so much. Both Elliot and Clark could enjoy this too.
They have so many parts for the kids to play with i will no doubt miss loads off but they have. A zip wire, huge car springy face twatter, more slides, a really fast roundabout, some really cool swings, A cargo net swing, plenty of benches and a huge amount of open green space for games.
Like i said i'll have missed off load but trust me when i say its a great park with shit loads to do for the kids. Lots of people picnicking too.
Draycote water Cafe
The kids had a decent play and we finally bribed them away with the promise of a snack while we walked round the Reservoir. I knew they wouldn't do the whole 5 mile loop but i thought we'd give it a go anyway.
We went up the hill towards the water and noticed the cafe and toilets. After a quick pee stop i thought i'd go and get a few snacks from the cafe upstairs. Got up there and went to the take away kiosk as opposed to the sit down cafe. Had a look at the huge bugger of a menu next to the till and decided on some sausage rolls. Woman popped her head up. "2 sausage rolls please" she then stared at me like some kind of moron before saying "we don't sell anything like that". I laughed and pointed to the huge menu next to her head before walking off. They had nothing else really.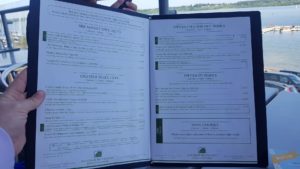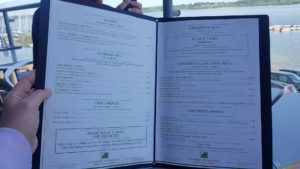 The cafe might be good if you have the time to sit down for a bit to eat but we didn't fancy it and wanted to have a walk round. If you go i'd advise taking snacks. We did but just not enough so it would seem.
Walk round Draycote water
Straight from the off Clark was in no mood to walk. Isn't it funny how when they're young and cant walk that's all they want to do. Fast forward a few years and now all they want to do is sit in a pram.
Luckily we had packed Clarks scooter and Elliots balance bike. Unfortunately for daddy he had to walk back to the car, get them and lug them back up the hill. Helmets on and ready to go and a few meters later Clark wasnt happy because his scooter was too loud and Elliot wasn't happy with the seat on his balance bike. I could tell then it was going to end up shit.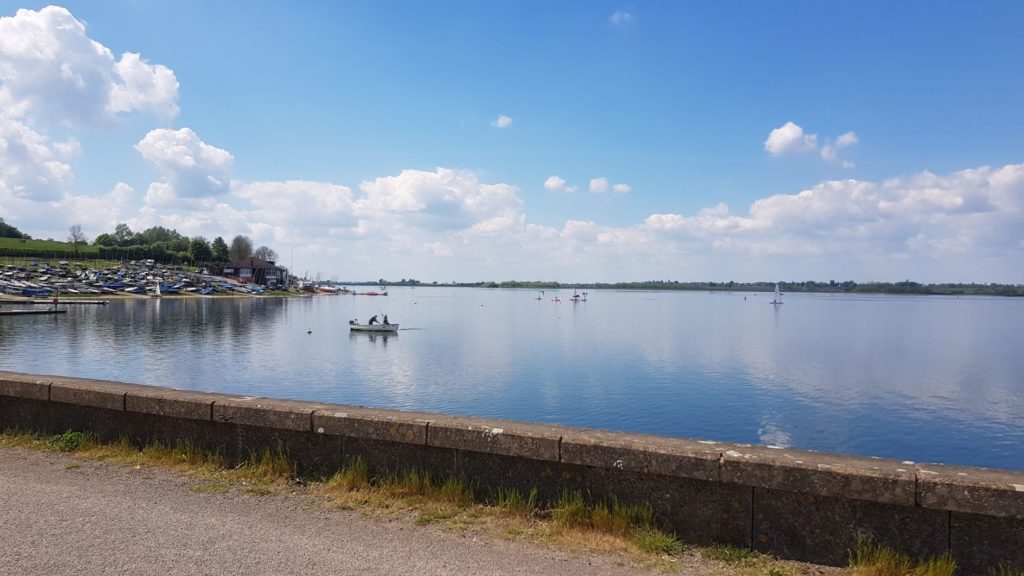 Clark didnt want to scooter and Elliot didnt want to go on his balance bike. Clark decided he wanted to go on Elliots balance bike and Elliot wanted to go on the scooter. Fine. Elliot kept falling off and screaming at Clark for touching his bike and Clark was now sulking because Elliot had the bike back (Lord give me strength)
Luckily we also had the pram. Unfortunately for daddy he had to go back to the car, get it and lug it up the big hill again.
Its all going tits up
Daddys back with the pram and looking a little bit wiped. Elliot's in the pram Clark's back on the balance bike. The scooter's balanced on the back of the pram and twatting me in the shins as i push but were on our way.
Fast forward a few more meters and we come to the flies. Loads of the little bastards and i was wearing white so i was covered.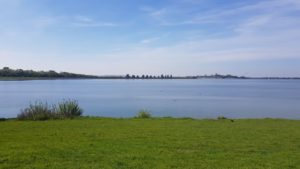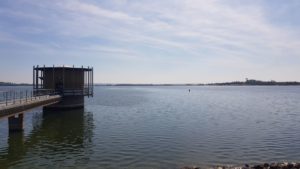 Now i wouldn't say there were too many that we couldn't walk. Just maybe not walk with our mouths open. This didn't sit well with Clark at all. Queue the constant stream of moaning.
Between the moaning about the flies, getting bruised shins from the scooter and Elliot wanting in and out of the pram ever few seconds i had strop.
Mum strop
Fuck this shit. All i wanted was a nice family walk and yet again the kids had other plans. Told Clark we were going home. He then get's upset because he doesn't want to go home!!!
I'd had enough i couldn't take the moaning any longer. so i shoved them back into the car all of us in a sulk and we fucked off home again with the promise to come back next time without the kids.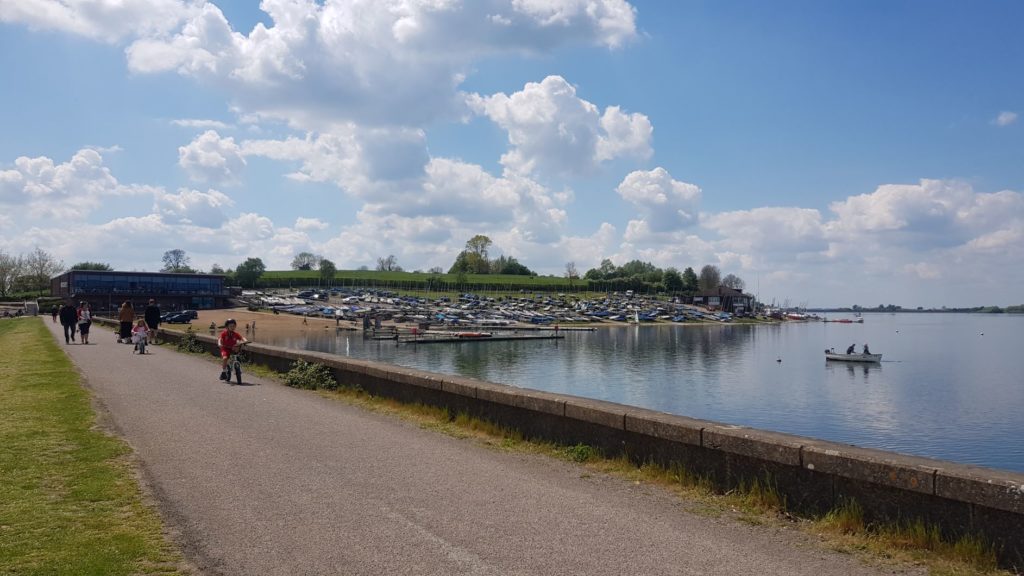 The following week we did just that and it was totally worth it. It was a stunning walk and we stopped in the cafe for a tea and sat on their balcony afterwards. No moaning kids. It was bliss.
Next time (yes there will be one) we will take the kids and pack our bikes. It'll be a lot easier. We will probably pack a mask for Clark to cover his mouth too. Not to mask the moaning but to stop him eating the flies.
Draycote water stats:
Distance from Bicester: 54 mins
Sat nav: Kites Hardwick, Rugby CV23 8AB Click to load sat nav
Wheelchair friendly: Yes (some of the play equipment too)
Equipment upkeep: 10/10
Cleanliness: 10/10
Facilities: Cafe's, Restaurants, car park, toilets and shops
Age range: All ages
Safety: 7/10
Fun factor: 10/10 (depending on the kids mood)
Dog friendly: Yes
Pushchair Friendly: yes
Bikes and Scooters: Yes
Conclusion
Despite the kids being "difficult" We absolutely love Draycote water country park. Now that I've been a couple of times i can be better prepared for future visits.
Its perfect for bike rides, walks and picnics. There were even ducks you could feed too. We will be back again and I'm certain the kids will enjoy it all and not just the awesome play park.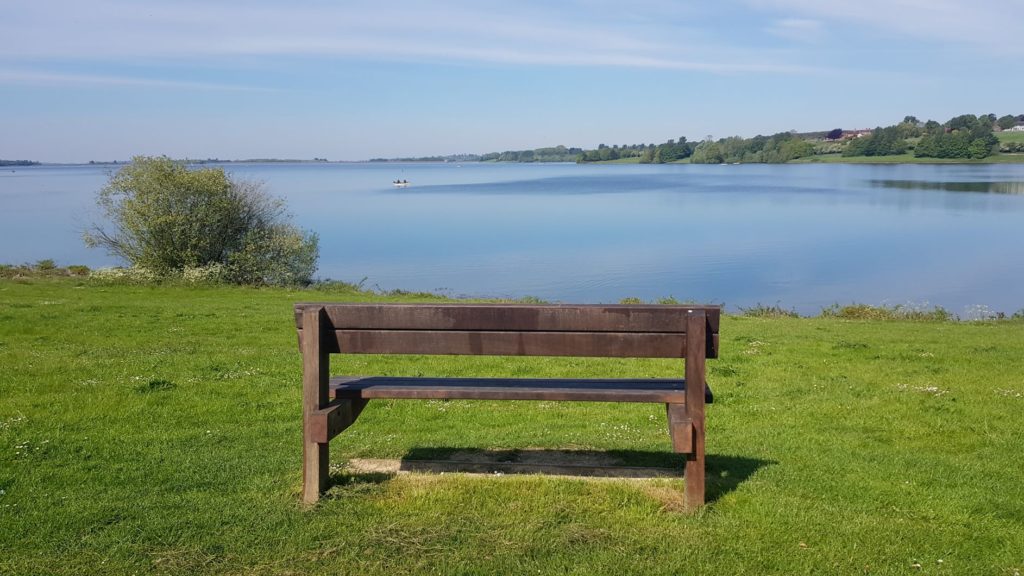 For this reason i would recommend going. Sod it if you can get there without the kids do that too.
The look like they have events on quite a bit too. In fact they had the Draycote water 10k run going on while we were there. Perfect if you like running after anything other than the ice cream van.
AOB
Have a look at their website for more details on upcoming events and activities HERE
If you'd like to see the other country parks we've reviewed you can do so HERE