Daventry country park is probably one of the closest country parks to me (Under 1 hour) that I've reviewed. I've known about it for a while but up until recently nothing really appealed to me. However now that they have a brand new play park there was no reason not to visit.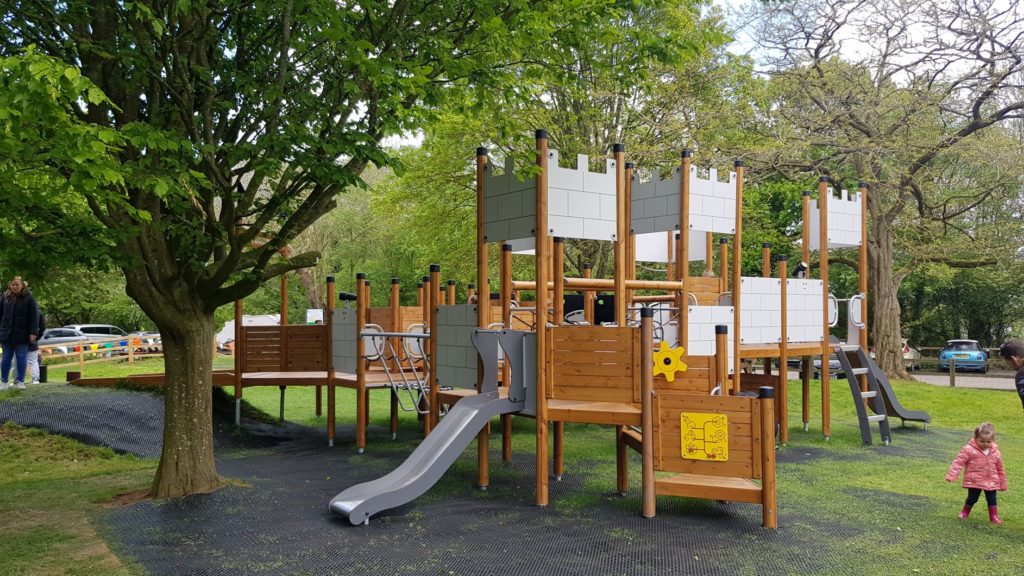 About Daventry Country Park
If you're in Bicester its about a 45/50 min drive away which when you're trying to entertain kids isn't too far in my books. To be honest depending on how much the kids are doing my head in I'd drive up to 2 hours for a day out if it meant a bit of peace and quiet.
Today has been one of those days. The kids have been back to school/childcare for one week and they were acting like complete ferrals (aka Dick's). We needed to get out of the house asap.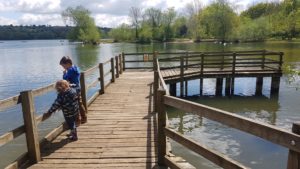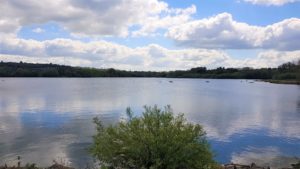 Daventry country park has a fair amount of parking (i think they have an overflow) and surprisingly it was pretty quiet when we turned up especially as it was bank holiday. Parking for the whole day is only £2. You wont want to skip this payment we saw 3 parking attendants within 5 mins.
The weather was acting like a kid in a sweet shop and not being able to make its bloody mind up. You know the type I'm on about. You put your big coats on because its bloody freezing. Then the hoods come up because it starts to hail. Next thing you're walking back to the car to drop your big coats off because you're worried about heat exhaustion because the suns taken his fucking hat off hip hip hooray.
Daventry country park's playground
We managed to bag a good spot in the car park which was directly opposite the play park. This meant there was bugger all chance of avoiding it until later and use it as leverage for the kids behavior. Huge Mistake!!!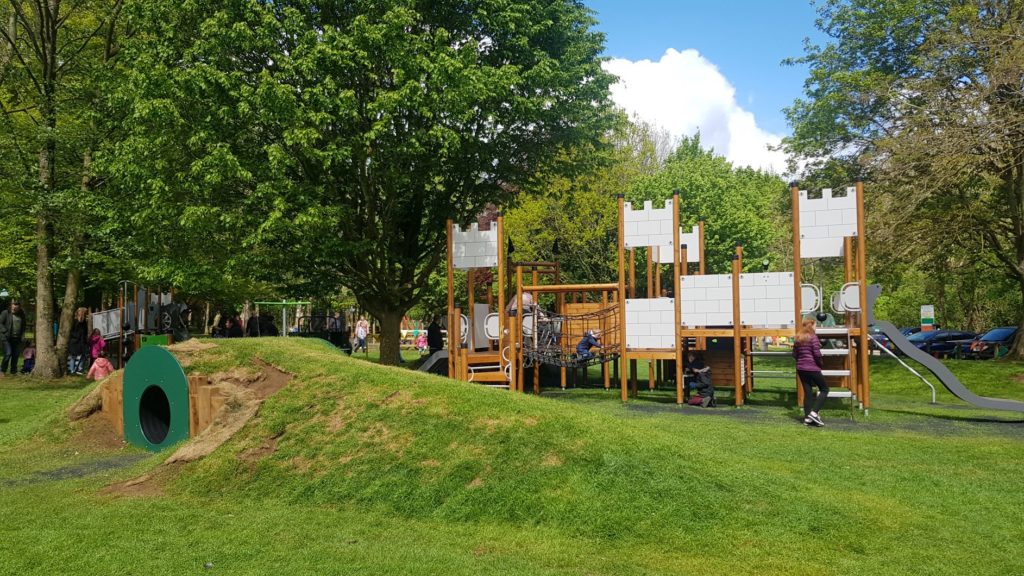 The play ground at Daventry country park is without doubt worth the drive alone. Don't get me wrong its no Stanwick lakes. However it is brand spanking new (most of it) and the equipment is good.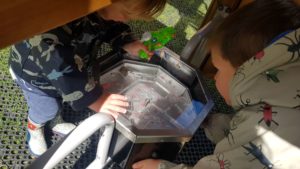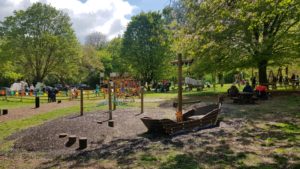 When i say good i mean its one of those play parks with all the cool stuff. It even had some equipment i haven't seen before. It even had the biggest springy face twatter I've ever seen. I loved it. My absolute favourite had to be the parent and child swing though, I've seen these magical swings in photos but never before in real life. It was awesome and they made it wide enough for my fat arse not to engulf the chains either side.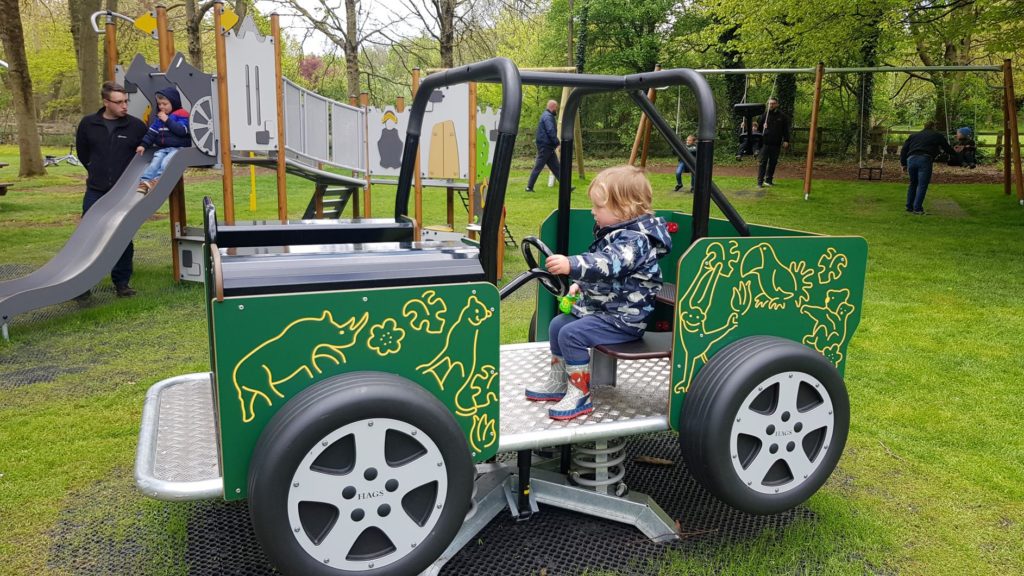 We could have just spent the day there and it would probably have been fine. No one would have moaned and no one would have made me lose my shit. Everyone would have been happy. No no lets go for a walk around the reservoir said mummy, It'll be fun said mummy. It doesn't look that far said mummy!
The cafe at Daventry country park
Take a picnic. Seriously just take a picnic. We normally do and it when we cant be arsed we get caught out. I'm trying to help you not get caught out like us.
If you like eating in a shed that's neither indoors nor outdoors then you're in luck. I would have said barn but most barns these days are converted into awesome teas shops. Not here, not yet anyway. I'm about to be honest about today's experience but i do need to say that they will be getting a complete do over in Autumn/winter this year. So they at least know they're a bit shit.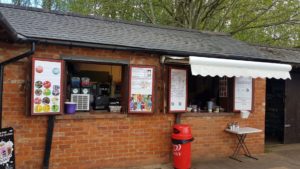 I say it's a bit shit but what we had (which was 2 portions of chips) was actually pretty nice as far as chips go. The service was competent maybe on the slow side. What i can't get over though is the prices.
I'm going to sound like an old man now but £3.25 for a portion of chips. I want food, Not shares in the place. I know cafe's in these places are normally expensive but most at least have a decent shelter. They saw us coming a mile off. The other food as you can imagine was a shit load more expensive too so don't say i didn't warn you.
Time to get our walk on
Next on the agenda, A circular walk around the reservoir not before a quick toilet stop though. TAKE A POTTY. If i thought the cafe was bad it didn't prepare me for those toilets. I'm not joking when i say it'll be more hygienic if you pee in a bush, miss aim and pee down your own leg. The toilets are god awful and they smell like death.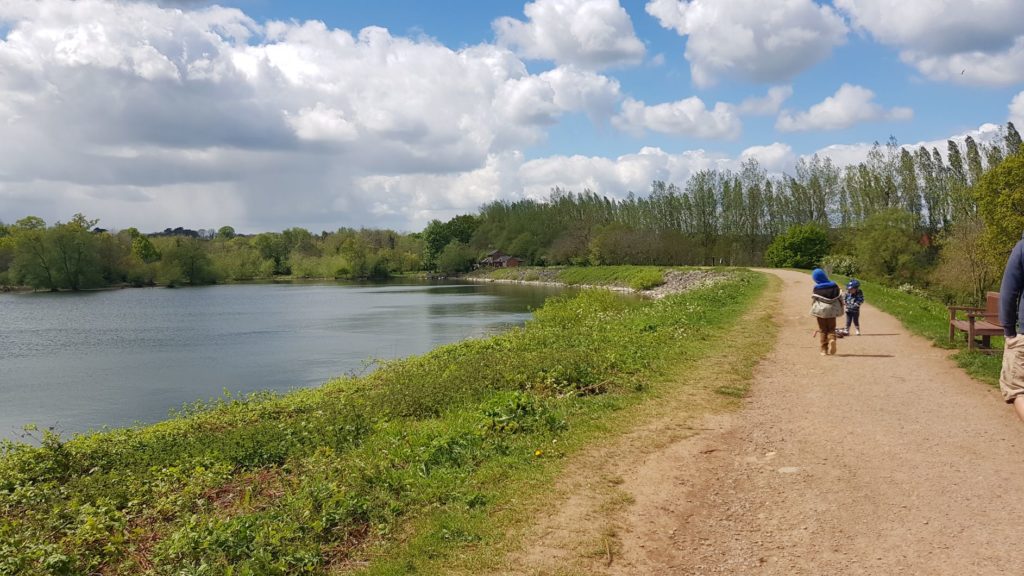 Right enough bitching about the toilets. Time to get our walk on or in the case of the boys Clark's scooter and Elliots balance bike. It didn't take long to realise that the path were pretty naff for Clark's scooter. You'll be fine if you have a big scooter with the large air filled tires i think. This instantly put Clark in whiney mood. When he's in a whiney mood we all turn moody. Its not far i said hahahaha.
Mummy loses her shit
Considering they walked for 3 miles without a single winge 2 weeks ago you'd have thought Clark was taking his first steps. Elliot wasn't listening at all and kept fucking off head first into the bloody nettles. Going too fast and stacking it while the whole time Clark was telling us how much his legs hurt. We were all getting really ratty at this point.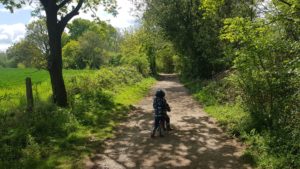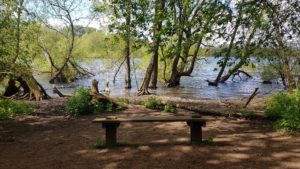 Then Elliot ignored me for the last time. He wanted to go over some makeshift bridge on his bike. He wouldn't listen and i lost my shit and shouted at him. So now he was crying like he'd just been beaten harder than a bludger (Harry potter reference there). All i want is a nice bloody walk in the hail and rain without anyone screaming, moaning or crying. Is that too hard to ask?!?!? apparently so. We were past the point of no return now so there was no turning back. On we went.
Got a bit better
Weirdly enough after mummy had lost her shit the kids started to behave. Why do they do that? You ask them nicely 20 times and they don't listen. Then when you lose your shit they looked shocked as if to say "you should have just said" then you get mum guilt erghh. So i promised them a McFlurry on the way home because I'm weak.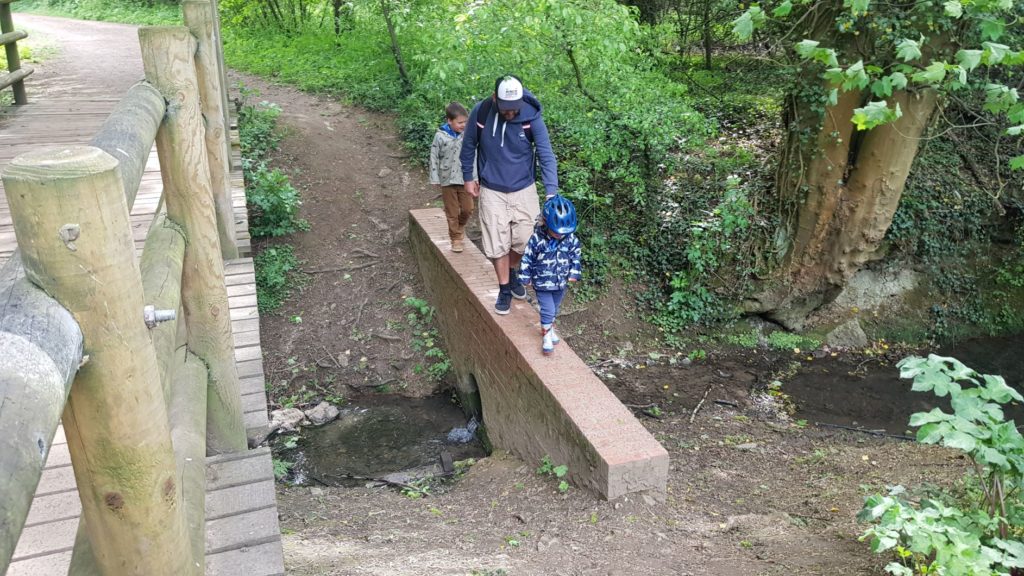 Its a pretty long walk. It probably felt longer because we were all in shitty moods and the weather was being a douche bag. Its a fairly easy walk as in its all flat and the paths are pretty good (just not for small wheels).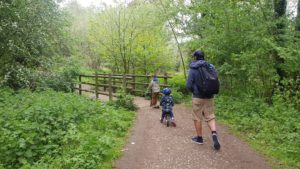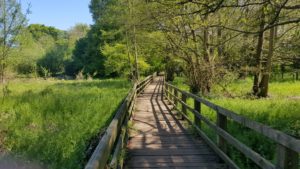 If your kids aren't moaning then you'll probably all enjoy it. There's a few alternative paths you can take and a few options to go off road into the woods. Today just wasn't one of those days for us.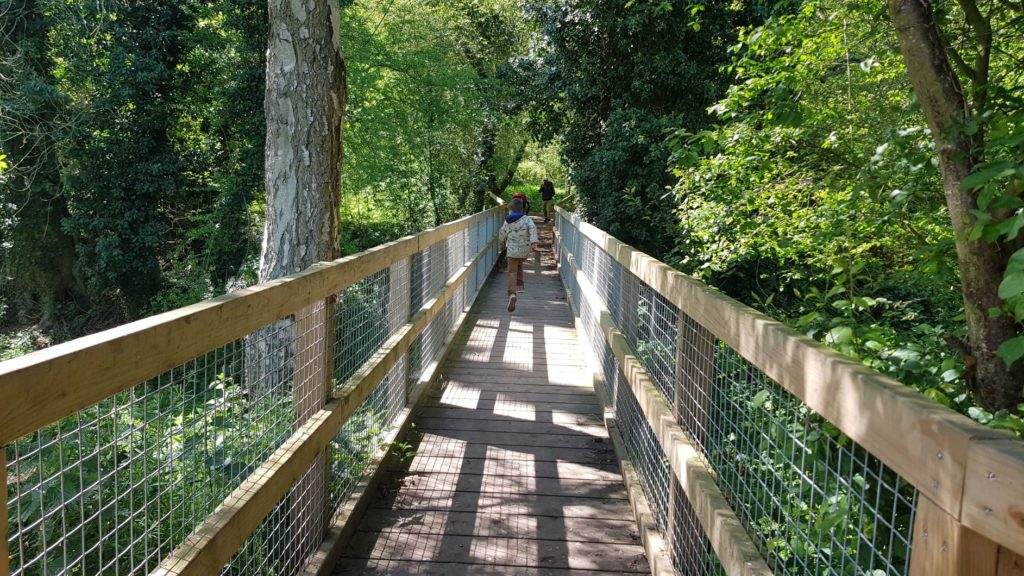 One thing i did notice was lots of teenagers which was actually quite nice. Makes a change from seeing them sat outside Sainsbury's lobbing Haribo at the pigeons i suppose. Lots of dogs about too on and off the lead.
Full circle
After what seemed like an eternity we ended up with the car park and play park in sight again. There is an area opposite the car park next to the reservoir when you can feed the ducks, swans and geese. This would be perfect if you didn't fancy doing the whole loop and maybe just visit the park and have a play in the woods.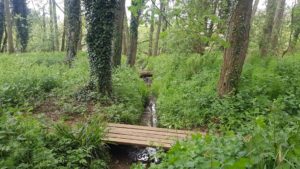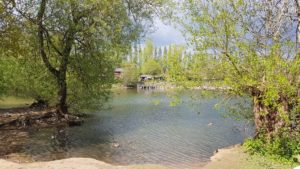 We didnt stay for another play in the park like we would have liked to have. The kids had worn us out and by this point even i wanted a McFlurry Apparently they were doing mint areo ones that i didnt know about. I can confirm that they are bloody lovely.
We didn't realise that McDonald's was only down the road 3 mins to be precise so if you don't take a picnic there's always McDonald's as a back up.
Daventry Country Park Stats:
Distance from Bicester: 43mins
Sat nav: Reservoir Cottage, Northern Way, Daventry NN11 2JB Click to load sat nav
Wheelchair friendly: Yes but some of the paths can get fairly uneven.
Equipment upkeep: 6/10 if it was based on just the play park it would be 10/10
Cleanliness: 6/10 toilets have ruined the score.
Facilities: parking, play park, cafe, sensory garden, Toilets, Visitor centre and walks
Age range: All ages
Safety: 8/10
Fun factor: 8/10 It still scores high because i cant mark it down because of our mood
Dog friendly: yes
Pushchair Friendly: Yes
Bikes and Scooters: Very bike friendly but not scooters with small wheels.

Conclusion
I know I've had a bit of a bitch and a moan but I'm just trying to be honest. My husband has said he wouldn't rush back and if I'm honest i wont until maybe next year when all the rest of the work has been finished.
That's not to say its not a good place to go because it is. Its in a nice setting, its free of £2 if you're being pedantic/parking and the play park really is bloody good.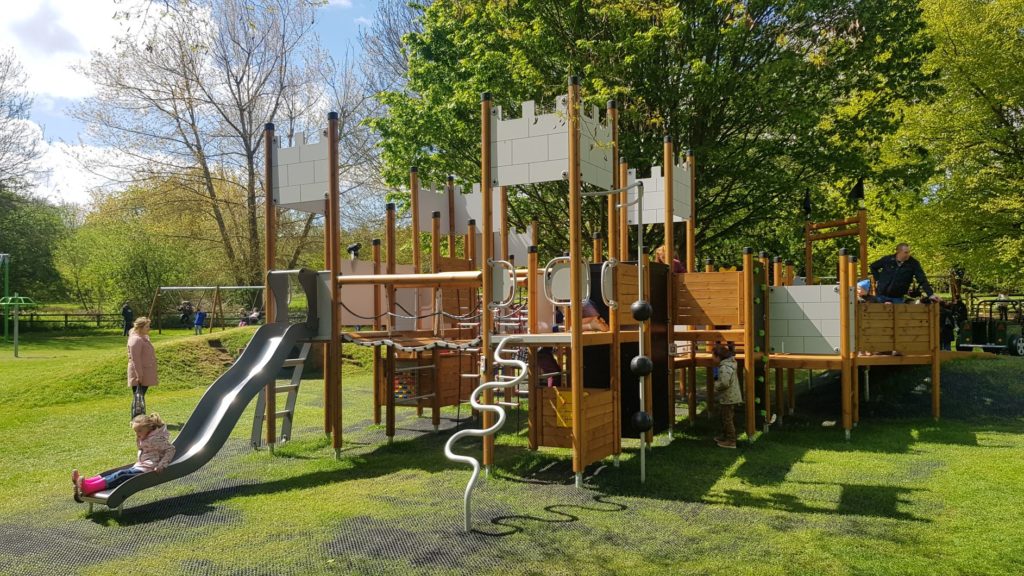 The only reason we would go back is because there are places we know we can go where the kids wont be a whiney. I love country parks and we've been to some amazing ones. I think that Daventry country park has a shit load of potential so i will be watching this space.
I would still recommend that you should visit if its not too far because i think you could have fun and if you're lucky your kids will be in better moods than mine.
AOB
If you would like to see Daventry Country parks website you can do so HERE
If you'd like to see what other country parks we've reviewed are like then you can do so HERE