Well do i have a treat for you! one of the best free days out we've had for a while. You need to get this place into your sat navs pack some supplies and bugger off for the day or even 2 days! yep that's right you can even camp here. (additional charges apply) I give you Emberton Country park.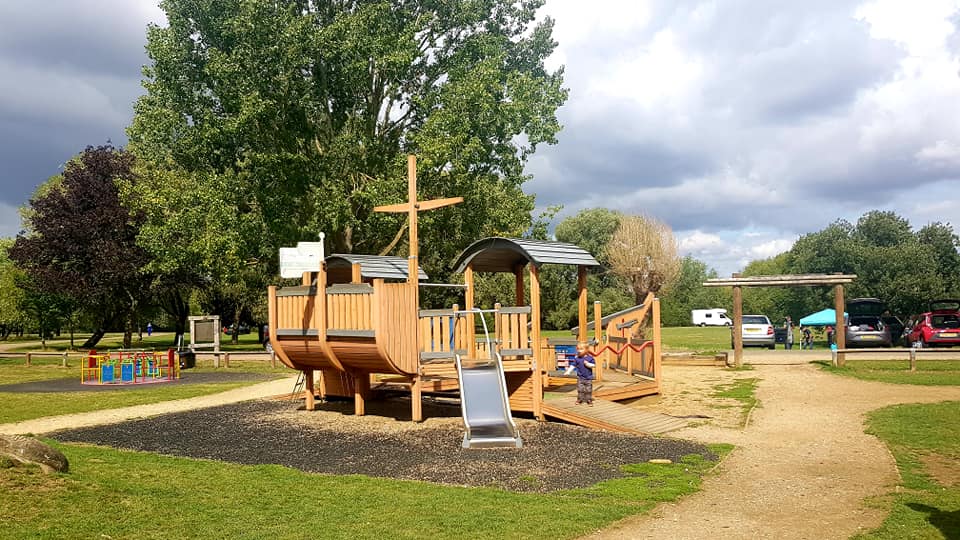 So when I say free I need to mention the parking is £4 but its worth it and you can literally park where you like. Might pee them off a bit if you take that comment too literally. We parked at the first spot we came across where there were other cars which was opposite park number 1. On that note……
Emberton Country park:
Holy shit this was an eye opener. We first clapped our eyes on the sand pit with diggers and fossil hunting. Cool we thought then our eyes were drawn to the larger area with pullies, levers, chutes and winches. Another cool sand pit we thought…..on no this was so much more. It wasn't sand at all it was thousands upon thousand of tiny little pebbles!! Some may call gravel.
Maybe I'm easily pleased or over reacting but WOW. Genius this stuff wont stick like sand to sweat and tears. This stuff doesn't get into your kids butt cracks (as easy) and if like my kids your kids adore stones then this is there little piece of heaven. One thing i will note is some of the pullies etc are broken but the kids didn't notice at all. They provide the spades too which are chained to various areas.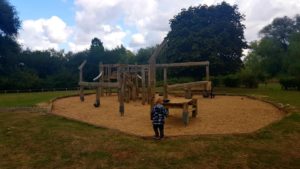 This was a game changer for us! I was in heaven. We could sit down on one if the multitude of benches, grab a coffee from the cafe opposite, watch the other families playing cricket and watch the boys entertain themselves all day. Hey if you're feeling like you need a workout you can even use the outdoor gym opposite too.
However we're not ones to sit in the same place for long knowing there was more to explore. What we didn't bet on however is just how much exploring there was to be had. So much so I'm worried I'll waffle on for too long.
Exploring Emberton Country Park
We had to drag the kids away aka bribe them with sweets. We walked in the direction of the cars. Then we rounded the corner and were shocked at just how big this space was and how I've never heard of it before. 1st thing we came across was the sensory garden. If i'm honest i get the sense (haha like what i did there) that this is long forgotten. Don't bother its a bit shit but as we found out later a perfect shelter from the British weather.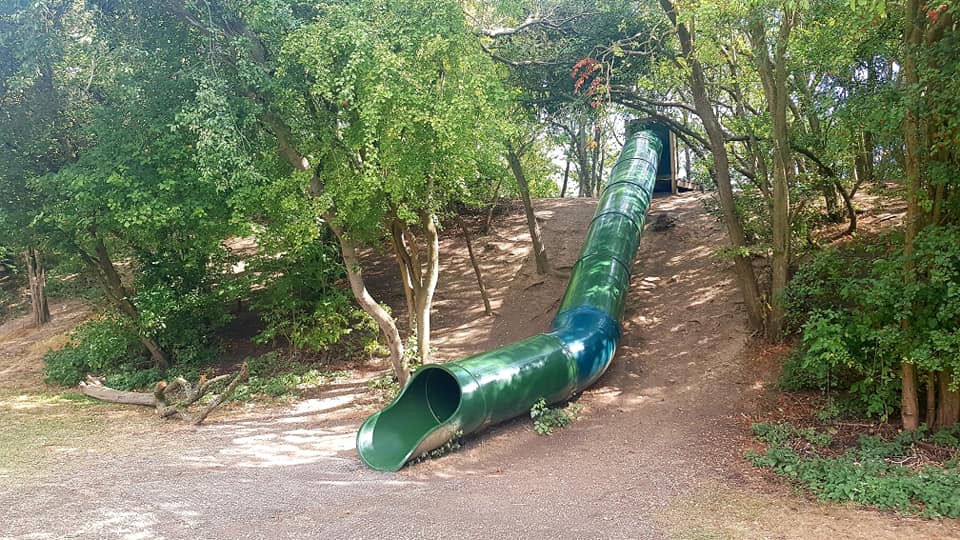 We then spotted a wooden walkway through the tree ahead and heard lots of kids laughter. So off we trotted to find how to get on the walkway through the trees (was a bit Robin hood esk) pretty cool and you can have a nosy out of the lookout platform. As soon as we'd found the entrance we found out where all the laughter was coming from. Park number 2……..
Park number 2:
Now I thought the 1st park was good. This one is brilliant. Clark's face lit up as soon as he saw the tunnel slides (access can be gained from the wooden walkway too) Elliot bolted straight for the pirate ship frame. Hallelujah a frame perfect for a toddler. Balancing, climbing sliding you name it they had it. With the soft squidgy flooring we all love to see.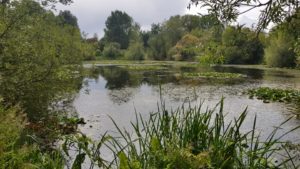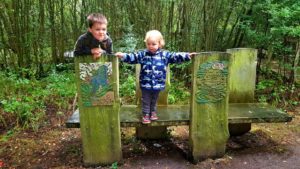 They had a weird metal bridge that moves when walked on (a bit dangerous if wet) a big trampoline, swings, more slides, willow tunnel (great rain shelter) and an amazing roundabout, one that you put your kids in like a high chair. Elliot was going no where while I span him until he turned green. Another nice touch was that it was suitable for wheelchairs. Something I've never seen on park apparatus before.
Lake land walk
We played for some time here exploring the area and finding more cool bits. Then we decided to head over to one of the lakes (That's right 1 of many) to feed the ducks and swans.
While walking round we noticed that a lot of people come in groups with BBQ's, gazebos and stuff to keep the kids entertained. It's a brilliant idea. You can park the cars or in some cases your motorhome on the grass next to where you want to. People were having birthday parties, playing cricket, football etc and there was just so much space no one got in each others way! You could probably have a field each. We also spotted a few fishermen which is again another bonus if you like that (again added charge)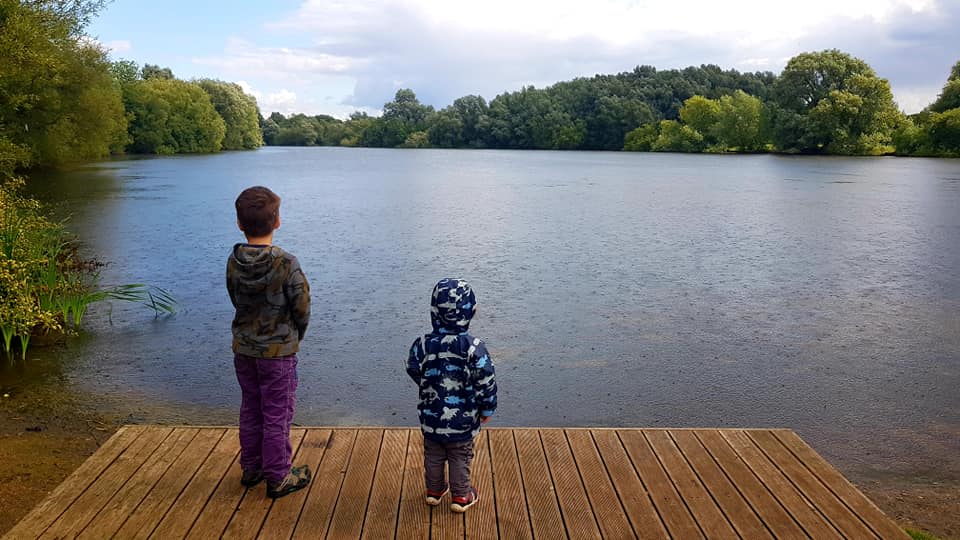 The area especially the lakes are absolutely stunning. There's a static caravan park (private) and areas for touring and camping which looked like a great idea (around £27 a night) We decided to continue walking (kids were lagging at the point) take a pram its easily pushed around and it'll save the whinging.
As we rounded another corner we came across park number 3!!! This one unfortunately isn't as impressive as the other 2 its still a good park maybe a little dated or retro shall we say. Kids still played on it though. At this point I was surprised they were still going! You can get a great view of the lake from this area.
Wooden walkway
At this point the weather was playing silly bollocks. 1 min scorching hot next min lashing down with rain. Coats on coats off style day we strapped the smallest demon into the pram and pushed on. We were well and truly hooked like with a good book you always want to see what's on the next page. Well my friends I can indeed tell you apart from more lakes there was a conservation area. Do not walk past this its stunning. A beautiful wooden walkway through a wetland/forest look out for the cute food chain information on the floor.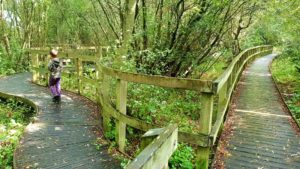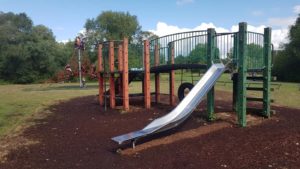 We came out the other side and continued our walk along the main path/road until we eventually came back to the car. It was a stunning walk in nature past the boating lakes and the smaller frog ponds. Lots of people were blackberry picking along the way and the conkers are getting fat. This place will be even more magnificent come autumn and we could already see the signs of the season changing.
Down sides
There are a few downsides as with everywhere you visit. I'm mentioning these to hopefully educate rather that to slag the place off. A few people will always try and ruin it for others. There was a fair bit of litter which I can expect after all the picnics and BBQs we came across. We also came across a lot of scorch mark on the grass where people had just put their disposable BBQs on the ground.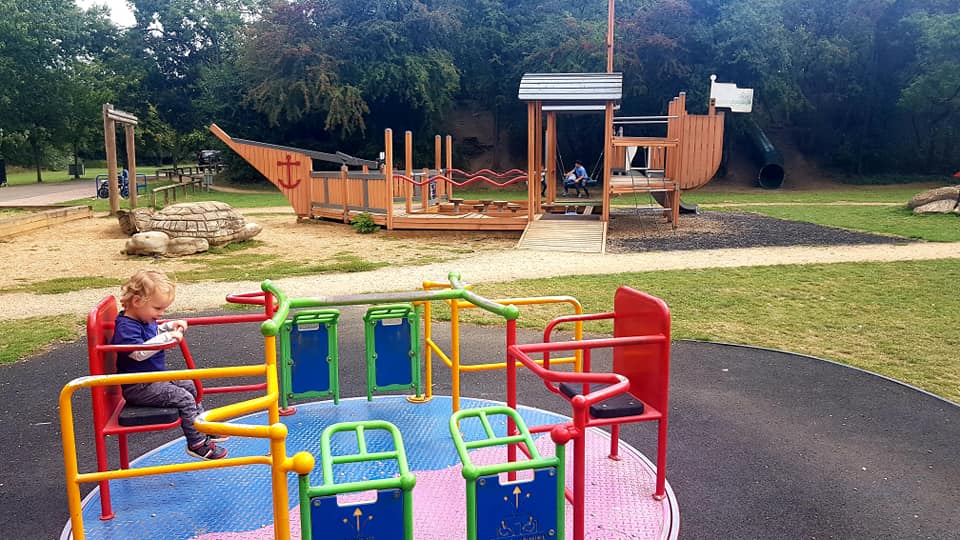 Please if you do visit try and use a bit of common sense and courtesy and clean up after yourselves. The other downside was the path and the road are the same, its not a huge issue as walkers can walk on the grass but sometimes it's nice to walk on the flat especially if pushing a pram or the kids are scooting. None of this should detract from a lovely full £4 day!
I've tried to keep it as brief as possible. Sorry if I've gone on too long i'm just excited I've found this gem.
Emberton country park stats:
Distance from Bicester: 51 mins
Sat nav: Olney Rd, Emberton MK46 5FJClick to load sat nav
Transport: Car
Wheelchair friendly: Yes!!
Equipment upkeep: 6/10 some equipment needs a bit of work
Cleanliness: 6/10
Facilities: 10/10 cafe, toilets, parking etc
Age range: All ages
Safety: 8/10
Fun factor: 20/10
Hints when visiting Emberton Country Park:
1.Take your bikes/scooters, picnics, day tents, football's why not just take your house!
2. The cafe is lovely but the staff all seem stoned! Veryyyyyy slow and just stood round looking confused about life and a little lost.
3. Comfortable shoes are a must.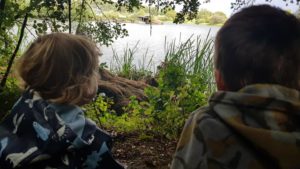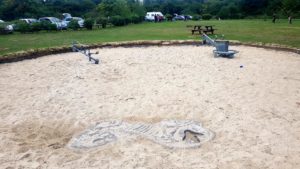 If you've read this far and not fallen asleep then pat yourselves on the back. Thankyou! Please feel free to let your friends know about my blog. The more the merrier 🙂
AOB
They have more info on the MK council website HERE
For more country parks have a look HERE