Tetsworth play park is a brand spanking new play park in Oxfordshire. The village itself is about 3 miles South of Thame with lots of other parks in the area too.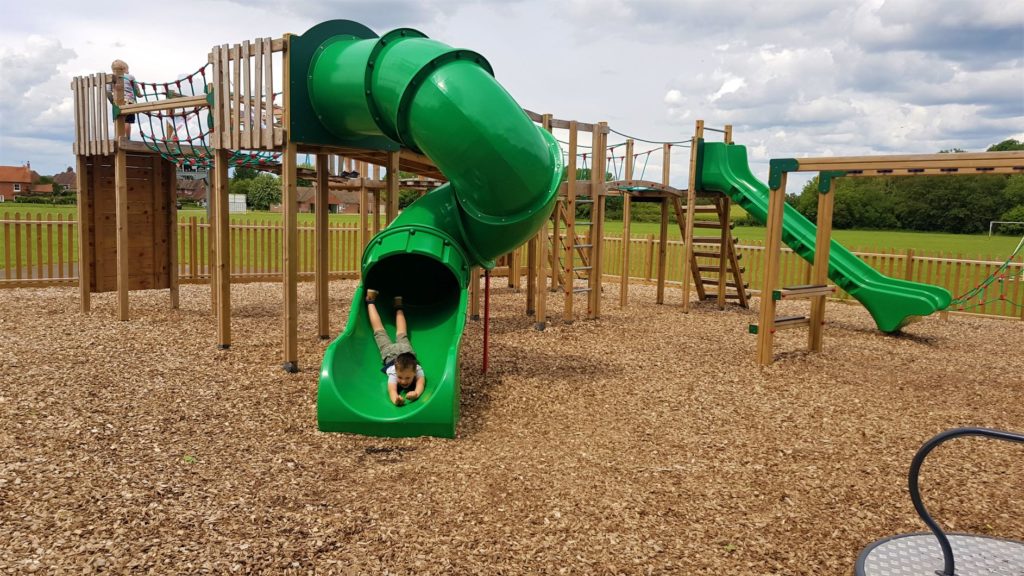 Looks amazing right? Weirdly though i was left a bit disappointed. I would say though that it has potential to be great. For a new play park that's not a phrase i was expecting to say.
Where about's is Tetsworth Play Park?
It's a pretty easy drive to get to Tetsworth and around 20 mins away from Bicester. Once you get into the village its easy to spot because its pretty central and just set back from the road.
We didn't see any specific parking but there was a huge pub called the swan right next door so if you fancied a drink or food you could park there. We however parked on a side road just opposite.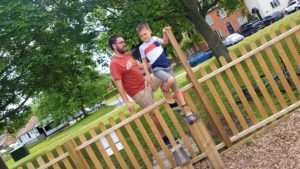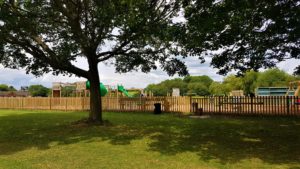 The kids at this point were both flat out in the back because the buggers were both up at 5am. So we left them for a bit and sat in our car with blacked out windows looking like we were scoping the area ready for a break in.
Once they were awake though they soon spotted the huge green tunnel slide and were raring to go.
Tetsworth Play Park
The park is pretty impressive looking. It was one of my favourite types, a huge timber structure one. The wood chip was all new and soft too. It was like walking into a posh persons house that has a fluffy carpet.
One thing i thought was really cool was the entrance to the park from the road side was a style. Absolutely brilliant idea to stop kids from running out of the gate onto the road. There is a normal gate on the opposite side though.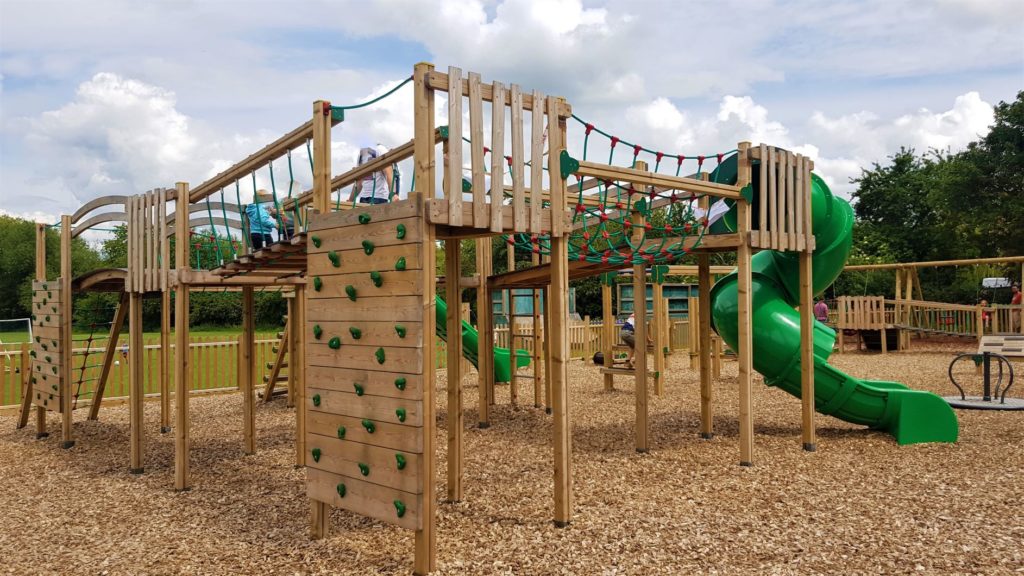 There were a few families in there when we visited but not overly crowded at all. I think a few older kids had come over from the pub while their parents sat and watched from the garden (Jealous).
What Equipment can you find at

Tetsworth Play Park?
There's 2 main frames. The older kids frame with the green spiral tunnel slide and the toddler frame with the catapulting slide.
This is where I'm going to get a bit picky now. The toddler frame is really lovely and easily accessible to get on. The wobbly bridge was a hit. BUT! when it came to going down the slide it was soon apparent that it was a pretty shit designed slide. Rather than a gentle slope at the end they have stuck a more or less right angle at the bottom. So as your toddlers feet come to the bottom after gathering a bit of speed. Their shoes come to a halt jolting their body as is continues to soar over its feet ending in a somersault style catapult off the slide with a side order of whiplash.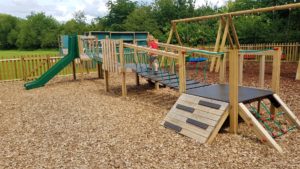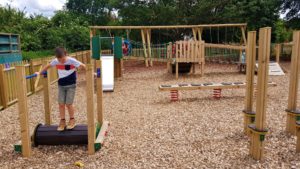 Onto the older kids frame. Its beautiful looking yes. BUT! the bottom of the straight slide is so far from the ground that kids were just being dumped from the end onto the wood chip (i now know why there so much padding) one child ended up being pretty winded.
No worry lets try the spiral slide….Just make sure you map your route first because the cargo net bridge is shut off because its either broken or not finished. The spiral slide is more like a garbage shoot. Its a bit of pot luck how you come out too. Send them in feet first they'll likely be throw around and come out head first.
More Equipment
Ok so I've been a bit critical so far. Maybe the park was just having a bad day. Oh yeah nearly forgot. The roundabout is pretty crap too. They have so much wood chip flooring that you can spin the bloody roundabout.
Onto the parks good points though. They have some really good balancing equipment including a manual treadmill style piece which the kids loved.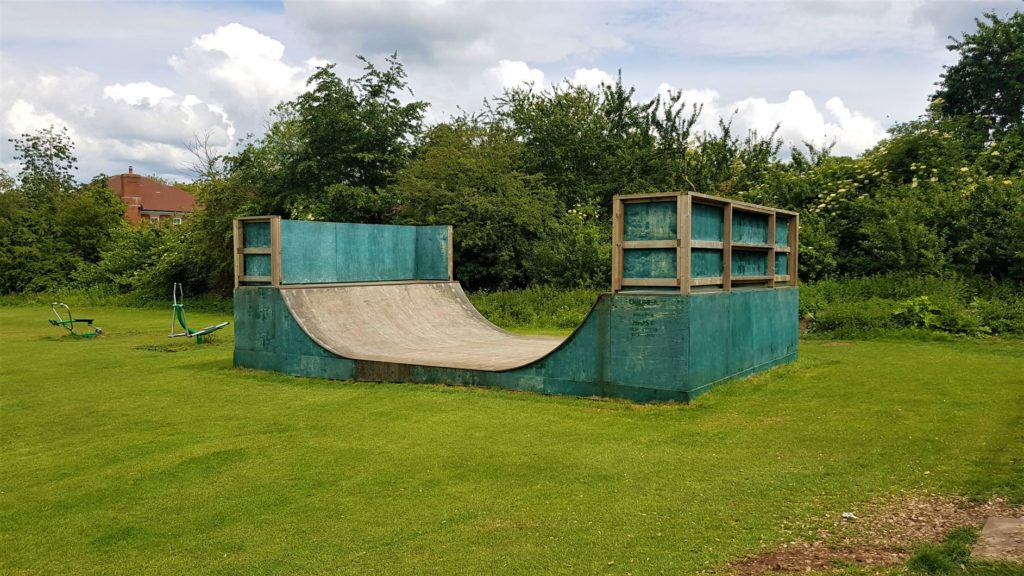 The swings were great even if my tall child's feet couldn't reach the floor to slow himself down.
Tetsworth play park also has the added bonus of being on a huge field for ball games. It also features some outdoor gym equipment and a pretty big skate ramp too.
Tetsworth Play Park Stats:
Distance from Bicester: 24 mins
Sat nav: 5 Upper High St, Tetsworth, Thame OX9 7AB Click to load sat nav
Wheelchair friendly: Would be a struggle with all that wood chip
Equipment upkeep: 7/10
Cleanliness: 10/10
Facilities: Pub next door
Age range: all ages
Safety: 6/10
Fun factor: 7/10
Dog friendly: Yes but not inside the park fence
Pushchair Friendly: Yes mostly Grass
Bikes and Scooters: For the skate ramp maybe
Conclusion
Ok so I've been a little bit harsh and if this is your local park its nothing personal I'm just saying how it was for us. We don't wrap our kids in bubble wrap contrary to popular belief. We just don't like seeing our kids without a helmet on when they're being catapulted off something.
The park a huge potential i just think the design could have been thought out a bit better. There's too much wood chip although its needed near the slides. The slides are bad designs plain and simple.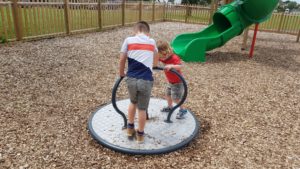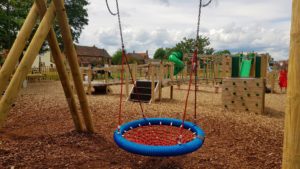 The swings are now too high because the wood chip underneath has been dug away its made a valley. So some kids cant use the swings alone which could be a pain if you're busy running after a toddler trying to make them wear a crash helmet before the tackle the slides.
It does have its good points and the park is still fun for the kids who have no concept of safety. Its not the best bark we've been to which is a shame and for that reason i would't recommend it personally (Tetsworth residents rejoice in the background) I do however want to head back and try the pubs in the village they look great.
AOB
If you know of any play parks you think I should review then pop me a message on the Facebook page HERE
For a list of all the other play parks I've reviewed then check them out HERE