Thank you to the shocking roadworks pretty much totally cutting off green dragon eco farm. Without that shower of shit we wouldn't have had to take a huge detour and i would have missed this beaut. Ladies and gents it's been a while but here you have Oving Play Park.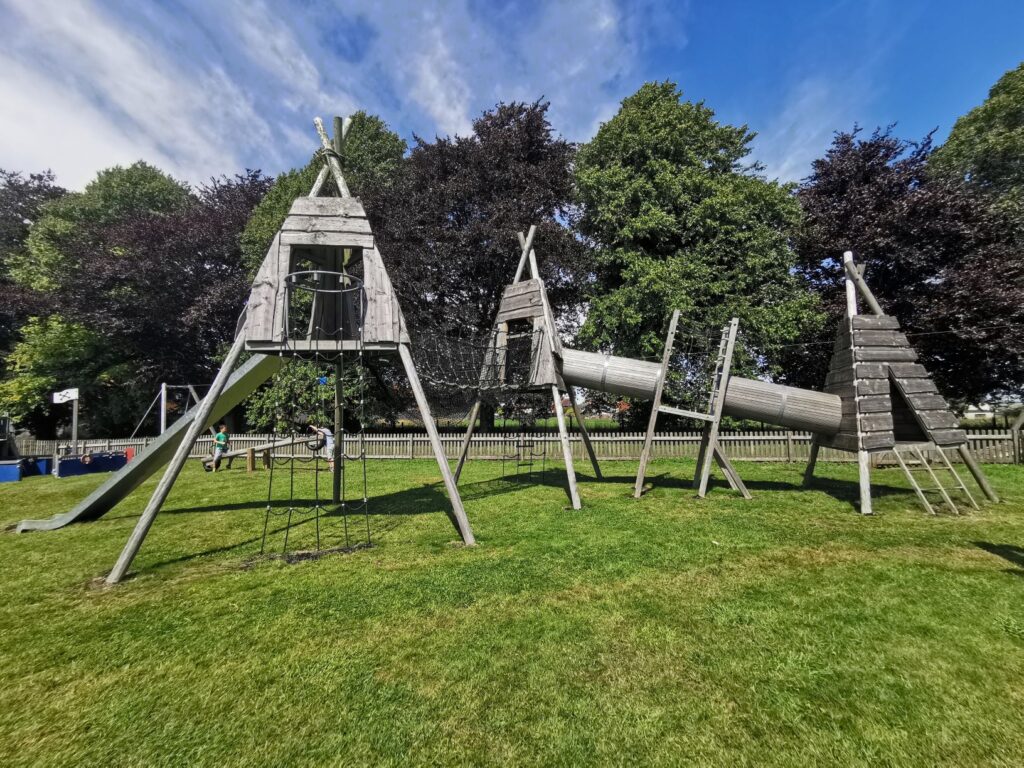 Oving Play Park
With my friend driving and me trying to navigate all the road closures on the way i spotted a turret behind a village hall. A tell tale sign for a cracking play park. Quick screen shot on google maps and a promise to visit on the way back from the farm.
The boys were knackered but it's been so long since I've brought you all a new park. We've done the ones loser to home to death. I was more excited about this than the kids.
Thankfully when we rocked up there was a decent sized car park. I was a little worried that it might not be open but there were no signs on the gates so I took that as a good to go.
Oving play park is just behind their village hall which is super cute looking in itself. There are some tennis court to the front too which looked in good nick. Then there's a huge sports field next to it too. Take a ball or kite there's shed loads of room. Dogs MUST be kept on a lead.
Whats Oving Play Park Like
Even better than realising it was open? having the whole park to ourselves. I love it when this happens. Although the kids have had some of the best times in park when they've played with others. Thanks to Rona a quiet park is the best park at the moment.
Oving play park is fully fenced in whoop. Great for those little buggers that like to peg it. Not only that but the zip wire is just outside the park. Whoever designed this park knew their shit. Zip wires in park = boot to running toddlers face. Although we all agreed the zip wire was a bit shit. Too slow for the boys but good news for the younger kids wanting to try one out.
There's a younger kids play frame in the shape of a pirate ship which is ideal for toddlers. A really good roundabout, Seesaw and a good selection of swings for all ages.
The net swing at the end isn't just a back and too swing either. Oh no its a spinny swinger. These bad boys are few and far between. You can normally find them in the busier parks and then there's shit all chance of getting your kids on because this is where the teens like to hang out.
The Main Frame
The main attraction though is the older kids frame. It was the turret/point of this that i spied from the road. Lucky for us…..maybe not so lucky for Oving if they wanted to keep this park secret. Cant say I blame them either.
Its huge, Its wooden and its totally unique too. Clark was straight up there and the next second he was man down. He'd managed to twat his head on the wooden bar across one of the entrances. Poor kid it sounded painful too. He finally recovered went back up and i shit you not did the same again. In fact he managed to smack his noggin a total of 4 times before he learnt his lesson. So pleaseee do point these bars out to your kids and save them the headache. I'm taking a crash helmet for him next time.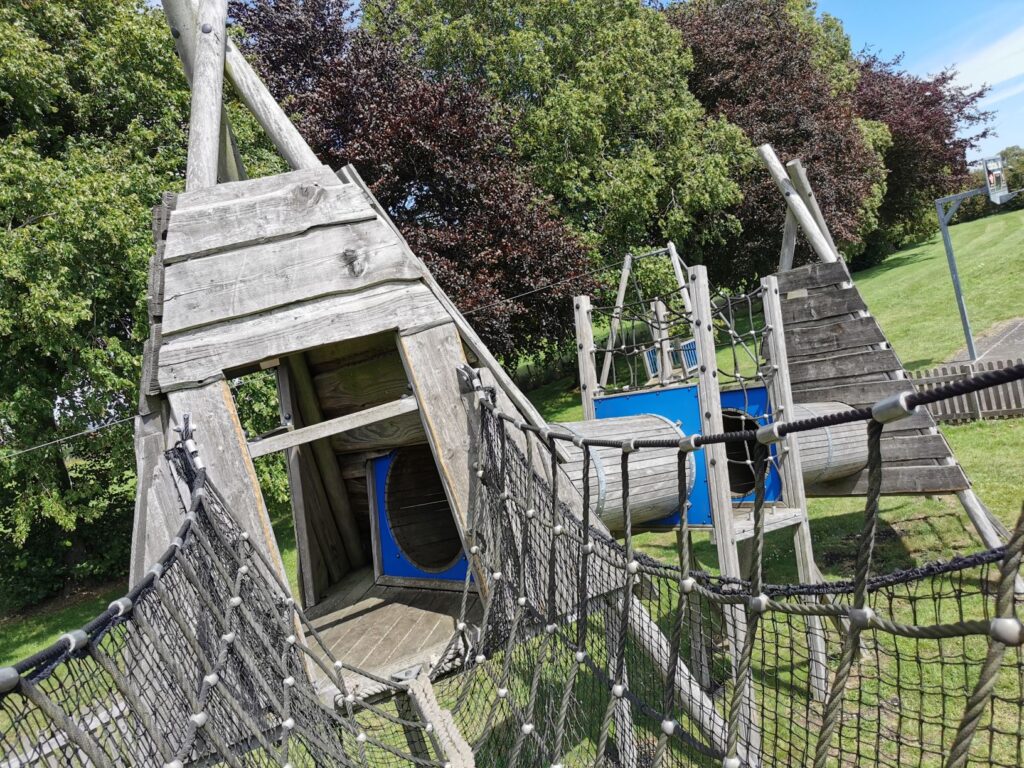 The tunnels that are on this huge play frame are a bugger to get u. I know because i went up for a look too. They're so slip i kept sliding down. I couldn't use my feet and had to crawl because of my fat arse I was impressed i even managed to fit through.
The other thing that also struck me was the netting over the cargo bridge. I love it when they do this. It means that your young child that you've tried to convince to stay on the pirate ship will be that little bit safer. Let be honest we've all slightly soiled ourselves when we know they can easily slip and fall through the cargo net.
Oving Play Park Stats:
Distance from Bicester: 25 mins
Sat nav: Oving Village Hall, Oving, Aylesbury HP22 4FJ Click to load sat nav
Wheelchair friendly: Yes
Equipment upkeep: 10/10
Cleanliness: 10/10
Facilities: No toilets
Age range: All ages
Safety: 8/10
Fun factor: 10/10
Dog friendly: No dogs allowed in the park and to be on a lead on the field
Pushchair Friendly: Yes
Bikes and Scooters: I wouldn't bother myself
Conclusion
It was like a breath of fresh air finding a play park we hadn't been to yet. We really liked Oving Play park and we will 100% be going back again. I need to show Elliot too as I'm sure he will love it.
The bench in the play park was ideal too especially so you can chill while the kids play. Because of the lack of toilets I wouldn't recommend Travelling too far to get to this park. My boys have learnt to hold it in for a bit now though so for us its not a worry.
There was an information board in the car park that i spotted as we were leaving too. There they had some walks you could do. If unlike me you have kids that don't whinge every time we walk further than a few meters.
Overall it was a cracking find and I'm glad we found it. Really enjoyable, unique and good for a range of ages. Just make sure the kids don't give themselves concussion like Clark very nearly did. If you do visit please behave and take your rubbish home. I don't need any more villages hating me.
AOB
If you know of any other play parks please let me know HERE
For all the other play parks we've reviewed check HERE