Back to some form of normality, Kids back at school. We wanted to squeeze one more review in with them before they went back. On the way back from shopping we stopped off at Islip play park. Why I've never been here before i don't know.
Lovely Village
Islip is a lovely little village the ones you find on post cards. Bonus is it's just down the road. Added bonus, You don't need to drive to get there. That's right if you don't drive then you can jump on the train from Bicester village and Jump off in Islip. Not all Oxford trains stop off in Islip though so do check times first. Its about a 5 min train journey and about a 5 min walk once you're off the train to get to the park.
If you are driving there's plenty of parking. With the red lion pub close by, The village shop and some lovely walks by the river i reckon you could make a good day of it here. The park itself is pretty decent with the church as a lovely back drop too.
Viking Ship
The whole park is a lovely wooden structure with the main feature being the huge viking ship in the middle. Yep the whole park has a viking theme with viking statues dotted about. The ship is impressive and when we arrived there were already children on there making full use of it. Climbing, balancing, jumping and a great spot for hiding in a game of hide and seek.
They have 2 climbing frames which i always love. 1 for the older kids and a smaller one for the younger kids. Both have a decent slide and are pretty much the same only the larger one has a cargo net to climb up.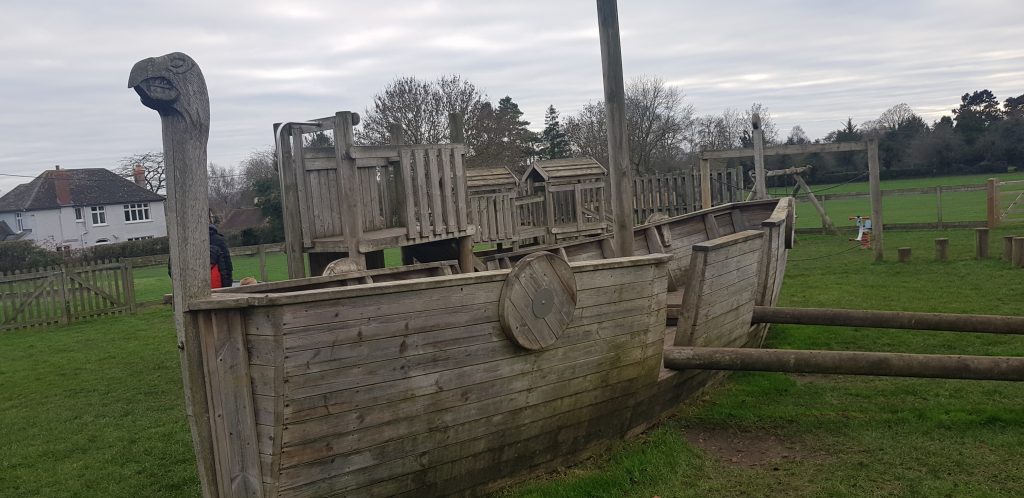 There are baby swings, big kids swings and even a Family Ticket favourite a cargo swing. We love these because the boys can go in together.
They do have a springy face twatter and a none springy face twatter but a spring whiplasher. I've always had a hatred for the springy face twatter but I'm learning to love the springy whiplasher. Elliot seems to really like them and they're no where near as dangerous as their evil sibling.
More Equipment
some of the other equipment they have includes: a spinny cargo net spiderweb thingy, a spinning bucket to sit in, Balancing course, a zip wire and some monkey bars only handles and ones missing. The missing handle didn't bother our kids because they can never do the bloody things anyway. Like their daddy they have the upper body strength of a a custard cream that's been dunked in your tea for too long.
Eventually our kids started to play with the other kids in the park. This is an amazing thing and if you go to the park with your kids alone its that magical moment you've been waiting for. If they start playing with other kids it means you get to sit down and chill out. They no longer give a shit if you dont want to push them for the 2nd hour straight. You No longer have to chase them round the park playing catch and nearly smashing your skull open on the monkey bars in the process.
Nice Crowd
The kids in the park were lovely, chatty and polite one of them were from Bicester So if your daughter was in Islip park on Sunday then thank you. She was lovely. Made a change from some of the parks I've been to when i wonder if i should have packed the stab vests.
I had a little nosey around and got some photos of the opening time for the shop which is right next door. See photo's for times.
The whole park is fenced in. Again another high score for me. I do love a caged child (only in parks not in my home please don't call the police) the car park is right next to it in case you need to grab bits from the car. Its also next to a huge playing field so take you ball and kite and wear those kids out.
Down side
There is one downside to this park and that's the safety flooring. It has been winter so i guess the upkeep isn't a big a priority as when the warmer months arrive, However if you do visit please be careful and watch out for the exposed lining under the wood chipping. Its pretty bad in places and you'd have to be blind to miss it. It could definitely case you or your kids to trip up and twat their heads. Hopefully it'll be sorted soon because that really is my only gripe.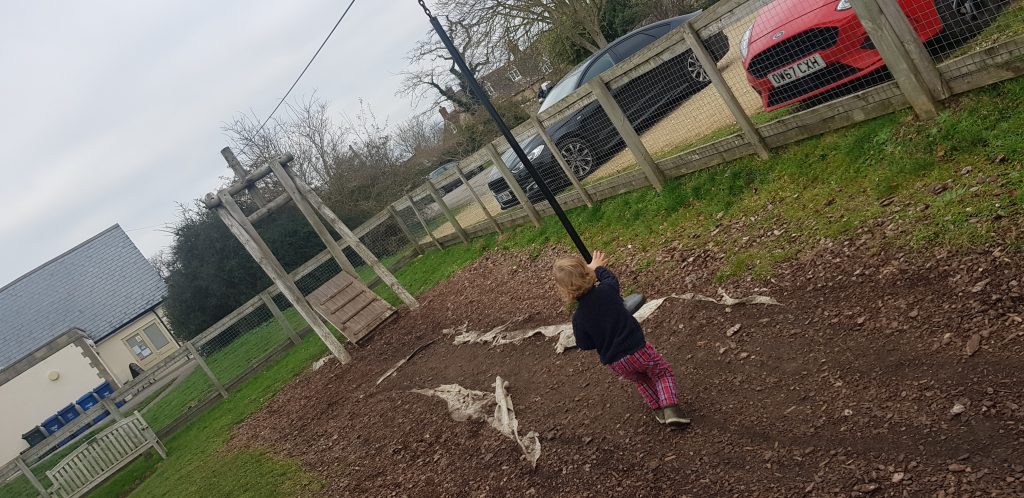 After an hour or so of playing Elliot was having so much fun he forgot we were toilet training so we took this as our sing to bugger off home and get the dinner on.
Islip play park stats:
Distance from Bicester: 18mins via car the train journey is 6 mins or 27 mins with 1 change.
Sat nav: Church Ln, Islip, Kidlington OX5 2TA Click Address to load navigation.
Wheelchair friendly: Its a bit uneven in places.
Equipment upkeep: 7/10 would have been full marks if not for the broken monkey bars and floor
Cleanliness: 10/10
Facilities: 7/10 no toilets
Age range: All ages
Safety: 5/10 scored lower due to the safety flooring
Fun factor: 10/10
Dog friendly: in places but not directly in the park.
Conclusion
Me and the normally grumpy husbeast both really loved this park and we will be back. Next time we go we'll make a day of it with a picnic or pub lunch followed by a walk by the river. I 100% recommend that if you haven't been, then go.
Unfortunately dogs aren't allowed inside the actual play park but are welcome on the surrounding fields. So taking the dog could still be an option if you have older kids that are happy in the park with you just keeping an eye from one of the many benches.
AOB
If you'd like to see a full list of all the other free parks we have found click HERE
There is a facebook page for the Red Lion in Islip if you want to have a look at their menu HERE