Another cracking free day out in Milton Keynes. Last weekend we paid Stanton low park a visit. It was so good we ended up spending a few hours there.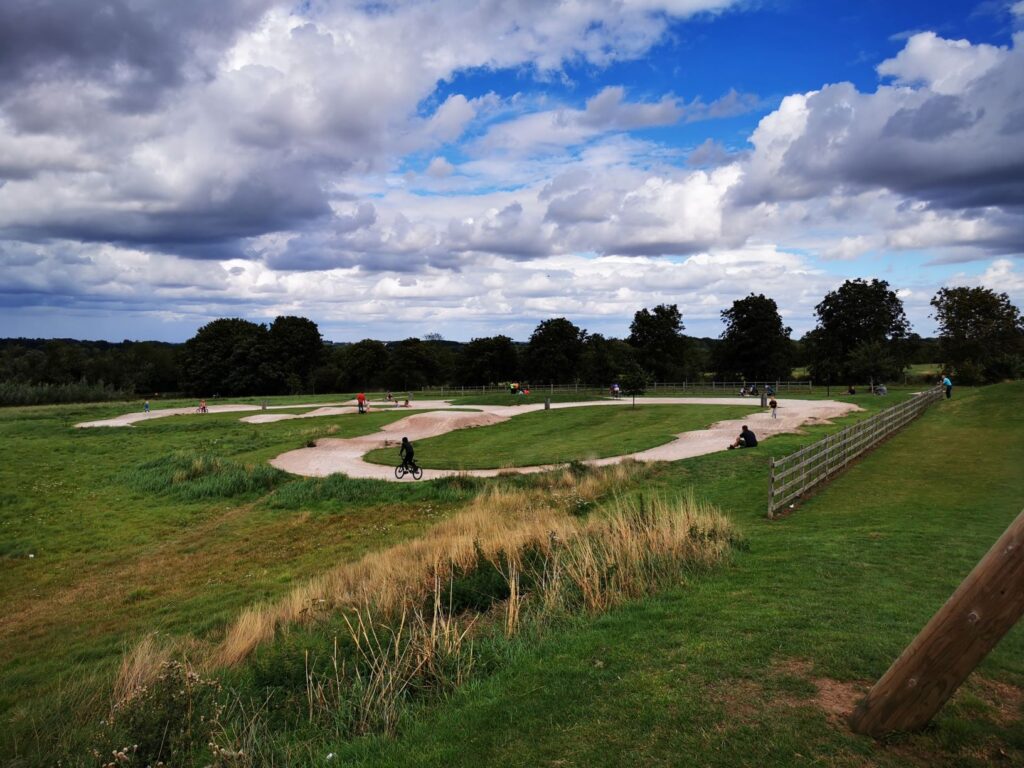 Stanton Low Park
After checking out some local bloggers to Milton Keynes I knew Stanton low park had a bike track. I packed the boys bikes in the car and off we went. There was a small car park but we had no issues finding a spot. Its next to a big Asda too which could come in handy if you need a snack or a wee (if they have a toilet)
You don't need to take the bikes because there's enough to do without them. All the paths are perfect for bikes or scooters it would be a shame not to. There is so much space you can take a picnic, ball games or even a kite too. Basically its like a country park without the facilities.
We headed down the path with the canal on our left. Oh yes it has water too with some pretty narrow boats to look at as well. Although we came for the track there was no way the boys would be able to walk past he awesome play park right next to it either.
The play area is bloody massive. Its well spread out and get this….There was a coffee van!! how fricking awesome is that. The Play area wasn't overly busy but like with all play areas social distancing kinda goes out the window so bear that in mind if you are visiting. We did try though which is more than can be said for half the adults in there when we visited.
Stanton Low Park Play Area
If your kids like a zip wire then get their little butts here. It has probably one of the longest zip wires I've ever seen in a play area (I shit you not). Weirdly though the boys weren't too fussed which could have been something to do with the queue to get on it. They did have one go though and loved it.
Elliot's favourite part of the whole park had to be the rock stack/tower. Its great for climbers maybe not so great if you don't want your kids to climb. Its pretty high up and Clark wasn't keen at all once he realised how high up he was.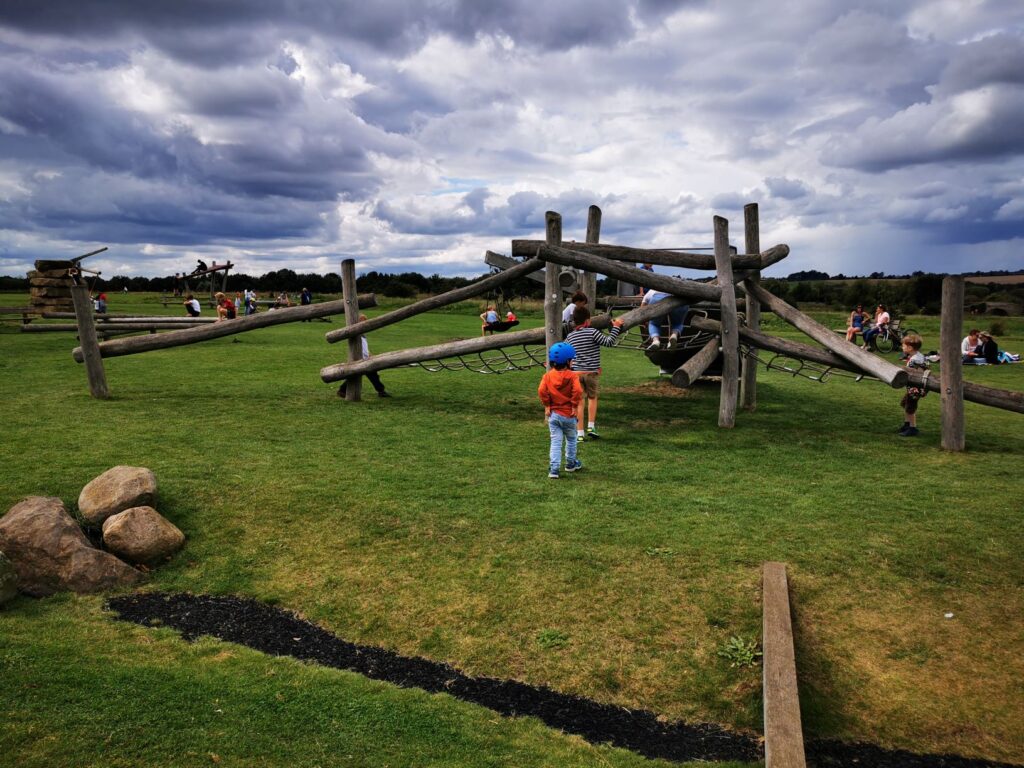 Clark was much more interested in the swings now that after 7 years of pushing him and trying to teach him. He's finally figured out how to do it himself. Praise the lord one down one to go.
I cant be arsed to name all of the equipment but just know there's loads. It really does have everything. Its great for all ages and even has some cute little houses/huts in the middle too.
BMX Track
If your kids made it to the park then you will have by now noticed the massive bike track. It was totally empty when the boys had a go which was great. Clark on his pedal bike and Elliot on his balance bike. Me and the husbeast took a seat while they whizzed round it over and over again.
Its worth noting that its a gravel track so if the kids falls its going to burn like a bitch. Make sure your kids have jeans on and a hoody. Thank fuck we did because Elliot stacked it a couple of times. Luckily he jumped up and shouted "I'm ok".
The boys must have been on the track for around and hour and could have easily spent longer flittling between the play park and the track. We did get interrupted at one point by some absolute bell end adult attempting to throw a fucking boomerang in the middle of the bike track and nearly hitting a load of kids. I gave him the look of "Hit my kids and i'll ram the boomerang up your arse" No chance it'd come back after that. He soon scarpered.
In the park we came across another parent with a little boy called Clark too! never come across another one. Clark sympathised with the kids lack of ability to buy the named tack in garden centres too.
Walking Round The Ruins
Much to the kids utter despair it was time to move on and go for a walk. I'd seen some ruins and I wanted to hunt them out. The boys took their bikes though which was just as well because the hill down from the canal bridge was an epic one.
So if you want to head to the ruins head over the canal bridge and you'll see them on the top far left corner. There was a paved path which runs alongside the grass one which will be better for bikes if you have them.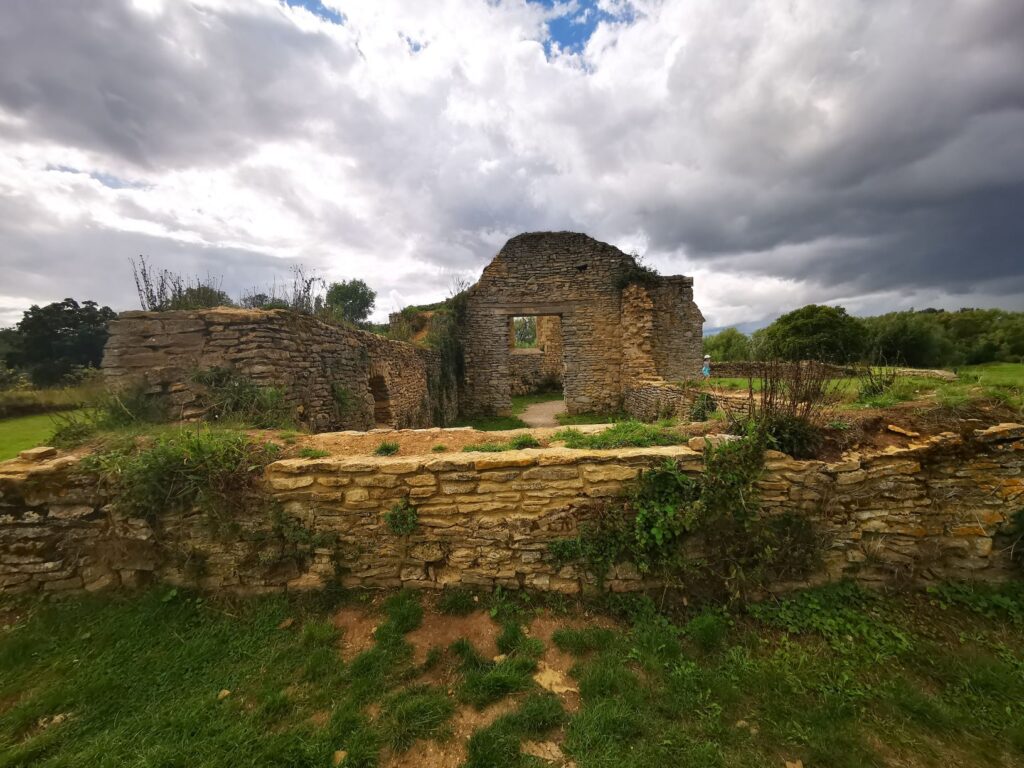 When we got to the ruins we again had the whole place to ourselves. The boys had stopped their whinging about having to leave the bike track now too. They had a little snack then they were off exploring and having a game of hide and seek.
The ruins are those of a 12th century St Peter's church. Graves and all. I could attempt to go into the history but I'm not going to attempt to educate anyone. I mean I've struggled to get my kids to read Biff and Chip so I'll leave the history to yourselves.
Exploring More Of Stanton Low Park
After exploring the ruins it was time to head back. Not without a different route back to the car though. We headed up the hill to the right, Directly behind the ruins. It was a grass hill so we carried the boys bikes until we go to the top.
Once at the top we went through the kissing gate and onto the canal. From here we turned right. so away from the way we came in. The path was wide enough for the boys to cycle without having to worry they'd take a dip… not that i'd jump in after them. The husbeast could do that.
We carried on along the canal watching the boats go by. We had to stop and say hello to a cat that lived on one of the boats because Elliot has an obsession with cats. I'm pretty sure the feeling is far from mutual though. We carried on to the road bridge and then headed up the steps to the top.
Once at the top all I could hear from Clark was "What the heck is that?" I was at the bottom. I could see even the husbeast was confused. Wondering what the fuck it was I got to the top to see this little box on wheels and a flag on top motoring along all by itself. It was one of the delivery robots!!! Finally!! I'd heard about these and have wanted to see one for some time. Basically a cool/geeky way to end the walk.
Stanton Low Park Stats:
Distance from Bicester: 37 mins
Sat nav: Newport Rd, Oakridge Park, Milton Keynes MK14 6FS Click to load sat nav
Wheelchair friendly: Yes
Equipment upkeep: 10/10
Cleanliness: 7/10 (Play park pretty dirty in parts)
Facilities: No facilities a coffee van was there on our visit
Age range: All ages
Safety: 7/10
Fun factor: 10/10
Dog friendly: Yes
Pushchair Friendly: Yes
Bikes and Scooters: Perfect for them
Conclusion
Stanton Low Park was one of our best days out in the summer holidays. The play park is amazing. The bike track was amazing and there is so much to do if you don't mind exploring and walking.
The area is so large I don't think we even manged to explore a fraction of it. Basically we have to head back soon for another play.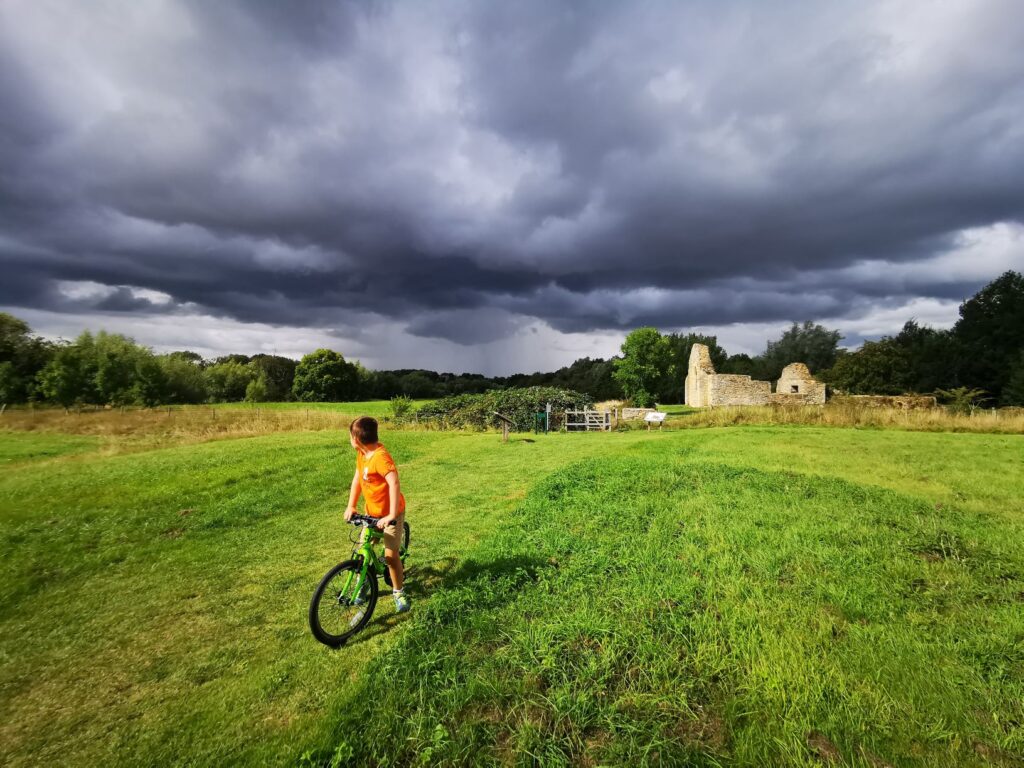 We bumped into a family on the canal that was looking for directions. They informed us of a pub along the Canal. We didn't keep walking to find it the day we visited but its gone to the memory bank for another time.
If you haven't been then you really should Milton keynes is a great area for kids and thanks to the 2 local blogger I follow I found this gem. So Thank you to Milton Keynes kids and The outdoors mum.
AOB
More information on Stanton Low park can be found HERE
For more days out near you check the map out HERE