Sunday afternoon and it was perfect weather for a play park crawl. First up (there are 4) was Ewelme play park.
The Village of Ewelme itself is absolutely stunning. Never been to this neck of the woods before. Looked like a little river running the full length of the village too. I later discovered that they're actually watercress beds. I didn't even know that watercress beds were a thing. I'm no Charlie Dimmock though.
Ewelme Play Park
The play park was at the end of the village….or the start depending which way you're coming in. The roads higher up and you can see the play park from the top of the hill. Looks like a great place for sledging when it snows too.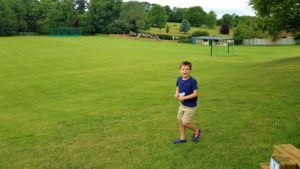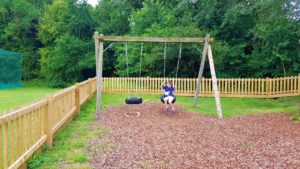 Great news there's a free car park too. It was pretty quiet when we turned up so had no issues with parking. Elliot was still sleeping and we didn't want to wake him because he was being a bit of a cranky dick before he fell asleep. We left daddy in the car while me and Clark went for a closer look.
What Can You Find At Ewelme Play Park?
At the top of the hill you will see the balancing equipment or the race track as Clark used it for his toy cars. The balancing bits were ok. Pretty basic nothing special did the job.
Next we headed down the hill and over the sports field. Plenty of space to kick a ball and have a run round. The play park itself was at the bottom of the hill along the right side.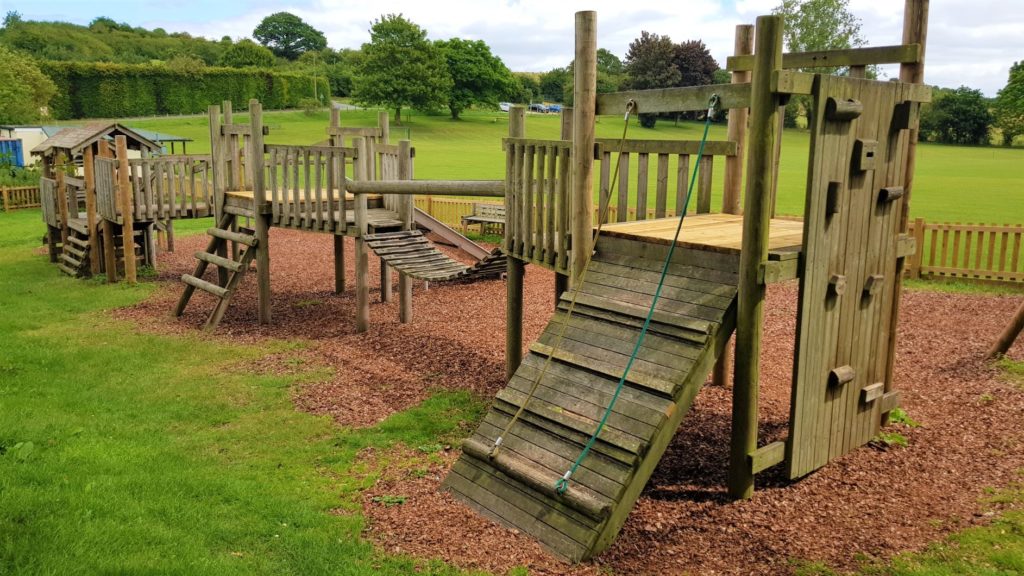 The park is fenced in which is always great. Not that it would matter anyway because you'd have to be pretty shit not to notice your kids had escaped before they got to the road.
Its also right next to a field full of very vocal sheep too. Clark had a great time mimicking them the whole shitting time we were in the park. Thankfully we were the only people using the park at the time anyway.
Play Park Equipment
Ewelme play park is basically one big timber play frame. The nearest end is what i would say for the younger kids and the furthest end for the older kids. If I'm honest id say the whole structure is pretty good for all ages anyway.
There are 2 slides, a smaller one and a larger one. A firemans pole at the larger end which you can climb up to via a rock climbing wall or the rope wall thing.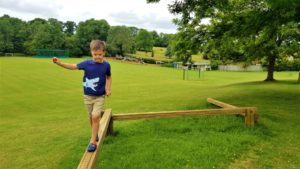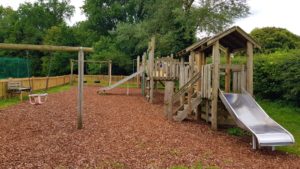 There's plenty of ways up and down with a wobbly bridge in the middle. There are also 2 sets of swings. 2 baby swings and 2 older kids swings which are actually tires. A couple of benches in there and some nice soft wood chip for the safety flooring.
Ewelme Play Park Stats:
Distance from Bicester: 37 mins
Sat nav: 119 High St, Ewelme, Wallingford OX10 6HQ Click to load sat nav
Wheelchair friendly: Would be a bit bumpy and uneven
Equipment upkeep: 8/10
Cleanliness: 10/10
Facilities: None
Age range: all ages
Safety: 8/10
Fun factor: 6/10
Dog friendly: No not on the sports fields either
Pushchair Friendly: Not really
Bikes and Scooters: No
Conclusion
Ewelme Play Park is a fairly decent park. Great if you're local and brilliant if you live in the village with kids.
They clearly look after the park as we could see where some repairs had been taken out. It was clean, quiet and has loads of space for games on the fields too.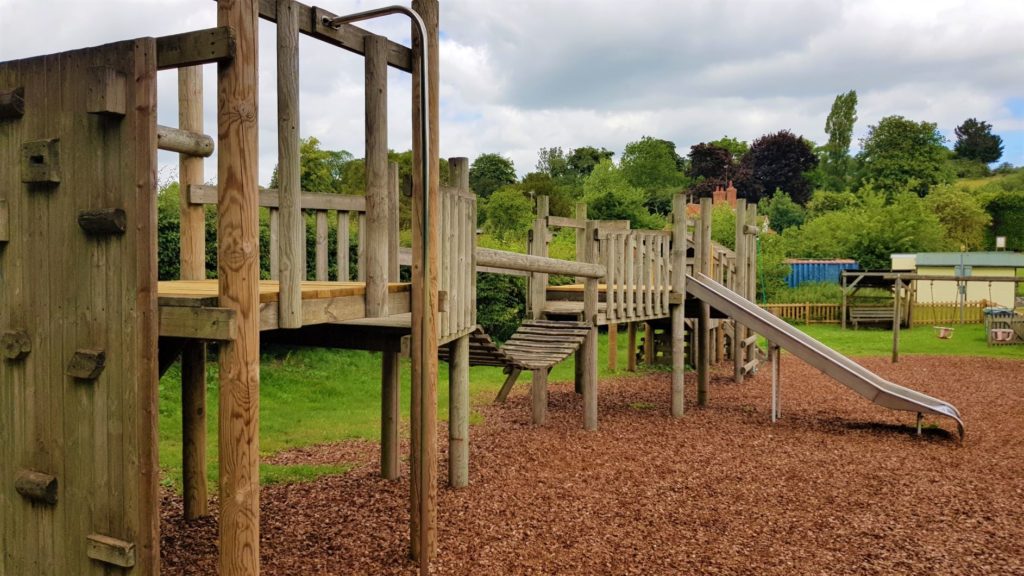 Would i go again? Probably not. Its not the best park we've traveled to and for us to travel to a park it has to be extra special.
I would however like to go back and check out what all these watercress beds are about. The village looked lovely. I'm sure a morning or afternoon could be made exploring the whole are. I'm pretty sure i saw a nice looking pub when we drove through too.
AOB
If you know of any play parks you think I should review then pop me a message on the Facebook page HERE
For a list of all the other play parks I've reviewed then check them out HERE